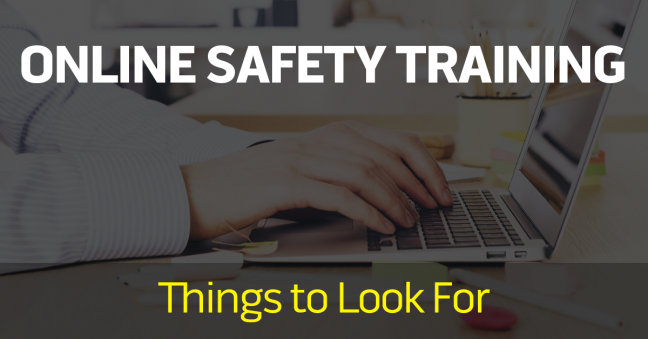 If you're thinking of adding online safety training to your current safety training programs at work, it helps to get some tips about what to look for. We've  written a lengthy blog article on How to Select Online Safety Training Solutions for you, and we even have an Online Safety Training Buyer's Guide Checklist you can download for free.
In this article, though, we're going to give you a few things to look for in your online safety training solution. We hope this helps and we invite you to drop us a line and ask us any questions you may have.
If you're trying to pull together an online safety training solution at your workplace, be sure you're getting the following elements.
Online Safety and Health Training Courses
Obviously, you need the actual training courses. These days, the two most common ways to get an online safety training course is as a streaming video delivered directly from a website or as an elearning course hosted within a learning management system (LMS).
If you're not familiar with elearning courses and learning management systems, read our elearning for Online Safety Training and Learning Management Systems for Online Safety Training articles.
You'll want to make sure the courses cover the safety and health topics you'll need for workers at your workplace. This includes covering your compliance requirements (with regulators like OSHA and MSHA, for example) but certainly shouldn't be limited to just compliance safety training.
You can make your own elearning courses with an elearning authoring tool. You can also, of course, partner with one or more training providers to get your online safety training courses. This might include a mix of off-the-shelf safety training courses and courses custom-made for your company and your own specific safety-training needs.
A Learning Management System (LMS)
If you don't go with the streaming video option, and instead you choose to go with elearning safety training courses, you're going to need a learning management system, or LMS.
An LMS is an online software application that you can use to:
Assign safety training
Deliver online safety training
Grant credit for safety training completion
Import and/or create online safety training activities
Manage "real world" safety training activities, including field-based training and classroom training
Notify employees of safety training assignments and due dates
Keep track of overdue training assignments, expired training, and more
Store records of completed safety training
You can get an LMS from the same company that is providing you with the online safety training courses, or you can get an LMS from one company and courses from other companies. To learn more about this, and how LMSs work with something called SCORM to make this happen, read this article.
You might also want to watch the brief video below to learn more about learning management systems.
If you're not familiar with LMSs, you'll be shocked how powerful there are and how much time they can save you on clerical, logistical, and recordkeeping tasks.
Mobile Learning Apps
You don't need us to know the world is going mobile. Heck, there's a good chance you're reading this article on a phone or tablet right now, and even if you're not, we'd bet you a dollar there's a phone in your pocket or purse.
People like mobile because it's convenient and easy. When you want information, or want to get something done, you can do it without even getting up and walking to a computer. Pretty nice, huh?
If you're come to expect the kind of ease and convenience that mobile brings into so many facets of your life, doesn't it make sense to use mobile apps for safety training at work as well?
Your employees can use mobile safety training apps to finish assigned training when and where they want to. They can also use it to pull up training materials on their mobile phone at work, right when they need to access safety training information (read more about using job aids like this for work performance support).
And as a safety training manager, you can use mobile apps to grant credit for completed training without having to run back to your desktop at the office. One click in the field and the classroom and you're done–pretty snazzy, huh?
Read this article to learn more about using mobile apps for safety training.
Additional Safety Management Software Capabilities
You might also want to check if your learning management system comes with integrated or compatible safety management software for handling things like JHAs, safety observations and near-miss reporting, OSHA recordkeeping, displaying safety metrics, and more.
A Trusted, Reliable Online Safety Training Provider
Online safety training is an important and big investment. You're going to want to a trusted, reliable, credible partner.
Has the company been around long enough to make you confident they'll be around long into the future as well? Do the employees who work for your online safety training provider have an appropriate mix of job expertise, including instructional design, occupational safety, graphic design and video production, elearning design and authoring, IT and computer skills, customer service (more on this below), and more?
Great Customer Service
No matter how great your online safety training courses, LMS, mobile apps, and/or safety management software are, you're going to need some help at times.
Be sure any online safety training provider you choose to work with prides themselves on great customer service–and that they follow through.
Additional Helpful Resources to Help You Company Stay Safe
If you sometimes feel like your job's too much and you can't keep up with everything you wish you could, know that you've got company.
One of the benefits of online safety training is that it can save you some time and work so you can focus on some other parts of your job.
But even still, you may have trouble keeping up with other stuff. How much time do you dedicate to keeping up with the latest safety compliance requirements? The latest hot topics in safety management? The most recent research into how people learn and how to best create training to ensure it's effective? The most recent ANSI/ASSP standards on EHS training (check out podcast 29 on Z490.1 for EHS training and podcast 30 on Z490.2 for online EHS training).
The online safety training provider you partner with shouldn't just sell you some products and leave it at that. Wouldn't it be nice if they also helped you keep up with the things that will make you a better professional? Look for it!
Online Safety Training: Be Sure to Get What You Need
We hope this article has helped you get a better idea of what you should be looking for when you're looking for online safety training! Let us know if you've got any questions and good luck!
Before you go, please download our free Online Safety Training Buyer's Guide Checklist, below.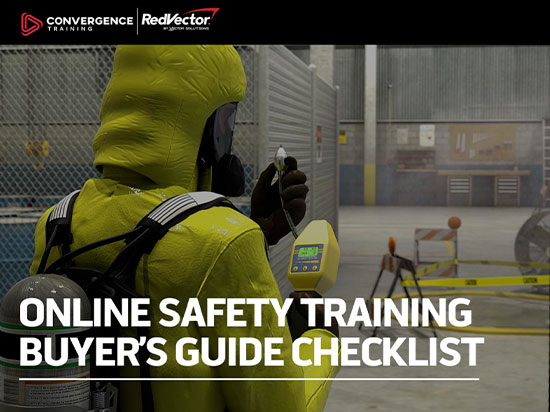 Online Safety Training Buyer's Guide Checklist
Learn how to evaluate different online safety training solutions to find one that best fits your company's needs with our FREE informative guide and checklist.