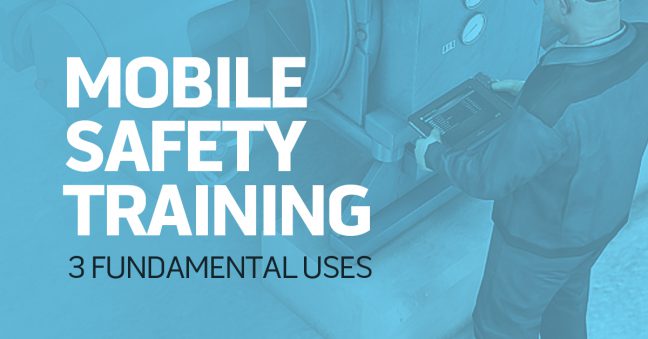 It's the mobile age, as everyone knows. Not that long ago Apple created the iPhone and now it seems like we do everything on our smart phones or on tablets like the iPad.
How many things do you do with your smart phone these days? Probably a lot, right?
Assuming the answer is yes, doesn't it make sense to consider mobile safety training at work?
In this article, we explain three simple ways to use mobile safety training apps to improve your overall safety training program.
You might also want to look at our collection of mobile safety training apps on our main webpage, or our 9 Great Uses for Mobile Training Apps article.
Three Uses for Mobile Safety Training Apps
Let's look at three great reasons for using mobile safety training apps at the workplace–and explain why they're good ideas.
Mobile Apps for Delivering Safety Training
An obvious reason for going mobile is to be able to deliver online safety training materials that workers can view and complete from a phone or mobile tablet.
These safety training materials may include online safety and health training courses, but they could also include videos, PowerPoints, or even written documents.
One great benefit of doing this is it allows workers to complete their safety training when they want to. They can choose to view training when their schedule allows instead of having to attend classroom training that may not fit as well into their schedule.
Another benefit is mobile safety training apps allow you to reduce the expense associated with (a) classroom-style training and (b) desktop computers. You'd be surprised at how much money is spent on classroom-style training in particular, and how much you can save by delivering that training online to mobile devices. Or maybe you wouldn't, because you already know your safety budget and know just how expensive it can be.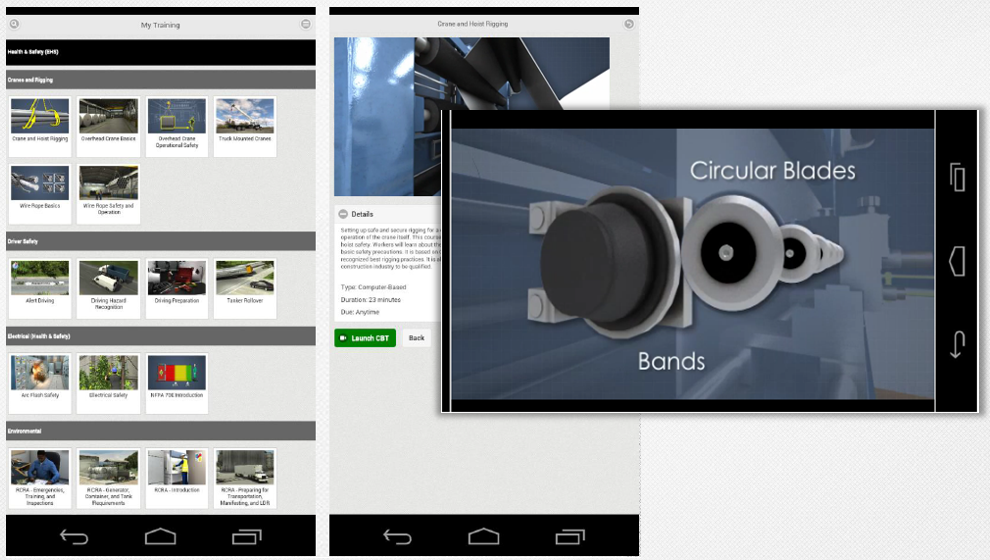 Mobile Apps for Crediting Safety Training
Another use for mobile safety training apps is that you can use them to give credit to workers for completing training while you're out in the field.
This is great if you're leading field-based training. And it's also helpful if you're out in the field observing as an employee demonstrates that he or she can perform a job task safely, as shown below.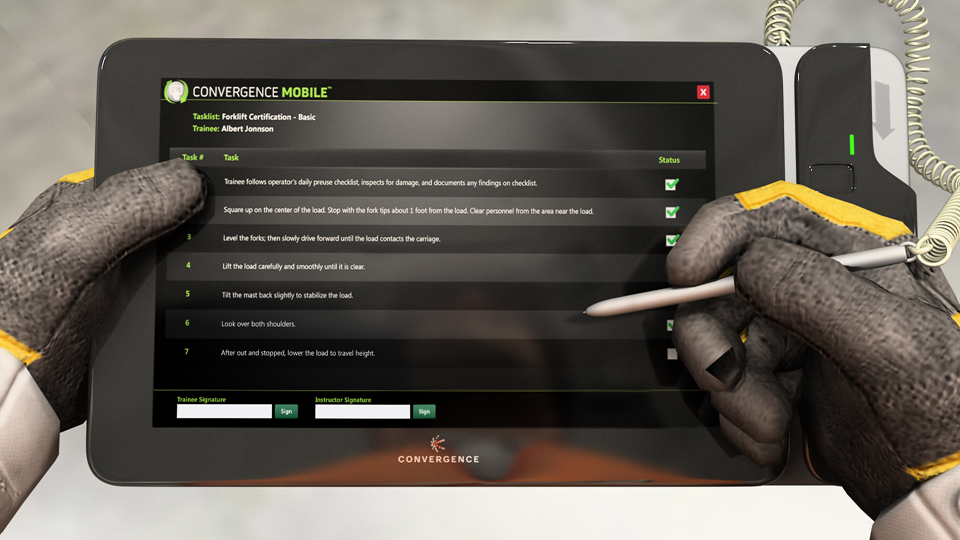 Mobile Apps for Accessing Safety Information in the Field (On-the-Job Performance Support)
Another great thing about mobile safety training apps is that your workers can use them for more than just safety training.
In particular, they make it easy for workers to access anything in your safety training library whenever they want.
That's a great way to help your workers access vital safety information when they need it most–on the job, in the field, while performing a safety task.
Even better, these apps make it easy for workers to search for the safety information they're looking for. Workers can type in specific words, or even scan QR or barcodes posted on machines or in work areas, as demonstrated below.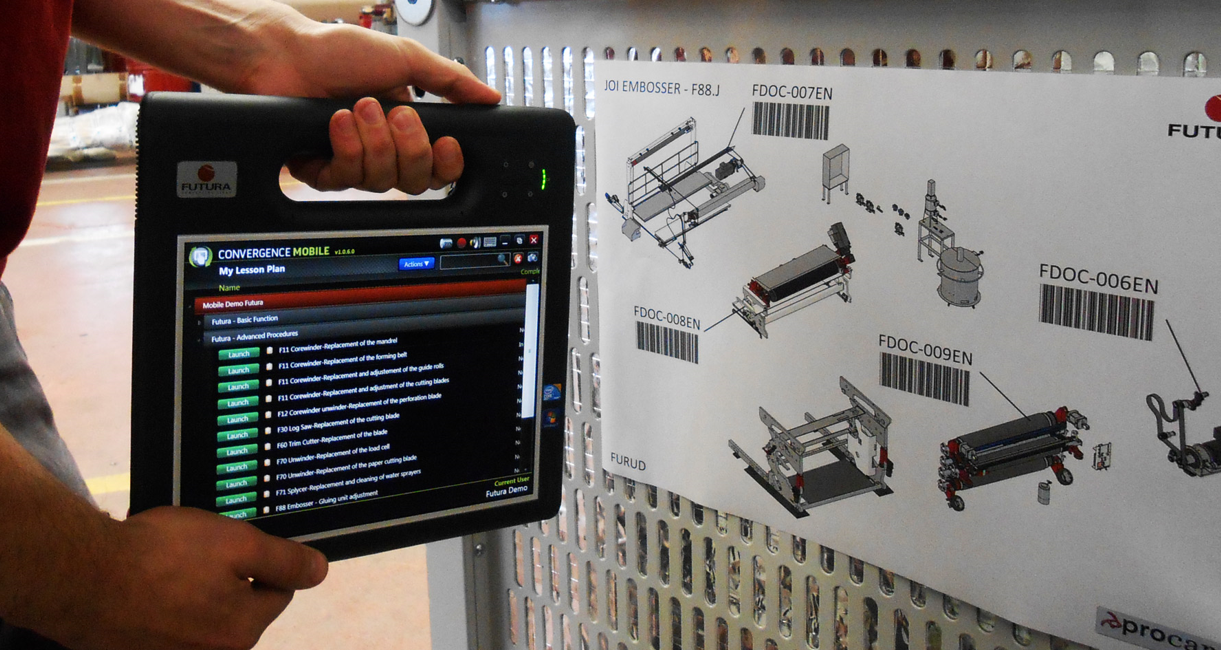 Conclusion: Mobile Safety Training Apps Are Game Changers and Ready Today
We've listed above three good reasons to make sure you're using mobile safety training apps at your workplace.
In future articles, we'll continue to explore different features and benefits of mobile safety training apps. Let us know if there's something you'd like to know or something you'd like us to write about.
Of course, you're also welcome to learn more about our mobile safety training apps in case you want to start using mobile at work for safety training right now.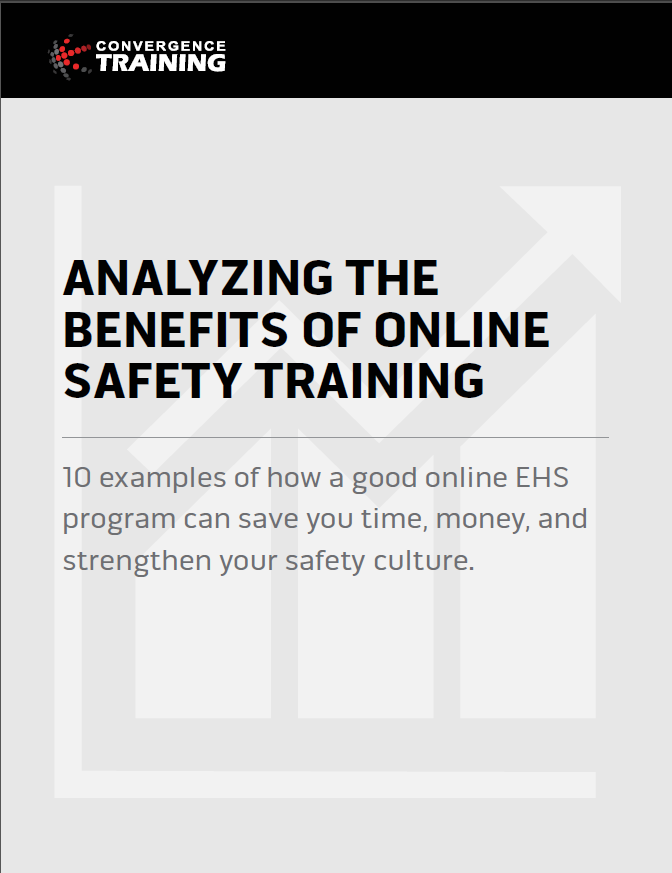 Benefits of Online Safety Training
Wondering if you should make the plunge with online safety training? This guide gives 10 reasons why, each based on experiences at real companies like yours.