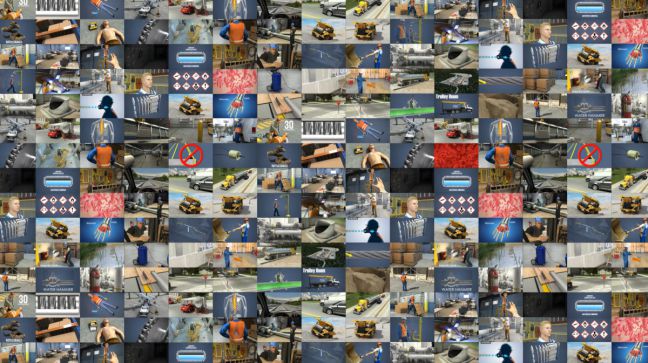 Online safety training can come in many forms. For example, it may mean watching a one-time, "live" webinar or a recorded, on-demand version of that webinar. Or it may mean watching a video online.
But another thing it may mean is watching and completing one or more elearning courses.
eLearning courses are unique animals because they allow for a lot more interactivity, including but not limited to online practice quizzes and scored online tests, than you can get with an online video or a recorded webinar, for example.
Another aspect of an eLearning course is that they're delivered through a learning management system, also known as an LMS. That combination of eLearning courses and an LMS gives a lot of additional power and flexibility.
We've already written about LMSs for safety training, so in this article, we'll focus on eLearning for safety training.
eLearning Courses for Safety Training
You can get eLearning courses on any number of EHS topics, such as HazCom 2012, lockout-tagout, machine guarding, and all the other safety topics you train on at work.
You're probably at least somewhat familiar with eLearning safety content. But if not, or if you're only slightly familiar, here are some features that eLearning courses tend to have:
Visual images, audio narration, and written audio script to provide training in a wide variety of information forms, helping to support the learning needs of as many employees as possible.
Audio narration in several languages options (which the employee chooses before the course begins–click to learn more about multilanguage EHS training capabilities).
Screen navigation and video play/pause/replay controls to allow your employees to proceed through training at their own preferred training pace.
Unscored practice questions to reinforce key points to employees and provide an opportunity for practice and feedback mid-lesson.
Scored tests to assess the employee's understanding on a pass/fail basis.
The ability to pass information about the employee's test score and course completion to a learning management system, which stores that information indefinitely.
The ability for an employee to review a course at any time, 24/7, as a refresher or as on-demand performance support (see this article for more on on-demand performance support).
The ability of a trainer to project the eLearning course in front of a group of workers in a classroom-style training session
The ability to view the eLearning course on a mobile device such as a phone or tablet
Here's a quick example of some of the kinds of images a safety training elearning course can include:
Some Representative eLearning Courses in a Typical Online Safety Training Solution
Below is a list of just a few of the topics eLearning courses on safety and health can cover. Of course, you'd select courses to match your specific needs.
We'll call out some of the notable features in the various images to show some of the strengths of eLearning as we look at these samples.
Forklift Safety eLearning Course
In this image from a forklift safety elearning course, notice the powerful illustration of the stability triangle, something that's difficult to explain in real-life or video.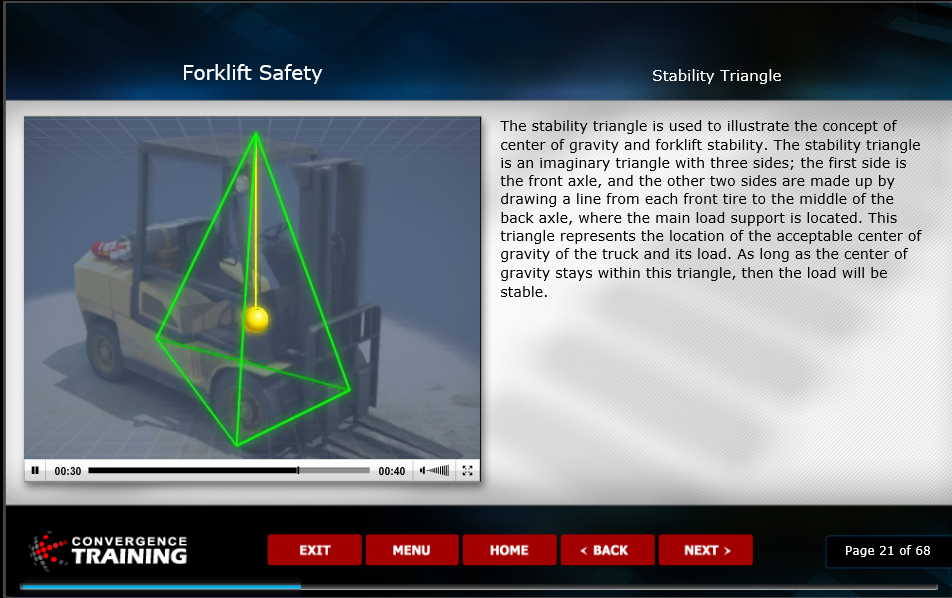 Want to see how that still image above of the forklift stability fits into the eLearning course it's from? Here's a one-screen sample of the course, below.

Compressed Gas Cylinder Safety eLearning Course
This Compressed Gas Cylinder Safety course can illustrate the hazards of a gas cylinder in a way that you can't do in real life, and wouldn't do in video either. But watching the cylinder shoot through a brick wall is an effective way to show employees the danger of a compressed cylinder missile hazard.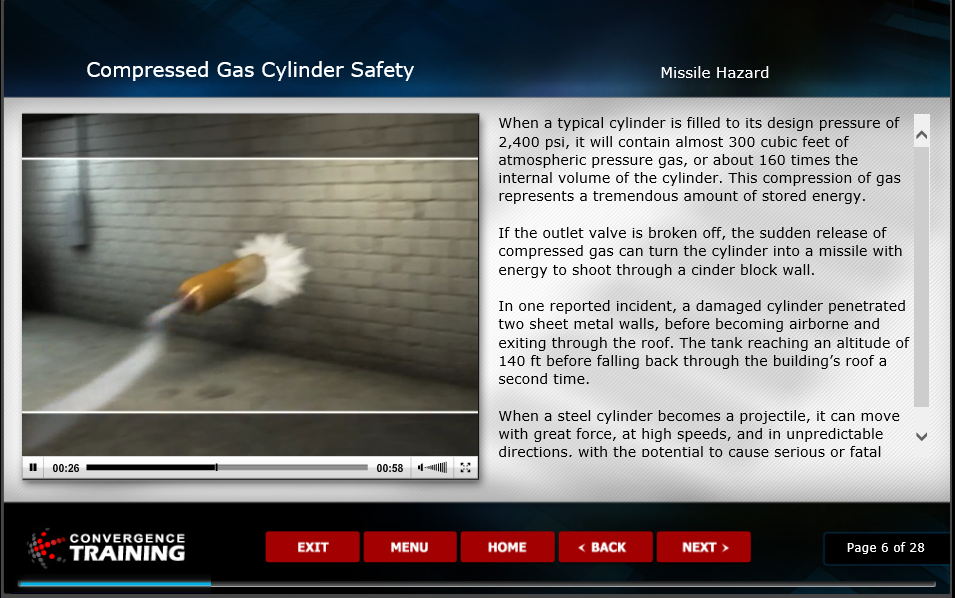 As before, here's a one-screen sample of the Compressed Gas Cylinder Safety elearning course that the image above was taken from.
Back Injury Prevention eLearning Course
This Back Injury Prevention course can show the spinal anatomy in a way that's impossible to do with other training methods.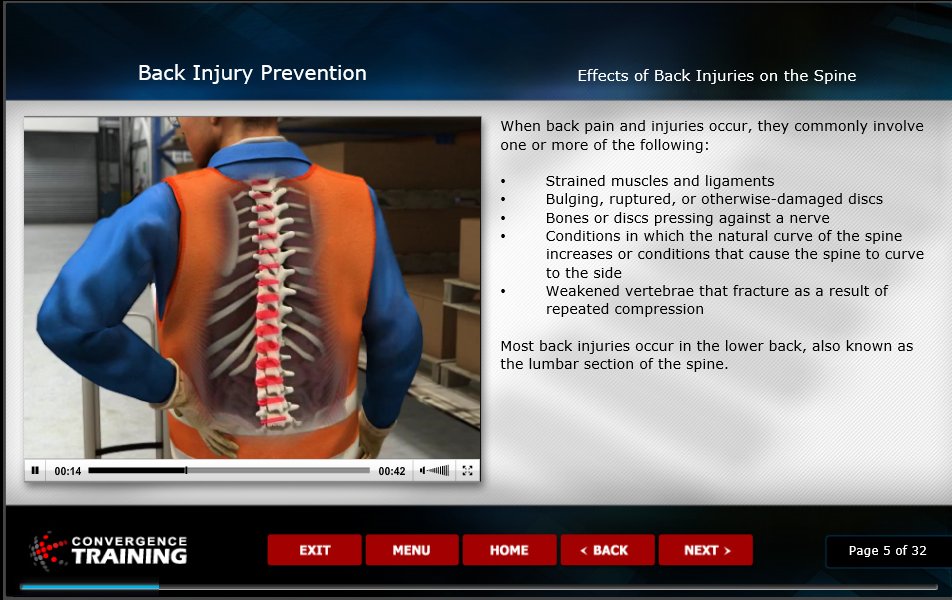 Here's a one-screen sample of the Back Injury Prevention elearning course that the image above was taken from.

eLearning Courses and ROI of Health and Safety Training
Now that you've seen a few examples of eLearning courses you could use in your own health and safety training program, let's look at some ways they can positively affect the ROI of your health and safety training program.
We've listed five reasons why the use of eLearning courses within your blended learning health and safety training program can help your bottom line. Again, we're sure there are more as well.
First, there are times when an eLearning course delivers training more effectively any other training medium. For example, some training concepts are abstract and workers can struggle to understand them just from listening in on a lecture or reading a book. Humans are largely visual creatures, and much of what we learn comes from our eyes. eLearning is ideal for taking advantage of this, especially for certain topics–check out this list of 25 graphic design techniques for effective eLearning for some examples.
Second, eLearning gives your learners more control and flexibility. eLearning delivered online lets your worker choose when and where they want to complete that training. This means each employee can take at least some of his or her health and safety training via elearning when it fits their work schedule–such as during slow periods at work. And that saves money you'd spend pulling all workers off the line for group training session.
Third, there are times when elearning is simply the most cost-efficient way to deliver training. This is especially helpful if the training topic isn't especially complex or if it's largely information-based, such as a new policy. And this is even more important if you've got a workforce that works different shifts or is spread out in various locations.
Fourth, it's easier to provide "just-in-time" training to individual workers via eLearning and an LMS than it is via instructor-led training. You probably realize it's best to provide training to people just before they'll need the training for their job. But when you're using only instructor-led training, it's hard to deliver training to all workers at a large site on a timely basis. eLearning courses, delivered through an LMS, make that a lot easier, saving you a lot of money in the process.
Fifth, eLearning courses are easier to use repeatedly for refresher training. Studies show that "one-and-done" training isn't as effective as training with frequent refresher sessions. eLearning courses provide an especially easy and cost-effective way to provide this kind of training.
What are your thoughts? What other things could we add to this list?
For even more on this, read our 10 Benefits of Online Safety and Health Training article, based on real experiences from our real customers.
Making Your Own Health & Safety eLearning Courses
Something that not all people know, and that's worth calling out, is that you can make your own eLearning courses pretty easily. This means you can create custom, site-specific eLearning courses directly tailored to all your health and safety training needs.
That's great if you're in charge of health and safety training at a site. But it pays off even more if you're creating health and safety training at an enterprise level for many sites. You can create some "universal" health and safety training that applies to all sites, and then allow site-level safety personnel to supplement that with their own site-specific materials. That way your site-level safety people aren't continually creating the exact same training materials over and over again (by making one copy per site). And that can be a big savings once you consider all the health and safety training topics there are.
Want to know more about creating your own eLearning course? Here are some helpful resources:
Where Can I Learn More About eLearning Courses for Health and Safety Training?
Check some of these articles if you're hungry to learn more:
Conclusion: eLearning and Online Safety Training
So there are some thoughts about what eLearning courses are and the benefits of using them in online safety training. We hope we've given you some ideas you can work with.
But what about you? What are your own thoughts? What did we miss? What would you add?
The comments field below eagerly awaits your input.
If you're ready to begin shopping for online safety training courses, you might want to download our free ONLINE SAFETY TRAINING BUYER'S GUIDE CHECKLIST, below.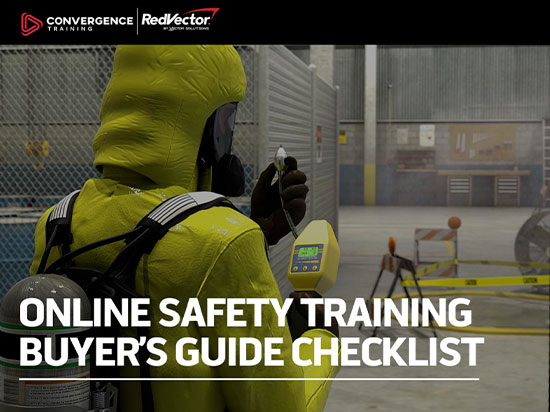 Online Safety Training Buyer's Guide Checklist
Learn how to evaluate different online safety training solutions to find one that best fits your company's needs with our FREE informative guide and checklist.