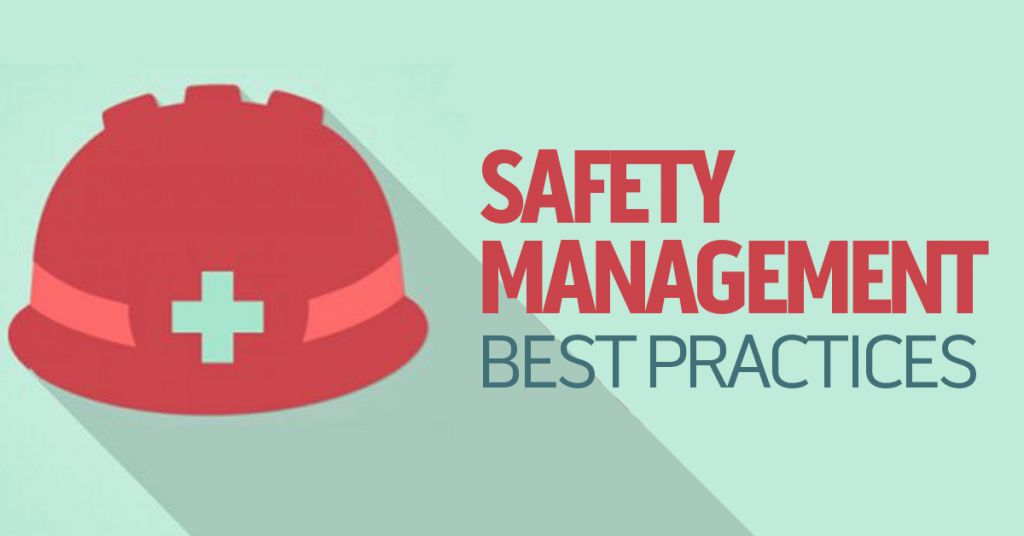 Back in October, 2016, OSHA created a final version of their new guideline for safety and health management programs, titled Recommended Practices for Safety and Health Programs. Around the same time, they published a helpful website full of additional materials related to best practices for safety and health programs.
In the article below, we'll review the high points of OSHA's new safety management guideline. And we'll also include some links to other resources on safety management for you down near the bottom of this article.
We'd love to hear your opinions of and experiences with the new guideline in particular or with safety and health management in general. There's a comments section at the bottom of this article–don't be shy about using it. Also, feel free to download our free 10 Steps to Getting Started with Safety Management infographic, which is based on this OSHA document.
Please note: this article is about OSHA's safety management guideline for general industry employers. See the following link for their Construction Safety Management Guidelines.
Safety Management:  What Is It and Why You Should Use It
Let's learn a little about safety management before we start telling you how to do it.
What Is Safety and Health Management?
So first question first: what is safety management?
You can think of a safety and health management system as something that makes your safety efforts at work forward-thinking and proactive, whereas traditional safety management efforts often look only at incidents, meaning they're backward-focused and reactive. This is similar to and related to the distinction between lagging and leading safety indicators for safety measurement.
Here's how OSHA puts it:
The recommended practices emphasize a proactive approach to managing workplace safety and health. Traditional approaches are often reactive–that is, Actions are taken only after a worker is injured or becomes sick, a new standard or regulation is published, or an outside inspection finds a problem that must be corrected. Finding and fixing hazards before they cause injury or illness sis a far more effective approach. Doing so avoids the direct and indirect costs of worker injuries and illnesses, and promotes a positive work environment.

Source: Recommended Practices for Safety and Health Programs (OSHA 3885), OSHA, October 2016, p. 3.
Your takeaway there is the emphasis that safety management places on being proactive.
In addition, take note of that mention of "direct and indirect costs," because we're going to come back to that.
Benefits of Safety Management
The primary goal of a safety and health management program is to prevent workplace injuries, illnesses, and deaths (and all their secondary consequences, such as the hardship these incidents place on employees, their families and friends, the community, and employers).
But safety management will provide more benefits than just that. Here's what OSHA says:
Employers may find that implementing these recommended practices brings other benefits as well. The renewed or enhanced commitment to safety and health and the cooperative atmosphere between employers and workers have been linked to:

Improvements in product, process, and service quality
Better workplace morale
Improved employee recruiting and retention
A more favorable image and reputation (among customers, suppliers, and the community)

Source: Recommended Practices for Safety and Health Programs (OSHA 3885), OSHA, October 2016, p. 3.
Direct and Indirect Benefits of Safety Management
Safety management provides both direct and indirect benefits to the employer.
As an example of direct benefits, OSHA's guideline offers these sample statistics from "a study of smaller employers in Ohio who worked with OSHA's SHARP program to adopt safety management principles:
52% decrease in workers' compensation claims
80% decrease in cost per claim
87% decrease in average lost time per claim
88% decease in claims per million dollars in payroll

Source: Recommended Practices for Safety and Health Programs (OSHA 3885), OSHA, October 2016, p. 3.
Those statistics are pretty impressive! But the benefits don't stop there, and in fact OSHA claims that the financial value of the indirect benefits are greater than the direct benefits!
These indirect benefits include things like:
Time lost due to work stoppage
Time lost due to incident investigations
Training & other costs necessary to replace injured workers
Property loss and damage
According to OSHA:
These indirect costs have been estimated to be at least 2.7 times [greater than] the direct costs.

Source: Recommended Practices for Safety and Health Programs (OSHA 3885), OSHA, October 2016, p. 3.
7 Key Elements of Safety Management as Identified by OSHA
By now, you should have a good idea of what safety management is, what its primary goals are, and what are some of the direct and indirect benefits.
Now let's take a look at what OSHA calls the "7 core elements" of safety and health programs.
1. Management Leadership
For a safety management program to work, the organization's managers have to provide leadership, vision, and resources. They need to make it clear that safety and health are core values of the company.  And they have to demonstrate, communicate, and model their commitment to safety at work.
OSHA offers four "action items" related to management leadership of a safety management program. We've listed and explained them in brief below.
Communicate the commitment to safety and health and the safety management program
Create a written safety management policy, have management sign it, and communicate it to all stakeholders, including: employees, contractors, subcontractors, staffing agencies, temporary workers, suppliers, vendors, other businesses in a shared facility, visitors, customers, and the community. Make safety a priority in all aspects of business, and demonstrate the same safety practices you expect from workers.
Define safety management program goals
Set goals for the program. Make sure these goals are realistic and are things you can measure (so you'll be able to see if you're moving in the right direction). Emphasize goals that focus on incident prevention instead of injury and illness rates (see our Safety Leading Indicators article). And finally, create a plan to achieve those goals.
Allocate resources for safety management
This includes staffing, supplies, time, and money.
Expect performance from safety management program
Make someone or some people responsible and accountable; make sure roles are well defined and understood; provide positive recognition when goals are met; and create ways for employees and management to communicate about safety and health issues with no fear of penalties, retaliation, or other negative consequences.
2. Worker Participation
A safety management program won't work if workers aren't actively involved and if they don't continually participate.
Workers often know more about some job-associated safety and health hazards than management or safety personnel. In addition, they have the most at risk, and they are the operational end where the "rubber meets the road" in terms of safety.
Here are OSHA's recommended action items regarding worker participation in safety and health management programs.
Encourage workers to participate in the safety management program
Give workers the necessary time and resources; acknowledge their contributions and provide positive reinforcement; and make it clear that worker input is welcome and valued.
Encourage workers to report safety and health concerns
Create a process for workers to report injuries, illnesses, near misses, hazards, and other safety concerns; make sure workers know about that process; make sure workers know there will be no negative consequences for reporting safety issues; provide timely feedback to employees about their safety suggestions; get workers involved in finding solutions to safety problems; and finally, allow all workers to either initiate or request a stop of work activities that they believe are unsafe.
Give workers access to safety and health information
Informed people make better decisions. This is true in safety as well. Employees will make better safety decisions if they have access to safety information–so allow them access. This can include making sure workers know where safety data sheets (SDSs) are, what they are, and how to access them; how to access injury and illness data (in some cases, redacted versions to protect people's privacy); and results of environmental monitoring. Also consider giving workers access to workplace job hazard analyses (JHAs), safety recommendations from chemical and equipment manufacturers; work place inspection reports, and incident investigation reports (again, these may need to be redacted for privacy reasons).
Involve workers in all aspects of safety management
Get workers involved in a parts of the safety management program, including: Program development and goal setting; Hazard reporting and control efforts; Hazard analysis; Safe work practice definitions and documentation; Conducting site safety inspections; Creating and revising safety procedures; Helping to perform incident investigations (including near-misses); Developing and implementing safety training; Providing safety training to coworkers and new hires; Evaluating the effectiveness of safety training (see this article for an extensive view of designing, developing, delivering, and evaluating safety training); Evaluating the safety management program; and Participating in exposure monitoring and medical surveillance programs.
Remove any barriers to worker participation in safety management program
Watch for barriers based on language, skill, or education level; make sure enough time and resources are available; and post the 11(c) fact sheet in the workplace.
3. Hazard Identification & Assessment
A hazard is something that can cause harm at work (see our articles on the JHA and Risk Management and Safety for more on this).
According to OSHA, one of the most common root causes of injuries and illnesses at work is "is the failure to identify or recognize hazards that are present, or that could have been anticipated." Source: Recommended Practices for Safety and Health Programs (OSHA 3885), OSHA, October 2016, p. 15.
And because of that, it's important to identify and assess hazards. OSHA offers six action items regarding hazard identification and assessment:
Collect existing information about hazards at the workplace
Gather all existing information about hazards and review with workers. This may include (but is not limited to) equipment and machine manuals; safety data sheets (SDSs); your own internal safety inspection reports; safety inspection reports from insurance companies, government agencies, and/or safety consultants; OSHA 300 and 301 logs; reports of incident investigations; workers compensation reports; injury and illness data; exposure monitoring results; industrial hygiene assessments; medical records (redacted); current safety and health programs, including those covering lockout/tagout, confined spaces, process safety management (PSM), and personnel protective equipment (PPE); worker input; information from JHAs; information from outside sources, including OSHA, NIOSH, CDC, MSHA, trade associations, labor unions, and safety and health consultants.
Perform inspections to identify additional safety hazards
Inspect the workplace for safety hazards. Include routine inspections and job hazard analyses.
Identify health hazards
Health hazards can be less obvious and therefore harder to detect than typical physical safety hazards. Watch out for chemical hazards; noise hazards; hazards from high or low temperatures; radiation hazards; biological hazards; ergonomic hazards (this article on Industrial Hygiene may also prove helpful). Conduct exposure assessments and review medical records.
Conduct incident investigations
If an incident occurs, investigate. This article on Incident Investigations spells the process out in detail.
Identify hazards that arise during non-routine situations and/or emergencies
There are hazards that become an issue only during emergencies and/or non-routine work situations. Consider fires; explosions; chemical releases; spills of hazardous materials; startups after equipment shutdowns; non-routine job tasks; structural collapse; outbreaks of disease; weather emergencies, such as tornadoes; natural disasters, such as earthquakes; medical emergencies; and workplace violence.
Characterize hazards, analyze the risk, and prioritize for controls
The next step is to evaluate each hazard, considering the severity of the potential harm each can cause and the likelihood of each occurring. See our article on Risk Management and Safety for more detailed information on this. You'd then use that risk analysis to prioritize which hazards to control, and you'd then begin preventing and controlling the hazards (see the section immediately below).
Let's take a closer look at hazards and hazard identification.
What Is a Hazard?
A hazard is something that has the potential to cause harm. While it's important to remember that potential for harm, it's also worth pointing out these three facts:
A hazard is not the same thing as the injury or illness itself
A hazard may never cause an injury or illness (even though it has the potential to)
Identifying hazards before they cause harm gives you a chance to remove or reduce the potential for harm
Types of Hazards
There are several different kinds of hazards. We've listed some categories of hazards below.
| Type of Hazard | Description | Example |
| --- | --- | --- |
| Safety Hazards | Common hazards that cause immediate injuries and illnesses, and may lead to death | Slip, trip, and fall hazards; working from heights; electrical hazards; moving machines; mobile equipment |
| Biological Hazards | Other life forms that can cause injury or illnesses | Viruses, bacteria, mold, fungi, animal bites/stings, toxic plants, blood and other bodily fluids |
| Chemical and other Exposure Hazards | Things that can cause harm to you when you are exposed | Radiation, temperature (high or low), noise, chemicals |
| Ergonomic Hazards | Strains and stresses on the body caused by workplace motions and body positions | Poorly designed work areas, repeated motions, lifting heavy weights |
| Psychological or Societal Hazards | Hazards caused by interacting with people and social conditions at the workplace | Workplace violence, sexual harassment, stress, depression, alcohol and drug addiction |
Assessing and Prioritizing Hazards
Using tools of risk management, hazards are assessed based on their potential severity and likelihood. This helps in prioritizing which hazards to control first.
This is often done using a risk matrix like you see below.
| | Minor | Serious | Major | Catastrophic/Critical |
| --- | --- | --- | --- | --- |
| Very Likely | | | | |
| Probable | | | | |
| Possible | | | | |
| Unlikely | | | | |
| Rare | | | | |
4. Hazard Prevention & Control
Once you've identified workplace hazards and prioritized them for correction, the next obvious step is to address the hazard to eliminate or reduce the risk. This process is known as controlling the hazard, and this phase of safety management focuses on identifying the correct control for each  hazard and putting it into place.
OSHA suggests six action items for the hard prevention & control process. They are:
Identify your control options for the safety hazard
Safety standards from organizations like OSHA and MSHA, and publications from organizations like NIOSH and the Chemical Safety Board, can be great starts. Keep tabs on information from machine and equipment manufacturers, on internal engineering reports, and on information from professional safety and trade organizations, such as ASSE or NSC. Also, check with other companies and see how they control similar hazards.
Select an appropriate control (or controls) for the hazard
Now that you know your control options, choose one or more controls (to use in combination) for the hazard. Use the hierarchy of controls to make this selection (read more about the hierarchy below).
Develop a hazard control plan and keep it updated
A hazard control plan is a written plan that describes how you will implement your controls. Address the most serious hazards first, and know that in some cases temporary or interim controls may be necessary.  Be sure to periodically track progress toward completing all control goals and verify that the controls remain effective.
Select controls to protect workers from hazards that arise during non-routine work and during emergencies
Create procedures to control hazards that are present during non-routine situations and emergencies. For example, how to control hazards that occur when machine guards are removed during maintenance, and how to respond to natural disasters.
Implement controls
Put the controls in place. Use your hazard assessment and prioritization to address the "worst-first" consider prioritizing controls that are easy, quick, and inexpensive as well. Always strive for completing all controls and know there's always a legal responsibility to address severe hazards.
Follow up and confirm that the controls you've implemented are effective
Once controls are implemented, review them to ensure they are working and the hazard is prevented, removed, or minimized.
Controlling Hazards and the Hierarchy of Controls
Let's take a little closer look at hazard controls and the hierarchy of controls.
What does it mean to control a hazard?
"Controlling a hazard" is the way that safety people talk about taking a hazard and either:
Removing its ability to cause harm
Reducing its ability to cause harm
So, in everyday language, controlling a hazard is a way to make the workplace safer by making a hazardous situation less dangerous.
Are there different types of hazard controls?
Just as there are different categories of hazards, there are also different categories of hazard controls. Those hazard controls are listed in the table below.
| Hazard Control | Description | Example |
| --- | --- | --- |
| Elimination | Remove a hazard from the workplace | Changing a production process so that a chemical known to cause cancer is no longer used |
| Substitution | Replace a hazard with something less hazardous | Changing a formula so that instead of working with a highly explosive fluid, workers work with a fluid that's less explosive |
| Engineering Control(s) | Design a solution that controls the hazard at its source (requires a physical change at the workplace) | Encasing a noisy machine inside a sound-proof barrier |
| Safe Work Practice(s) | Develop specific rules and procedures for all workers to follow when working in the presence of or potentially exposed to a hazard | Placing warning labels on hazardous chemicals |
| Administrative Control(s) | Developing other work practices to protect workers from hazards | Limiting the amount of time workers can work in a noisy area |
| Personal Protective Equipment (PPE) | Protective clothing or equipment that protects a worker from a hazard | Providing hearing protection to people who work in a noisy area |
What Is the Hierarchy of Controls?
It's important to work through a logical progression when you're considering controls for a hazard. That logical progression, from first to last, is represented by the hierarchy of controls.
Look at the diagram below. The hazard controls are listed in order. At the top is elimination. This is what you should try to do first. If elimination isn't possible or feasible, then you continue down the list, trying substitution, then engineering controls, then administrative controls, and then finally (and only as a last resort) personal protective equipment.
Note: We've "collapsed" work practice controls into the administrative controls category here, but don't forget about it.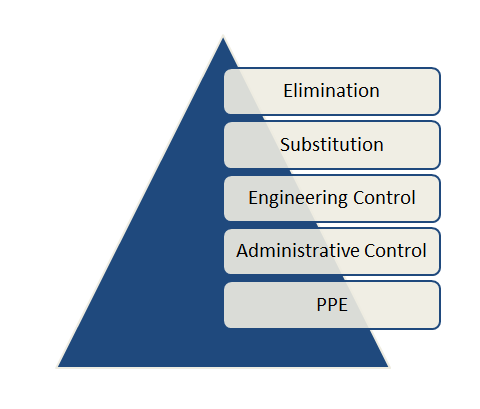 Why are the controls in the hierarchy of controls ordered in the way they are?
The most effective controls are the ones ranked at the top. Think about it–you can't do much better than completely eliminate a hazard, can you?
Likewise, using an engineering control (such as enclosing a noisy machine inside a sound-proof barrier) is going to be better than limiting the number of hours a worker can work in the room with the noisy machine, right?
You'll notice that the use of personal protective equipment is at the bottom of the pyramid. That means it's the control that should be tried last. And that's because it's the least effective.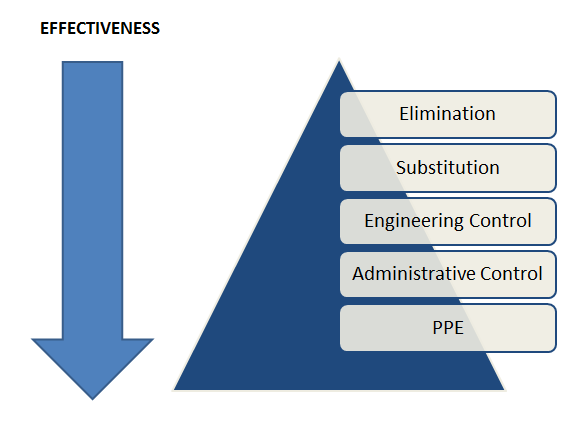 Using More than One Control to Control a Hazard
Many times, you'll find you can't completely control a hazard by using just one of the controls.
What should you do? Use more than one control.
For example, you could use Substitution to remove a very hazardous chemical with a less hazardous chemical. But it may still be necessary to create Administrative Controls that limit the time a worker is near the chemical, and even then it may still be necessary to provide the worker with personal protective equipment (PPE).
Use PPE ONLY as a Last Resort
Although PPE may be one of the first things that springs to mind when you're thinking of controlling a hazard, it should never be the first control you turn to. In fact, you should only turn to PPE as a possible control when all other controls have been exhausted and there's still an unacceptable level of hazard.
For more on this, see our detailed article on the hierarchy of controls.
5. Safety Training & Education
Safety training and education are important as well. This includes making sure everyone knows how to perform their jobs safely; knows how to identify, report, and control hazards; and understands the safety management program in general and their role in it in particular.
Always use adult learning principles when providing training, and consider a blended learning approach that integrates field-based training, classroom training, online safety training, written training, self-guided training, on-the-job training (OJT), and in-the-field performance support (download our Blended Learning for Beginners Guide here).
OSHA offers four action items for this phase. They are:
Provide program awareness training
Make sure everyone knows about the safety management program–managers, supervisors, employees, contractors, etc.
Provide training to employers, managers, and supervisors about their role in the safety management system
Make sure employers, managers, and supervisors know their particular role within the safety management program.
Train workers on their role in the safety management system
Likewise, make sure employees know their role in the safety management system. Don't forget to include employees–employee participation is vital.
Train workers on hazard identification and controls
Teach workers to identify hazards, how to control them, how to wear PPE when necessary. Provide additional training when things change–new work processes, new location, new machinery, new job tasks, etc.
You may find the following resources helpful during this section:
On top of those resources, you may also find the safety training aids below helpful.
Online health and safety training courses, such as those demonstrated in the highlight video below.
A learning management system, or LMS, such as the one demonstrated below is a very powerful tool for safety training management and administration.
6. Safety Management Program Evaluation & Improvement
You can't just implement your safety management program and walk away from it, patting yourself on the back for a job well done.
You'll have to monitor it, evaluate its performance, and improve it from time to time. Improvements may be necessary because something isn't working or because something has changed.
This is when your Deming Plan-Do-Check-Act cycle comes to full fruition.
OSHA offers three action items for this phase:
Monitor the safety management program's performance and progress
Set up a system for tracking leading indicators and then track them
Verify the program is implemented and is operating
When you first implement the program, verify it's operating as planned. Then, at least yearly, verify again. This includes verifying that injuries, illnesses, incidents, hazards, near-misses, and other concerns are being reported and addressed; that workplace inspections are occurring; that incident investigations are occurring; that hazards are being identified; that hazard controls are being implemented; that safety management system data is being monitored; and that safety management system data is being used to evaluate and improve the system when ready.
Correct any shortcomings of the program and identify opportunities for improvement
Finally, if your evaluation shows that your system needs improvement, do what's necessary to improve it.
For more information, check out our detailed article on monitoring, evaluating, and improving a safety management system.
7. Communication & Coordination for Host Employers, Contractors, and Staffing Agencies
Your company may and likely does have many workers who aren't full-time employees. It's still important to communicate and coordinate safety management efforts with these people and organizations, including host employers, staffing agencies, temporary employment agencies, seasonal workers, contractors, sub-contractors, and more.
Here are some helpful definitions OSHA provides in this section:
Host employer: An employer who has general supervisory authority over the worksite, including controlling the means and manner of work performed and having the power to correct safety and health hazards or require others to correct them.
Contractor: An individual or firm that agrees to furnish materials or perform services at a specified price, and controls the details of how the work will be performed and completed.
Staffing agency: A firm that provides temporary workers to host employers. A staffing agency hires its own employees and assigns them to support or supplement a client's workforce in situations involving employee absences, temporary skill shortages, seasonal workloads, and special projects.
Temporary workers: Workers hired and paid by a staffing agency and assigned to work for a host employer, whether or not the job is actually temporary.
Source: Recommended Practices for Safety and Health Programs (OSHA 3885), OSHA, October 2016, p. 15.
The ultimate goal of these efforts is to ensure that contractors, staffing agencies, and all people mentioned above are aware of:
Hazards that may be present
How to avoid or control their exposure to those hazards
How to contact the most employer to report an injury, illness, incident, near-miss, or safety concern (and to whom)
In addition, host employers and their workers must be aware of:
Hazards that may be present
How to avoid or control their exposure to those hazards
How to contact the contract or staffing firm report an injury, illness, incident, near-miss, or safety concern (and to whom)
What to do in the event of an emergency
OSHA offers two action items in this section. They are:
Establish effective communications
This begins with establishing a procedure or process to make sure safety, hazard, and control information is exchanged and communicated.
Establish effective coordination
All parties involved must coordinate on work planing, scheduling, and resolving any differences in programs to address any potential safety and health issues or concerns.
For more related information, check OSHA's Temporary Worker Initiative.
You may also want to look into contractor and visitor safety orientation aids.
The Importance of Continuous Improvement
Although this is covered in one of the seven phases mentioned above, it's important to remember that you'll never get your safety management system just right with the first attempt.
And even if you did, something would change that would call for a correction or would provide an opportunity for further improvement.
That's where the importance of continuous improvement comes in. Remember, you'll never fully be done with your safety management program, and you should always strive for improvement. In addition, OSHA recommends "starting small" and growing over time.
Here's how OSHA puts it:
The concept of continuous improvement is central to the recommended practices. As with any journey, the first step is often the most challenging. The idea is to begin with a basic program and grow from there By initially focusing on achievement modest goals, monitoring performance, and evaluating outcomes, you can help your workplace progress, over time, along the path to higher levels of safety and health.

Source: Recommended Practices for Safety and Health Programs (OSHA 3885), OSHA, October 2016, p. 3.
Download our free PDCA Cycle infographic for help with your continuous improvement efforts.
10 Tips for Getting Started with Your Safety Management Program
Based on the information above, starting your safety management program may seem like a lot of work. Maybe more than you can do.
But that's not the case. It's do-able, especially if you start small and continue to build on your progress.
OSHA offers the following tips for getting started:
Set safety and health as a top priority: Always have safety and health as a top priority. Tell workers this is a top priority. Then follow through.
Lead by example: Practice and model the safety behaviors you want others to follow and practice.
Implement a reporting system: Make sure your organization has a system for reporting and acting on injuries, illnesses, incidents, near-misses, hazards, and safety concerns. Make sure there's no retaliation for reporting, and make sure workers know that.
Provide training: Train workers how to identify hazards, how to report hazards, how to control hazards, and of their role in the safety management system.
Conduct inspections: Conduct regular workplace inspections and job hazard analyses (JHAs) to look for hazards
Collect hazard control ideas: Once hazards are identified, gather ideas for controlling them. Be sure to seek employee input.
Implement hazard controls: Once hazards are prioritized, use the hierarchy of controls to plan then implement controls.
Address emergencies and non-routine situations: Consider safety measures for emergencies and non-routine work situations.
Seek input on workplace changes: Before changes at the workplace, get employee input on safety and hazard issues related to the change.
Make improvements: Build a process for evaluating and improving your safety management system on a regular basis.
Download our free 10 Steps to Getting Started with Safety Management infographic to post this list at your office.
Other Safety Management Resources from OSHA
Here are some more resources from OSHA that will help you with safety management. There's a lot of good stuff here–we checked!
Other Safety Management Resources from Convergence Training
Check out the following articles related to safety and health management as well:
Hope that helped to introduce you to the new OSHA Safety Management Recommendations in particular and safety and health management in general. Let us know if you have any questions.
And please feel free to DOWNLOAD OUR FREE GUIDE TO RISK-BASED SAFETY MANAGEMENT, below.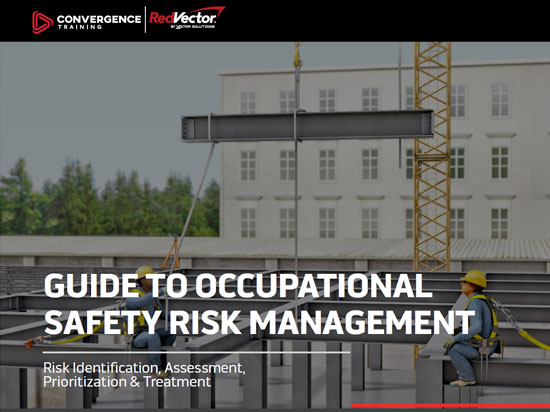 Free Download–Guide to Risk-Based Safety Management
Download this free guide to using risk management for your occupational safety and health management program.