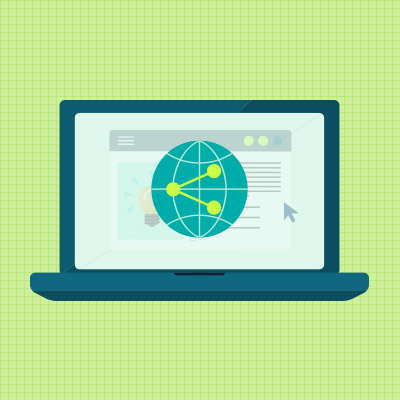 Many companies are interested in adding an online component to their current safety/EHS training.
It makes sense. We already do so many things online, and we know that putting stuff online can make things easier, more efficient, less costly, more convenient, and more effective.
Why can't the same be true with safety training? Well, it can be and it is, my friend.
Plus, by now we all probably have at least some familiarity with online safety training. Maybe you've seen and have been impressed by an online safety training course. Or maybe you've seen how online systems can keep track of and automate training assignments that workers must complete recurrently (such as every year for HazCom training). Or maybe you know how efficiently and effortlessly they can create and store records of completed training and even auto-generate reports on that training and deliver them to your email inbox automatically.
So in this article, we'll take a look at one tool you can use in an online safety training solution: the learning management system, which is also known as the LMS. If you already know what an LMS is and how it relates to online safety training, you may learn some new stuff here. If you're not aware of what an LMS is or how it's related to online EHS training, this may be really eye-opening (and very welcome) news.
What Does "Online Safety Training" Mean and What Does It Include?
"Online safety training" can mean lots of different things.
For example, it can mean going to a website, entering your credit card number, and paying to watch a single course.
There's nothing wrong with that, and in some cases, it may be just what you're looking for.
But in other cases, you may be looking for something more robust, powerful, and flexible to meet the needs of your workplace.
If that's the case, you may find that a learning management system (LMS) is just what the doctor ordered. A learning management system is a software system you can access through the Internet. It can be used to administer training of all types. This includes eLearning courses and other training activities your workers can complete online, such as videos and written materials like PowerPoint Presentations and PDFs, but it also includes instructor-led training and task-based training in the field.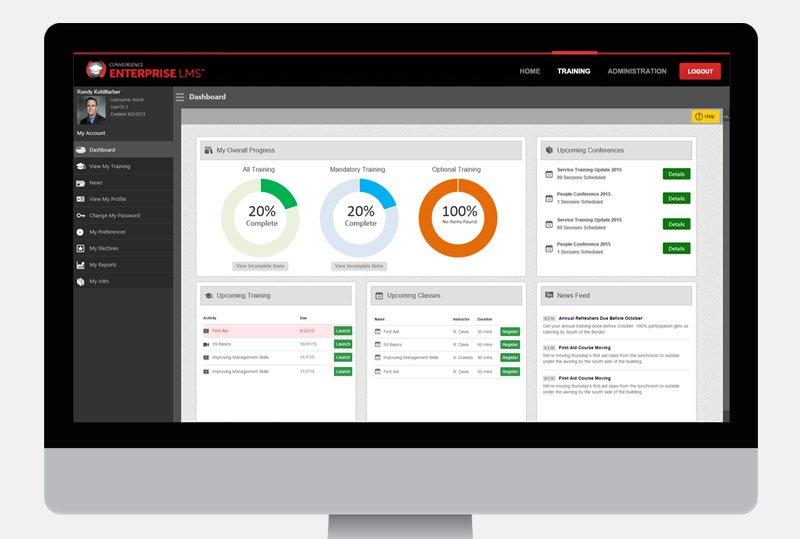 And when we say "administer," we mean a lot more than just make assignments and deliver the training online. The LMS provides you all the power you need to administer every aspect of your EHS training exactly as you want it. And even better, it includes many features to automate the process, so once you've set it the way you want it, you can walk away and take care of other parts of your work life while the LMS handles the tedious and challenging clerical aspects of EHS training administration.
This short two-minute video overview may help set the scene:

We'll show you exactly what we mean in more detail below. And we think you'll like it. But feel free to read this article on Online EHS Training, And What It Means, too.
Learning Management Systems (LMSs) for Online Safety Training
Now that you know a little about what an LMS is, you might wonder what you can use one for.
Well, you can use an LMS to:
Import and/or create training materials (of any type–eLearning, instructor-led, task-based, written documents, etc.)
Assign training materials to your employees
Allow your employees to see the training they have been assigned, including their current completion status and the assignment due date
Deliver SOME OF those training materials to your employees so they can complete them online (eLearning courses, plus other online training activities–such as online quizzes and checklists)
Automatically grant credit to employees who complete training materials that can be completed online
Manually grant credit to employees for completing other training materials, such as instructor-led training or field-based training, or even for completing eLearning courses in a group situation, such as projecting an eLearning course to a number of workers during a safety meeting
Store records of completed training indefinitely
Run reports to see who's done and not done with training (or run reports on any number of other data sets)
Send reports via email to others in your organization
Set up the LMS to automatically send reports with the data you requested to yourself or others in the organization
Automatically change assignments when a worker changes job roles
It's important to remember that you can use the LMS to administer many aspects of training that occurs in a face-to-face setting, such as instructor-led classroom training, OJT job mentoring/shadowing programs, and field-based training. So an LMS isn't just for training that your workers complete online–it's the whole training enchilada. We'll touch on this again, but feel free to read this article about 12 Ways to Use an LMS for Instructor-Led Classroom Style Training.
It's also nice to know that your LMS can be installed on your own local network servers or hosted by your LMS provider "in the cloud." Having your LMS in the cloud means it's on the Internet, and you and the employees at your workplace can access it 24/7 by going to your unique URL address and logging in using your secure username and password. The big advantage of this, beyond not having to have a VPN to access the LMS remotely, is that the LMS provider does all the work of maintaining your LMS for you. Check in with your IT people–this may make them very happy.
Show Me Some Examples of How I Can Use an LMS to Administer Safety Training
Let's look at some examples of an LMS to make this even easier to understand.
How Employees View and Complete Assigned Training Online in an LMS
Below is an image of the screen your employees would see when they get online and log in. It's a list of the training that's been assigned to them.
They can see a list of all assigned training, and they can also see their current completion status and assignment due dates (the due dates may be different for the different activities).
Employees can also launch, view, and complete some training online (such as e-learning and online quizzes) or click to learn more about other assigned training (for example, to discover what room an instructor-led course is being held in).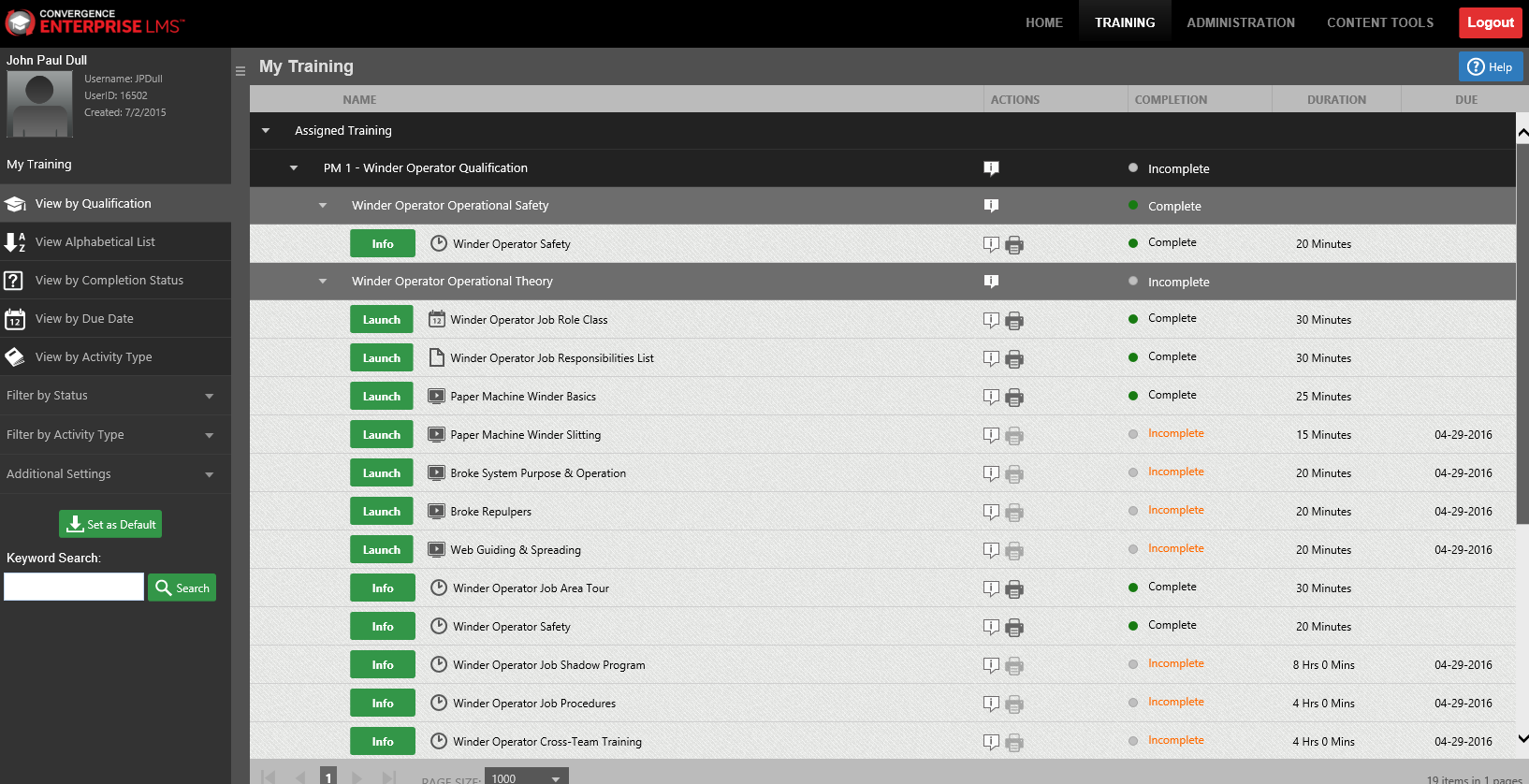 Importing Your Own Training Materials and/or Creating Training Materials In Your LMS
An LMS will also provide tools that make it easy to import your own training materials (the red circle, below).
What kind of training materials might you import into your LMS? How about:
PDFs
PowerPoints
Videos
Photos
Blueprints/schematics
Links to online webinars
Links to other websites
Links to files that are stored on your network or SharePoint (so you don't have to move all these if they already exist in place)
eLearning courses made for you by eLearning providers
eLearning courses you made by yourself (here's how to do it)
Links to social networking sites and/or company wikis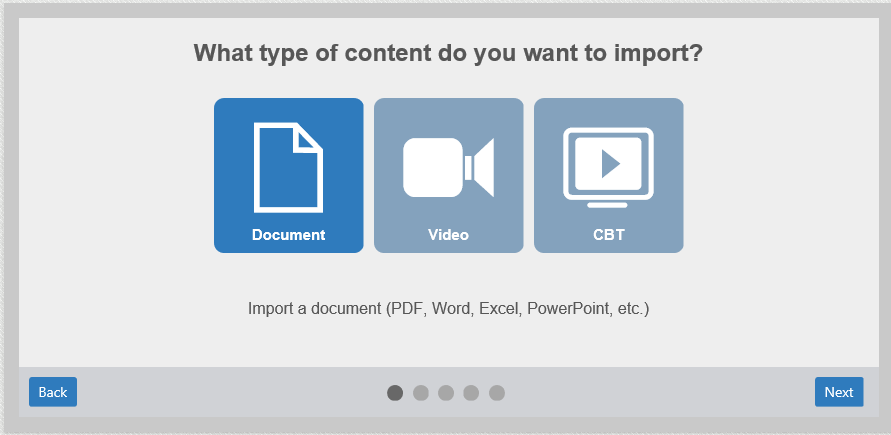 Your LMS should also let you create some of your own training materials directly inside the LMS.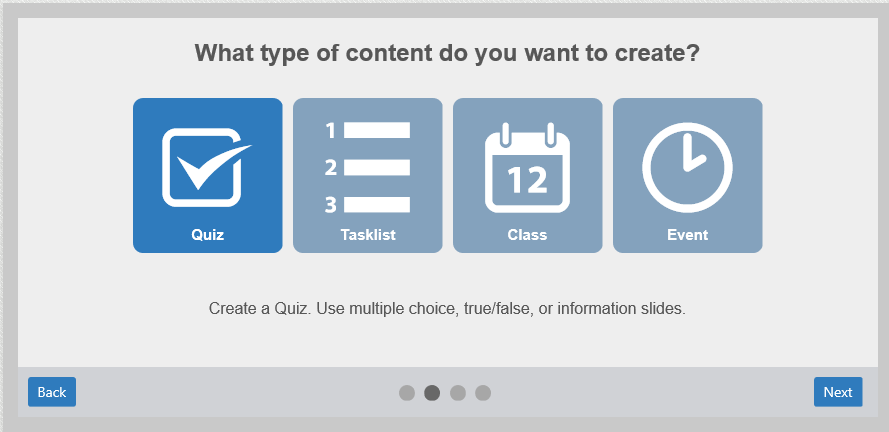 This may include online quizzes, as shown below…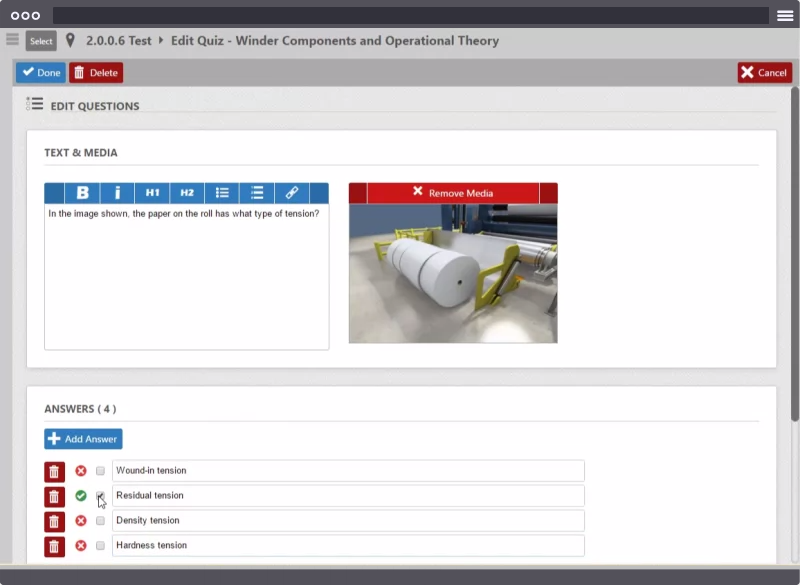 Online checklists, as shown below….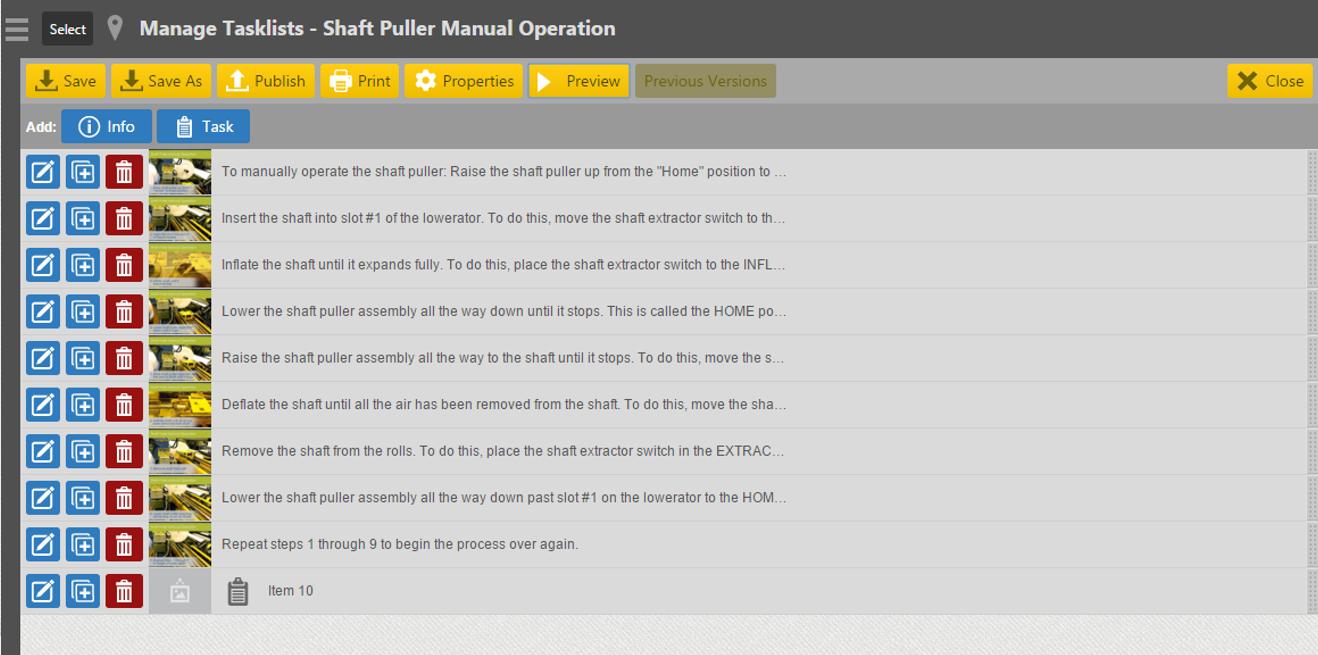 And even scheduling tools for instructor-led, classroom-style training, as shown below.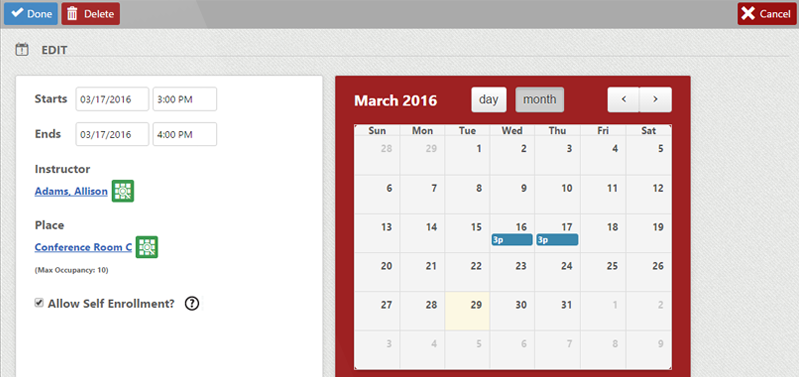 Your LMS Becomes a Central Repository of all Your Health and Safety Training Materials
All of your training materials will be stored in the LMS as "activities." As noted earlier, this includes eLearning courses, but also includes instructor-led training sessions, field-based training, written documents, videos, websites, and more.
Conveniently, the LMS becomes the single, centralized repository for all your training materials, essentially consolidating your entire training library. This makes it easy to assign, administer, credit, and report on all training from one tool (say goodbye to training stored or recorded in multiple spreadsheets, databases, and software applications!).
See the image below for a sample list of training activities of different types.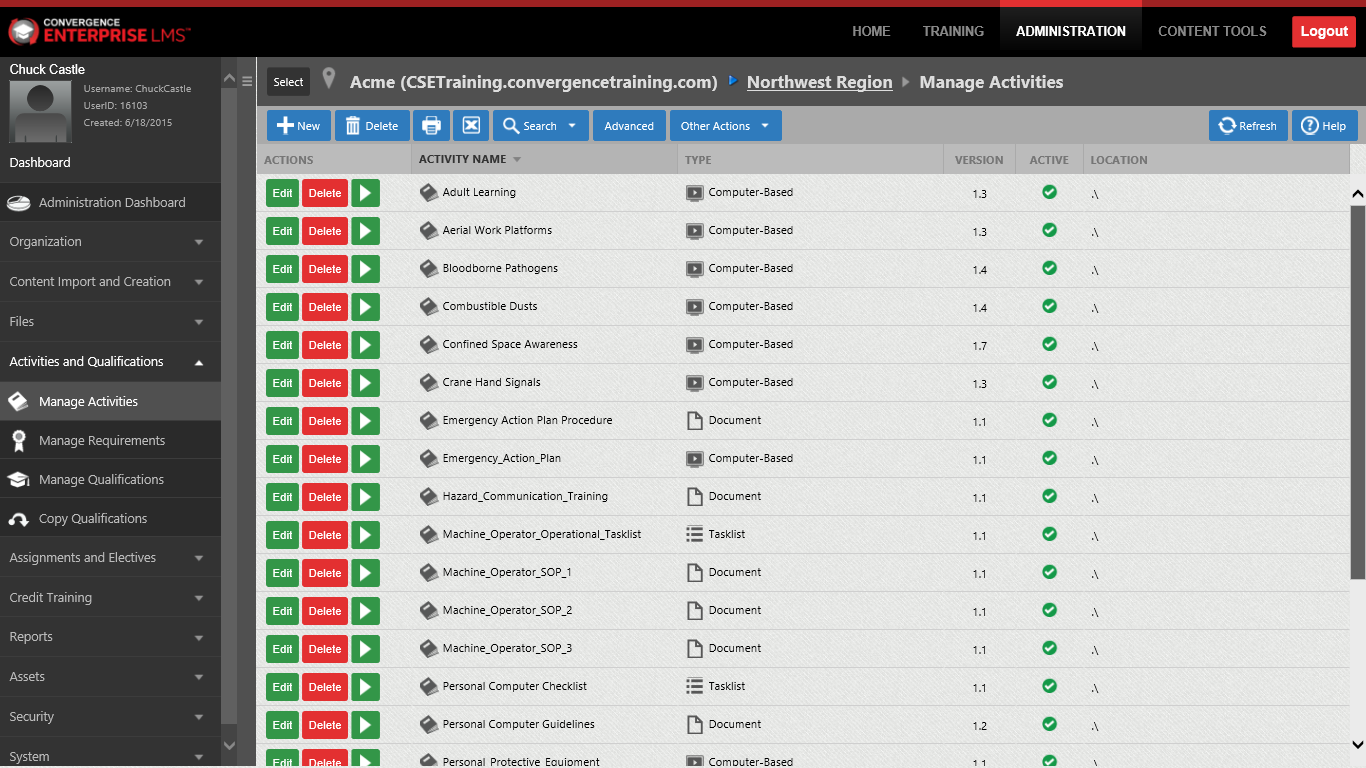 Updating Health and Safety Training Materials With Your LMS
Cool tip: we didn't mention this earlier, but once you've got an activity in the LMS, it's easy to update it as well. That comes in handy if you change a safety procedure or a safety regulation rules.
For example, think back to the recent change from HazCom to the GHS-aligned HazCom 2012. The image below shows you how easy it is to update your training to match the new regulation–just click a button and point to the new file (red circle, below), and create a new version (blue circle, below).
The LMS stores all versions, keeps track of who has completed which version and when, and even gives you the option of forcing all employees who are currently considered complete back to incomplete, so they have to complete the new version again, or it allows currently complete employees to stay in the complete status despite the change (green circle, below).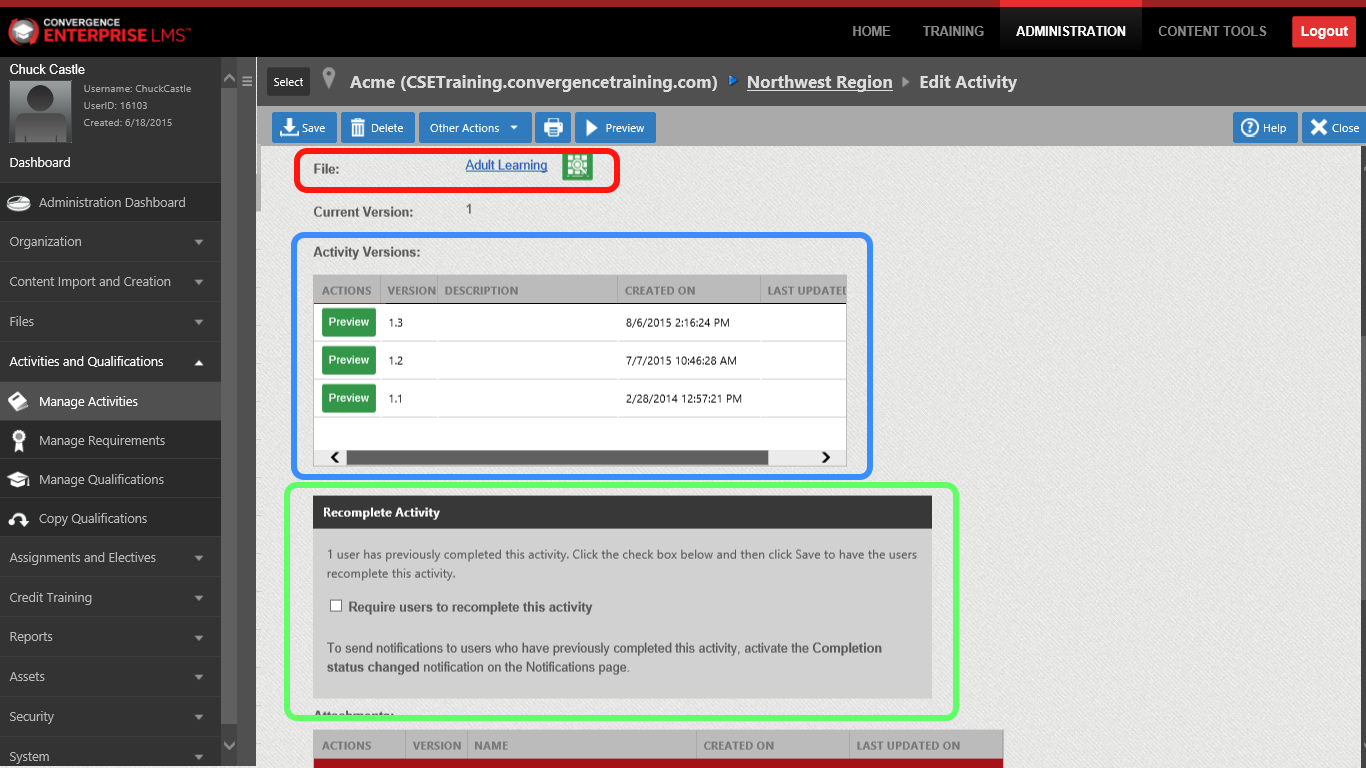 Assigning Health and Safety Training Materials To Workers With Your LMS
Once you've got you activities in the LMS, it's an easy 3-step process to assign training to employees. First, just:
Pick the employees you want to whom you want to assign the training, and
Select the training you want to assign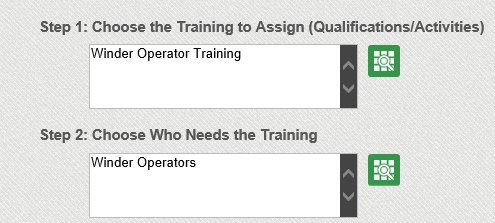 And then just set a few dates. First, the due date,

and then any settings for recurrent assignment information (for training people have to complete every year, for example).

You can assign training to one person or a handful of people. Or, you can assign to teams, departments, sites, regions, and entire organization, or even custom-created training groups (such as Forklift Operators or Hot Work Permit Issuers).
Creating and Storing Records of Completed Health and Safety Training In Your LMS
A major benefit of an LMS is that it creates and stores completion records when employees finish training.
In some cases, such as e-learning courses, the LMS does that automatically, which is a great time saver. But an LMS will also provide tools that allow you to manually give employees credit for completed training of any type–instructor-led, field-based, a shadowing program that lasted several weeks, whatever you need (red circle, below).
You can even have workers swipe their card when they enter an instructor-led classroom training session and have the LMS automatically create the completion record.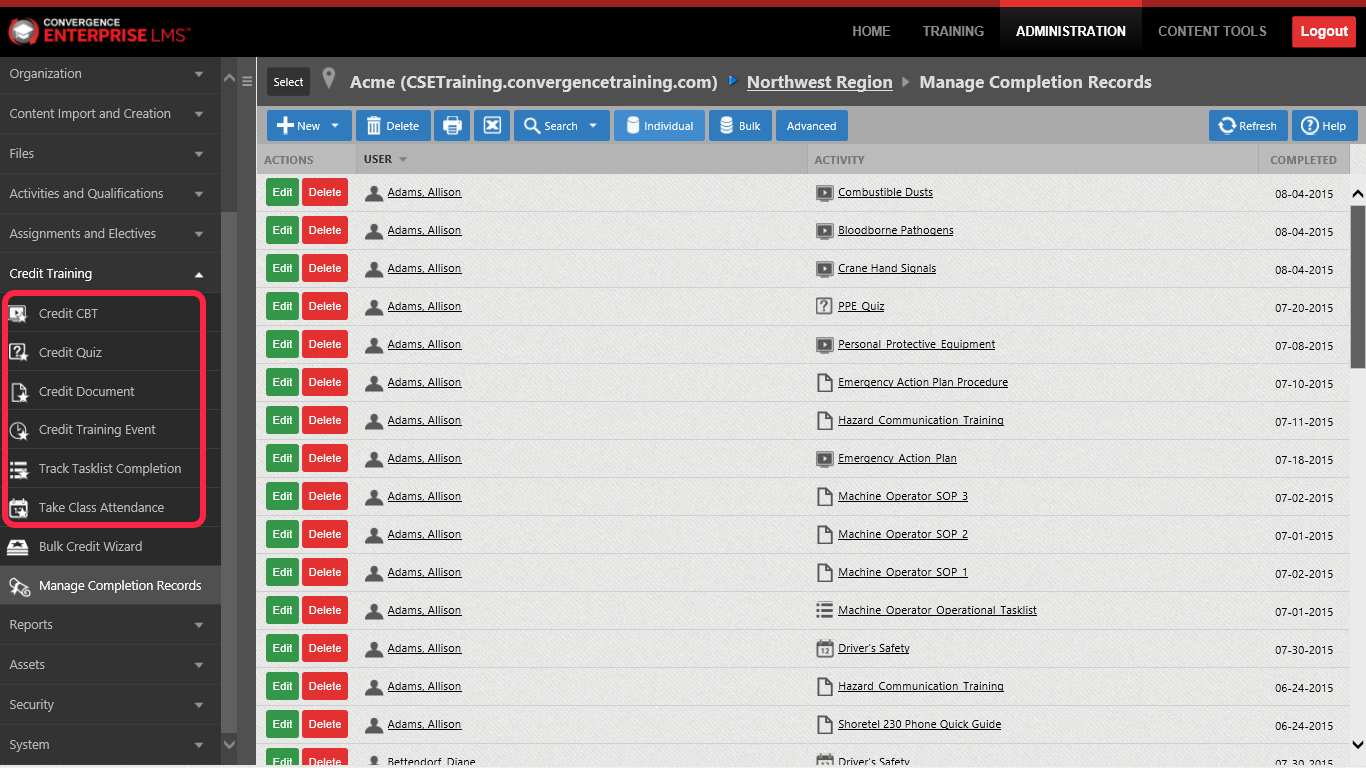 Reporting on Health and Safety Training With an LMS
Of course, an LMS will come with a large number of reports to that let you find whatever safety training data you're looking for.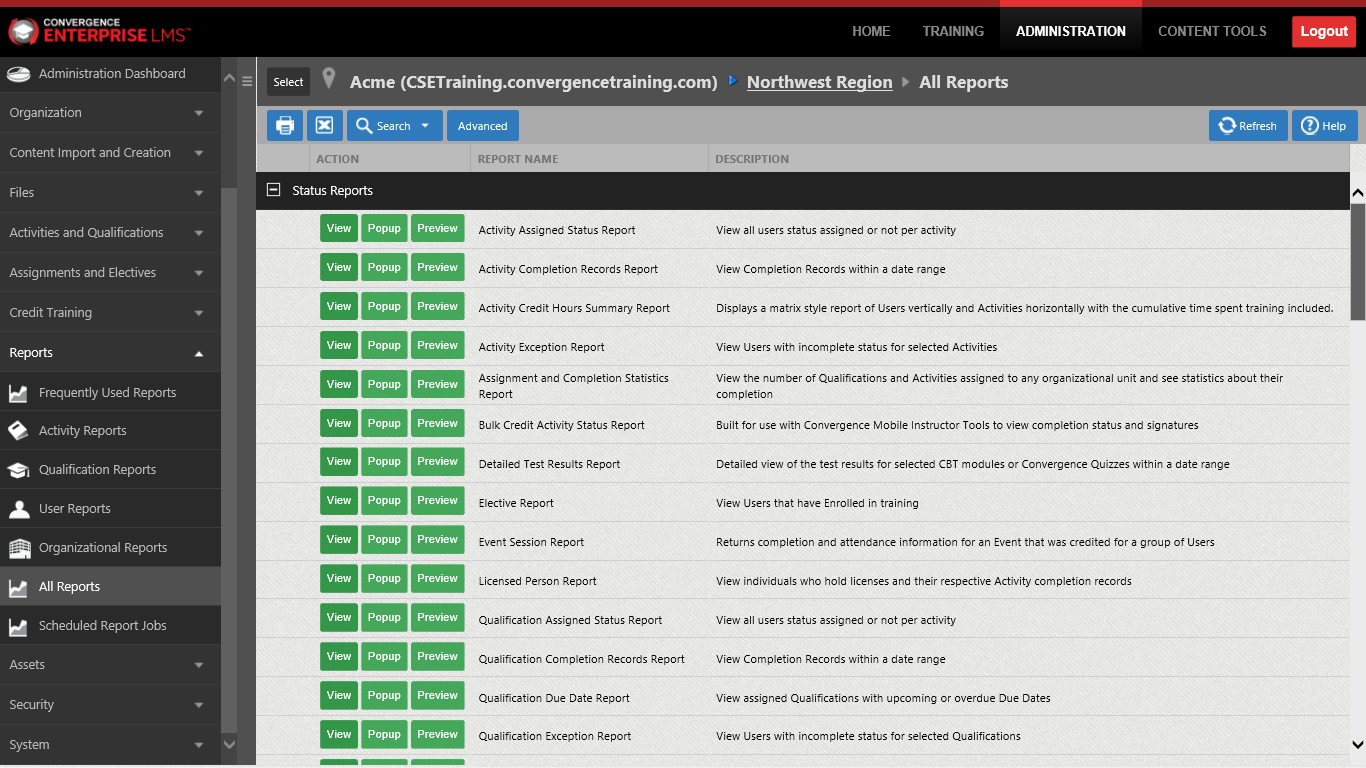 Running Reports on Health and Safety Training Completion with an LMS
Of course, you'll want to generate reports on training, such as the one below, which shows employees who are currently complete or incomplete on assigned training.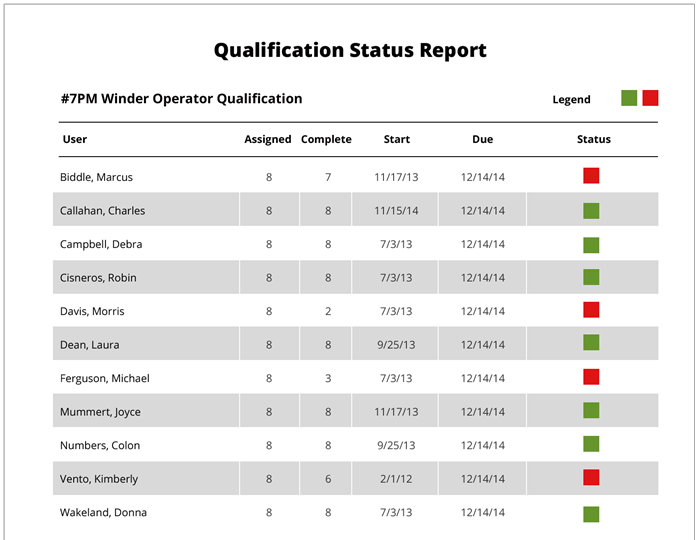 That's all we've got for you for now. Hopefully, this article has given you a good general idea of what an LMS is and how you'd use one for safety training.
Look for similar articles on the ROI of an LMS for Safety Training and eLearning Courses and Online Safety Training.
Conclusion: The LMS and Online Health and Safety Training
So there are some thoughts about using an LMS as part of an online health and safety training program. We hope we've given you some ideas you can work with.
If you'd like to learn more about how to find the LMS that's right for your company, you may find our article How to Buy an LMS: Getting it Right The First Time helpful.
You can also download the LMS Buyer's Guide below, which comes complete with a handy buyer's guide checklist, for free.
And don't forget to check out our library of off-the-shelf online safety training courses.
But what about you? What are your own thoughts? What did we miss? What would you add?
The comments field below eagerly awaits your input.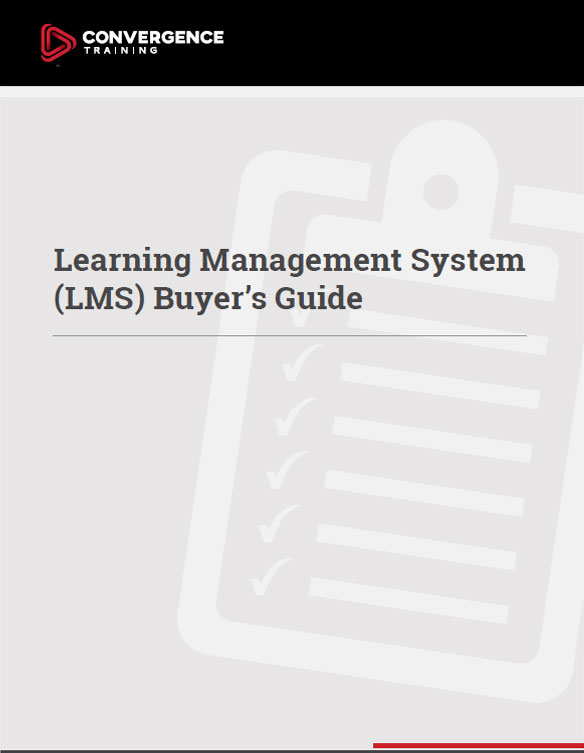 Learning Management System (LMS) Buyer's Guide
Learn what you need to know BEFORE you begin your search and get a free checklist to guide you, too.