There are many different aspects of MSHA Part 46 compliance training. Recordkeeping is one of those.
It's easy enough to see WHY there are recordkeeping and documentation requirements. Regulators have to know what's been done and what hasn't been done. Even if you don't LIKE doing this, the logic is fair enough. You get it.
That doesn't mean that creating, storing, and later retrieving all those records is especially fun. And if you're a safety manager, I'd be willing to bet it's not your favorite part of your job.
But online, computerized systems can help ease this recordkeeping and documentation challenge. They'll help you spend less time creating, storing, and retrieving training records and other documentation. This means you can spend more of your time on safety training, safety audits, safety observations, in safety meetings….well, you get the idea. You can spend more of your time doing stuff that is more productive.
In this article, you'll learn more about some ways that online systems can save you time, headache, frustration, and even money on all this recordkeeping. Read on for the full story.
And don't forget to download our Free Guide to MSHA Training Requirements from the bottom of this article.
Convergence Training
 provides online safety training courses, learning management systems, incident investigation software, and contractor orientation solutions for mining safety and general safety. Explore the links below to learn more about what we do.
Download our FREE Guide to Online MSHA Training Solutions
8 Headache-inducing MSHA Recordkeeping Challenges (That Can Be Done Easier Online)
Let's look at a few ways that online tools can help make your MSHA Part 46 recordkeeping and documentation chores easier, faster, and less expensive.
1. Creating Completion Records
Let's see how an online system take make the creation of training records easier.
Creating records for online training
You'll always perform training in the classroom or in the field as part of your Part 46 training. But online tools also allow you to deliver some training to your workers online. This includes e-learning courses on any number of topics: mining safety, general EHS, and more.
When an employee logs in and sees the training assigned, he or she will see that the assigned training list includes e-learning courses. The employee can launch those courses and view them online. When the training content is over, the e-learning course seamlessly transitions to an online test. Your employee is asked to answer questions online, assessing his or her understanding of the training concept covered in the e-learning course. His or her answers are tracked and stored, and the online system determines if the employee passed or failed (typically, passing means the employee has correctly answered 80% or more of the questions).
Sure, you'll still have to create some training records on your own, and we'll discuss this shortly. But automatic crediting for the completion of e-learning courses like this can save you a lot of time.
Let's take a moment to see what that looks like in an online system such as the Convergence Training MSHA LMS.
Here's a sample test question an employee would have to answer as part of an e-learning course. The online system will evaluate if your worker has answered correctly or incorrectly.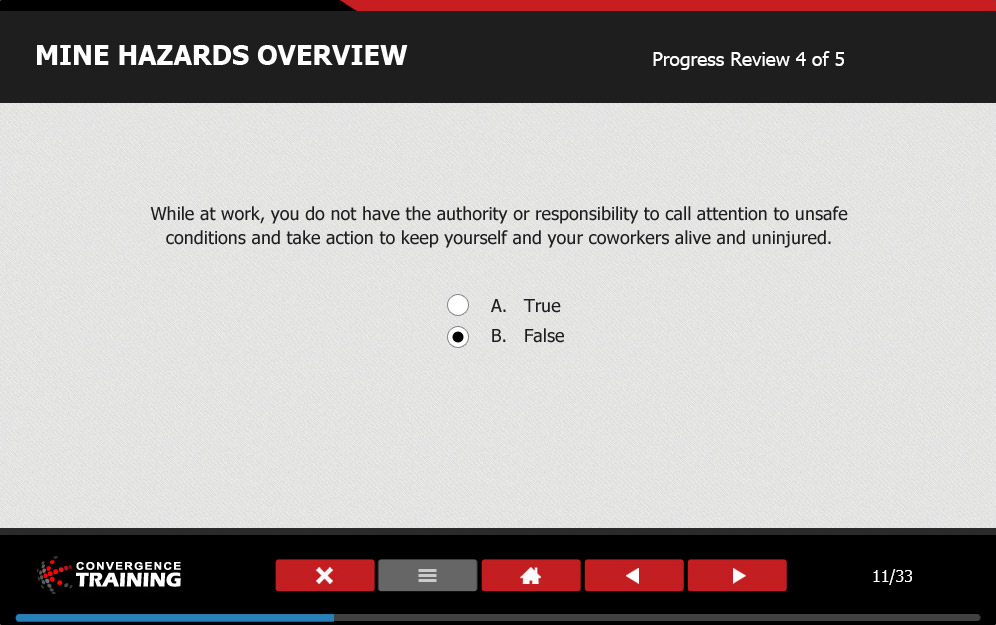 After answering one question, the worker advances to the next question. Eventually, your worker will answer all questions in the test, and the system will tell the worker if he or she passed or failed.
Here's what it looks like if the worker passes: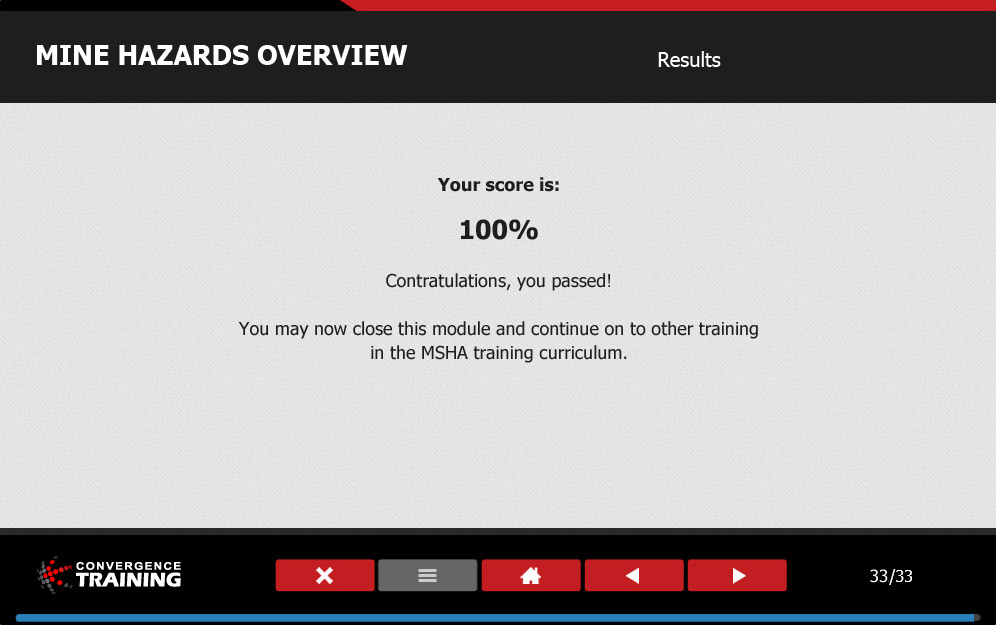 Now let's see what that looks like from your perspective–the LMS administrator, meaning the person who's responsible for making sure people have received and completed the proper training.
Below is a screen grab of the "completion records screen." This is the screen that lists every completion record created whenever a worker completes a training activity.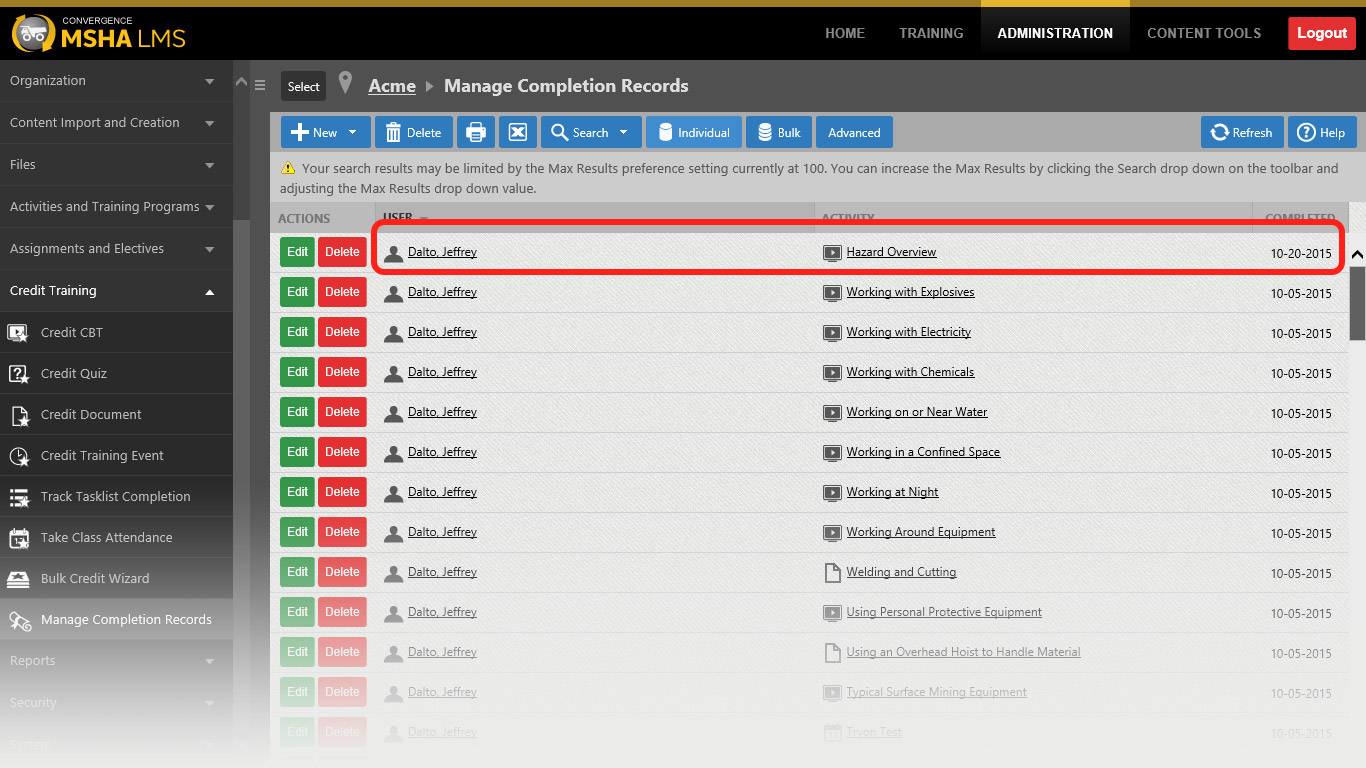 You'll see we've circled one in red for you–it shows that employee Jeffrey Dalto completed the Hazard Overview e-learning course on 10-20-2015. If you clicked the green EDIT button next to the completion record, you'd find more details–where was the training completed, for example.
Of course, you can run reports to see who's done or not done with training, but that's getting ahead of ourselves. We'll show you that soon enough.
Creating records for classroom-based training
As we mentioned earlier, the online system can't automatically create all of your training records.
The system doesn't know by itself if your workers attended some face-to-face, instructor-led training, or if they learned how to perform a particular skill in the field, or if they attended a safety meeting, or if they…well, you get the point.
In some cases, you'll have to manually enter some data into the online system and click a button or two to have the system create those records for you.
Here's how you'd give a worker or even 5, 10, or 20 workers credit for attending a class. Just check a box next to one, some, or all names and click the Save button. Pretty easy, huh?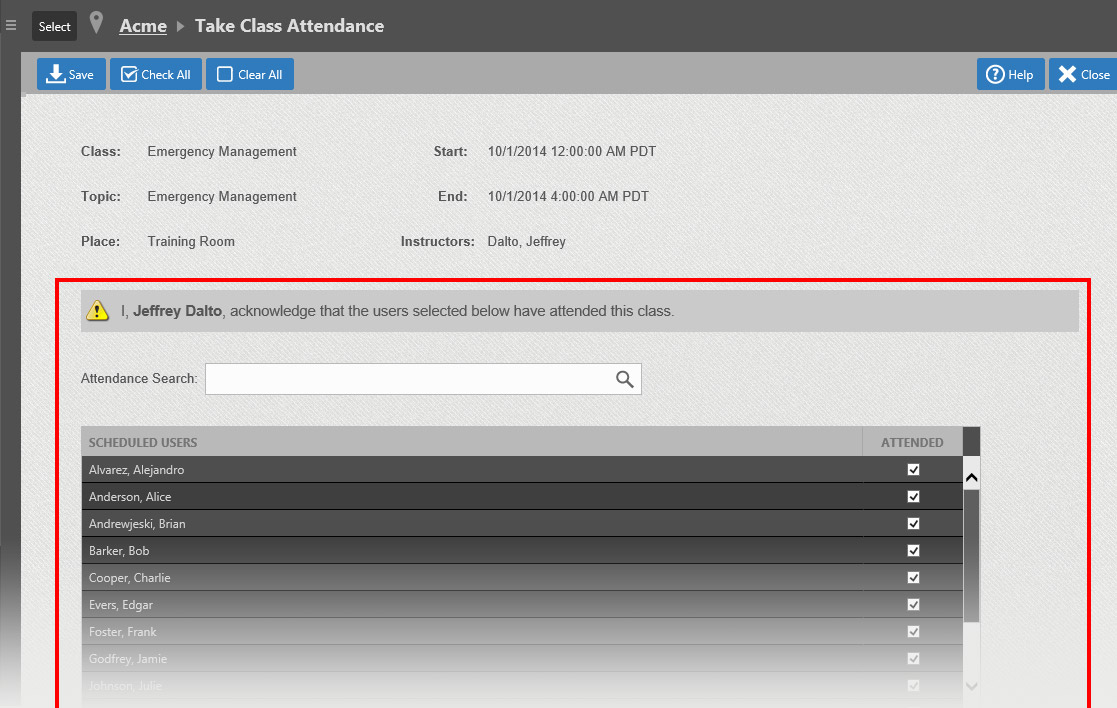 Creating records for field-based training
The process is similar if the worker completed some task-based training in the field. The screen below shows how you'd check someone off for each item after teaching them, and having them perform, the steps of a "dozer pre-operation checklist."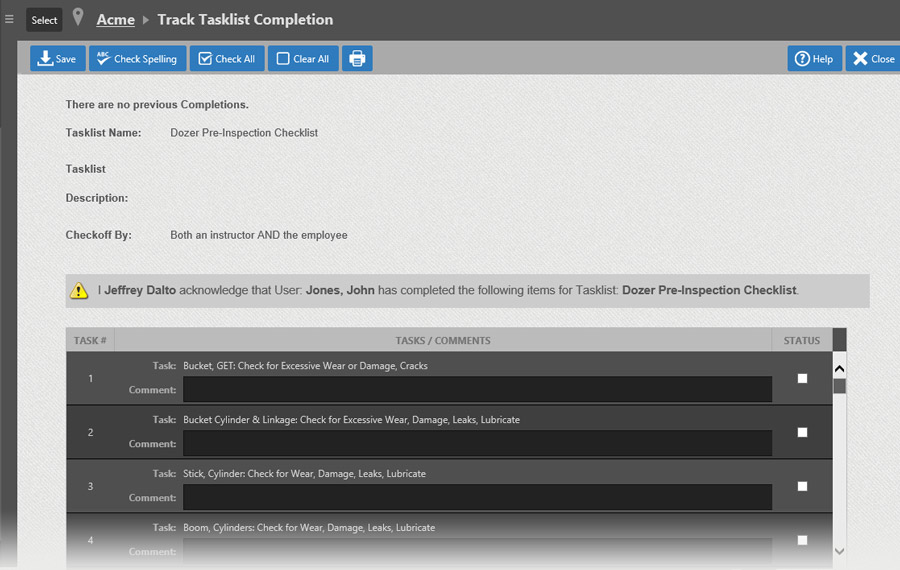 Creating records for "miscellaneous" training
And what about giving credit for "miscellaneous" training, such as safety meetings, off-site trainings, and similar trainings? It's just as easy to give workers credit for completing miscellaneous training that you've entered into the online system as what we call a "training event."
Select one or more names (that's a big bonus–you can select any number of names at one time, and you can even select all workers in a team, department, site, or district), fill in a few more details, and you're done.
You just check off the worker for each step on the list. You can even write a comment under each item.
Note we've circled in red the field where you can select the names of multiple workers.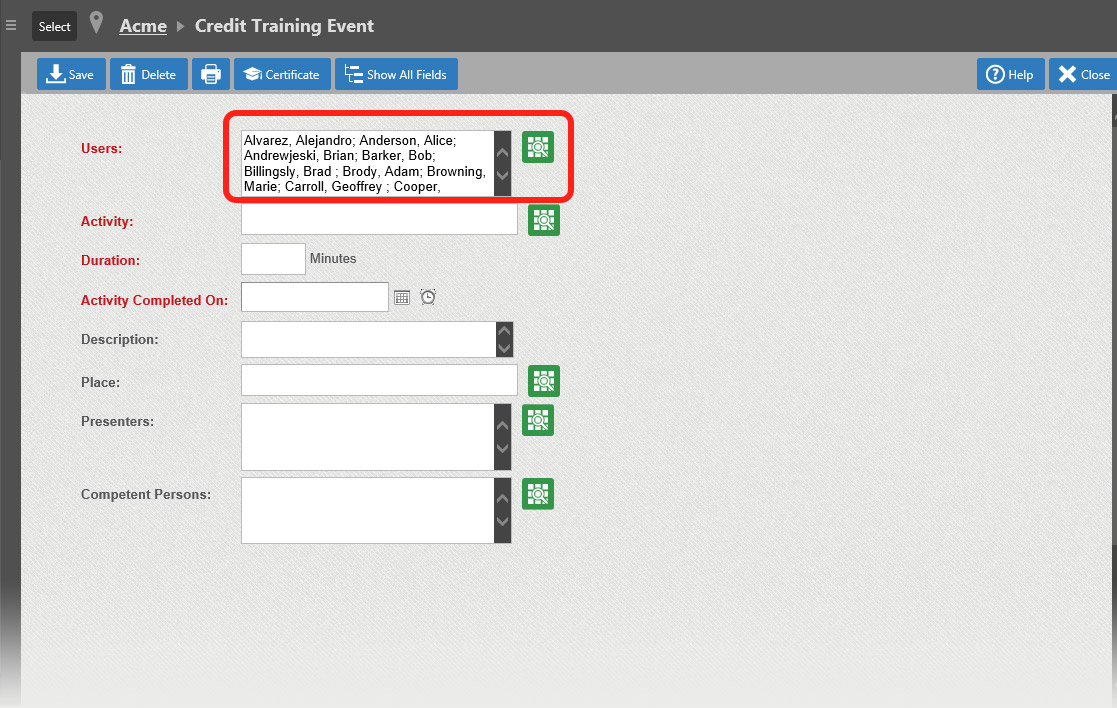 Creating records for multiple activities
And what if you need to give credit to multiple workers for completing multiple training activities of different "types" all at once?
Yep, you guessed it. There's an easy way to do that too.
As you see in the picture below, our Bulk Credit Wizard let's you select one or more worker and one or more training activity (it doesn't matter what type–e-learning, instructor-led, written materials, OJT, whatever), and then it walks you through a simple three-step process of creating all those training records at once.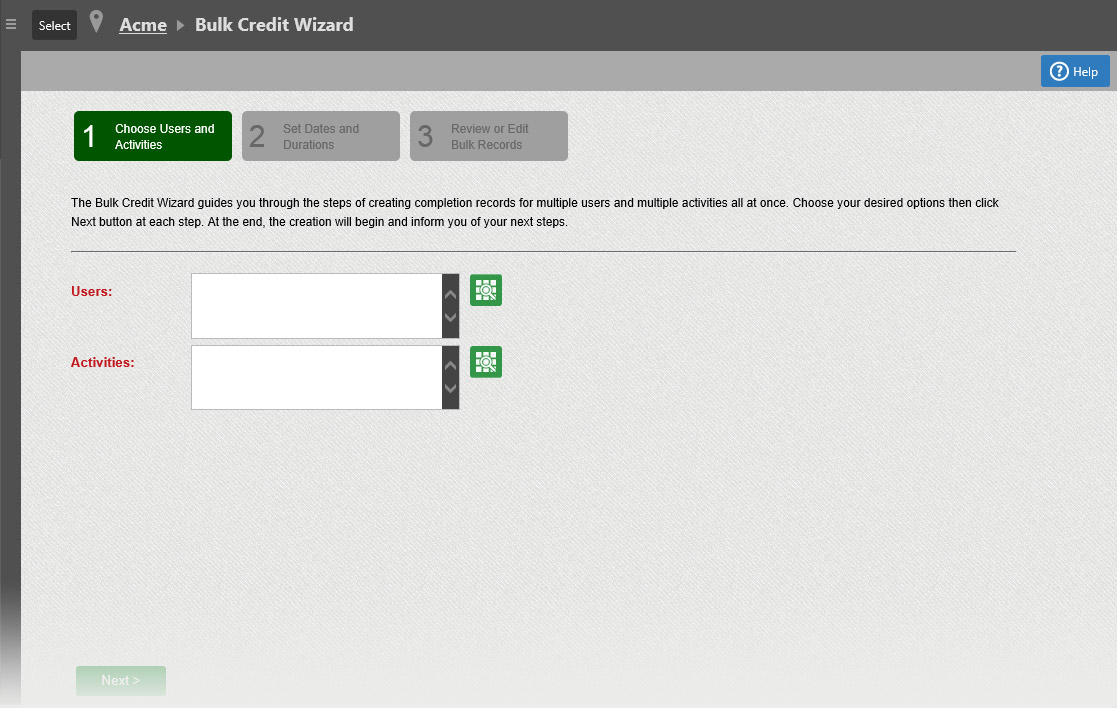 You can literally create 200 records of completed training in less than a minute. Wow! Take a moment and think of how much time, frustration, and money that would save you.
2. Storing and Creating Sign-In Sheets for Completed Training
Many mine sites pass out sign-in sheets during face-to-face training. The sign-in sheet includes the name of the training activity, the date and time, and the name of the instructor. The workers are then supposed to print their names and add their signature, confirming they attended the training.
These records are then filed away–often in a manila envelope in a metal filing cabinet. And in addition, the record that the workers completed the training is probably kept in an Excel spreadsheet (note that you've now got two totally separate recordkeeping systems on your hand).
And later, you may have to retrieve that sign-in sheet along with the record of completed training. This is all time-consuming and inefficient.
With an online system, you still pass out that paper-based sign in sheet. But when you've got the names and signatures, you scan the paper-based version to create an electronic version (sure, you can still file that paper-based version away if you want.) Then you go to one screen in the online system to give credit to the workers who attended and completed the training–we've already shown you how that works, above.
But in addition, you can attach that electronic, scanned copy of the sign-in sheet to the completion record of all workers to whom you gave credit for completing the training. Just click the Add Attachment button circled below, navigate to find the scanned file where you saved  it on your computer (take a look below, we circled the button in red).
And now you've now got the sign-in sheet inside your online system–electronically "attached" to each of the appropriate records of completed training (again, look below). You can easily bring this up at any time–it takes only about 30 seconds to get to the right screen, perform a search, and open the sign-in sheet.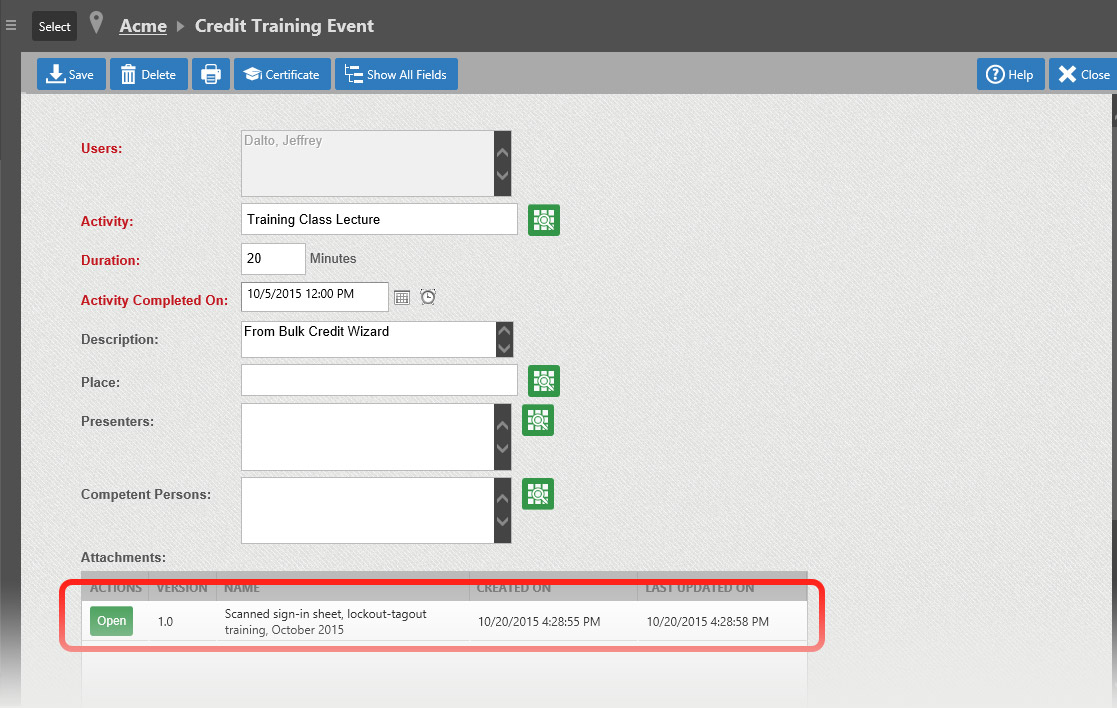 3. Creating Your Training Programs
You'll have to create what MSHA calls "training programs" for Part 46. This includes things like New Miner, Annual Refresher, and New Task training.
You'll go on to assign these training programs to workers. And then you'll want to keep on top of things to ensure that the right workers have completed the right training programs.
Let's see how that works in an online system.
Here's the screen where the Training Programs you defined–meaning, the Training Programs that you created, named, and put specific training activities into–are listed.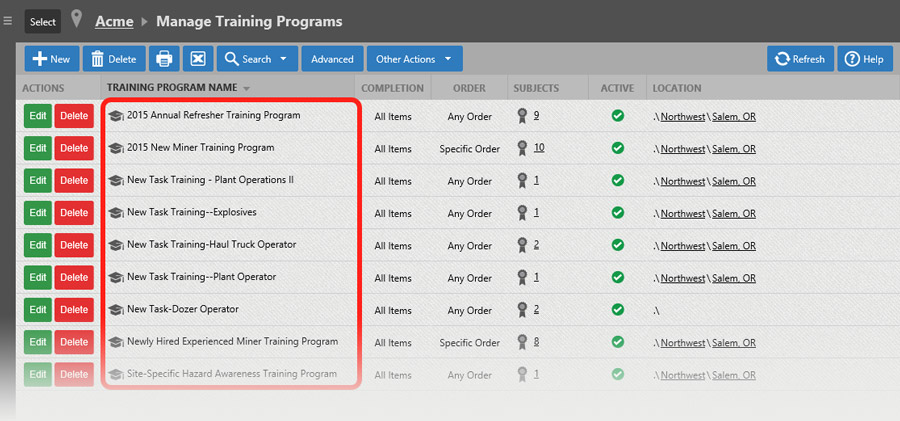 It's now easy to assign these training programs to the right workers, and it's equally easy to run a report, or reports, to see who's done or not done with their assigned training programs.

"For us, we were very focused on our MSHA areas and beginning to use the Convergence MSHA LMS has helped that, of course, but it has really helped us become more compliant in our OSHA areas. That was an unanticipated benefit, to be honest. That's because the training we previous delivered to our office staff wasn't specific enough to the area they were working in. And this has really helped us to make our main office and our mechanic shop more in line with regulations because you can create those training groups and customize training programs and I think that this has really helped us in that regard."

Cyndee Carter, Montana Rock Works
4. Getting Reports to Yourself, Supervisors, or Managers
Not only does an online system make it easier to generate reports about training completion. It can also be set up to automatically generate and email reports to yourself, supervisors, managers, or other people.
So that means you no longer have to take time every week or month informing different people about training progress. Instead, schedule a few reports and let the online system take care of it for you.
Everyone gets the information they need in their email inbox on a timely basis. No more hassles or delays.
You can see what that looks like below.

"I would venture to say that 85-90 percent of the companies we work with–companies that must comply with MSHA Part 46 training requirements–have employees who are overdue on training, have training that's expired, should have been completed again, and hasn't, and the company doesn't know it. And for that matter, neither does the employee. Using the Convergence LMS to track upcoming due dates and training expirations has made it easy to keep track of these situations by having the LMS automatically send reports to supervisors and managers informing them in advance of these situations before they pass the critical stage. Without this information, companies are often at risk of not delivering necessary safety training, which of course increases the risk of an incident but also of a citation from a regulator."

Scott McKenna, Catamount Consulting
5. Generating Your Written Part 46 Training Plan
Creating a written Part 46 training program can include a lot of work. Doing it for multiple mine sites  can really increase the work load.
An online system, however, includes tools to make this easier, including a data field to type into to enter the appropriate information, and tools to format and present your information in a clean, easy-to-read fashion. You don't have to wrestle with creating a table, auto-formatting gone haywire, fields you accidentally forgot, or anything like that.
Even better, you're prompted to input the necessary information as you go. Let's look at some screens to see how that works.
The online system will prompt you to enter the Mine ID and the Person Responsible for Safety and Health for each mine site. This will later be included on the written training plan the system creates. You can even automate the entry of this information using a spreadsheet and a wizard.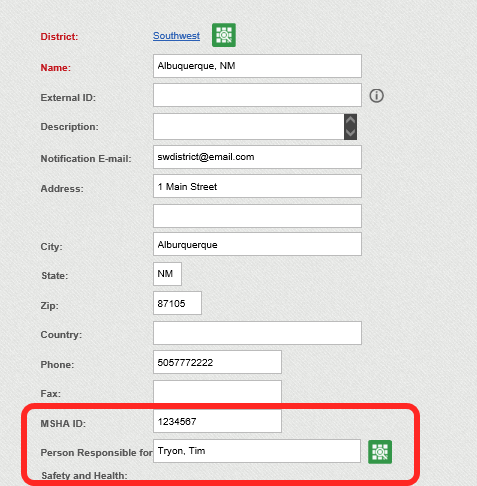 The system will also prompt you to enter information about your training subjects that's required by MSHA for Part 46 compliance, as well as the competent person(s) for each subject. Again, the system then puts all that information into your written training plan.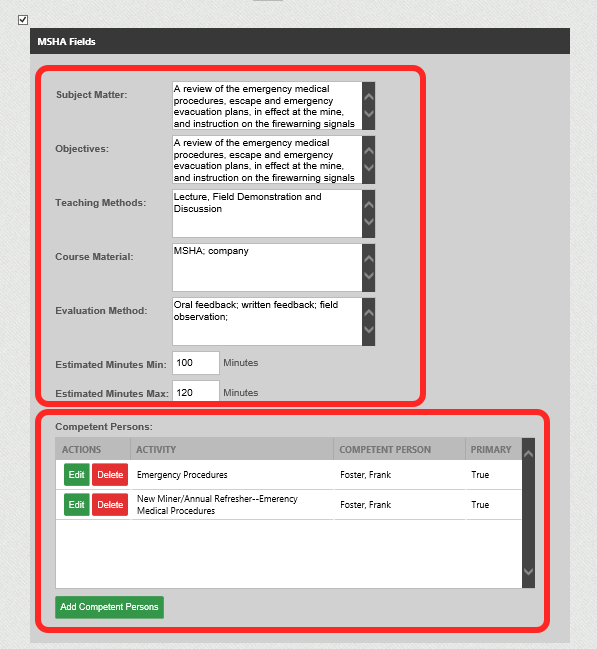 Your system will also guide you through the process of entering all the training activities to create all of your training programs for a site.
You can then easily assign those Training Programs (shown earlier), give credit for completing them (shown earlier), and have the system create your printed Training Plan (including all of those Training Programs). Just press a few buttons and "voila," the system prints it out for you in a matter of seconds.
Here's the information about your mine site required for Part 46: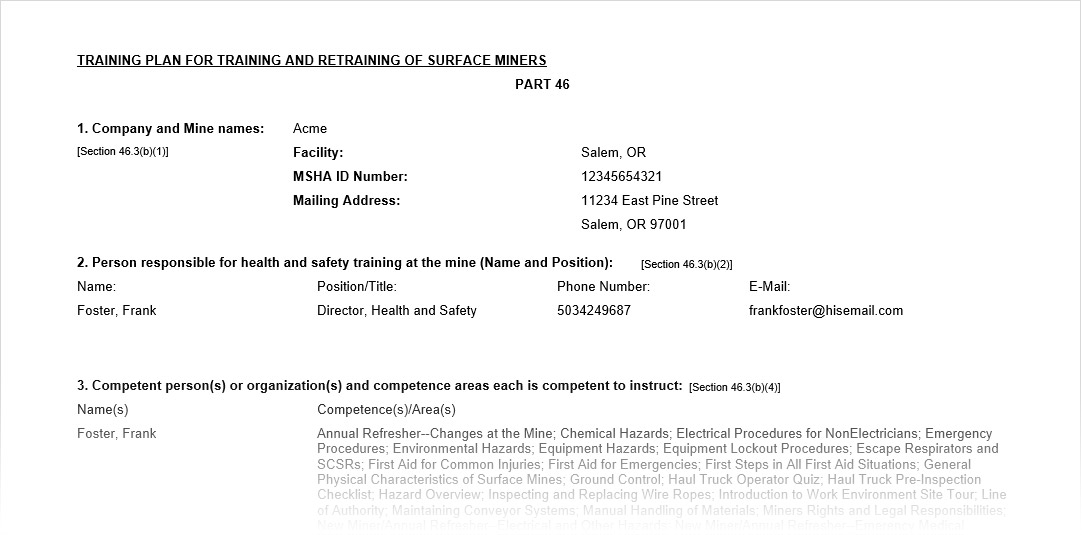 And here's an example of your printed Training Programs (in this case, New Miner):
6. Generating Written Part 46 Training Plans for Multiple Sites
If it takes a while to create a written Training Plan by hand for one mine site, the job just gets bigger and bigger for each additional site.
Wouldn't it be great if you could use a computerized system to create one training plan for one mine site and then click a few buttons, make some site-specific modifications, and automatically have a new training plan for a new mine site?
For example, say you've used an online tool to create a New Miner Training Program for Mine Site 1. That becomes part of your Training Plan for Mine Site 1, obviously. Your next goal is to create a training plan for Mine Site 2 that's very similar to the training plan you created for Mine Site 2, but has some site-specific differences.
An online system can let you do this copy/modify/rename process in a matter of seconds or minutes, not hours.
Just select a Training Program (in the example below, it's New Miner for the Sales, OR site) and copy it, rename it, add some site-specific elements as needed, and now you've got a New Miner training program for a new site (Macon,  GA in this case).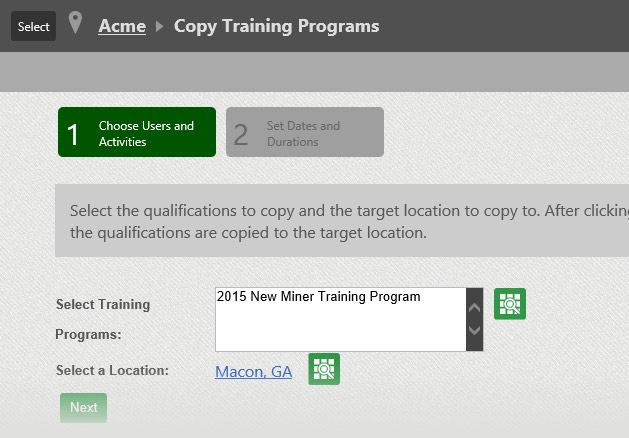 "We are using the Convergence MSHA LMS to deliver MSHA Part 46 training to 4 different site locations with a total of 125 employees. Some of the employees change site locations depending on the job that needs to be done. With a change of job site comes new site specific training. The LMS allows you to easily change a user's site location and be automatically assigned training based on what that site is required to have. The LMS also allows for groups to be formed to cross-train workers who might be located at different sites but have the same job descriptions. These abilities, plus the ability to copy training programs and modify them on a site-by-site basis as needed,  has saved supervisors travel time as well as production time."

Sherri Ison-Mohr, United Safety Solutions
7. Creating A Training Plan for Each New Year
In some cases, you'll want to take a training plan for one year, make a few modifications, and create a training plan for the next year.
Again, with an online system that lets you copy/modify/rename, this takes only a few minutes.
The image below shows the process of renaming the 2015 New Miner training program.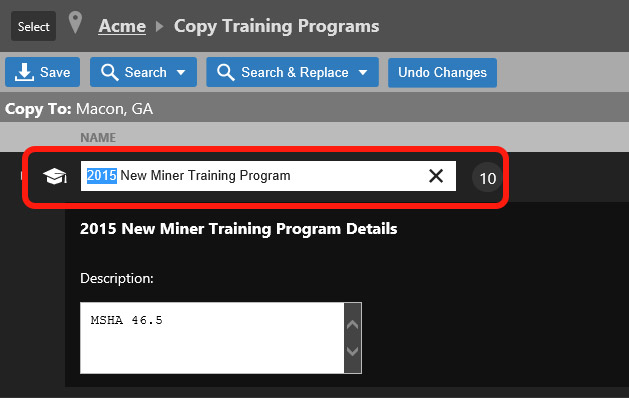 8. Collecting and/or Printing Documentation
There are any number of times when you need to generate reports or collect printed versions of training documentation.
Maybe an MSHA Inspector is at your site and wants to see some proof of training.
Or maybe an employee is leaving your company and wants a copy of his or her training records.
Depending on what you're looking for and how organized your records are, this might take you quick a deal of time. But with an online system that has built-in MSHA documentation capabilities, you can generate a report with the data you want in less than 20 seconds and print it, if necessary, in another 20 seconds. Meaning you've still got 20 seconds to sit back and drink some coffee before the minute's done.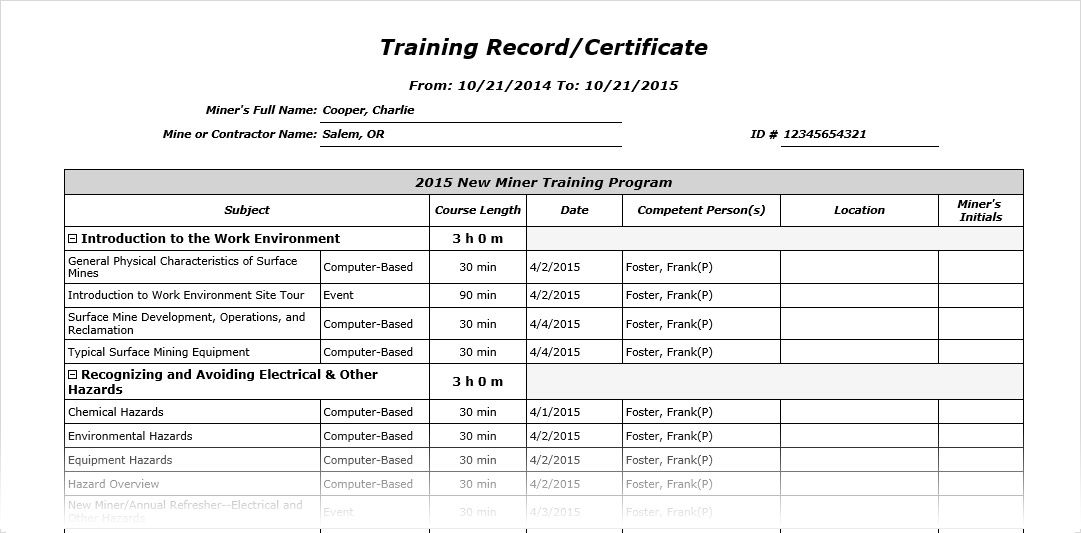 Conclusion: MSHA Part 46 Recordkeeping Made Easier
We've probably missed a few ways that an online system can make Part 46 documentation and recordkeeping easier, quicker, faster, less expensive, and less frustrating. But by now, we bet you've seen there's a lot of potential here.
Why spend all your time, energy, and training budget on things an online system can easily automate for you?
As a safety manager, your time is better spent leading training, talking to employees, being out in the field, performing JHAs, inspections, and audits, and doing stuff that makes the workplace safer. That's not to say that these records and documentation chores aren't important, because they are. But surely you can use a hand making them simpler.
If you need some help with all this, check out the following online MSHA training options and tools we've got for you:
And before you go, check out two more things, below.
First, our short overview video of the Convergence Training MSHA LMS, and second, our free 42-page guide to online MSHA Part 46 training, which you can download right now.
Here's the overview video:
Here's the free MSHA Training Requirements Guide (enjoy):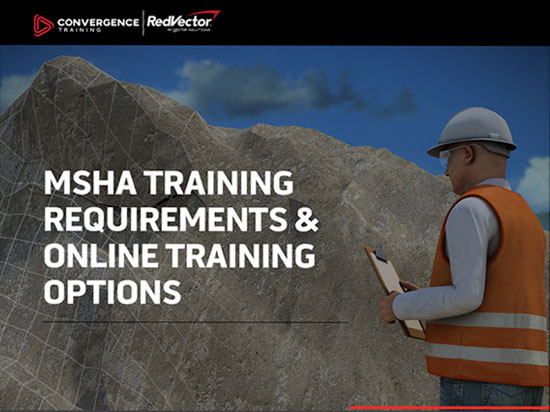 MSHA Training Guide and Online Training Tools
Download our free guide to learn about MSHA, the MSHA Part 46 and 48 training requirements, and how to use online tools to satisfy MSHA Parts 46 and 48.