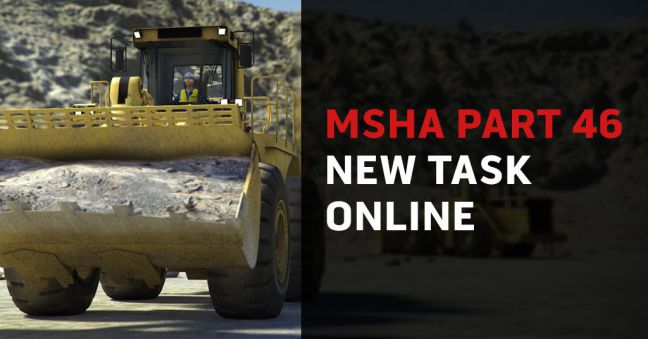 In an earlier post, we gave an example of how you could use online training tools as part of the MSHA Part 46 New Miner safety training requirement.
That post got a lot of attention, so we're circling back to do the same basic thing for MSHA Part 46 New Task(s) training.
What we're going to do is give some ideas of how you can use online tools–a learning management system (LMS), eLearning courses, and other online learning activities–as part of the training you deliver for MSHA Part 46 New Task training.
What we're not going to do is try to tell you that you should use only eLearning courses for your Part 46 New Task training. We recommend a "blended learning" approach in which you use a variety of different kinds of training. For example, you might have your workers do some reading, watch an e-learning course, attend some instructor-led training in a classroom setting, and do some task-based procedural training in the field. Or maybe you'll sprinkle in a mine tour. You get it–mix and match.
So let's get to it. And before you leave, don't forget to download the Free Guide to MSHA Training Requirements at the bottom of this article.
What Is MSHA Part 46 New Task Training?
MSHA is short for the Mine Safety and Health Administration. They place mandatory safety training requirements on mine operators (and others).
Those safety training requirements include Part 46 and Part 48. For the purposes of today, we're interested in Part 46, which are "the mandatory requirements for training and retraining miners and other persons at shell dredging, sand, gravel, surface stone, surface clay, colloidal phosphate, and surface limestone mines."
To learn more about Part 46, you can read our larger article about Part 46.
One of the requirements in Part 46 is to provide appropriate safety training before a miner performs  a new task on the job. As the regulation states it:
"You must provide any miner who is reassigned to a new task in which he or she has no previous work experience with training in the health and safety aspects of the task to be assigned, including the safe work procedures of such task, information about the physical and health hazards of chemicals in the miner's work area, the protective measures a miner can take against these hazards, and the contents of the mine's HazCom program. This training must be provided before the miner performs the new task."
So our goal in this article is to introduce you to some online training tools you can use to provide this new task training.
Examples of Online Training Tools for MSHA Part 46 New Task Training
Those online training tools you can use for Part 46 New Miner training include:
We'll cover each of those in that order below.
MSHA/Mining Safety Learning Management System (LMS)
A learning management system, or LMS, is a software application you can use to administer your training.
This means:
Assigning
Delivering
Notifying
Crediting
Reporting
Creating all necessary MSHA Part 46 training documentation
More
Watch the video below for a better idea of how an LMS can help you administer your MSHA Part 46 training, and of course the New Task training that's included in Part 46.
The LMS isn't just for eLearning courses. You can use the LMS to administer may different types of training, including:
eLearning courses
Other online activities, such as online quizzes
Instructor-led classroom-style training
Daily or weekly safety meetings
OJT training performed in the field
Written materials (such as Word documents, PDFs, and PowerPoint presentations)
Videos
Webinars
Offsite training with third-party training consultants or MSHA/OSHA agents
Conferences
Mine tours
More
The eLearning courses (and some other types, as you'll see) can be delivered online through the LMS. But even the types of training that can't be delivered online, such as instructor-led training in a classroom, can be administered online with the LMS. That means you can still assign instructor-led training to miners, have the LMS notify miners of the assignment, use the LMS to credit the miners for completing the class, see the miner's completion status in reports, and capture that training in the documentation that MSHA requires for Part 46.
For more about that, read our 12 Ways to Administer Instructor-Led Training with an LMS article.
eLearning Mining Safety Training Courses for New Task Training
Now let's turn our attention to eLearning courses.
You can use one or more eLearning courses, in addition to other forms of training, to create a blended learning solution for your new task training.
Miners can perform any number of tasks on the job, so we'll just give two examples below. That will give you the idea and you can go from there.
We took these example courses from our mining safety and general EHS training libraries.
Example 1: e-Learning Courses on HazCom and Chemical Hazards for New Task Training
You may remember that Part 46 says the training could cover "information about the physical and health hazards of chemicals in the miner's work area, the protective measures a miner can take against these hazards, and the contents of the mine's HazCom program."
So if there are hazardous chemicals at your mine site (and there most probably are), this HazCom/GHS course would be a sensible addition to just about every new task training program.
And if  miners will be working directly or near chemicals, this Working with Chemicals course is also a good addition to a new task training program.
Example 2: e-Learning Courses on Working On or Near Water for New Task Training
Because many mines are located near water, largely for transportation purposes, an eLearning course covering general safety when working on or near water is a good addition to many new task training programs.
Other Types of "Online Training": Online Documents, Quizzes, OJT Training Tools, Videos, and Webinars
You just saw some examples of eLearning courses your miners can complete online as part of their Part 46 New Task training requirements.
Now, let's take a quick look at some other kinds of training that you can deliver to miners online. These include:
Electronic versions of written documents (or PowerPoint presentations)
Online quizzes
Online activities for teaching safe work procedures
Videos
Webinars
More
We'll discuss each further in the sections below.
Electronic Documents for New Task Training
You probably deliver training material to miners in written format from time to time.
This may include Word documents, PDFs, Excel spreadsheets, PowerPoint presentations, or similar written materials.
Your LMS will let you deliver electronic/digital versions of these materials to your workers online. This allows your workers to view the material online at any time, confirm that they've read and understood them. And the online system automatically creates a completion record for this training which you can report on at any time.
Online Quizzes
The LMS will also include a tool you can use to write your own quizzes that miners can complete online. These can include common question types like multiple choice, true/false, and even matching or drag and drop.
You can create your own custom quizzes any time you want to see if workers have understood some training. Maybe after they've read written training material, or after they've attended instructor-led training, or after they've completed some training in the field.
With an online quiz, your miners can read the questions, answer them, and receive feedback for each question. The LMS will record their answers and let them know if they've passed or failed (you select the passing score). And of course the LMS will store all completion records.
Online OJT/Job Procedure/Skill Instruction, Demonstration & Evaluation
You'll often give OJT training to your miners in the field. Many times, this will include a training them on the steps to follow to safely perform a job task. A lot of times, this kind of training is conducted with the user of a paper-based checklist. The checklist includes the steps of the task, the miner gets "checked off" on each step when he/she performs them correctly, and both the miner and the trainer sign the checklist, which is then filed in a file cabinet.
With an online system, you can put your checklist in an electronic format and do all the "checking" and "crediting" electronically.
Below is what a checklist like this would look like. Note that we're showing it being used on a mobile device for field verification, which is very handy. Don't have wireless connectivity out in the field? Don't worry, you can still do this and then sync your mobile device when you're back at the office and have a connection.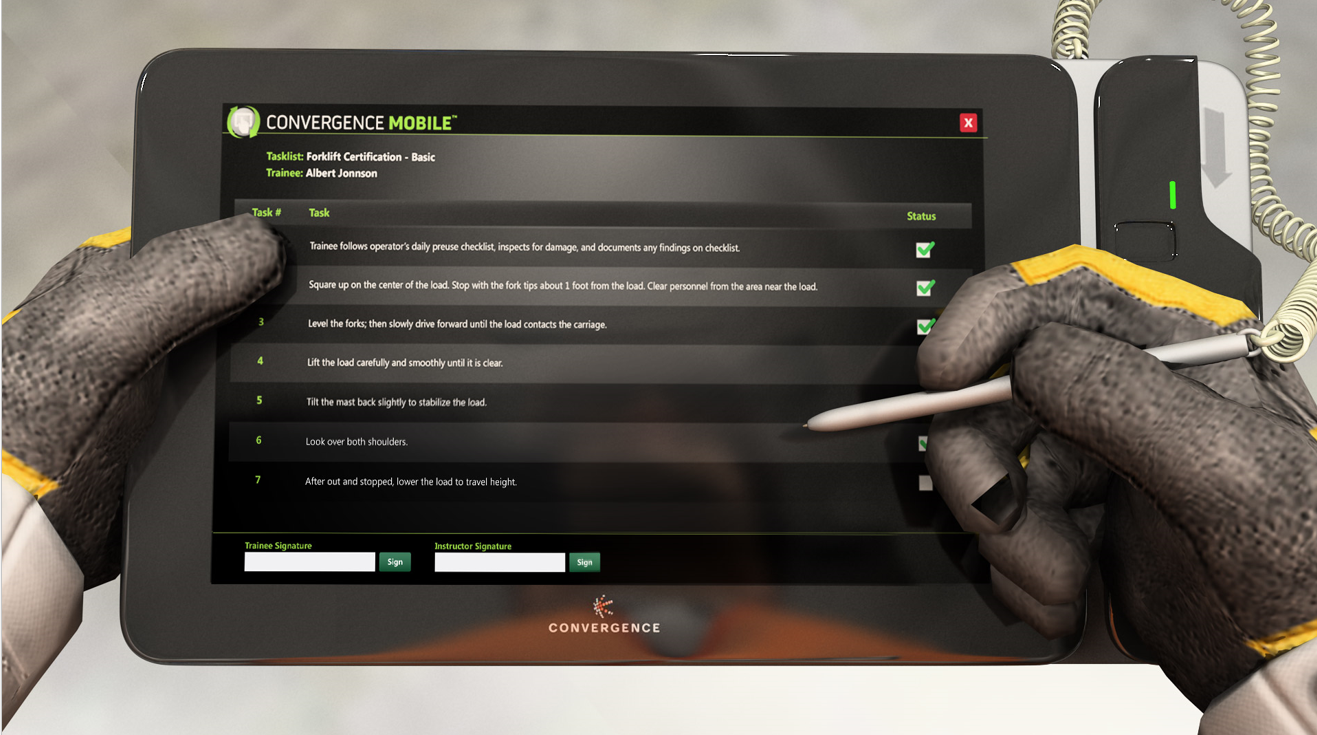 Videos
You can also deliver videos to your miners online as part of new task training.
These may be videos you shot yourself with your own video camera or phone. Or maybe they're videos from MSHA or the Chemical Safety Board (CSB).
Here's an example of a video you could import it your LMS, assign to workers, and let them complete online:
Online Webinars
You may also deliver training to workers using a webinar.
The webinar will be delivered online, obviously, and your can use the LMS to administer other aspects–assignment, completion tracking, reporting, MSHA documentation, and more.
Conclusion: Online Training for MSHA Part 46 New Task Training Requirements
By now, you've probably got a pretty good idea of how you can use online learning activities to make up some of the MSHA training requirements for Part 46 New Task training programs you're required to provide at your mine site.
We'd be curious to know what you're own experiences are. What are the tasks that you provide this kind of training for at your mine? What types of training do you use to provide that training? What are some of your success stories, and what are some of the frustrations or challenges you face repeatedly?
Let us know if you have any questions, too. Drop a comment below in the comments field and we'll be sure to respond.
Also, check out the following online MSHA training options and tools we've got for you:
Finally, don't forget to download the free guide to online MSHA compliance tools below for an even bigger-picture view of how you can use online tools for Part 46 training.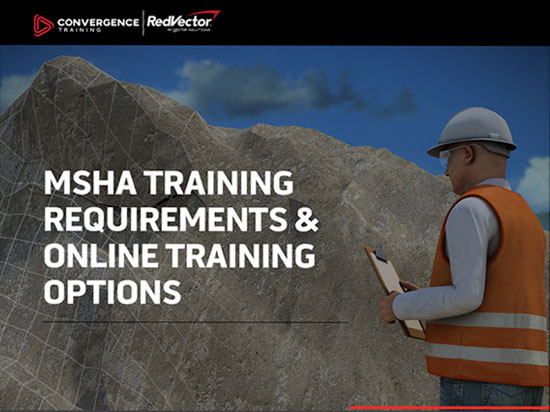 MSHA Training Guide and Online Training Tools
Download our free guide to learn about MSHA, the MSHA Part 46 and 48 training requirements, and how to use online tools to satisfy MSHA Parts 46 and 48.