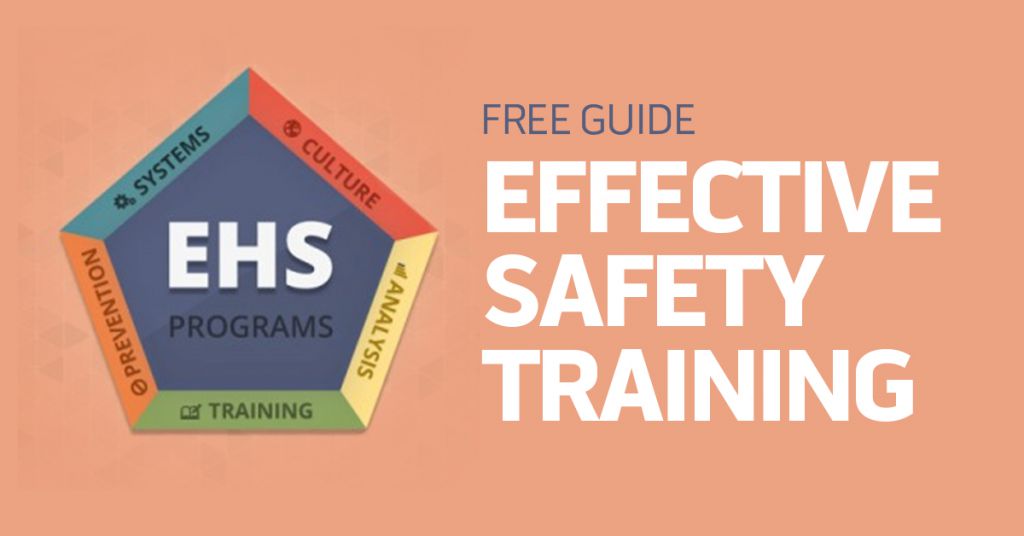 If you're in EHS (or Safety), you're probably also in EHS (or Safety) training. If so, you're going to LOVE the free downloadable guide at the bottom of this article.
The guide is going to walk you through all the steps of having a top-notch EHS training program that follows best practices. We think it will make your job easier and your workplace a safer, healthier place.
It's a complete guide that will help you follow best practices for integrating your EHS and EHS training efforts; managing your EHS training program; design, develop, deliver, and evaluate your EHS training; and continually improve your EHS training.
Our guide has a lot in common with the best practices put forth in ANSI Z490.1, the American national standard of "Criteria for Accepted Practices in Safety, Health, and Environmental Training." Although our guide covers nearly everything in the standard, we do recommend you still go and get a copy of the guide (which was just updated in 2016).
Let us know if you have any questions, thoughts, or comments–there's a comments section at the bottom of this article. And enjoy the guide!
Best Practices for Effective EHS Training Programs
No doubt you recognize the importance of effective EHS training. And, maybe, you're entirely on top of this and your EHS training program is excellent (although if your EHS program is excellent, we bet you've got a continuous improvement program built into it, which means you're no doubt interested in reading and learning more to make it even better).
But maybe you're like a lot of people forced to wear many hats at work. Maybe your expertise is in environment, health, or safety, or some combination of those, but you're less familiar with the steps and methods involved in effective training. Or maybe you're familiar with best practices of training, but your EHS training program could still use a little brushing up.
In either case, we're all fortunate that ANSI Z490.1, the American National Standard with Criteria for Accepted Practices in Safety, Health, and Environmental Training, exists. ANSI Z490.1 spells out everything you should do to put together, deliver, and continually improve an EHS training program.
At the bottom of this guide, we've created something like a "companion piece" to ANSI Z490.1. It restates what the standard tells you to do, perhaps in more familiar, conversational language. It provides in-depth examples and explanations. And it includes links to many additional resources that will make your job even easier.
Here's what the guide will walk you through:
The Scope, Purpose, and Application of ANSI Z490.1
It's best to start at the beginning. What is this standard, who does it apply to, and similar information. There's a helpful FAQ in this section of the guide.
EHS Training Program Administration and Management
Learn the responsibilities involved in administering and managing an EHS training program and how to integrate it into your EHS management program in general.
EHS Training Design and Development
Learn everything you need to know and do before you begin training. This includes:
Performing a needs assessment
Identifying course prerequisites
Creating learning objectives
Designing the course
Designing the evaluation
Determining completion criteria
Making plans for continuous improvement
EHS Training Delivery
In this section of the guide, we'll tell you what you need to know about:
Criteria for effective EHS trainers
EHS training delivery methods
EHS training materials
EHS Training Evaluation and Continuous Improvement
It's not enough to develop and deliver EHS training. You've also got to evaluate your employees to see if they've learned and evaluate your training program to see how effective it is and how it can be improved. In this section, we'll walk you through:
General EHS training evaluation criteria
Training evaluation approaches
Continuous improvement of your EHS training courses and program
EHS Training Documentation and Record Keeping
Finally, we'll discuss the importance of documenting and keeping records of your EHS training, and give some best practices for each. This will include:
EHS training documentation and recordkeeping systems and procedures
Confidentiality and availability
Issuing EHS training completion certificates
With that introduction done, please feel free to download the FREE GUIDE TO EFFECTIVE EHS TRAINING BELOW.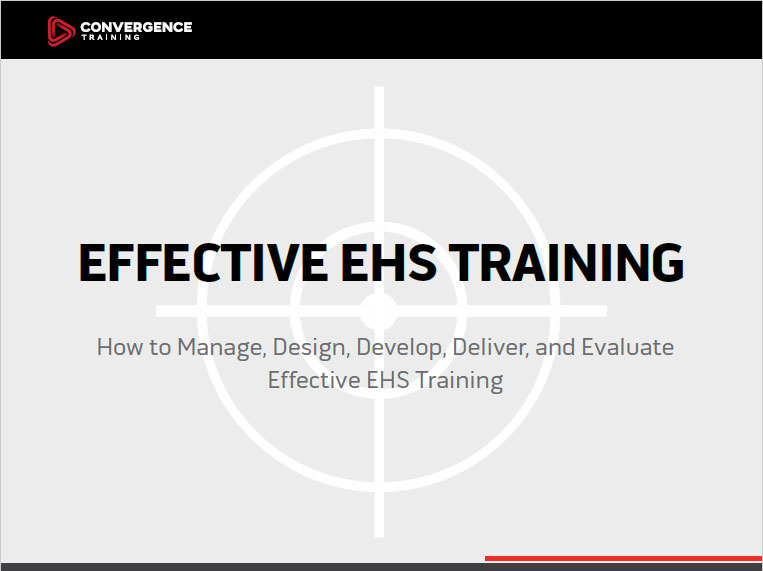 Effective EHS Training: A Step-by-Step Guide
Learn how to design, create, deliver, and evaluate effective EHS training by following these best practices with our free step-by-step guide.