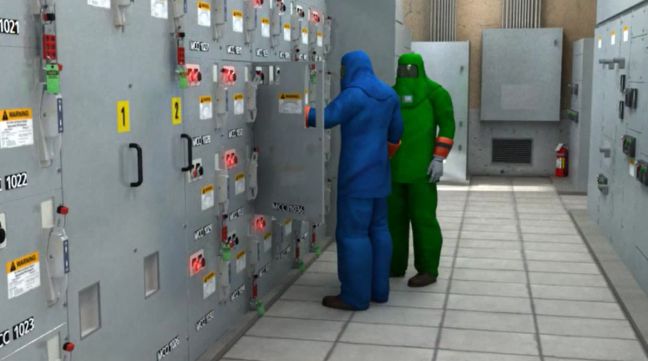 Live work on electrical equipment carries a substantial risk of electric shock and arc flash. When exposed to energized equipment, employees must have a clear understanding of potential hazards and ways to work safely. Prevention of unsafe conditions is vital, as the consequences of electrical shock and arc flash can be devastating.
Temperatures during an arc flash can reach or exceed 35,000 °F (19,400 °C).  Explosions during these events can occur as metal changes from a solid to a gaseous state, causing expansion and dynamic force. The resulting blast can produce blinding light, flying shrapnel, molten metal, extreme pressure, electric shock, and deafening noise.
Employees experiencing such catastrophes can be severely burned and/or suffer vision and hearing loss, crushing body injuries, and concussions and other traumatic brain injuries. Flying shrapnel from these events can incur serious wounds or impalements. If the work is elevated, the force of the arc blast or shock also may cause workers to fall from heights and produce additional injuries.
Protecting your workers from hazards such as these mandates several interwoven and necessary training components.
If you're wondering about what is required, let's take a look at the applicable standards in this article.
OSHA and NFPA Regulations & Standards On Arc Flash & Electrical Safety
Two entities—OSHA and the National Fire Protection Association (NFPA)—address specific arc flash and electrical safety training requirements.  Together, these agencies help to ensure the protection of workers through training, safe work practices, risk identification, and applicable PPE requirements.
About the NFPA 70E Standard for Electrical Safety in the Workplace
The NFPA 70E standard is a national consensus standard on electrical safety. It is not an OSHA standard. However, as it is considered the accepted standard for establishing safe electrical work conditions, it is enforceable and can be cited by OSHA.

Before you start implementing electrical and arc flash safety training, consider neutralizing or eliminating the hazards of live electrical work.  Could the same work be performed if the equipment is de-energized through lockout/tagout? If that is not possible, you must then train employees appropriately to work safety around the hazards and follow the applicable standards found in NFPA 70E.
Note: NFPA 70E is updated every three years, with 2015 being the current edition. The next version is scheduled to be released in October 2018. Make sure you select the most recent NFPA 70E edition when examining standards and evaluating training programs.
In a nutshell, general requirements of NFPA 70E include:
Risk assessments of hazardous energy sources (or arc flash risk assessments) by employers.
Safety-related work practices to be developed and implemented by the employer.
Employer to train employees on the above hazards and safety-related work practices.
Appropriate PPE must be selected according to the requirements outlined in NFPA 70E, and provided by the employer.
Employer to train workers on the use, selection and limitations of the above PPE.
Also, this training must be documented, including proficiency of the employee, date of training, and content of training. The employer must maintain records of the training for the duration of the worker's employment.
More specifically, NFPA 70E makes the distinction in training requirements for both "qualified persons" and "unqualified persons."  Each of these groups requires instruction, but at varying levels and content.
NFPA 70E and Qualified Persons
As defined in the 2015 NFPA 70E, a qualified person is
"…one who has demonstrated skill and knowledge related to the construction and operation of electrical equipment and installations and has received safety training to identify and avoid the hazards involved."
This was a revision from earlier NFPA editions to align with OSHA's definition.  Generally, qualified workers are those may perform work on or near exposed and energized electrical conductors or circuit parts, such as maintenance, installers or equipment service workers.
The training requirements for qualified workers include:
Methods to distinguish energized from non-energized parts
Determining the voltage of exposed energized electrical conductors
Safe practices to avoid exposure to hazards
Selection, use and limitations of the appropriate personal protective equipment
Equipment specific work practices and procedures
Emergency procedures to release victims from contact with exposed electrical circuits and in methods of first aid.
Methods to perform a hazard/risk assessment
Determining approach and flash protection boundaries
An important distinction in the newer NFPA terminology is that employees must demonstrate skills and knowledge to perform specific electrical tasks safely. This means that a "licensed electrician" on staff at your company still must demonstrate his or her skills and knowledge to be qualified to work under your electrical safety program.
And further, a worker who has been trained and qualified to perform a certain workplace task might not be qualified to perform other electrical duties.  You will need to train that worker for the tasks they will perform. Qualified –under the NFPA 70E– is task-specific.
NFPA 70E and Unqualified Persons
But what about employees who don't perform work on exposed electrical equipment? These are "unqualified persons."  Workers, such as equipment operators, painters, or cleaners, generally fall into this category.
Safety training for these employees is required according to the NFPA 70E, which mirrors OSHA's requirements. The NFPA states:
"Unqualified persons shall be trained in, and be familiar with, any electrical safety-related practices necessary for their safety."
Unqualified persons should receive safety training on the nature of electricity, as well as potential sources of injury and the types of harm these hazards may cause to the human body.
The upcoming 2018 NFPA 70E defines an electrical hazard as "a dangerous condition such that contact or equipment failure can result in electric shock, arc flash burn, thermal burn, or blast." These should be discussed with workers to ensure they understand the severity of electrical hazards.
Through training, employers should identify the difference between qualified and unqualified persons, and the tasks each are permitted to perform. Recognition of hazards, such as tripped breakers, "hot" equipment, or frayed electrical cords, should be included in the training.
Aside from the NFPA 70E Standard's requirements, this training is essential for your overall workplace safety. By outlining expectations of unqualified workers, you can stop employees from attempting tasks they do not have the knowledge or experience to perform. (For example, the training can prevent tinkering on live equipment by machine operators who are not electrically qualified.) Both the NFPA and OSHA have a similar mindset regarding unqualified workers. Without training, employees may not know the hazard potential of their environment. Your training gives vital awareness and prevents injuries.
OSHA Electrical Standards
As one can imagine, OSHA has several standards which apply to electrical hazards that can result in arc flash or unsafe conditions. These overlap with the NFPA in overall purpose, but the requirements in NFPA 70E are far more detailed in methods and safe work practices.
Subpart S of OSHA's 1910.332 standard contains the training requirements for employees who face a risk of electric shock that is not reduced to a safe level by the electrical installation requirements. Like the NFPA, OSHA uses both qualified and unqualified terminology to designate the types of workers affected by electrical hazards.
OSHA requires that employees be taught the safety-related work practices that pertain to their respective job assignments, such as those that are addressed by Subpart S.
And workers should be trained on any additional electrically-related safety practices that are not covered by the standard but necessary for their safety. (For example, the nature of electricity, employer-specific procedures, etc.)
Additional training requirements apply to qualified persons including:
Skills and techniques necessary to distinguish exposed live parts from other parts of electric equipment.
Skills and techniques necessary to determine the nominal voltage of exposed live parts.
Clearance distances specified in 1910.333(c) and the corresponding voltages to which the qualified person will be exposed.
Under 29 CFR 1910.335(a)(1)(i), employees working with potential energy hazards must be provided appropriate electrically-rated PPE. This means they will also need training for the use, selection, limitations of the designated PPE, as well as training for any insulated tools or handling equipment necessary for the electrical work.
And of course, qualified workers also need lockout/tagout to prevent the unexpected release of energy.
Conclusion: OSHA & NFPA Electrical & Arc Flash Standards and Regulations
Clearly, the integrity of your arc flash training program is key.
Arc flash training requires instructors with in-depth subject matter knowledge. You can trust the experts at Convergence to provide thorough and detailed online arc flash training  that helps your employees develop the skills, awareness, and core competencies to comply with these requirements.
And, for qualified workers (but also suggested for unqualified workers), choose the online Introduction to NFPA 70E training course, which summarizes the fundamental safety guidelines, including safety boundaries around electrical equipment, personal protective equipment requirements, and some requirements for electrical equipment and devices.
And don't forget to download the free guide to effective safety training, below.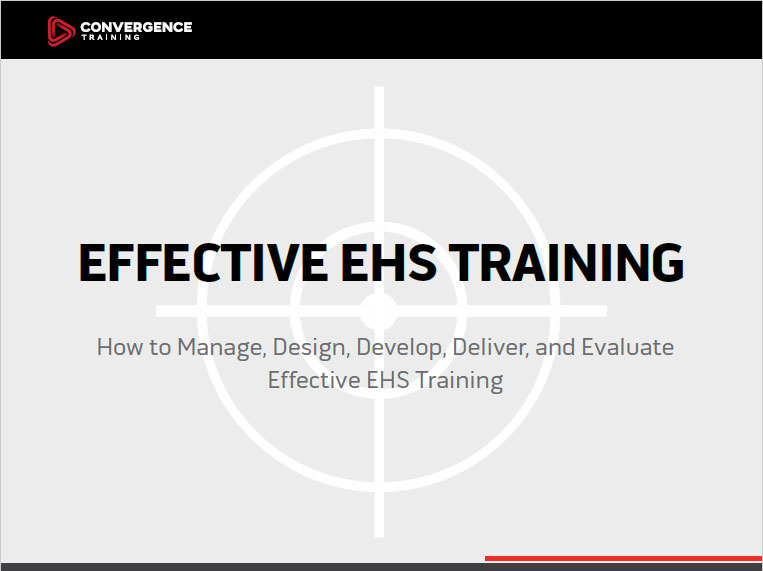 Effective EHS Training: A Step-by-Step Guide
Learn how to design, create, deliver, and evaluate effective EHS training by following these best practices with our free step-by-step guide.