It's a good idea to use online safety training as part of an overall blended safety training solution. That's because study after study shows that blended learning solutions outperform those that rely on simply one training method (such as simply instructor-led or simply elearning).  And it's also because a recent OSHA letter of interpretation made it clear OSHA won't accept safety training that involves nothing other than online training.
As a result, we thought we'd write this blog article to give you some tips for creating blended learning safety training solutions.
Hope you find this helpful and let us know if you have any questions.
Blended Learning Safety Training Solutions
Blended learning just means using different kinds of training delivery methods, such as classroom instruction and online learning, to help train employees on a specific topic.
So for example, if you were creating a blended learning training solution on Hazard Communication, you might include an online safety training course that covers fundamental information about Haz-Com signal words, label elements, and safety data sheets with classroom, instructor-led training about the hazardous chemicals at your workplace, where the safety data sheets are kept, an opportunity to answer employee questions, and assessments to determine if employees can perform the necessary duties on the job.
As we mentioned earlier, there are at least two reasons to use a blended learning approach for safety training:
Let's look at four proven ways to design an effective blended learning solution for safety training.
Four Ways to Blend Your Safety Training
We'll describe four easy and effective ways to use online safety training in a blended learning solution below:
Online then classroom
Online during classroom
Classroom then online (for refresher training)
Classroom then online (for performance support)
Online Learning Then Classroom Training
One way to do this is to have employees complete an online safety training course before they attend an instructor-led training session on the same topic.
You can use the online course to "lay the groundwork" for the safety training. In particular, the online course can help introduce the employees to the information they'll need to know and to apply at work.
After the online training is over, you can them use the instructor-led training to have further discussions; answer questions; better assess employee understanding of the material; perform live demonstrations of real work procedures; and ask employees to perform the same, evaluate their performance, and give them helpful feedback.
Online Learning During Classroom Training
Another way to approach blended safety training is to conduct an instructor-led classroom training session on a safety training topic and periodically play sections of online safety training.
Using online safety training during the classroom session allows you to take advantage of the superior images that online safety training can offer. And it breaks up the monotony that even the best instructor-led training sessions may sometimes fall into (research shows that people learn better when they're exposed to the same content in a variety of formats and approaches).
It's also a great opportunity to discuss the online safety training together with your workforce: how is the online material like your own work place? What are some differences?
Classroom Training then Online Learning
A third way to use online safety training within a blended learning solution is to use the online courses after classroom training. This can have many benefits, but a primary one is helping to ensure that workers continue to remember the materials covered during the classroom safety training session. This can be especially important if there's a considerable gap of time between the classroom training session and the time when the employees will be expected to performance the skills at work, or if it's something that workers don't do at work on a frequent basis.
This kind of approach is often known as "refresher" training in the safety world. In the learning and development world, it's often known as spaced practice or spaced learning, and L&D folks have done some additional research to increase the effectiveness of what you might know as refresher training.
We encourage you to read either of the articles below to learn more about how you could use spaced practice in your blended online safety training solution:
Classroom Training then Online Performance Support
Technically, this last option isn't a form of training. Instead, you'd use the online material as a form of human performance improvement (HPI) or performance support, allowing workers to access helpful safety training materials at the moment and point of need while on the job.
For example, workers could use a mobile device to pull up information about a safety procedure before performing a job task. This reduces the need for the worker to remember everything from training–the necessary information is right there in their hand!
To read more about this, check out our 3 Uses for Mobile Safety Training Apps article.
How Are YOU Blending Your Online Safety Training?
We hope this article has helped tip you off to the importance of blending your safety training solutions, using online safety training along with other training delivery methods, and has given you some tips for how to blend safety training effectively.
We also would like to hear how you're creating your own blended learning solutions for safety and health training. Just let us know in the links below.
Before you go, please download our free Online Safety Training Buyer's Guide Checklist, below.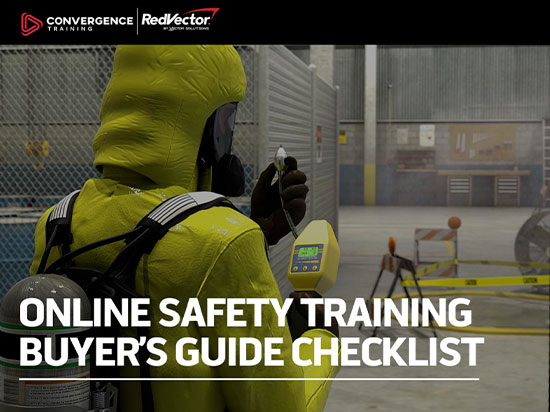 Online Safety Training Buyer's Guide Checklist
Learn how to evaluate different online safety training solutions to find one that best fits your company's needs with our FREE informative guide and checklist.