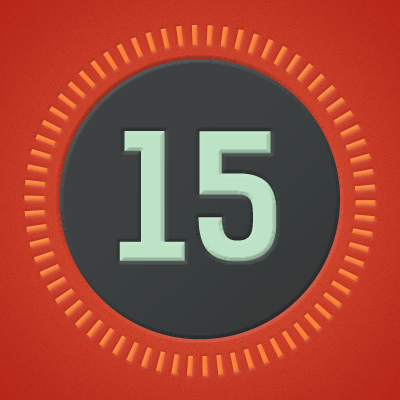 We have a special interest in training for the paper manufacturing industry. Or, more specifically, for paper, pulp, tissue, corrugated board, and converting.
That's where we started–working with a local paper mill to create a learning management system (LMS) and our first 3D-animated online training materials. And that's still the core of our business now.
Given that, we thought we'd give you some tips that help improve your pulp, paper, tissue, and/or corrugated training program. Hope you find these helpful.
By the way, we've added a few more tips for you–we're really now up to 18 in this article.
Tips for Improving Your Paper Manufacturing Training Program
How's the training program at your work place? Perfect, or could it use some improvement here and there?
This isn't intended to be an exhaustive collection of resources (although the Paper Manufacturing Training Guide  and Guide to Online Training for Papermakers you can download for free comes mighty close to that all by itself), but we'll definitely do much more than just get you pointed in the right direction.
So let's get on with the tips, shall we?
A sample of the online Recaustisizing Basics training course from Convergence Training, above.

Get to Know Your Employees and Their Training Needs and Create Training Materials Suited to Them
Effective training begins by knowing your employees and their learning needs and by creating learner-center training. Without this, you've got nothing.
Have a Comprehensive Plan for Creating Your Paper Manufacturing Training Program
Don't pull together your training program in an ad-hoc, uncoordinated manner. Instead, adopt a systematic, formulaic method and stick with it. We've created a free downloadable guide to help you do this.
To get the guide, just scroll to the bottom of this article or click this link: paper manufacturing training guide.
Use Training That Makes Strong Use of Visuals
We're visual animals and most of the information that comes to us comes from our eyes. Studies show that training with well-designed visuals (pictures, videos, animations, etc.) significantly increase learning, comprehension, retention, and later transfer on the job.
Click to learn more about the importance of visuals in paper manufacturing training.

Click to see 25 graphic design tips for effective training visuals.
A sample of the online Pulp Drying and Baling training course from Convergence Training, above.

The interactive glossary of paper manufacturing terms below gives even more examples of the power of visuals in training for paper manufacturing.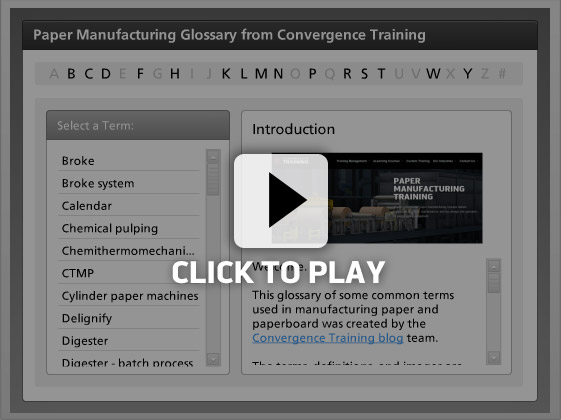 The images, terms, and definitions for the glossary above come from two of our online paper manufacturing training courses:
Use the Right Language
Your training materials will include  lots of written materials and lots of spoken words. Be sure you're presenting them correctly.
Click for some great tips on writing training materials.

Click to learn about formatting your written training materials.
Improve Your New Employee Onboarding Training
New  employee onboarding is where your relationship with your new employees begins–make it count. Create a well thought out, organized onboarding experience that presents your policies, company goals, and expectations clearly and in a standard, consistent manner. This shows your new hires you're serious about your culture and policies and that you value them as new employees and want to create a mutually beneficial, long-term relationship.
Click to read more about using an LMS for new employee onboarding.

Be Better Prepared to Train Workers to Perform New Job Procedures
Like all manufacturing training, the training involved in paper manufacturing is heavy on learning procedures. Know which procedures people in different job roles need to learn and read up to learn the best ways to train people on procedures.
Click to read more about teaching job procedures.

Click to read about using blended learning for job procedures.

Click to read about providing employees job aids instead of training.

Click to read about the "Training Within Industry" (the training program at the "foundation of lean manufacturing") method of teaching employees new job procedures.
A sample of the online Paper Machine Winding Basics e-learning course from Convergence Training, above.

Be Better Prepared to Teach Your Manufacturing Processes
It's also important to teach workers about the manufacturing processes at their workplace. This makes it easier for them to do their job and also dramatically improves their ability to troubleshoot and/or optimize efficiency at work. One thing to consider for this is 3D-animated training materials, which can excel at this. Learn how this can help you reduce the time it takes to make a new hire one of your most valuable employees.
Click to read about process training and troubleshooting.
Know the Best Ways to Training People on Different Types of Information
We've already mentioned to types of information you'll have to train your workers–procedures and processes. But you'll also have to train them about facts, concepts, and advanced job skills like process  optimization, troubleshooting, new product and/or process creation, analysis, synthesis, evaluation, and more (this is where your high-value employees really make your company's bottom line sing).
Click to read more about different types of training for different types of information.

Learn to "Chunk" Your Paper Training Materials
There's a limit to how much information your employees can process at any one time. Chunking is a way to help you manage what's known as "cognitive load."
Click to read more about chunking and paper training materials.
Know How to Test Your Employees and Evaluate the Effectiveness of Their Training
Training is nice, but you've got to evaluate it to know if it's effective. Here are some how-to's:
Click to learn about training and testing.

Click to learn a four-level method for evaluating training effectiveness.
A sample of the Tissue Making Basics e-learning course from Convergence Training, above.

Have a Plan for OJT Training
Don't rely on an unstructured job shadowing/following program. Get a plan in place for maximum effectiveness.
Consider Adding an Online Component to Your Paper Manufacturing Training
Field-based training and classroom-style instructor-led training are great.
But if you're not also using online training systems, including eLearning courses, videos, online quizzes, online checklists, mobile devices, and more, you're fighting with one hand tied behind your back.
Click to read more about online training for papermaking.
Off-the-Shelf Online Training for Pulp, Paper, Tissue, and Corrugated
One quick, easy, and inexpensive way to build up your online training library is to partner with a company that's got off-the-shelf training courses you can license.
These courses are essentially "plug-and-play" and you could begin using them to train your workers very quickly–even tomorrow.
Check the links below for some examples:
Custom Online Training for Pulp, Paper, Tissue, and Corrugated
Another way to add online training to your current training program is to partner with a paper/pulp/tissue/corrugated training provider to make custom, site-specific training that matches your work area, production processes, job procedures, and (most importantly) the learning needs of your employees.
Read more about our custom online training creation process here.
And read a detailed, step-by-step explanation of how we make custom, 3D-animated online training courses for customers like you here.

Need to administer your training to make it easy to import, create, assign, delivery, track, and report? An LMS is just the ticket. And what better than an LMS made for your industry.
Don't know what an LMS is? This short two-minute video will explain the basics:

Here's some more information about LMSs:
Click to learn what an LMS is.

Click to get a free LMS buyer's guide.
Go Mobile
Mobile devices such as this one can allow you to put training and performance support in workers hands when and where they need it the most–on the job.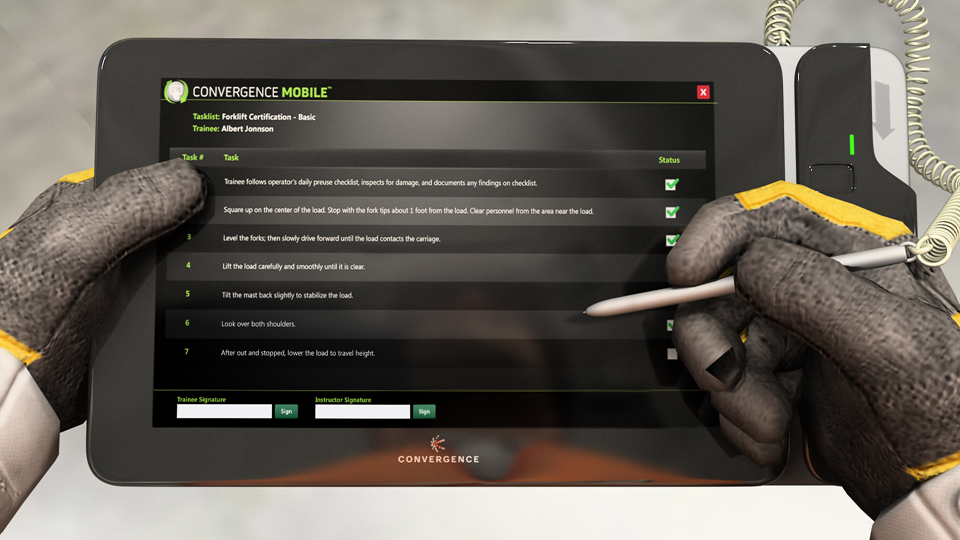 Learn more about mobile training apps for the paper manufacturing industry here.
Know Your Business Goals and Determine Training ROI
Training doesn't happen in a vacuum. Know what business goals you want to support, find the KPIs to track your contribution to those goals, and give some thought to explaining your training ROI at work.
Click to read about training, business goals, and KPIs.

Click to read about training and ROI.
A sample of the Corrugated Box Basics e-learning course from Convergence Training, above.

Teach Your Workers a Thing or Two about Lean Manufacturing
No matter what industry you're in, there are things you and your workers can learn from lean manufacturing, and they'll benefit your company as a whole. We've pulled together some intro-level articles for you  below.
Click to read about lean manufacturing.

Click to read about 5S.

Click to read about Kaizen.

Click to read about Kaizen Events.

Click to read about Training Within Industry, the US-based WWII training program that got adopted in Japan and was arguably at the roots of lean manufacturing and the Toyota Production System (TPS).
What Are Your Tips for Effective Paper Manufacturing Training?
What about you? What tips would you add to this list? Use the comments section below to let us know.
Take a second to download our free guide to online training for people in the pulp, paper, tissue, and/corrugated industries since you're here. It's right below.
And of course let us know if you'd like to know more about our online paper manufacturing training courses, our Convergence LMS for administering paper manufacturing training, or our custom training solutions for paper manufacturers like you. We're the pulp and paper (and tissue and corrugated) experts!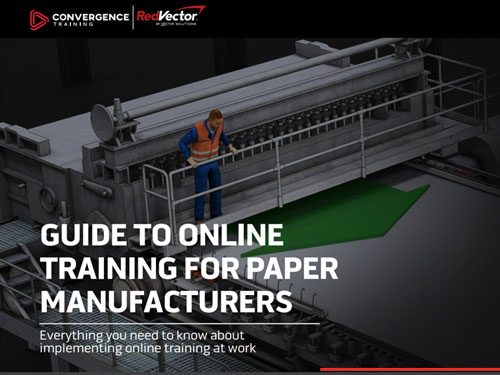 The Papermaker's Guide to Online Training
Learn everything you need to know about using online training at your paper manufacturing facility and get tips for getting started now.