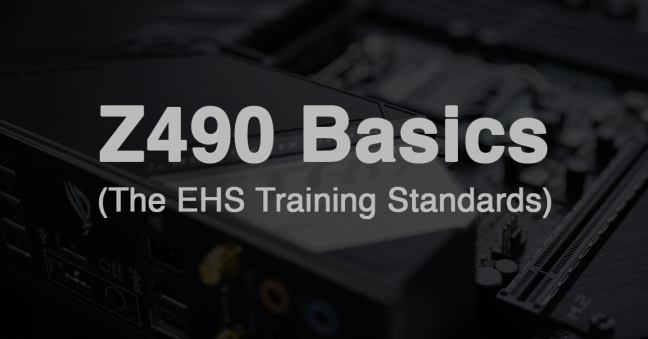 In case you weren't aware, ANSI and the ASSP have two standards related to EHS training. They are:
In this article, we're going to give you a brief introduction to both of the standards and give you updates on their current status (Jeff Dalto of Vector Solutions | Convergence Training is a member of the Z490 committee and is currently working with others to revise the Z490.1 standard).
We'll also link you to some helpful related resources and downloadable safety training guides. What's not to like, right?
Enjoy the Z490 overview and let us know if you've got any questions.
The ANSI/ASSP Z490 EHS Training Standards–an Introduction
Well, let's start with the basics.
ANSI stands for the American National Standards Institute. They help to create national standards for a lot of things.
ASSP stands for American Society of Safety Professionals. They work with ANSI to create national standards related to safety and health. Obviously, that includes the Z490 EHS Training standards we're writing about here, but it includes a lot of others, too. A few that come to mind are the Z690 standards for Risk Management and the Z10 standard for Safety and Health Management Systems.
EHS stands for environmental, health and safety. And in this context, we're talking about environmental, health, and safety training.
There are two Z490 EHS Training standards. Z490.1 addresses all EHS training, no matter the delivery method (instructor-led, online, etc.). Z490.2 addresses online EHS training. Z490.2 supplements/complements Z490.1–it's not meant as a replacement.
More about ANSI/ASSP Z490.1–for All EHS Training
Z490 is the standard for all EHS training.
It was most recently revised in 2016, and the Z490 committee is just starting off efforts to revise it again. As we said earlier, Jeff Dalto of Vector Solutions | Convergence Training is part of the committee revising Z490.1, and he'll be writing articles here from time-to-time to update you all and keep you in the loop as that process continues.
The full name on the cover of the standard reads: ANSI/ASSE Z490.1–2016 Criteria for Accepted Practices in Safety, Health, and Environmental Training. Notice the "2016" in the title means it was last revised in 2016. As mentioned earlier, the Z490 committee had its first meeting in December, 2020 about working to revise the Z490.1 standard and work will really get going on that in January, 2021.
The basic structure of Z490.1 is as follows:
Section 1, Scope, Purpose, and Application
Section 2, Definitions
Section 3, Management of a Comprehensive Training Program
Section 4, Training Program/Course Development
Section 5, Training Delivery
Section 6, Training Evaluation
Section 7, Documentation and Recordkeeping
Annexes
The Z490.1 EHS training standard is long–more than 45 pages if you include the annexes–so we won't summarize it all here for you. Of course, we encourage you to go out and buy a copy.
But at the heart of Z490.1 is a commonly used training design & development methodology commonly known as ADDIE. If you've got a good handle on ADDIE for training design and development, you're well on your way to understanding a key part of Z490.1. So, we'll give you a little introduction to ADDIE below.
As you might have guessed, ADDIE is an acronym, with each of the five letters standing for a different step in the process. A is for Analysis; D is for Design; the next D is for Development; I is for Implementation; and E is for Evaluation. Let's look at each of those five steps more closely.
Analysis—Analysis in ADDIE begins with identifying the problem and its cause. Additionally, Analysis includes analysis of the organization, to understand its goals and align training with those goals; analysis of the learners, to identify their prior knowledge and skills, job roles, learning preferences, schedules, and others factors (language fluency, physical disabilities, learning disabilities, etc.) that would influence their success in training; and analysis of the job task(s), to design training appropriate to the job workers perform in the field.
Design—Design in ADDIE includes creating performance-based learning objectives, determining the criteria for successful completion of the training, creating the assessments workers must complete after the training, determining appropriate content and instructional activities to help workers satisfy the learning objectives, choosing the appropriate training delivery methods/media, determining the proper sequence of training, and breaking the training experience, content, and activities down into bite-sized "chunks."
Development—Development in ADDIE includes the creation of the training materials, learner workbooks, any other materials needed during the training, reference materials for workers to take with them after training, and job aids for workers to use in the field at the moment of need. Development also includes a small beta test of the training materials to a learner population that's similar to the larger learner population that will have to complete the training (and then any necessary revisions).
Implementation—Implementation in ADDIE involves scheduling the training, notifying workers and their managers of the training, and explaining to managers how they can support workers in their efforts to apply the training later on the job. Finally, implementation includes delivering the training to the learners.
Evaluation—Evaluation is an effort to determine if training was effective. There are multiple training evaluation models, including the Kirkpatrick, Brinkerhoff, Kaufman, and Phillips models (as well as the newer Thalheimer/LTEM model). The Kirkpatrick four-level training evaluation model is the basis of the evaluation method explained in Z490.1.
As we said earlier, if you get ADDIE under your belt, you're making great progress toward aligning your EHS training practices with Z490.1.
If you'd like to continue learning about Z490.1, please check out this recorded discussion about Z490.1 we did with the ASSP's podcast channel. Also, our free Effective Safety Training Guide largely parallels and supplements Z490.1.
More about ANSI/ASSP Z490.2–for Online EHS Training
As we said earlier, Z490.1 is about EHS training that occurs online. It was first created in 2019 and, once the Z490 committee revises Z490.1, we'll turn our attention to revising Z490.2 soon enough as well. The official title on the cover is ANSI/ASSP Z490.2–2019 Accepted Practices for E-Learning in Safety, Health, and Environmental Training.
Remember that Z490.2 isn't meant to replace Z490.1. Instead, it's meant to supplement Z490.1 on issues related to online training, and everything that's said in Z490.1 is still true for online EHS training.
The structure of Z490.2 is as follows:
Section 1, Scope, Purpose, and Application
Section 2, Definitions
Section 3, Training Program Administration and Management
Section 4, e-Learning Development
Section 5, Training Delivery
Section 6, Training Evaluation
Section 7, Documentation and Recordkeeping
Annexes
Z490.2 includes lots of helpful guidance about elearning courses, virtual classrooms, learning management systems, and similar technology, and it has a primary focus on selecting online learning for appropriate reasons and building online training following evidence-based training practices.
If you'd like to continue learning about Z490.2, please check out this recorded discussion about Z490.2 we did with the ASSP's podcast channel.
You might also be interested in our recorded Selecting & Using Online Safety Training webinar and our Online Safety Training Buyer's Guide Checklist. 
Conclusion: The Z490 EHS Training Standards Are a Good Place to Begin Sharpening Your EHS Training Skills
We hope you found this introduction to the ANSI/ASSP Z490 EHS Training Standards helpful and we encourage you to come back and keep up with the updates we plan to publish on the revision process for Z490.1. Please do let us know if you have any specific questions we can answer or if we can help you with your own online safety and health training program at work.
And don't forget to download our Effective Safety Training Guide, which in many ways parallels the Z490.1 EHS Training Standard, below.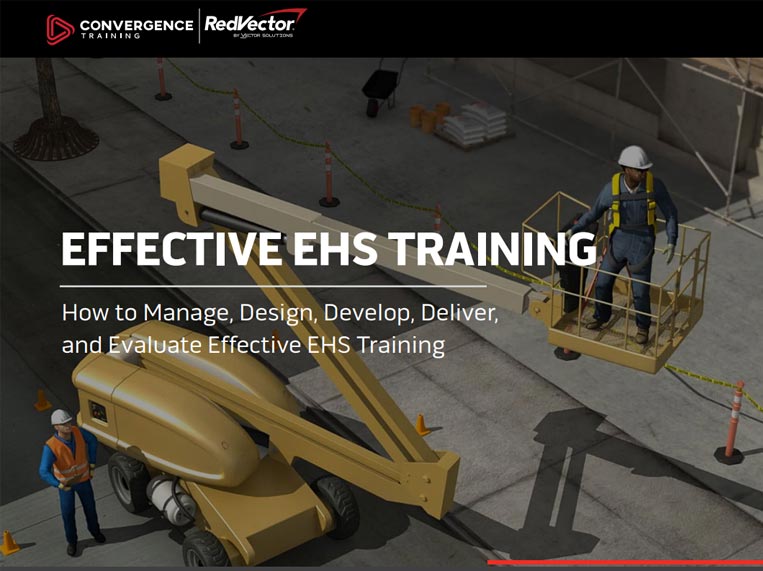 Effective EHS Training: A Step-by-Step Guide
Learn how to design, create, deliver, and evaluate effective EHS training by following these best practices with our free step-by-step guide.