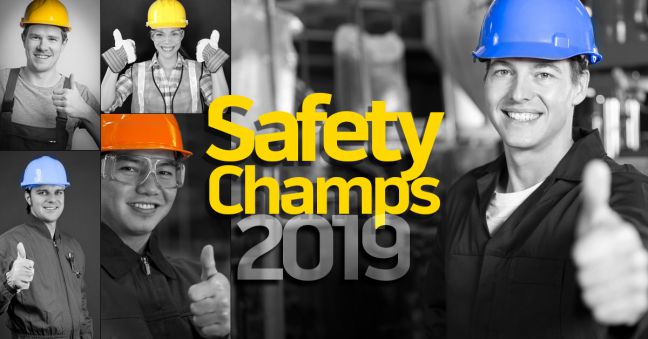 In recent years, our partners at RedVector have asked their customers to nominate a safety professional at their organization for consideration in a "Safety Champions" contest.
We here at Convergence Training liked the idea so much when we learned of it that we joined in this year.
We've now collected nominations of many different safety professionals from our customers. All of these safety professionals did great work this past year and although we've picked a smaller number of winners (more on that later), we wanted to raise our hats to every safety professional and let you all see the kinds of nice things that people say about the safety professionals they work with.
The list below includes safety professionals for organizations who are customers or Convergence Training, RedVector, or both. We're identifying the safety professionals with first name and last initial, and we've removed any mention of company names.
We want to emphasize that everyone mentioned below, and in fact everyone working in safety in general, is a safety champion not just this year but every year.
NOTE: In addition to this list of nominations, check out the list of winners in our 2019 Safety Champs event and learn about the special event at Tamp Bay Lighting hockey game Convergence Training and RedVector treated them to to honor their great work in safety. 
What Coworkers Said about the "Safety Champions" at Their Workplace
Let's get started with our list (in no particular order). In some cases, we've lightly edited and/or shortened the nominations. Another big congrats and huzzah to every safety professional nominated as a safety champ below, and a big thanks to those who took the time to fill out the nominations as well.
Bryan W:
Bryan W is implementing a safety program from the ground up for our one of the largest commercial real estate companies in Detroit. This is a huge feat for one person and he has done an incredible job. From forming the Safety Champions committee to roping in construction and several other facets other than Engineering, Bryan is ensuring that safety is at the top of everyone's mind.
Byron S:
Taking deeply and seriously the safety of Healthcare business and he has so much experienced background…
Carl C:
Since employment, Carl has taken safety to heart! He really cares about making sure the employees have all of their safety equipment and he always has an employee's back. We needed a world-class restructuring of our safety and Carl ran head on toward the problem. He always discusses safety hazards or changes needed during the safety meetings and is in the process of creating a safety committee to continue our initiative to change how safety is seen within our organization. Currently, we are 665 days without an OSHA recordable event, which is a record breaking number not only for our organization, but for our Industry.
He is working on setting up our safety committee and he contributes to each safety meeting with suggestions for safety improvement. He always wears his safety gear and advises other employees to wear theirs too. We are 665 days without an OSHA recordable event, which is a record for our company and few and far between in our industry!
Chris K:
Chris K. is the embodiment of safety and I can't think of a more dedicated, customer focused, safety champion creating positive change. In his current role as HR Safety Manager at [our company], Chris leads by example to create a world class safety culture. Safety is not only a focus for each employee, it is something that becomes second nature for each employee. Each employee makes safer choices outside of work as a result of [our] safety culture. Chris is instrumental in leading this charge with over 200 team members in Eastern North Carolina.
There are numerous professional and personal examples of his attention to safety and safety initiatives. As the HR Safety Manger, he has implemented and maintains the Guardian Angel Safety Culture and created a safe, open environment to discuss safety occurrences and near miss situations. His team members feel safe and comfortable sharing safety concerns and violations with him. The division safety metrics represent the efforts of not only Chris' leadership but the results of the team members he supports and encourages daily.
His focus on safety does not stop at the end of the work day, it continues and is visible in all he does. Most recently, Chris was dining with his family just after the holidays and noticed someone choking and not feeling well. He quickly offered to assist. The patron was having an allergic reaction and was unaware of a food allergy. Chris offered to assist and took the lead in the situation assisting the person to the ground and directing a family member to dial 911. After assessing and hearing labored breathing, he opened the patron's airway to prevent further anaphylaxis while offering comfort measures until EMS arrived.
On several occasions Chris has been at the right time and place to assist others in difficult and often unsafe situations. He has stopped at accident scenes and offered CPR to non-breathing spectators at sporting events. Chris is the "go to" resource for safety laws and guidelines in the division and someone I hope is close by if ever I need assistance. Thank you for considering Chris to be one of your Safety Champions. I can't think of a better title for such a remarkable person.
Cody H:
Cody is a proactive safety professional who regularly engages with the fleet and communicates not only the relevance but importance of adhering to a safety culture. A recent example focused on Forklift Safety. Cody's communication highlighted the company tools we have in place to mitigate accidents. A second example focused on several recent near misses with incorrect Lock Out Tag Out (LOTO) events. His communication referenced fleet wide data and identified potential common elements to these events. The safety of our personnel is first and foremost with Cody and I am proud to place his name in nomination for this Safety Professional award.
David C:
Dave has taken our safety culture to a new level. He has developed 8, 16 and 40 hour safety courses for new employees and specifically new supervisors. Dave has made safety training interesting and almost fun with the creation of safety music videos, safety "Jeopardy" games, and real hands-on interactive learning. I know that Dave has been a proponent of Red Vector and utilizes the self-made course library to enhance our training. Training effectiveness has improved 75% over the last 3 years. Dave also became certified in Occupational Safety Specialist and Occupational safety management this year.
David W:
He directed several safety employees on major facility construction and power projects with strong safety training and job oversite to mitigate all types of safety issues.
Ed U:
Our industry is Agriculture, however, we not only grow our mushrooms but we also pack our own Mushrooms all across US and Mexico. Ed travels extensively to support all our sites. As the head of Safety, he has always been very knowledgeable, capable, and professional. He diligently keeps us in compliance by training trainers at each site and stepping in to train our bilingual staff in OSHA 10 hour, Forklift and compliance courses. During his ten year here he has lowered our loss times and partnered with CAL OSHA to keep our employees safe. He is a caring, trustworthy, sensible, practical, courageous human being that should be commended for his efforts.
Gordon B:
Gordon has led multiple teams of safety personnel to perform over and above the safety protocols of customers standards. More importantly he more than led by example.
Guy T:
Guy has completely changed our whole work environment to make it very ergonomically friendly. He always goes above and beyond, constantly researching newer, better, safer ways of doing things. He is very proactive about implementing safety features and not waiting until someone gets hurt. He has reduced our OSHA recordable injuries to almost nothing.
Heidi Y:
On top of being one of the advisory members of our Safety Committee, Heidi has also led our Convergence implementation team since March 2018. With Heidi's expert leadership and passion for "safety as a core value," we have been able to upload all of our prior training history and launch Convergence to our employees companywide to great success. Heidi shares a vital interest in accident and loss prevention here at [our company]. Through her positive demeanor, team-oriented attitude, and years of industry expertise, she is one of the keystones behind our ability to provide safe equipment, safe working practices, and a safe working environment for all of our employees. We deeply appreciate Heidi and all that she does to put "safety first" for our company!
Hugh J.:
Hugh challenged to change the culture and he has been meeting that challenge everyday. Truly cares about the company and the people that work here. He is doing what he loves and it shows by overall concern about all the people that work for the plant to keep them safe.
Jerry K.:
Jerry is a part-time OSHA instructor with [withheld]. He brings a great attitude about safety to work everyday. His role as a foreman/steward/leader has allowed him to positively influence young apprentices thus creating a safe work environment. Jerry knows that safety is more than just rules and regulations, its about attitude and caring for your co-workers.
Jerry S.:
Jerry has served as the Corporate Safety Officer for many years in addition to his many duties as a Construction Manager. He singlehandedly developed [our company's] Injury and Illness Prevention Program (IIPP), its manual and all related safety forms. He has also been the point person to help ensure that proper safety training is provided. Most recently, he was involved in the development of two online safety training programs, one for office personnel, the other for construction site employees as well as a special program for office managers and site safety managers to detail their safety responsibilities. He has worked tirelessly and enthusiastically to maintain a safe working environment for all employees.
Jim G.:
Jim has a way with making the mundane task of federally mandated training fun.
Kate C.:
Kate C., Director of Safety & Health for [our company], works in a national safety role for the company, with both Construction and General Industry areas of focus. She studied History and Political Science…
With twenty plus years in a construction safety role, Kate had the opportunity to learn the Trade Association side of the business, at AGC-CA, leading the Safety and Health Council (SHC) for four years and developing members into active contributors at the regulatory and legislative level. During her tenure, the SHC advanced legislation for Work Zone Safety, worked with the WCIRB to modify how the EMR is calculated and influenced many CAL/OSHA regulations by initiating petitions at the Standards Board, participation at Advisory committees and providing industry comment directly to DIR. She remains active in the regulatory and legislative process in California and maintains the deep relationships developed during her employment with the AGC-CA.
Kevin D.:
Completely turned the safety culture around, and reduced injuries by 99% and really cares about us. He makes safety fun and speaking for the rest of the floor teams he is OUR safety guy! We have had no major injuries since he took over, and he always smiles and cares. He is super when it comes to finding and fixing things that can hurt us. We know as long as Kevin is here we are safe.
Kevin N.:
Kevin has continued to sustain a positive culture at the location [where he works]. We started the process of positive recognition and Kevin and team have continued to sustain the program. The basics of this program is telling individuals specifically what they do right which results in a more positive workforce!
Kris J.:
Kris has overhauled the safety procedures and safe work practices of our terminal. Through his leadership we have excelled in Health and Safety.
Lisa B.:
Lisa has worked with a programmer to create an internal Health and Safety checklist website. She has created a system for reporting Near Misses to ensure everyone keeps safety in mind at all times and so we can mitigate risk before it becomes an injury.
Melissa I.:
Melissa handles all Red Vector training for 47 facility engineers along with in house training across the Mid-West. Melissa is a rock star.
Michael U.:
Michael has been a Production Manager at [our comapny]  for several years. Over the last two years Mike has taken on a more active responsible leader role in EHS. In 2018 he empowered his employees to be part of the Emergency Response Team, budgeted for their time off the production floor and the teams training and assisted in the development of the Safety Committee. He has personally been responsible for implementing 5S and daily tier stand-up meeting where safety is the first topic across the his facility. His 5S projects include developing dedicated pathways for employees, visitors, and mobile equipment. He personally lead the change to manage the shipping department's transformation that reduced employee exposure to tripping hazards, falls from docks and working at height, and environmental improvements through improved recycling streams and reducing the consumption of resources. He also assisted in the paint reduction project which also reduced VOC's. He has lead employee turnover reduction projects and sits on the Wellness team. In 2018, he lead his team to the lowest TRIR in the companies history, 1M hours without a Lost Time Injury and 422 days without a recordable incident all while increasing headcount and hours worked. We are very proud of his leadership and commitment in the area of EHS.
Mike C.:
Mike C. is our safety champion. I can not give you one specific time because he is always working to better the safety of our employees.
Mike D.:
Mike D. is a full-time field engineer at a large structural engineering firm. He is onsite on massive structural projects day and night. Over more than 30 years in the field Mike has witnessed more than 20 deaths in construction site accidents. Mike created safety training for our firm to alert staff to the perils that exist on construction sites and to provide guidance for a safe experience while conducting site observations.
Paul K.:
Paul came into the company as safety director at the start of 2016. Prior to that, we had an average of 18 OSHA recordables per year and our EMR jumped from a .85 to a 1.15. In the 3 years that he has ran the safety program, we have gone from 2 recordables in 2016 to 1 recordable in 2017 and have just completed our first year since 1959 (founding year) without any recordables. Our EMR went from 1.15 in 2016 to 1.28 in 2017 to 1.13 in 2018 and our insurance carrier projects it to be a .74 for 2019 because of the incredible 3 year period. We have not had a new open WC insurance claim in the past 3 years and our insurance broker is shopping out WC carriers because of this 3 year trend. It is through his hard work and a caring attitude towards the employees that this trend has changed and the safety attitude of the employees has improved. He has trained all foremen and above in OSHA 30 to get their buy in to safety and has educated them in the true cost of safety to the company and the individuals families.
Rocky D.
Rocky is building the whole safety and training program for [our] division. Bringing a almost 40 yrs experience and a global network of knowledge to the company…
Rosa C.:
Rosa joined the Risk/Safety Dept 2.5 years ago after spending over 20 years with our company in Traffic Control and Quality Control. She has helped us launch our industrial athlete training program for warm-up exercises. She has received specialized training in industrial hygiene and purchased IH equipment to complete air quality monitoring for potential silica dust at 17 production facilities in 2018. She completed silica competent person training for over 50 supervisory personnel and helped take the lead on 2 new task-specific silica exposure control plans (one for General Industry and one for Construction operations). She also took on responsibility for building a Respiratory Protection Training Handbook. Rosa had an incredible year of high impact results in 2018. One of the strongest single years of performance among the over 120 safety professionals I have managed over the years.
Russell C.:
Russell C. developed an emergency response kit, guidelines and instructional information and made available to every state and regional office across the state. [He] and his team presented face to face seminars in regional offices across the state to ensure understanding and level of comfort in addressing all potential scenarios including, but not limited to: disaster and active shooter.
Sandi C.:
Heat mitigation in extremely high heat locations. 850000 hours without a heat related injury.
Scott G.:
Scott G. oversees all safety items for [our company], including site safety personnel, safety audits and reporting, investigations, incident tracking, and compliance. Since joining the firm in 2015, he has been the creator, driver, and motivator of [our] global "Safety Always" culture. He encourages a safe culture at home, work, and play and promotes this through his Weekly Safety Tip (WST). Each week, the WST delivers a simple safety message ranging from self-help to home safety, to compliance related topics in industrial operations or on construction sites, with the goal to educate and increase awareness of safety. Each tip contains a link(s) for individuals to obtain additional information and always incorporates Scott's vision of "Safety Always" and encourages his mantra of "For Safety's Sake, Do Something!" to further promote safe practices and help identify unsafe behaviors requiring additional safety services or training. Scott is a true champion of safety, fostering a culture internally at [our company] to be more cognizant of safety, starting with setting a standard for each department across [our company's] 20+ offices in 5 countries to begin each meeting with the WST to keep safety at the forefront of everyone's mind. WST's are personalized and created in-house and are sent to a distribution list that spans thousands of individuals globally, ranging from employees, safety organizations, clients, contractors, business partners, and friends. Scott's WST has become so popular in fact, the distribution list continues to grow.
Scott S.:
Scott goes above and beyond regarding harness safety for our team members and ensuring that they receive the proper equipment as well as information as it pertains to performing high risk tasks within our parks. He is dedicated to the Team Members and their overall safety as they perform job functions. He is always eager to inform Team Members with the educational knowledge that he has obtained.
Sean K.:
Along with being a well-respected Safety Manager at [our organization] throughout the Northeast region, Sean has also stepped up to the plate and volunteered himself to take on a massive CPR and First Aid training initiative. Sean is overseeing the national rollout of instructor-led CPR and First Aid training for [our company]. For a few years, [our company] has offered CPR and First Aid certification to its Boston-based employees, but has never been able to rollout the training nation-wide. Sean has recruited and trained Subject Matter Experts in every region to begin teaching classes. He has also been heavily involved in filling classes with participants, monitoring rosters, and ensuring [our company's] 1,200 employees have the opportunity to take and successfully complete the course.
Walter M.:
Developed the behavior-based security program optimized for the organization's culture and using coach tools.
William H.:
I am pleased to nominate William H, who has, in my opinion, accomplished more than any others in the safety profession and is deserving of the Vector Solutions Safety Champion award. I have personally known William for several years and known him to be the consummate safety professional. To further support this nomination, I would be pleased to express in more detail my personal insights into Bill's unique talents and qualifications.
William was recently promoted to the Director of Risk and Compliance for [our company]. He has served in this position since January, 2016. Prior to this position, William held the position of Director of Safety for [our company] for 11 years and Safety Coordinator for [our company] for 7 years. He holds the Certified Safety Professional certification as well as the Certified Industrial Hygienist certification.
Bill's responsibilities have grown over the years to include direct oversight of legal, worker's compensation, fleet, risk management, industrial hygiene, and EHS divisions. Because of his leadership skills and his ability to influence others, he was promoted to the Company's 12-person corporate Executive Committee, where he advises and collaborates with the CEO and Officers on all safety metrics, initiatives, goals, objectives, strategies, operating plans, capital planning, and budgeting. It is here that Bill's forward thinking and innovative plans are presented to the Officers of the Company. Such plans included shifting focus from regulatory compliance to risk mitigation, restructuring the corporate organization to better serve and protect the employees, and developing both a brick and mortar training center as well as an online university for all workers. Bill was successful in bringing to light the inefficiencies of the current corporate structure. By showing that by reorganizing the current structure of the organization, losses would be eliminated, training enhanced, and inefficiencies minimized. Currently, the corporation is reorganizing their structure, adding more support to the employees.
Bill also proved the importance of training to the organization, such that, during the economic downturn in 2009, the company built a training facility. Since then, they have outgrown this facility and have just completed a brand new state of the art training facility that triples in size the former facility. Along with that, last year Bill was successful in starting an online university for all the employees to use, with the company covering all costs. The online university offers a variety of health and safety topics, professional development courses, and personal development courses. It has been a great success in our company and to our employees. Along with this training, Bill was successful in developing a training matrix for all employees. This training matrix provided a growth chart for employees as well as established essential training needed to perform their tasks. Take for example the development of his safety team. Bill has mentored and provided training for every member of his team to help them obtain the Outreach Trainer Certification as well as the CSP, CHST, and ASP certifications.
Bill's unique "top down/ bottom up" approach to safety has transformed his company, both decreasing and continually maintaining their TRIR 95% lower than earlier years. These rates are continually held to be at least 75% below comparable national averages, as a benchmark. Bill has continued this trend over many years even while increasing total employee hours worked by over 50%, and increasing the company's footprint from Northern Ohio to now include 6 different states. These statistics has also led to a 47% net savings in policy premiums and a significant improvement in productivity for the corporation.
Bill has developed and implemented EHS policies, standards, best practices, and training programs for his companies, as well as for many national organizations and safety associations including the State of Ohio Safety Congress, the Association of General Contractors of America (AGC), National Underground Contractors Association, and other Fortune 50 companies. Some of these programs include Coupler safety, Substance abuse education, Confined Space Awareness in construction, How to Develop a True Safety Culture, Crisis Management, and Silica Awareness, to name a few. With his leadership and guidance, he successfully led his company through Stage 3 completion in the Voluntary Protection Challenge Program, been named as "One of Americas Safety Companies," and is currently pursing both the ISO 9001:2015 and ISO 45001 certifications for his company.
Bill not only influences those in his company, but is a major influence outside his company. With the management in full support, Bill takes his innovative programs and delivers them to high schools, colleges, and state agencies. He promotes not only safety in the workplace, but safety at home as well. As part of this outreach program that he developed, Bill provides an opportunity for high school students, college students, and tradespeople to shadow safety professionals, in hopes to grow the safety profession.
Conclusion: Congrats to all the Safety Champions Out There!
A sincere thanks and congrats to all the safety champs nominated above and to all the safety champs in industry in general. Thanks for helping to keep us safe and healthy!
And we invite all of you safety champs to download our free guide to effective safety training, below.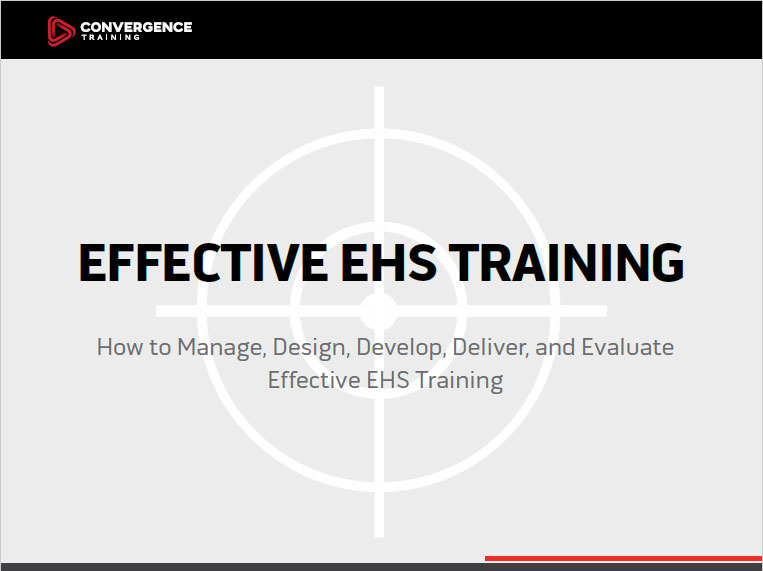 Effective EHS Training: A Step-by-Step Guide
Learn how to design, create, deliver, and evaluate effective EHS training by following these best practices with our free step-by-step guide.