You tell them, and you tell them, and you tell them again, and they still don't learn.
Sound familiar? Have you ever uttered these words to yourself after a training session?
If so, you may need to remind yourself that "telling ain't training." (That's the name of a good book on the topic, by the way—you can check it out here).
So if you hold training sessions, and your employees seem to forget the training immediately, it may be time to quit blaming them and turn your thoughts inward: what can you do to create more memorable training experiences? How can you help workers remember and apply what they learned during training when they're back on the job?
To that end, we're going to give you a quick overview of how people process, store, and later retrieve information. This is the first step to making training that's more memorable.
Convergence Training is a training solutions provider. We make training materials, learning management systems (LMSs), mobile apps for learning and performance support, and more. Contact us for a demo.
And since you're here, why not download some of our free guides?
But why, you ask? Why can't I just tell a person something once and assume they'll understand, remember, and then later use that information when it's needed on the job?
To understand that, it's important to know and understand five steps that explain how people learn during training and later apply that information on the job. Those five steps are listed below.
Sensory Information: Our senses (sight, hearing, etc.) are bombarded with information. We choose to focus on some of it. This phase lasts only a very brief time–a moment.
Working Memory: We process or actively "work on/think about" the information from our senses with our working memory. This is also sometimes called our short-term memory. People can keep only a small amount of information in the working memory. And by small, we mean small—about 4-7 "pieces." To make things worse, we can keep information in our working memory for only a very short time period—maybe 10 seconds.
Long-Term Memory: Some of the information from our working memory is stored in our long-term memory. The rest of that information is lost.
Retrieval and Application: Ideally, information that's stored in the long-term memory is later retrived and applied on the job when it's needed. But that's not a guarantee.
Near Transfer and Far Transfer: Near transfer is using the information in the same context in which you were taught it. Far transfer is using it in a brand new context. Both are good, but it's harder to get far transfer, and far transfer often creates great value because it's innovative.
Here's what that looks like, metaphorically: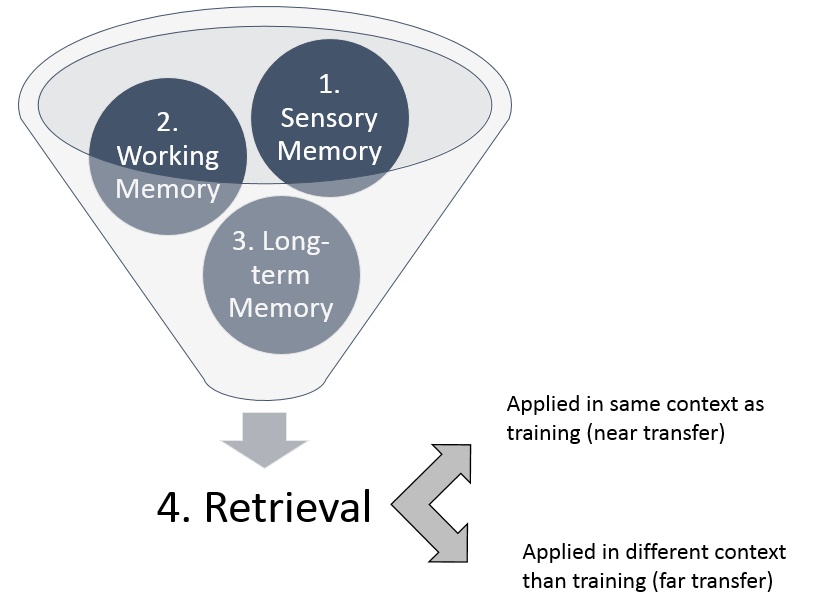 There are two points in mentioning all this.
First, as we mentioned earlier, because simply telling something to someone isn't the same as training that person.
And second, because there are things you can do as a trainer to help your learners with each of the five steps above. Do it well, and your training will succeed. Do it poorly, and your training will fail. So it pays to be aware of these steps and to create training that helps your learners through all the different parts of the process.
Watch for future blog posts that will give you tips on creating training with this in mind, or just scan through the articles we've already got written for you.
Next articles in series:
More information on How People Learn (and Don't)
Moving information from Sensory Memory to Working Memory
Other articles related to effective training:
How to Write Effective Training Materials
Metaphors, Analogies, and Similes for More Effective Training
Formatting Training Materials for More Effective Learning
Task Analyses for Job Training
Different Types of Training for Different Types of Learning
Scenario-based Learning for Advanced Job Skill Development
Testing After Training to Assess Learning
Match Your Graphics to Your Training Content
25 Simple Graphic Design Tips for More Effective Training Materials
How to "Chunk" Training Materials
Make Training Available on an Elective Basis
Use Blended Learning for More Effective Workforce Training
8 Simple Steps to Effective Training Programs
Using Job Aids and Other Performance Support Instead of Training
Making Better Training Materials: Instructional Design Checklists
Don't forget to download one of our free guides to effective training–we've got the Manufacturing one below, but there are links to more near the top of this article.