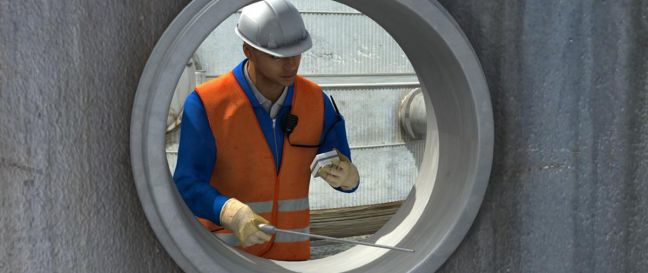 Few workplace areas present as many potentially serious hazards as a confined space. Without dedicated procedures for safe entry and monitoring employees within the confined space, catastrophic events can occur. According to OSHA, approximately ninety workers die in confined spaces every year. OSHA cites failure to recognize and control the hazards as contributing factors in most confined space injuries and fatalities.
This means training is critical to protecting workers if they will enter a confined space.
But it can be challenging for employers to understand the requirements for confined space training, as the hazards of these areas are often very complex or unique to each facility. You'll have a solid training program if you know the fundamental aspects of the confined space standard and how to apply it to your workplace.
But where to begin? We'll walk you through the OSHA confined space training requirements in this article and give you some tips for getting started.
What Is a Confined Space?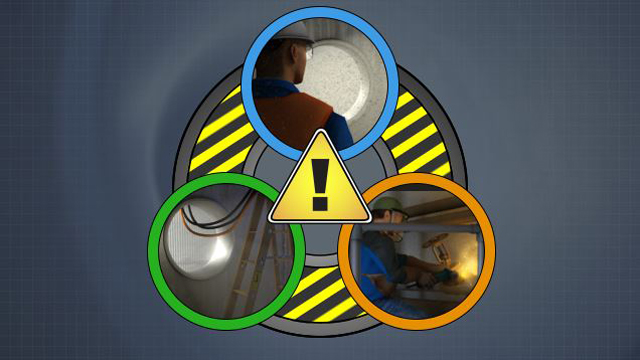 A confined space is any area large enough for an employee to enter, that has a restricted means of entry or exit, and that is not designed for continuous employee occupancy.
When these criteria are met, a confined space exists.
Confined spaces include, but are not limited to the following:
Storage tanks
Process vessels
Pits
Silos
Vats
Boilers
Ventilation and exhaust ducts, including baghouses, and dust collectors
Sewers, tunnels, underground utility vaults, and pipelines
Hazards Associated with Confined Spaces
People working in confined spaces may face life-threatening hazards such as electrocutions or engulfment. Plus, due to limited natural ventilation associated with confined spaces, there are often atmospheric hazards such as dangerous air contaminants, depleted oxygen, and flammable vapors which could produce imminent danger to workers.
This is explained in our confined space awareness training course. Below is a sample.
The hazardous atmosphere may also impair the ability to escape (or self-rescue) from a confined space. This is a defining point of confined spaces—the hazards exist to the point that self-rescue (or escape) could be prevented or impaired. In fact, OSHA makes special requirements if employees must enter these areas with such dangers. Among these measures is the need for a permit prior to entry, which designates a hazardous area as a "permit-required confined space."
We explain these hazardous atmospheres in our confined space awareness training course. Below is a sample.
Permit-Required Confined Spaces
A permit-required confined space has one or more of these characteristics:
Contains or has the potential to contain a hazardous atmosphere
Contains a material with the potential to engulf someone who enters the space
Has an internal configuration that might cause an entrant to be trapped or asphyxiated by inwardly converging walls or by a floor that slopes downward and tapers to a smaller cross-section; and/or
Contains any other recognized serious safety or health hazards
The foundation of your training program is to find and identify these dangers (or potential dangers) in your confined spaces. This will require a written evaluation which details the types of hazards. And then you will need to develop procedures to protect workers.
Without these two components, adequate training is impossible.
The Big Picture: How Does This Apply to Confined Space Training?
In 29 CFR 1910.145(g)(1), OSHA states that:
"The employer shall provide training so that all employees whose work is regulated by this section acquire the understanding, knowledge, and skills necessary for the safe performance of the duties assigned under this section."
In plain language, this means that workers should be aware of:
Why they can be harmed in a confined space
How that harm can occur
What to do to prevent injury
Applying your evaluation of hazards and confined space written procedures will allow you to provide this information to workers.
And in addition to knowledge, workers need the skills to perform these tasks, according to their role in the program. This means confined space training should involve practical demonstrations and skill evaluations, as well as online or classroom training. Instruction should also encompass general requirements, as well as training related to the specific hazards of the workplace or duties.
As is true for training employees to work in the presence of any hazard, the first confined space training criteria is to engage workers in an understanding of the hazards. Teach workers about the specific dangers associated with confined spaces—and in particular– the specific dangers of the confined spaces at your workplace. Every worker involved in the program should know these hazards. Remember that confined space training should be comprehensive and may also overlap with other standards.
For example—are your workers exposed to airborne contaminant hazards in your confined space?
If so, your training program should include descriptions of those hazards, how they could impact the entry workers, and what procedures you've created to prevent injury or illness. Do they need respirators? What about ventilation procedures? Is atmospheric monitoring necessary? Workers will need training and information on any of these areas required.
If there are electrical hazards, will you be using lockout/tagout? If lockout/tagout is required, that must be written into your procedures and is then part of the confined space training program as well. Consider some online lockout/tagout training, such as the sample shown below, as well as other lockout training.

Further, consider emergencies. How will workers be rescued? You'll need to train them about this area as well, in both practical knowledge and demonstrations, especially if your rescue involves a retrieval system.
Therefore, core elements in your confined space training program for all workers should include:
Knowledge of the general and specific confined space hazards (including mode, symptoms, and consequences) associated with the workplace/task
A rationale for safety equipment or PPE required to perform the tasks associated with the confined space entry or rescue. (Including limitations and proper use)
Explanations of permits, as well as additional procedures for entry, and evacuation of the confined space
Understanding of the prohibited conditions that would prevent confined space entry
Confined Space Training for Construction Standards
And if you fall under OSHA's Construction Standards, there are some other unique requirements that you'll need to include in procedure and training. For an excellent summary of those criteria, look at the Convergence article on OSHA's Confined Spaces in Construction Rule. You'll also find a very helpful and practical glossary of confined space terms here.
Note: The new Confined Space Construction Standard does not replace the earlier General Industry rule, rather it augments protection for workers who may do confined space entry work under one or both situations. (You may find that both Standards apply to your workers due to job duties or settings.)
What Else Do I Have to Include in My Confined Space Training Program?
From here, the duties of the workers must be clearly presented through training. In a confined space, it's vital employees work as a team. Everyone involved should know their role and purpose of that role—separately and as a group.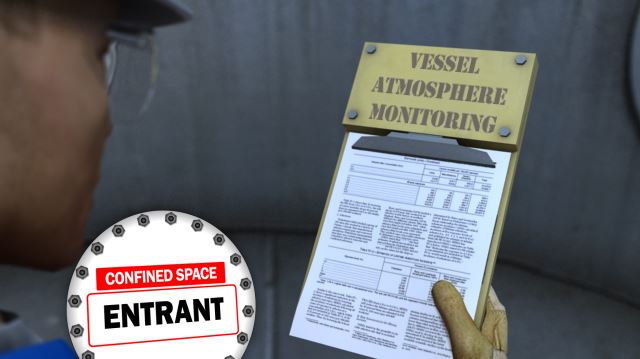 For example, if the confined space requires atmospheric monitoring, the personnel assigned to monitor that space must have training on monitoring equipment, including the following:
Equipment use and calibration
How to perform sampling
Exposure limits (PELs, TLVs, LELs, UELs, etc.)
And again, this training must move out of the classroom into real-life use through demonstrations, practice, and evaluation.
Confined Space Training for Different Confined Space Entry Roles
Make your training specific, as you'll need to cover the roles and actions of those involved in the confined space.
These confined space entry roles include:
Entrants
Attendants
Supervisors
Let's learn more about each now.
Training for Confined Space Entrants
Provide the workers who will enter the confined space with the following training:
Training for any PPE required for the confined space
Training for any equipment needed for entry
Method to alert the attendant (radio/visual signs/other means)
Evacuation procedures
Training for Confined Space Attendants
Provide the people who will attend the confined space during the entry with the following training:
Procedures on when and how to evacuate entrants
Means and procedures to inform entrants to evacuate
Non-entry rescue procedures
Behavioral signs of overexposure or evidence of other hazards
Procedures and means to summon evacuation and rescue services
Supervisors
Provide supervisors of confined space entries with the following training:
Entry permit and how to verify the conditions are safe for entry
Procedures for emergency or rescue services
Attendants and supervisors should also know to keep unauthorized persons from entering the confined space.
Confined Space Training: Make Plans for Rescues, Too
Emergency situations arise during confined space entries, and these at times call for rescue attempts. But those rescue attempts can be hazardous as well.
A significant percentage of employees who attempt to rescue coworkers are endangered themselves and become fatalities or are injured. According to NIOSH, more than 60% of confined space fatalities occur among would-be rescuers.
Non-entry rescue is the safest and preferred method of retrieving workers. OSHA requires non-entry rescue, unless risks increase due to use of retrieval equipment.
To prevent injuries or fatalities among rescuers, emergency response should be a carefully planned and executed process. To do so, you must prepare confined space workers appropriately for the potential for medical and other emergencies when training.
Think about the kind of rescue your facility could safely conduct and plan for it.
In some cases, the employer procedure is to summon external rescue services by calling 911. In this situation, employees are not permitted to perform confined space rescue.
Before training, whether you have an employee designated rescue team or if you use an external response team, you should have a rescue plan and procedures developed for your facility's confined space program. This plan should be shared during training of employees.
A rescue plan should include:
Details regarding the location and configuration of the confined space(s)
Types of hazards associated with rescue
Procedures for each type of emergency that is anticipated, including medical and equipment failures
Use of any specific rescue equipment, such as retrieval equipment
First aid and CPR techniques
Procedures detailing when rescue employees cannot enter the confined space and how to respond
If you are using community emergency services as your confined space rescue, you will need to share the details of the plan with local responders to ensure they are aware and adequately prepared to assist according to the requirements of OSHA (29 CFR 1926.1211 or 29 CFR 1910.146).
Additionally, you must provide employees involved in confined space duties with a dependable means to immediately notify local responders in the event of an emergency. OSHA has released information regarding the use of 911 as a rescue plan, which you can review as a basis for a general understanding of this area.
Are There MORE Confined Space Training Requirements to Know?
Prior to allowing new workers to engage in confined space work, they must have training. Beyond that, OSHA makes certain training requirements if inadequacies in the procedures or response occur, as well as retraining when there are any changes that impact the confined space program or response.
Therefore, confined space safety training should be conducted:
Before new employees begin any confined space work
When there is a change in assigned duties
When there is a change in the permit space program or operations
When there are any issues with the employee's confined space performance
Additionally, there is a requirement that employee rescue service personnel must practice rescues at least once every 12 months, as noted in see 1910.146(k)(2)(iv). So, if you're using employees to rescue confined space entrants, make sure they have an annual drill for this area.
Whew! This sounds like a lot and might look overwhelming. But if you approach this methodically and use a thorough pre-entry evaluation, and follow with site-specific procedures as the basis of your training program, you'll be covering your bases and help protect workers from confined space hazards.
For additional information about confined spaces, check out any of the following:
Remember that our confined space training for confined space entry and confined space awareness can be a good solid foundation to your overall confined space training program.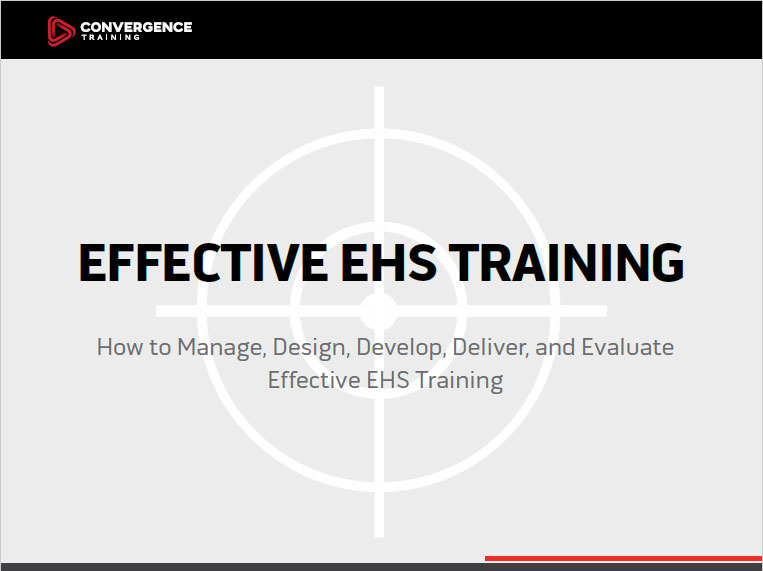 Effective EHS Training: A Step-by-Step Guide
Learn how to design, create, deliver, and evaluate effective EHS training by following these best practices with our free step-by-step guide.