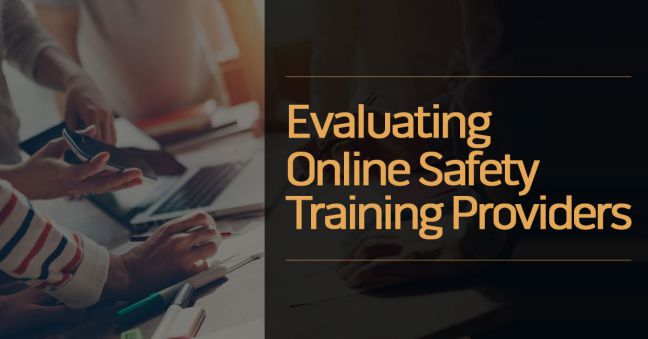 One important aspect of getting online safety training for your workplace is vetting the online safety training provider. You'll want to know if they're capable of making a good product but also if they provide excellent customer service.
In this article, we give some tips for things to look for in your online safety training provider.
If you want to learn even more about evaluating online safety training, we've included a lot of additional links for you at the bottom of this article, and don't forget to download our free 90-page Online Safety Training Buyer's Guide Checklist.
What to Look for In Your Provider of Online Safety Training
Like any business relationship, you want to make sure to partner with the right online safety training provider. Below are some of the things to look for and to evaluate. Use the comments section below if there are some things you'd add to the list.
Online Safety Training Evaluation & Sales Process
You'll want to evaluate the online safety training provider through the entire evaluation & sales process. How well organized was their website? How easy was it to find their contact information and to contact them? How quickly get they get back to you? How friendly were they? How knowledgeable and helpful were they? Did it feel like you were a high priority to them or more of an afterthought?
Relationships
For better or worse, buying software applications and online safety training courses begins a relationship. You'll be working with the company from time to time, and so you'll want to like them.
What is your experience with the online safety training provider? Were they fun and easy to get along with (as well as knowledgeable, helpful, and prompt)? Did you like them?
You'll be communicating with them from time to time, so this does matter.
Previews & Demos
Different online safety training providers have different policies regarding previews of online safety training courses and providing demos of their learning management (LMS).
Compare what different online safety training providers are willing and not willing to do when it comes to previews and demos, as well as how easy or hard it is to set these up.
Knowledge and Professional Experience
There's nothing simple or easy about creating online safety training courses or learning management systems. It starts with an understanding of how people learn and a knowledge of instructional design. Then it requires a deep and broad knowledge of occupational safety and health. Then you've got to throw in an awful lot of technical know-how: video production, animation and graphic production, eLearning course authoring abilities, plenty of coding and programming, and more.
You'll want to find a company that knows what they're doing.
Diverse Staff with Many Sets of Professional Expertise
As we mentioned immediately above, creating online safety training requires a lot of different skill sets. And so any online safety training provider you're thinking of partnering with should have a diverse staff of experienced professionals, including:
Safety professionals
Instructional designers
eLearning development experts
Graphic designers and/or videographers
Writers
Computer programmers
Quality assurance professionals
Support staff
Sales staff
More
Learn more about who works for the online safety training provider you're considering to see if they've got the necessary skills and experience.
Referrals
You'll also want to get some referrals from others familiar with the online safety training provider.
Can you speak with one of their existing customers, in an industry similar to yours? What do third-party rating sites such as Capterra have to say? Has the company won awards for online safety training? What do occupational safety and health magazines have to say about them?
Customer Support
You'll need customer support throughout the process. What does the online safety training provider offer?
Do they offer customer support? How big is the staff? Does it come for free or do you pay for it? If you pay for it, how much do you pay? How do you contact customer support–do you fill out a form, write an email, use a chat messenger system, or talk with a person on the phone?
Implementation Assistance
In addition to customer support, you may also benefit from implementation system (again, most especially with the learning management system). What types can they offer for rolling out and using the online safety training at your workplace? What guidance do they have available for you?
Pricing and Pricing Options
Of course, money's going to come up.
Find out what it's all going to cost and when you'll have to pay it.
Find out what the pricing model is. Is it pay-per-view? Courses on a subscription basis? A flat fee for an LMS with imported courses plus annual renewal fees?
Obviously, you'll want a good product, but you'll also want one that fits your budget. Shop around.
Economic & Business Stability
Partnering with a company for online safety training, and in particular for an LMS, is a big move and a big investment. It takes time and effort, and you're going to want to know the online safety training provider will be around in the future.
Check to see how long the company's been around and how big and financially stable they are.
Assistance with Other Parts of Your Job as Safety Manager
Although you're looking for online safety training solutions, including eLearning courses and a learning management system (LMS), it's also nice if the company can help you with other parts of your job.
Maybe it's something as specific as having an online injury & illness tracking software application that can create OSHA recordkeeping forms and even submit your injury & illness data online to OSHA.
Or maybe it's a monthly newsletter with timely safety information, including updates on new safety standards and deadlines.
Member of the "Safety Community"
You don't want your online safety training provider to be in it just to make a buck. It's nice if they're part of the larger occupational safety and health community as well.
Do they attend, exhibit, and present at safety conferences? Do they participate in the creation of national standards from ANSI & ASSP? Do they write in safety magazines and other publications? Are they members of organizations such as the ASSP, NSC, and/or AIHA? Do they contribute to the safety community in other ways, such as offering college scholarships?
This may not be the single most pressing issue when evaluating online safety training providers, but it's still something nice to know about.
Conclusion: Good Luck with Your Search for the Right Online Safety Training Provider
Hope this article helped! Let us know if you have any questions.
Since you're giving some thought to getting online safety training, you may also find these articles helpful:
And before you go, click that button below to download our free Online Safety Training Buyer's Guide Checklist.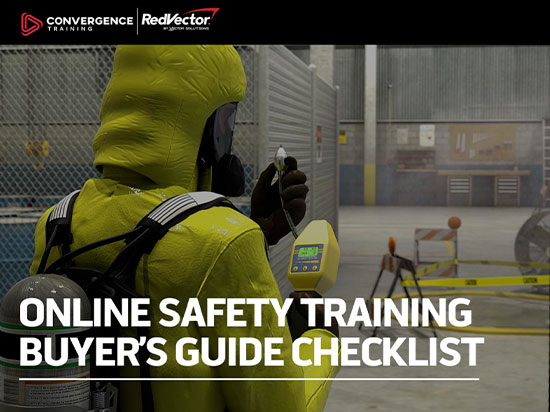 Online Safety Training Buyer's Guide Checklist
Learn how to evaluate different online safety training solutions to find one that best fits your company's needs with our FREE informative guide and checklist.