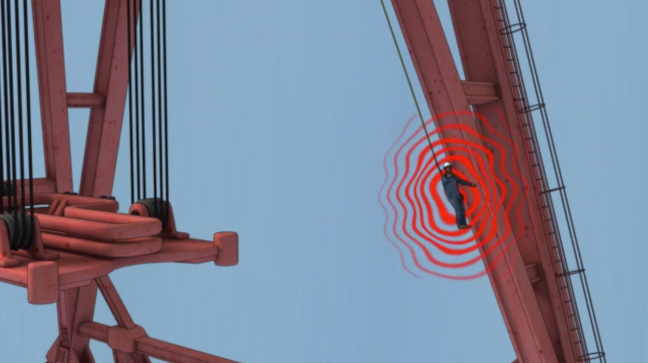 An important hazard that falls under the general bucket of fall prevention and protection is the "swing hazard" that can exist when wearing a vertical lifeline. We explain vertical lifeline swing hazard in this article (and include a video illustrating it from our online fall prevention & protection training course) and give you a tip for avoiding swing hazard out in the field.
We've also included a free fall prevention toolbox talk training checklist that you can download–just go to the bottom of this article to get the checklist. It addresses ladder safety, scaffolding safety, and roofing work safety.
Be Cautious of Swing Hazard When on a Vertical Lifeline for Fall Prevention & Protection
In some cases, a vertical lifeline is used to provide fall protection to a worker.
A vertical lifeline does what it sounds like it does. It is attached to an anchorage point and hangs vertically to a point below where it attaches to the worker's fall protection harness.
Did you notice the repeated use of the word vertical already? We call it out because that verticality is critical. When a worker is using a vertical lifeline, he or she should be careful that the lifeline is as vertical as possible. By this, we mean straight up-and-down and/or perpendicular to the ground.
To do this, make sure the lifeline is attached to an anchorage point that's essentially immediately above where the worker will be located.
The potential for trouble arises if the lifeline is attached not directly above the worker but off to one side or another. When the lifeline is used in that manner, it presents a serious hazard–also known as a swing hazard or swing fall hazard.
That's because if the worker falls, he or she will begin swinging–like the pendulum of a clock. And while the worker is suspended from that lifeline and swinging this way and that, the worker might swing into any number of dangerous things.
The video below is from our online Fall Prevention and Protection training course. It illustrates swing hazard on a vertical lifeline (or, of course, a lifeline that SHOULD be vertical but isn't).
Swing hazard is very dangerous, as you'll see. Don't let this happen to you.

For more tips on fall prevention and protection, why not download the free Fall Prevention Toolbox Talk Training Guide below?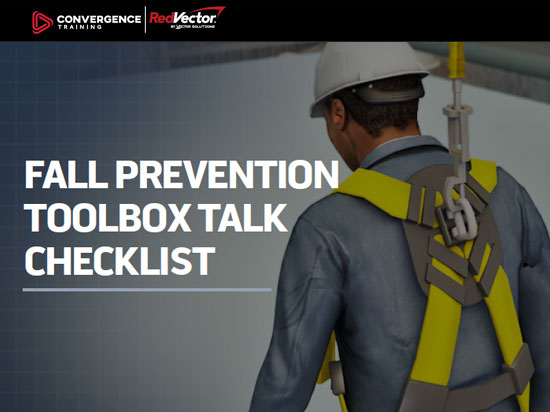 Free Download–Fall Prevention Toolbox Talk Checklist
Download this free checklist to help lead toolbox talks on fall prevention, including ladder safety, scaffolding safety, and roofing work safety.