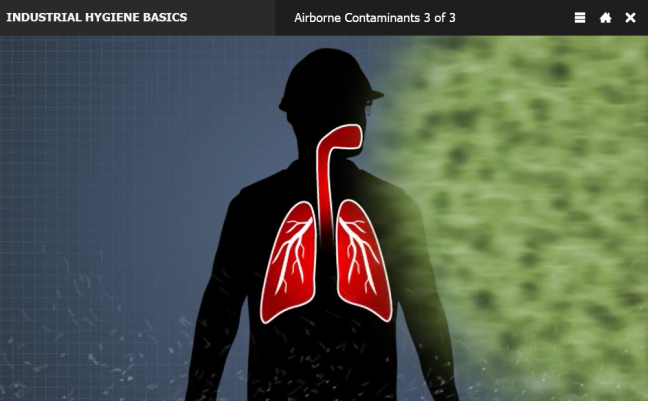 Industrial hygiene and safety: ever wonder what industrial hygiene is? Ever wonder how industrial hygienists contribute to safety at work?
Some of you may already be familiar with the field of industrial hygiene. On the other hand, others of you may not, and may wonder what it is, why it exists, and what an industrial hygienist does.
In this article, we'll provide an introduction to industrial hygiene and present a glimpse into the value this important field within occupational safety and health. Along the way, we'll define what industrial hygiene is and who performs industrial hygiene. We'll explain the worksite analysis that's at the root of industrial hygiene in the workplace. We'll list different types or categories of occupational hazards that industrial hygienists must identify and control. And we'll provide some guidance about the hierarchy of control and how it's used to prioritize different types of hazard control methods.
We'll even include a list of industrial hygiene professional organizations as well as offer you plenty of free safety downloads, including ones on performing a job hazard analysis, performing an incident investigation, using the hierarchy of controls, and developing and delivering effective safety training.
Even better, we'll give some samples of an online industrial hygiene training course you can use to train yourself or people at your worksite.
And once you've ready this article, if you still want to learn more about industrial hygiene, check out our Introduction to Industrial Hygiene, in which we discuss IH with a real-life industrial hygienist.
Industrial Hygiene and Safety, Part 1
Let's start by learning what industrial hygiene is, getting a general overview of the industrial hygiene process, and seeing what type of people perform industrial hygiene in workplaces.
What Is Industrial Hygiene?
Let's start by zeroing in on what industrial hygiene is.
This short sample from our Industrial Hygiene Basics online training course sets the scene.

Now let's look at some definitions.
Here's a definition from the American Industrial Hygiene Association (AIHA):
Industrial hygiene is generally defined as the art and science dedicated to the anticipation, recognition, evaluation, communication, and control of environmental stressors in or arise from the workplace that may result in injury, illness, impairment, or affect the well-being of workers and members of the community.
The British Occupational Hygiene Society (BOHS) defines industrial hygiene in a similar but slightly different way:
The science behind minimising the risk of ill health due to the workplace.
The International Occupational Hygiene Association (IOHA) defines it as:
The discipline of anticipating, recognizing, evaluating, and controlling health hazards in the working environment with the objective of protecting worker health and well-being and safeguarding the community at large.
And here's a definition from OSHA:
That science and art devoted to the anticipation, recognition, evaluation, and control of those environmental factors or stresses arising in or from the workplace, which may cause sickness, impaired health and well-being, or significant discomfort among workers or among the citizens of the community.
So all the definitions center around the concept of a professional field of study devoted to identifying and controlling hazards in the workplace to keep workers and community members safe and healthy.
The Industrial Hygiene Process
Let's use the definition from the American Industrial Hygiene Association (AIHA) to create an IH-overview image and talk about those terms a little more closely.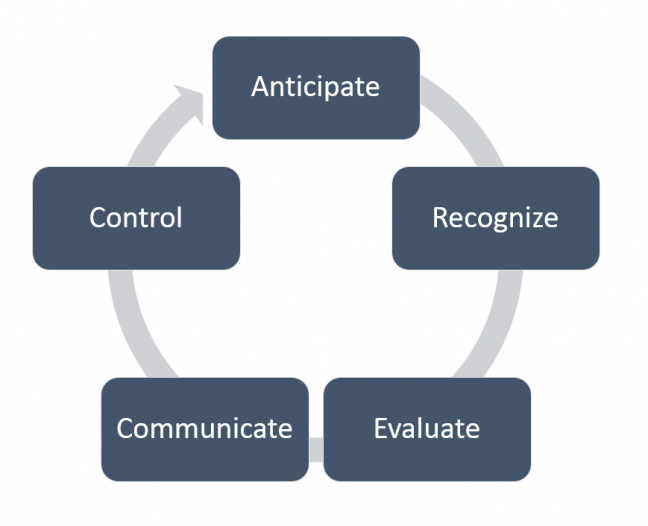 Here's a closer look at what some of those terms mean:
Anticipate: Sense the presence or potential of hazards without actually observing them
Recognize: Identify a hazard when it's observed
Evaluate: Determine what type of harm a hazard can cause and how severe the harm would be
Communicate: Inform others in the workplace or community about the hazard
Control: Put measures into place to eliminate or minimize the potential of the hazard to create harm, such as injury or illness
Who Performs Industrial Hygiene?
Many different types of professionals with different sets of knowledge, skills, and expertise contribute to industrial hygiene at workplaces around the world. Here's how the American Industrial Hygiene Association puts it:
It's practitioners come from varied backgrounds. They can be chemists, engineers, biologists, physicists, doctors, nurses, and other professionals, all of whom have chosen to apply their skills to protecting the health of workers. Industrial hygiene is multidisciplinary, so its practitioners must acquire a broad and solid foundation of knowledge across all these disciplines and more. Common to all practitioners is a core of knowledge that can only be described as "industrial hygiene," a strategic approach to managing health hazards at work.
Industrial Hygiene and Safety, Part 2
Now let's look at how the industrial hygienist contributes to safety at the workplace.
We'll consider:
The workplace analysis
Types of workplace safety and health hazards
The hierarchy of control
The First Phase of Industrial Hygiene: The Workplace Analysis
According to OSHA, the industrial hygiene process begins with a workplace analysis:
A worksite analysis is an essential first step that helps an industrial hygienist determine what jobs and work stations are the sources of potential problems. During the worksite analysis, the industrial hygienist measures and identifies exposures, problem tasks, and risks. The most effective worksite analyses include all jobs, operations, and work activities. The industrial hygienist inspects, researches, or analyses how the particular chemicals or physical hazards at that worksite affect worker health. If a situation hazardous to health is discovered, the industrial hygienist recommends the appropriate corrective actions.
Here's how our Industrial Hygiene Basics course introduces the worksite analysis.

Now let's look at that in more detail. The worksite analysis may include one or more of the following:
Interviews with workers
Inventories of chemical and hazardous materials
Job task observations
Reviews of work schedules, production records, accident and incident reports, equipment and maintenance schedules, safety programs, written procedures, and chemical safety data sheets (SDS)
Performing change analyses
Job hazard analyses (JHAs)
Routine worksite inspections
Creating an effective system for employees to report hazards and near misses
Performing incident investigations
Analysis of injury and illness trends over time
You may find this article about performing a job hazard analysis, which includes this free Guide to Performing a Job Hazard Analysis (JHA), helpful.
In addition, you may find this article about performing an incident investigation a help as well.
Finally, you may want to check out our Incident Management System (IMS) for analysis of injury and illness trends over time.
Workplace Safety Hazards that Industrial Hygienists Consider
When performing a workplace analysis, an industrial hygienist must consider many different types of hazards to protect the health and safety of workers. These include the following hazards that can be grouped into the following hazard types:
Airborne Hazards
Airborne hazards can be broken down into two smaller types. The first of those two types is hazardous airborne particles.
An example of a hazardous airborne particle would be asbestos, as described in our Asbestos Awareness online safety training course sample below. Combustible dust would be another example of a hazardous airborne particulate.

The second of the two general types of airborne hazards is airborne gases or fumes.
Hydrogen sulfide is an example of a hazardous airborne gas.
Chemical Hazards
Chemical hazards can take the form of solids, liquids, gases, mists, dusts, fumes, and vapors.
Workers can be harmed by these hazardous chemicals through different types of exposures, including:
Inhalation (breathing the chemical)
Absorption (direct contact with the skin)
Ingestion (eating or drinking the chemical)
Anhydrous Ammonia, as discussed in the online safety training course sample below, is an example of a chemical hazard. So are chlorine dioxide, formaldehyde, and many others.

Biological Hazards
Biological hazards include living organisms such as bacteria, viruses, and fungi.
Biological hazards can cause serious infections. These can be chronic, meaning they have a rapid onset and last for a short time, or acute, meaning they last for a long time and/or constantly recur. Both acute and chronic infections can be serious and even fatal.
Bloodborne pathogens, such as HIV and Hepatitis C, are examples of viruses that are biological hazards.
Mold, as demonstrated in the Mold Awareness online training course sample below, is an example of a fungus that is a biological hazard.

Ergonomic Hazards
Ergonomic hazards are hazards caused when performing workplace tasks that include (but are not limited to) lifting, holding, pushing, walking, and reaching.
One of the more common ergonomic-related injuries in the workplace is a back injury, as discussed in this Back Injury Prevention online training course sample.
Ergonomic concerns arise in both office and industrial work settings, as this Ergonomics for Office Environments online training course  and this Ergonomics for Industrial Environments online training course explain.
Physical Hazards
Physical hazards are occupational hazards that can cause harm to people with or without contact. We've included some examples of physical hazards below.
Noise hazards
Exposure to noise is an example of a physical hazard, as demonstrated in this Hearing Conservation online training course.

Radiation hazards
Radiation, both ionizing and non-ionizing, is another example of a physical hazard workers may be exposed to in certain workplaces, as this Radiation Safety Online Training Course demonstrates.

Vibration hazards
Another physical hazard that can harm workers on the job is exposure to vibrations. An obvious example of this is the vibration that a jackhammer operator is exposed to, as demonstrated in this Hand and Power Tool Safety Online Training Course.

Temperature hazards
Temperature–both high and low–is yet another type of physical hazard. Workers can be exposed to hazards from naturally occurring, climatic heat and cold, as demonstrated by the Cold Stress Online Training Course sample below (heat stress is another example).
In other cases, the temperature extreme is caused by the work process, as demonstrated in this Hot Work Safety Online Training Course sample.
Struck-by, crushing, cutting, nip points, etc.
Yet another common form of physical hazard is when a person is struck by, crushed by, cut, or caught between objects at work. An example is when a pedestrian is hit by a forklift or other mobile equipment, as this Pedestrian Safety Online Training Course demonstrates.

Controlling Workplace Hazards: The Hierarchy of Controls
Once a workplace hazard like the ones listed above has been identified, an industrial hygienist works to put controls in place to eliminate or reduce the risk that hazard presents to workers.
Here's how OSHA puts it:
Effective controls protect workers from workplace hazards; help avoid injuries, illnesses, and incidents; minimize or eliminate safety and health risks; and help employers provide workers with safe and healthful working conditions.
The commonly accepted manner to identify the correct control for a particular hazard is to use what's known as the hierarchy of controls, which is illustrated below. The hierarchy of controls includes five levels or types of controls, as listed below:
Elimination: Physically remove the hazard from the workplace
Substitution: Replace the hazard with something that's less hazardous or not hazardous
Engineering controls: Use engineering means (such as machine guarding) to isolate the hazard
Administrative controls: Change the way people work to reduce the risk of working in proximity to the hazard (such as reducing worker exposure time)
PPE: Provide personal protective equipment (PPE) to protect the worker from the hazard–always use PPE as a last defense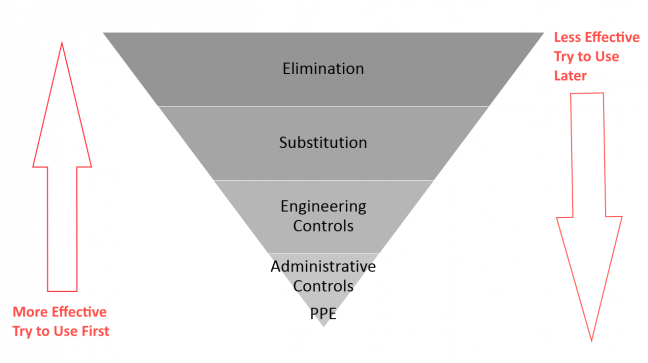 Here's how the Centers for Disease Control (CDC) & the National Institute for Occupational Safety and Health explain the proper use of the hierarchy of controls:
The idea behind this hierarchy is that the control methods at the top of graphic are potentially more effective and protective than those at the bottom. Following this hierarchy normally leads to the implementation of inherently safer systems, where the risk of illness or injury has been substantially reduced.
When applying the hierarchy of controls, you may find that there are many cases when a combination of controls from different levels provide the best protection. For example, an engineering control to reduce noise level and then earplugs to provide further protection from the remaining noise.
For more about the Hierarchy of Controls, read this page from CDC/NIOSH; this page from OSHA; or this article about the hierarchy of controls from Convergence Training (which includes a free Hierarchy of Controls eLearning course you can download).
Industrial Hygiene and Safety, Part 3
To learn more about industrial hygiene, check out the following:
You can also check out our online Industrial Hygiene training course, which explains a lot of the basics of industrial hygiene. We've included a quick sample video immediately below.
In addition to this helpful information, we offer an large library of online environmental, health, and safety training courses, including many courses that cover topics directly related to the field of industrial hygiene. Feel free to check the course titles we offer for a match at your workplace, or just watch the short overview video drawn from some of our courses to get a better idea of our visually engaging online health and safety training materials before you read on for more specific details about industrial hygiene.
Industrial Hygiene and Safety: IH is An Important Part of Workplace Health and Safety
Industrial hygiene is an important field full of occupational safety and health professionals working to keep employees safe and  healthy on the job. We hope this overview of industrial hygiene and industrial hygienists has been helpful to you. Don't forget to check out our industrial hygiene training course before you go.
Let us know you if you have other questions.
If you're an industrial hygienist, we'd love to hear your comments about your field below.
And we invite you all to download our free guide to conducting a Job Hazard Analysis at work.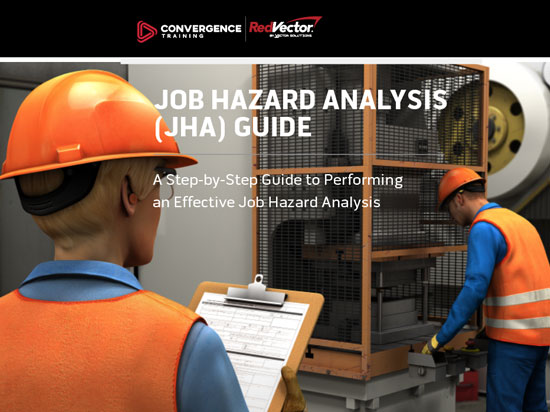 Job Hazard Analysis Guide
Learn how to perform a job hazard analysis on the job with our free step-by-step guide.