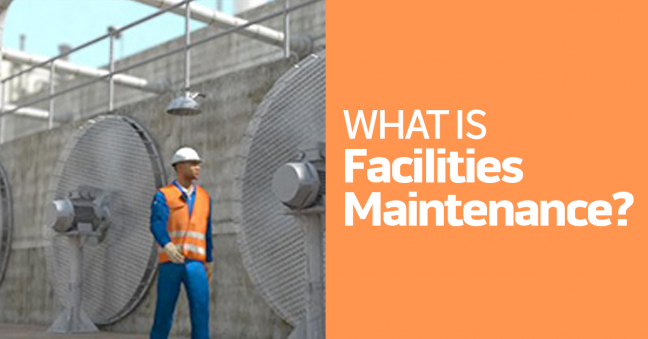 We provide a lot of training materials for maintenance technicians, and as a result we wanted to write some articles introducing people to different types of maintenance, including facilities maintenance, the subject of this article.
In other recent article, we introduced you to mechanical maintenance and electrical maintenance. Check those out too if they strike your fancy.
And in a second (upcoming ) series of maintenance-related articles, we'll introduce you to 5 maintenance strategies, including reactive/corrective maintenance, preventive maintenance, predictive maintenance, and conditions-based maintenance. So stay tuned for all that.
For now, read and enjoy the article, and let us know if you have any questions about your own maintenance training program at work. Plus, check out our recorded webinar on maintenance, maintainability, organizational learning, and continuous improvement. 
Facilities Maintenance
Like other branches of maintenance, facilities maintenance is involved in installation, inspection, routine upkeep, and repair of machines and equipment.
More specifically, facilities maintenance is concerned with maintenance in a commercial facility where no manufacturing activities are taking place. For example, facilities maintenance occurs at places like office buildings, hospitals, convention centers, and universities.
If the commercial facility is involved in manufacturing, then maintenance activities there are known as industrial maintenance. If it's a residential building, then that's property maintenance.
Facility Manager and Facility Maintenance Technicians
There are two basic job roles involved in facilities maintenance. The first is the facilities manager. The facilities manager is ultimately responsible for all ensuring all maintenance work is performed (as well as janitorial services and more).
The second job responsibility is the facilities maintenance technician. These are the skilled employees installing, inspecting, repairing, and replacing equipment at the facility. There work is typically scheduled, and it may include corrective maintenance as well as preventive and/or predictive maintenance.
Facilities Maintenance Training Topics
Facilities maintenance techs may need a variety of maintenance skills, including electrical and mechanical, but they'll also need to know how to inspect, service, and repair:
We provide online training courses on facilities maintenance topics as well as online training for other maintenance specialities. Let us know if we can help you with maintenance training at your facility.
And before you go, please download our free guide to online facilities maintenance training.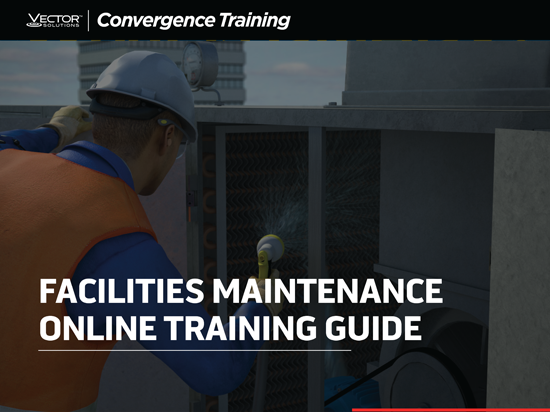 Free Guide to Facilities Maintenance Online Training
Download this free guide to learn everything you need to know about putting together a best-in-class facilities maintenance training program, including online training.