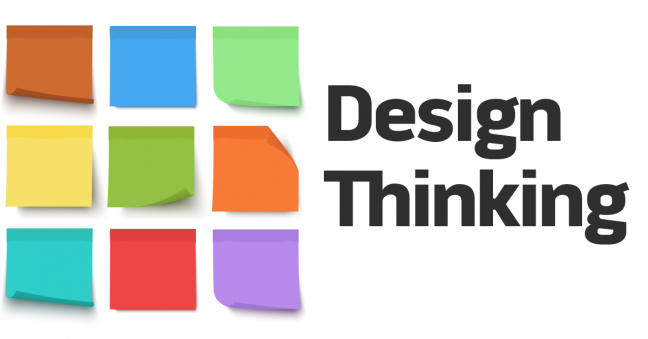 If you've never heard of design thinking, you might find this brief introduction of value. If you're already using design thinking, we value your additional insights and contributions in the comments section below.
So what is design thinking, those of you who've never heard of it before may be asking? Tim Brown, the president and CEO of IDEO (who played a big role in the development and spread of design thinking), puts it this way:
Design thinking is a human-centered approach to innovation that draws from the designer's toolkit to integrate the needs of people, the possibilities of technology, and the requirements for business success.
You can use design thinking to help create better products, services, and experiences for your customers; to help improve workplace conditions for your employees; to improve workplace processes and procedures; or to fix other problems. In that sense, it's a bit of an all-purposes problem-solving tool with a focus on empathy, being human-centered, and the user's experience that includes a healthy dose of collaboration.
We'll provide a quick overview of design thinking in the article below. We'll also provide links to resources where you can learn more. If you've used design thinking yourself at work, please share your thoughts and experiences in the comments section.
Five Steps of Design Thinking
There are at least a few different multi-step models for design thinking out there, but we think the one we'll describe below is the most common. You'll also sometimes see the model presented below with different words for the steps or with one or more additional steps (often to call out the idea of iterating for refinement or continuous improvement). But being familiar with the 5-step design thinking model below will give you a solid foundation.
Step 1-Empathize
During the first phase of design thinking, you'll perform activities that help you (1) emphathize with your person/people you're trying to help and (2) develop a better understanding of their struggles and problems.
During this phase, you may also gain a better understanding of exactly who it is you're trying to help (for example, it may be three different types of customers or workers in three different job roles).
This phase can include observations, discussions, questionnaires, and even putting yourself in the person's shoes to try to gain more insight into their context and challenges.
Step 2-Define
During the second phase of design thinking, you'll take what you learned during the Step 1-Empathy phase and use it to create a problem statement that you'll try to solve during the continuation of the design thinking process.
This phase is done in a collaborative manner and often includes cycles of divergence (in which people work independently and come up with their own ideas) and divergence (in which people then work together to discuss ideas and consolidate thoughts).
Step 3-Ideate
Ideate is a terrible word, admittedly, but basically what it means in this context is your design thinking team will begin to think of potential solutions for the problem.
As was true in the Step 2-Define phase, you'll use cycles of divergence and convergence.
It's important during this phase that you try to include as many ideas as possible, including out-of-the-box ideas.
Step 4-Prototype
Once your team has developed an idea of how to solve the problem, the next step is to create a low-fidelity, low-cost, scaled-down prototype and get reactions from your target audience.
Step 5-Test (and Iterate)
Next, you'll take that prototype and get the opinions of stakeholders, including (most importantly) the end users/customers/etc.
The goal in prototyping and testing is to either determine you've got a good solution or to realize you don't and to learn from failure.
In some cases, your test will show your proposed solution is a good one. If so, roll it out on a larger scale. In other cases, your test will show that you're on the right track but need to make some tweaks. In that case, go back and modify your prototype and test again. And in still other cases, the testing phase will show you that you missed something, and you'll want to go back to the Step 2-Define phase (to redefine your problem statement) and/or the Step 3-Ideate phase (to reconsider your solutions).
And remember, it's always a good idea to keep iterating for continuous improvement.
Who Should Participate in a Design Thinking Activity?
You want your design thinking team to be varied and diverse. Get people with a wide range of job roles, areas of expertise, and perspectives. Remember to include rank-and-file workers in addition to just management workers as well as people from multiple departments.
Be careful not to get a group of like-thinking people and or "yes" people, and avoid succumbing to the negative aspects of group think.
Design Thinking Is a Non-Judgmental Process
It's important to remember that design thinking is an open, inclusive, and non-judgmental process that's intended to draw out creative, innovative ideas that may not seem obvious at first.
As a result, keep in mind the importance of creating and maintaining a collaborative environment that isn't judgmental and that doesn't quickly dismiss people's ideas.
To learn more about this, check out our article on psychological safety in the workplace and its role in effective teamwork, increased productivity, and innovation.
Resources for Learning More about Design Thinking
You can scour the web to learn a lot more about design thinking, and we plan some additional follow-ups here.
However, two of the best and most cited resources are the Stanford d. School (check out their Intro to Design Thinking and their Resources section) and IDEO (check out their Field Guide to Human-Centered Design and their Design Kit).
Additionally, this website of Design Thinking Resources is very well put together.
You might also find Design Thinking Comes of Age by John Kolko, published at the Harvard Business Review, to be of interest.
Resources for Design Thinking for Learning Design
Just as you can learn a lot about design thinking in general with a simple Google search, you can also do your own Googling to learn a lot about using design thinking for learning design.
That said, I'd point you toward a few sources I really respect and admire:
Resources for Design Thinking for HR
Why not start with this article on design thinking for HR by Josh Bersin and others at Deloitte?
Resources for Design Thinking for Occupational Safety
Check out this article by Steven Shorrock on Humanistic Thinking for Occupational Safety. This is obviously along the same lines of design thinking, due to its emphasis on being human-centered (note this comment that "Empathy is core to humanistic thinking").
That said, if you read down to the bottom, you'll see he's planning to write an article about design thinking for safety sometime soon. I find Shorrock to be an insightful safety thinker and encourage you to keep your eye out for that eventual article. I'll try to remember to add a link to it here when that article does exist as well.
Conclusion: Why Not Give Design Thinking a Try?
Well, let's rephrase the question: why not give design thinking a try?
But to address the question head-on, design thinking is an effective problem-solving tool that can help you create innovative solutions to problems that truly fit the end-user's needs.
Since design thinking includes a focus on iteration and continuous improvement, why not download our free PDCA Cycle infographic before you go?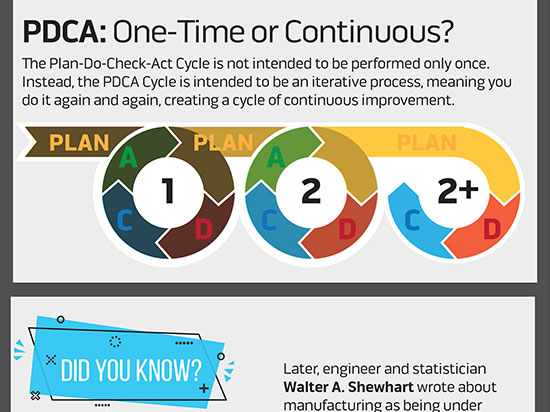 FREE PDCA Cycle Infographic
Download this free infographic of the Plan-Do-Check-Act (PDCA) cycle commonly used for quality control, project planning, and continuous improvement.