If a worker is injured or becomes ill at work, the employer will often have to record the incident as a "work-related injury or illness" on OSHA's Form 301, Injury and Illness Report, and OSHA's Form 300, Log of Work-Related Injuries and Illnesses.
In this article, we'll explain to you exactly what a recordable injury or illness is and which establishments have to do the recording.
For the whole picture, feel free to DOWNLOAD OUR FREE GUIDE TO OSHA REPORTING & RECORDKEEPING.

What's an OSHA Recordable Injury or Illness?
According to OSHA, all of the following are recordable injuries or illnesses:
Any work-related fatality
Any work-related injury or illness that results in loss of consciousness, days away from work, restricted work, or transfer to another job.
Any work-related injury or illness requiring medical treatment before first aid
Any work-related diagnosed case of cancer, chronic irreversible diseases, fractured or cracked bones or booth, and punctured eardrums
Any work-related injuries and illnesses involving needlesticks and sharps; medical removal; hearing loss; and tuberculosis (which have their own special recording criteria)
Which Employers Must Record These Injuries and Illnesses?
The short answer is that generally, if you employ more than 10 employees and are not in an OSHA-specified low-risk industry, you probably need to do this.
There's an exception for employers with fewer than 10 employees. However, as explained in 1904.1, there's an exception to that exception:
… as required by § 1904.39, all employers covered by the OSH Act must report to OSHA any workplace incident that results in a fatality or the hospitalization of three or more employees.
And there's a second exception for employers in certain low-risk industries (see OSHA's list of exempt low-risk industries here). But again, there's an exception to the exception, this time spelled out in 1904.2.
… all employers must report to OSHA any workplace incident that results in an employee's fatality, inpatient hospitalization, amputation, or loss of an eye (see § 1904.39).
What Does OSHA Mean by "Work-Related?"
Here's how OSHA defines "work-related" in 1904.5, Determination of Work-Relatedness:
You must consider an injury or illness to be work-related if an event or exposure in the work environment either caused or contributed to the resulting condition or significantly aggravated a pre-existing injury or illness. Work-relatedness is presumed for injuries and illnesses resulting from events or exposures occurring in the work environment, unless an exception in §1904.5(b)(2) specifically applies.
What Does OSHA Consider to Be "First Aid" In Terms of Recordable Injuries and Illnesses?
OSHA says that "Minor injuries requiring first aid only do not need to be recorded."
As a result, it's important to know how OSHA defines first aid:
Using a non-prescription medication at nonprescription strength (for medications available in both prescription and non-prescription form, a recommendation by a physician or other licensed health care professional to use a non-prescription medication at prescription strength is considered medical treatment for recordkeeping purposes)
Administering tetanus immunizations (other immunizations, such as Hepatitis B vaccine or rabies vaccine, are considered medical treatment)
Cleaning, flushing or soaking wounds on the surface of the skin
Using wound coverings such as bandages, Band-Aids™, gauze pads, etc.; or using butterfly bandages or Steri-Strips™ (other wound closing devices such as sutures, staples, etc., are considered medical treatment)
Using hot or cold therapy
Using any non-rigid means of support, such as elastic bandages, wraps, non-rigid back belts, etc. (devices with rigid stays or other systems designed to immobilize parts of the body are considered medical treatment for recordkeeping purposes)
Using temporary immobilization devices while transporting an accident victim (e.g., splints, slings, neck collars, back boards, etc.).
Drilling of a fingernail or toenail to relieve pressure, or draining fluid from a blister
Using eye patches
Removing foreign bodies from the eye using only irrigation or a cotton swab
Removing splinters or foreign material from areas other than the eye by irrigation, tweezers, cotton swabs or other simple means
Using finger guards
Using massages (physical therapy or chiropractic treatment are considered medical treatment for recordkeeping purposes)
Drinking fluids for relief of heat stress
What Does It Mean to "Record" an Injury or Illness?
Recording workplace injuries and illnesses means to create an entry on OSHA Forms 300, 300A, and/or 301. You must keep these records at the worksite for at least 5 years, and you must post a summary of injuries and illnesses recorded the previous year every February through April.
We'll explain these forms in more detail in the following blog posts:
For more information, you can also read the OSHA Recordkeeping regulation, 29 CFR 1904.
What Does OSHA Mean by "Reporting?"
Reporting is different than recording. Reporting is turning over injury and illness information to OSHA. Reporting is covered in the articles linked above, but while you're here, you should know that there's a requirement to quickly report to OSHA fatalities and severe injuries.
For more information, we again refer you to the three "forms" articles above and/or the the OSHA Recordkeeping regulation, 29 CFR 1904.
You may also know that OSHA has a new online submission process for reporting injury and illness data. The first deadline for this is (or soon was will be the correct term) December 15, 2017, when some establishments will have to submit their 2016 OSHA Forms 300A. That links tells you more about this first official deadline.
Can Convergence Training Help Me Keep Track of My OSHA Recordables, Create OSHA Recordkeeping Forms, and Report to OSHA?
Sure. We've got two great tools to help you with this. The first is our Incident Management Software, or IMS. The second is our online training course on OSHA Recordkeeping.
Convergence Incident Management System (IMS) for OSHA Recordkeeping and More
The Convergence Incident Management Software allows people at your site to report an injury, illness, near miss, or property damage incident. It then includes features for gathering necessary information to perform an incident investigation, to correct the problem, and to generate all appropriate OSHA recordkeeping and reporting forms. At the end of the year, it can even make an online submission of your injury and illness data to OSHA's website for you. The short video below explains it in more detail.
The Convergence Training Online OSHA Recordkeeping Training Course
This online course can be a great way to brush up on all the details and how-to's:
Conclusion: OSHA Recordable Injuries and Illnesses
We hope this article gave you some helpful information about OSHA recordables.
Be sure to read the other related articles on the following topics:
And let us know if we can help you with OSHA injury and illness and recordkeeping and reporting needs.
Good luck with this, be safe at work, and let us know if you have any questions.
And don't forget to download the FREE GUIDE TO OSHA REPORTING & RECORDKEEPING, of course.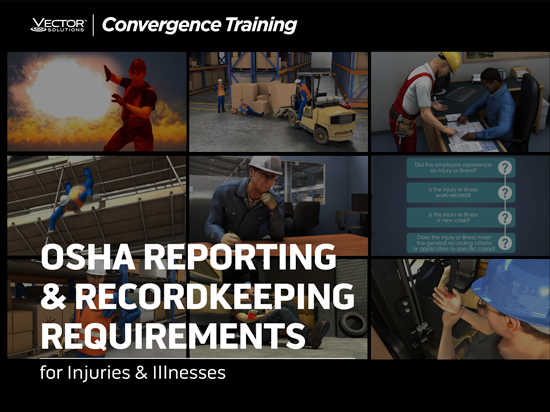 Free OSHA Injury & Illness Reporting & Recordkeeping Guide Download
Download this free guide to learn what you need to know about OSHA requirements for injury & illness reporting and recordkeeping.