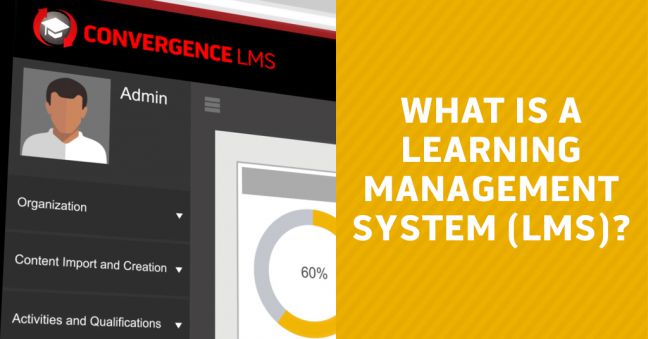 Many people in learning and development are quite familiar with learning management systems (LMSs). Maybe you use one now, or maybe you've used one for years.
On the other hand, there are plenty of people who aren't familiar with an LMS, haven't used one, or don't know what an LMS is. Maybe you're new to training. Maybe your role in training has never involved using an LMS. Or maybe your company still hasn't adopted an LMS, and you're still administering your training through an excruciating series of databases, network folders, SharePoint, Excel spreadsheets, and paper-based training records in manila envelopes stored in metal filing cabinets in various rooms though out the office. 🙁
If the paragraph above describes your situation, here's a 100-level primer explaining what an LMS is. We've also included some additional links to other LMS-related articles. Hope this helps get you up to speed quickly.
What Is a Learning Management System (LMS)?
A learning management system, or LMS, is a software tool that businesses use to manage their training programs. Schools and universities also use them to manage their education programs.
What Does an LMS Do?
Although every LMS is different, they generally allow you to:
Import and/or create training content
Assign training to employees
Deliver training online to employees
Schedule when employees must complete training ("due dates")
Track when employees complete that training
Store records of completed training
Run reports on training
They may also do a number of other things, depending on the LMS.
This short video will give you an even better idea.
How Will My Employees Use an LMS?
The employee experience with an LMS is typically quick and easy, and requires no advanced computer skills from your employees.
Generally, they will:
Open an Internet browser window
Enter a URL to go to the proper website (many companies put a link on their company intranet page)
Login with a unique username and password
Immediately see a list of assigned training, including due dates (if applicable)
Click a button to launch and complete training that can be completed online (if applicable)
View details about training that must be completed in-the-field, in a classroom, or offsite
In addition, the LMS will provide other features, such as company news, learner dashboards, automated email notifications for key training moments, and more.
The LMS MAY even offer tools for optional, elective-based training for employee self-guided learning; social learning tools (to fit with the 70/20/10 model); and content curation.
Is an LMS Difficult to Administer?
While all LMSs are different, and some are more difficult to use than others, in general most are designed to be quick and easy to learn and most feature an intuitive interface.
That said, this is something worth checking out when you evaluate and demo various LMSs.
What Kind of Help and Support Do LMS Providers Offer LMS Customers?
Again, this varies from LMS provider to LMS provider. However, here are some reasonable expectations:
Administrator training (how to use the LMS)
Manuals
Online knowledge base
Newsletters for LMS customers with helpful tips
Dedicated support team
If you're evaluating LMSs, be sure to ask the LMS provider what they do to help you use their product.
Is an LMS Cloud-Based (or What)?
Some LMSs are web-based, meaning you can pull them up on the Internet, login in, and take or administer training there. This is also what people mean when they say it's "in the cloud" or it's "cloud-based."
Other are Intranet web-based, so they reside wholly on a server that's part of a company's private network. In these cases, people access the LMS from work or remotely via VPN.
And some LMSs can be used either way—as a web-based solution or on a private network, depending on what you want.
Again, check with your LMS provider to see what they offer.
Read more about the benefits of a cloud-based LMS here.
Are LMSs Only Good for Working with eLearning Courses?
Some LMSs may only work with e-learning courses (also called CBTs), but most will work with a variety of training formats, including instructor-led training (ILT), OJT skill assessments, assessments such as quizzes, and more.
What's the Best LMS?
There's no way to answer that, primarily because the LMS that's "best" for one company may not work as well for other companies. It depends on the training needs of each company.
Instead of asking "what's the best LMS?", you should determine what you'd like an LMS to do at your work place. Then you can find the LMS that best matches your needs.
One side-note to that, though: there may be things that an LMS can provide that you haven't thought of on your own but that you'd come to value very much if you used them. Because of this, it's best to get to know the features of the LMS and ask a representative why those features are useful. You might also want to consider using an LMS that companies like your own are already using successfully.
To help you determine what you might want an LMS to do today and what you might want one to do in the future, we've included an LMS buyer's guide checklist at the  bottom of the article that you can download for free. You may also find this Choosing an LMS article helpful.
Do LMSs Automatically Come with "Built-In" Training Materials?
Not typically, but LMS providers often also make training materials, including workforce training elearning courses, and you can typically get training materials along with the courses if you want.
Below is a short video overview of some eLearning that could come with your LMS.
Check with LMS providers to see if they also offer training that can be delivered in the LMS. It can be helpful to get an LMS and training materials from the same provider, even if it's not necessary.
If I Buy an LMS from One Training Provider, Can I Use Self-Created Training Materials and/or Training Materials Created by a Different Training Provider?
Yep, in most cases, that's no problem.
Just make sure that the eLearning courses and the LMS both support the same learning standards–such as AICC, SCORM, and/or Tin Can (also called xAPI).
Are LMSs Compatible with Mobile Devices?
Some are.
Some even have native mobile apps for mobile devices.
For more information about LMSs and mobile apps, check the following:
Can an LMS Be Integrated with Other Software Programs at Work?
It's often helpful to have a learning management system pass information back and forth, essentially communicating, with other software programs at work. This might include your HRIS, CRM, ERP, programs such as SharePoint, Dropbox, Google Drive, and even ecommerce functionality.
And the good news is that yes, LMSs can be set up to do this, either by using APIs to send and receive "calls" or through other methods.
Read more about integrating your LMS with other workplace software programs here.
What Can You Tell Me About Return on Investment (ROI), Training, and Learning Management Systems (LMSs)?
Good question. Check out this post that discusses issues related to ROI, training, and LMSs.
What's Unique about the LMSs by Convergence Training?
We've designed our flagship Enterprise LMS to be particularly useful for manufacturing and industrial companies.
We also have one for training contractors and visitors, another mining safety training compliance.
We even have a white-label LMS that you can use for training multiple companies or multiple customers.
Our LMSs have special features built in that facilitate real training processes used in these industries and training needs.
What More Can I Read about LMSs?
You might also find these articles interesting:
When I Hear About LMSs, I Keep Hearing about SCORM. What's SCORM?
SCORM is a set of technical standards for e-learning products. If an e-learning module is SCORM-compliant, and an LMS is also SCORM-compliant, you should be able to import the e-learning module into the LMS, assign it to your employees, and track if they have completed it or not (and, if the e-learning module included a quiz of some sort, track your employee's score on that quiz and whether or not they "passed" the quiz).
You can learn more about SCORM here.
Hope that cleared the fog a bit. Need to know more? Drop us a line and we'll help you out.
To get started on your LMS search, you may find the LMS Evaluation Checklist below helpful.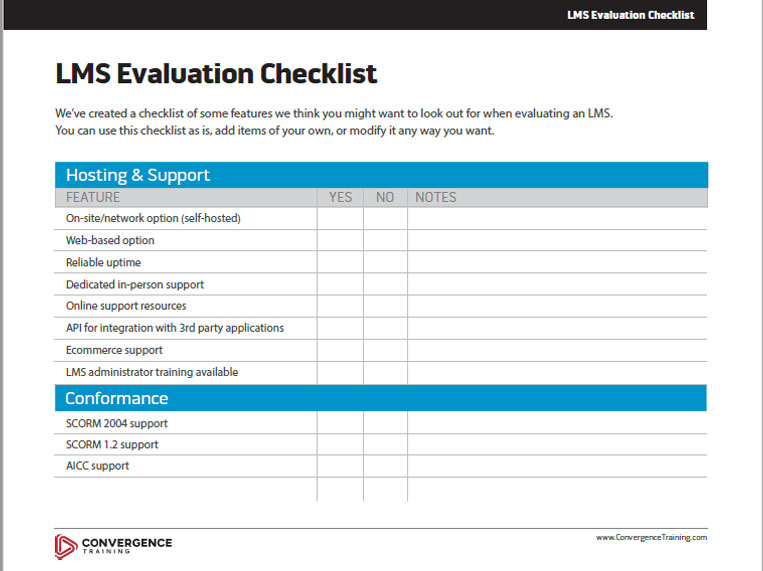 Learning Management System (LMS) Evaluation Checklist
Here's a handy checklist to use as you evaluate different LMSs to find the right one for your company.