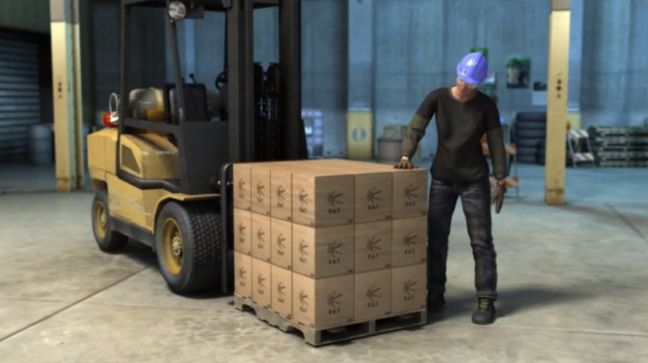 Warehouse safety sometimes gets ignored, perhaps on the assumption that it's part of "safety" in general. But warehouses have specific and  unique safety hazards, and as a result it's worth looking at those in more detail and on their own.
We'll take a look at some warehouse hazards and safety tips in this article.
If you work in a warehouse, please use the comments section below to share your own experiences. What are some hazards you see at work? What are your own safety tips? What kind of safety training for warehouses do you recommend?
The Need for Warehouse Safety Tips
According to an OSHA Warehouse Safety Pocket Guide:
More than 145,000 Americans work in warehouses
They work in more than 7,000 warehouses
The fatal injury rate for warehouses is higher than the national average for all industries
That's reason enough to take a few moments to learn some warehouse safety tips, right?
In addition, that same OSHA Warehouse Safety Pocket Guide says that "for warehouse establishments, the 10 OSHA standards most frequently included in the agency's citations were:
Forklifts
Hazard Communication
Electrical, Wiring Methods
Electrical, System Design
Guarding Floor & Wall Openings and Holes
Exits
Mechanical Power Transmission
Respiratory Protection
Lockout/Tagout
Portable Fire Extinguishers"
So that list right there gives you a good idea of where to focus your own warehouse safety and compliance efforts. We'll cover a lot of this in more detail in the sections below.
Note: The OSHA pocket guide quoted from above is from 2004. You may also be interested in the list of OSHA's Most Cited Violations for the current year–right now, that's OSHA's Top Ten Citations, Fiscal Year 2017.
Warehouse Safety Tips
It's often said that one of the first things to do in order to stay safe in a hazardous work environment is to be aware of the hazards.
The video sample below from our online Warehouse Safety course serves as a first step of building that awareness.
With that awareness in place, we can now begin considering hazards and how to stay safe in a warehouse more closely. Here are some of the things that the conference presentation brought to mind for me.
An Introduction to Warehouses and Some Common Warehouse Safety Hazards
There are a lot hazards at a warehouse. Many, but not all, are related to equipment. This includes:
Trucks and trailers
Railcars
Elevated loading docks
Large overhead rolling doors
Dock plates
Bridge plates
Conveyors
Forklifts, clamp trucks, and other mobile equipment and/or powered industrial trucks (PITs)
The short video sample from our warehouse training illustrates a few of these.
Forklifts and Similar Powered Industrial Trucks Present Hazards at Warehouses
In the section above, we mentioned some of the common equipment hazards in a warehouse.
Forklifts and other powered industrial trucks (PITs) are one of the biggest safety issues in a warehouse and we want to take a closer look at them in this section. According to the OSHA Warehouse Safety Pocket Guide we mentioned earlier, "about 100 employees are killed and 95,000 injured every year while operating forklifts (this is in all industries, not just warehousing, but it gives you a sense of the risk here).
Forklifts super helpful, which is great, but they also present a lot of hazards, which is less great. Knowing more about forklifts, how they operate, and how to work safely with and in their presence is the first step, as explained in this sample from our online Forklift Safety training video.
As a result, if you want to create a safe working environment in a warehouse, you'll be paying a lot of attention to powered industrial trucks–forklifts, order pickers, and similar equipment.
Common Hazards Posed by and Related to Forklifts and Other Powered Industrial Truck
Some common hazards posed by forklifts and PITs include:
Tipovers
Hitting pedestrians
Improper loading of materials on forklift
Improper material stacking
Driving off edges
Limited operator visibility and blind spots
Exhaust from gas-powered and other internal-combustion PITs
Loading docks (covered in more detail below)
Untrained forklift/PIT operators
Improper mounting and dismounting
Speeding, reckless maneuvering, and careless operation of the PIT
Sudden stops
Sudden turns
Overloaded forklifts
Driving on inclines/declines/grades
Driving on rough or uneven surfaces
Driving on dirty or oily surfaces
Improper pre-inspection checks
Neglected maintenance
Operating in areas with limited space
Improper fueling procedures
The sample below from our forklift safety training video illustrates some of these hazards.
Controlling Forklift- and PIT-Related Warehouse Safety Hazards
There are many ways to help control the hazards associated with PITs and forklifts in a warehouse. These include but are not limited to:
Operator training, evaluation, and certification (read more about forklift operator training)
Proper maintenance, including maintenance of tires
Pre-inspection checklists (download these free forklift/PIT inspection checklists)
Removing unsafe or defective forklifts from service until they're worked on and repaired
Job hazard analyses/work area safety audits
Good housekeeping
Safe and proper refueling techniques
Establishing speed limits for forklifts (5 mph)
Having forklift operators wear seat belts
Forbidding horseplay and stunt driving
Ensuring proper ventilation
Proper forklift operator training is an essential part of using forklifts safely in a warehouse. We have an extended article on forklift operator training if you'd like to read more detail about that. However, two important things for a forklift operator to keep in mind are that forklifts have rear-wheel steering and that forklifts can be very unstable.
The video sample below from our online forklift safety training video illustrates how the rear-wheel steering of a forklift is different than the steering of an automobile.
It's also important for forklift operators to know how to prevent their forklift from tipping. Understanding what is known as the "forklift stability triangle" will help operators avoid tipovers. The video sample below from our forklift safety training demonstrates the stability triangle.
You might also want to review this article for more detailed tips on how to operate a forklift safely, including pre-operation checklists, traveling, load handling, and maintenance.
Of course, driving a forklift or PIT isn't the only PIT-related hazards in a warehouse. For example, we also mentioned that proper refueling techniques are critical.
The sample below from our forklift safety video goes over some good tips for refueling forklifts.
Carbon Monoxide Exhaust Build-Up in Warehouses
Mobile equipment such as forklifts and other powered industrial trucks that are operated with internal-combustion engine (meaning they run on gasoline and/or diesel) expel carbon monoxide as exhaust.
Carbon dioxide can build up to dangerous, even fatal levels if an internal-combustion forklift is used indoors without proper ventilation inside a warehouse.
Forklift operators must be aware of carbon monoxide hazards and use internal-combustion engines only when appropriate and only in a safe manner.
Early signs of carbon monoxide poisoning include:
Impaired vision
Impaired muscular coordination
Headaches
Dizziness and nausea
Confusion
Flu-like symptoms
These symptoms can lead to loss of consciousness and death.
For more information, check out this OSHA Carbon Monoxide Poisoning Fact Sheet and/or this OSHA Carbon Monoxide Poisoning Quick Card.
Loading Docks at Warehouses and Safety Issues
Many additional warehouse safety hazards are located in and around loading docks.
Common injuries include having forklifts run off the decks (falling to lower levels), having products or equipment fall on employees, and having equipment (including forklifts) strike a person.
The short sample video below from our online loading dock safety training course introduces some key safety issues and precautions for loading docks at warehouses.
Hazards Associated with Warehouse Loading Docks
Hazards associated with loading docks at warehouses include but are not limited to:
Trucks and trailers
Dock plates
Fall hazards
The short sample video below from our online warehouse safety course gives at closer look at hazards associated with truck trailers at warehouses and warehouse loading docks.
Controls For Loading Dock Hazards at Warehouses
Some ways to control hazards at loading docks, reduce safety risks, and minimize or eliminate injuries at your warehouse include:
Identifying hazards before loading and unloading
Keeping pedestrians clear of the loading zone while active loading is ongoing
Developing and using safe operating procedures for loading dock areas and loading/unloading
Securing loads properly on forklifts, PITs, trucks, and cranes
Keeping people clear of mobile equipment, including forklifts and trucks, before they move
Protecting fall hazards from gaps and fall-offs
Using wheel checks and other vehicle restraints
Drive forklifts slowly in loading dock areas and on loading dock plates
Always securing loading dock plates and making sure the plate can safely support a forklift and its load before the forklift gets on top of the plate
Keeping employees and forklifts clear of the dock edges
Never backing up a forklift close to a dock edge
Using visual warnings near dock edges
Not allowing employees to jump down from a loading dock to the level below–a common cause of injury
Installing dock ladders and stairs and making sure they meet OSHA compliance requirements
Pedestrians Near Mobile Equipment Operating in and around Warehouses
Many injuries at warehouses include pedestrians and mobile equipment such as the forklifts and powered industrial trucks (PITs) we've already mentioned. As you'd guess, with forklifts being so big, heavy, and capable of moving at relatively high speeds, these don't turn out well for pedestrians.
The sample video below from our warehouse safety training course introduces some key safety precautions for keeping pedestrians safe while working in the presence of mobile equipment such as forklifts at a warehouse.
To reduce the hazards to pedestrians working around forklifts and other mobile equipment, here are SOME responsibilities of the forklift operator:
Create eye contact between pedestrians and communicate as need be, ensuring both parties understand what's happening, before moving your forklift
Yield the right of way to pedestrians
Slow down at intersections, corners, doors, or other places where your vision is obscured and sound the horn
When traveling in reverse, using flashing lights and an audible alarm
Don't operate or move the forklift if you can't see where you're going
When necessary, get help from a spotter
Keep 10 feet or more away from pedestrians
Likewise, here are SOME responsibilities of the pedestrian working around forklifts:
Make eye contact with the forklift operator before walking into a hazardous area near the forklift, and make sure the operator knows what you're doing and has responded appropriate before you continue
Understand how forklifts move and stop and don't test their limits–for example, know it takes them a while to stop
Keep clear of forklifts while they are in operation
Always remember that a forklift operator has limited visibility
Always walk in marked pedestrian walkways when possible
Never ride on a forklift
Never pass under a forklift's raised load
Conveyor Safety Hazards at Warehouses
According to OSHA, "workers can be injured when they're caught in pinch points or in the in-going nip points, when they're hit by falling products, or when they develop musculoskeletal problems associated with award working postures or repetitive motions."
Here are some possible controls for these hazards at your warehouse:
Always inspect conveyors on a regular basis
Make sure pinch points and in-going nips and properly guarded
Develop ways to lockout conveyors, especially for maintenance, and train workers about the process
Ensure an area with a conveyor has proper lighting and walking surfaces
For more information, check this sample from our Online Conveyor Safety training course, below.
Material Storage, Hazardous Materials, and Hazard Communication Concerns
Other warehouse safety hazards come into play when materials are stored, and in particular when the materials are potentially hazardous.
The video sample below from our warehouse safety training gives some tips for storing materials safely and for working in a warehouse with potentially hazardous materials.
Some tips for reducing materials storage hazards include:
Stacking loads evenly and in straight columns
Placing heavier loads on the lowest and middle shelves, not the top
Removing one object at a time from shelves, not multiple objects
Keeping aisles and passageways near shelves and material storage locations clear, clean, and in good repair
A proper Hazard Communication program and hazard communication training can help make working in a warehouse with hazardous chemicals much safer for workers.
That hazard communication training should include an explanation of safety data sheets (SDSs), which this sample from our online Hazard Communication training course explains.
Hazard Communication training for workers in warehouse environments should also include an explanation of the (still-relatively-new, dating-back-to-2012) GHS-compliant Hazard Communication chemical label elements, which are explained in the short sample below from our online Hazard Communication safety training video  below.

As part of a warehouse employee's Haz-Com training, they should learn the potential exposure routes of chemicals at the warehouse, which may include:
Inhalation
Absorption
Ingestion
Injection
A particular hazard to keep in mind at a warehouse is compressed gas. These gases are under great pressure and, when handled improperly, the cylinders can essentially become missiles, even breaking through a wall or ceiling–as the sample video below demonstrates.
Here are some good safe work practices to keep in mind when working with compressed gases and compressed gas cylinders in your warehouse to improve safety:
Make sure all cylinders are properly identified
Keep valve protection caps in place when they are not being used
Keep cylinder valves closed when they are not in use
Never tamper with, alter, or modify cylinders in any way
Never use cylinders in any manner other than their intended use
Keep cylinders away from live electricity
Never drag or slide cylinders; move them using a hand truck
Store cylinders in safe, appropriate manners with proper protection from heat and elements
For more information, see OSHA's Compressed Gas & Gas Cylinders Safety and Health Page or check out our online Compressed Gas training course.
For more information, see OSHA's Hazardous Chemicals and Toxic Substances Safety and Health Page and/or OSHA's Hazard Communications Safety and Health Page.
Material Handling and Ergonomics Safety and Health Hazards
Warehouses are often full of hazards related to material handling and ergonomic stresses, which lead to serious, often long-term, and even fatal incidents.
Ergonomic hazards at a warehouse are often associated with:
Heavy objects
Placing objects into low shelves
Placing objects onto pallets
Manual shrinkwrapping
Work areas and work processes designed without thought to proper work ergonomics or ergonomic hazards
To protect against injuries at a warehouse from ergonomic hazards:
Use safe lifting techniques
Use appropriate tools instead of lifting when possible, such as lifting aids
Design the workplace to reduce or eliminate lifting and carrying strains
Get help form a co-worker before lifting heavy objects
Reduce wasteful lifting or carrying when possible
Use smaller, lighter containers in place of larger, heavier ones
Use containers with good, strong handholds or handles
Using machines intended to ease strains while shrinkwrapping
Wear proper footwear that's slip-resistant and impact-resistant
Washington state has made a great set of ergonomic checklists that can help with this process.
Back injuries are one of the most common types of injuries associated with ergonomic hazards. The tips below from our Online Back Injury Prevention training course are a good place to start in reducing back injuries in warehouses.
Wall and Floor Openings
Wall and floor openings at warehouses present many safety hazards, including:
Slip, trip, and fall hazards
Struck by objects dropped from above hazards
Mobile equipment falling to a lower level hazards
The sample video below covers this in a little more detail.
Controls for these safety hazards include:
Guardrails
Safe work practices at loading docks
Use of roll-up doors at locking docks
Expandable gates to keep people away from areas where a temporary opening (such as a drop at a loading dock behind a roll-up door that's temporary raised) creates a falling risk
Appropriate stairways
Appropriate, safe use of ladders
For more information, see OSHA's Fact Sheet on their new Walking-Working Surfaces rule.
Warehouse Hazards Related to Lack of Housekeeping
It may not seem especially exciting, but lack of housekeeping creates many hazards in warehouses and contributes to many injuries suffered in warehouses.
And so it follows that proper housekeeping in a warehouse can keep everyone safer.
Some tips for proper warehouse housekeeping, as demonstrated in the video below, include:
Cleaning up spilled oil, grease, or water
Keep hoses, tools, and supplies properly stored when not in use
Ensure that access to exits, aisles, entrances, walkways, and doors are not blocked
Make sure that access to fire sprinklers, fire extinguishers, fire escape routes, and any other emergency equipment (an automated external defibrillator, for example) are not blocked
Keep pedestrian walkways marked and unblocked
Fire Hazards in Warehouses
Fires are also a major hazard in a warehouse environment.
All efforts should be made to reduce fire hazards in the warehouse. This includes many things, including buying proper fire extinguishers (and other sprinkler systems) and placing the extinguishers correctly.
Most importantly, it includes a well-prepared fired prevention plan. This OSHA Fire Prevention Plan eTool will help you plan yours. Your plan should include:
A list of all fire hazards
A list of all fire controls
Procedures to limit the accumulation of flammable and combustible waste materials
Procedures to regularly maintain safeguards on heat-producing equipment
Procedures to prevent the accidental ignition of combustible materials
The name and job title of all employees responsible for maintaining equipment to prevent or control sources of fires
The name of job title of employees responsible for the control of fuel source hazards
Plans for annually reviewing the fire prevention plan (and documentation that you've done so)
In addition, all workers should receive proper fire prevention training, and it may be a good idea to teach them how to operate a fire extinguisher (read this article for more thoughts and when to teach employees to use fire extinguishes and when not to).
The short video sample below, from our online Fire Extinguisher Safety training video, demonstrates the P-A-S-S method for using a fire extinguisher to put out a small fire.
Emergency Action Plans
Fires, environmental releases, and natural disasters such as hurricanes, floods, tornadoes, earthquakes, civil disturbances, and workplace violence all present special hazards for warehouses.
Every warehouse should have an emergency action plan in place and all workers should know what they should do in specific emergencies. This OSHA Emergency Action Plan eTool will help you create yours.
Your emergency action plan should include:
Procedures and means to report fires or other emergencies
Evacuation procedures
Emergency escape route assignments
Procedures to be followed by employees who remain to operate critical operations before they in turn evacuate
Procedures for accounting for employees after evacuation
Rescue duties, if applicable
Medical duties, if applicable
Names, job titles, and contact information of key personnel
You may also want to include:
Procedures for sheltering at the warehouse
A description of the alarm system(s)
A method for informing employees of the plan
This sample video from our warehouse safety training sets the scene for this preparation.
You may find additional helpful information in our online Emergency Action Plan training course. We've provided a short sample below.

Conclusion: Warehouse Safety Tips
We hope you found these warehouse safety tips helpful.
In addition to this article, you may find some of these other materials related to warehouse safety helpful as well:
And before you go, feel free to DOWNLOAD THE FREE ONLINE SAFETY TRAINING BUYER'S GUIDE CHECKLIST, below.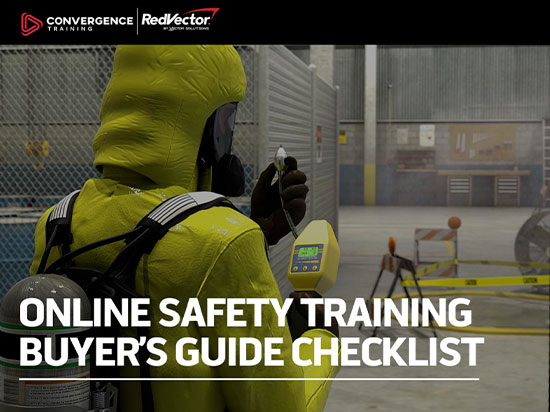 Online Safety Training Buyer's Guide Checklist
Learn how to evaluate different online safety training solutions to find one that best fits your company's needs with our FREE informative guide and checklist.