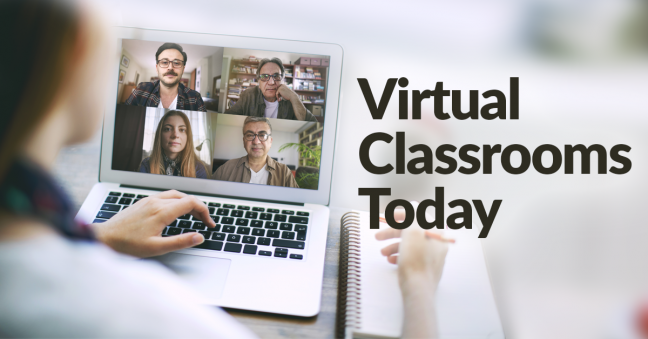 You don't need us to tell you that when the COVID-19 pandemic hit, work changed for a lot of us. And workplace training changed a lot because of COVID-19, too.
We've been writing about this recurrently over time as the COVID pandemic stretches on. We started with articles on quickly developing elearning courses and quickly creating live online learning, and then we summarized much of that with a webinar on getting training online quickly. After that, we discussed "live online learning," including webinars and virtual classrooms, with expert Shannon Tipton. More recently we've been including some of the tips we've learned in our webinars on using online manufacturing training & online maintenance training (and we'll be doing that again in a December webinar on online safety training).
In addition, we also talked with Dr. Stella Lee about how COVID-19 presented both a need and an opportunity for L&D to "up their game" to help people upskill and reskill for the pandemic economy, and recently we profiled 3 online learning tools and skills made more essential by COVID-19.
We've also been doing everything we can to learn more and sharpen our own skills, in particular skills for designing, developing & leading virtual classrooms. In doing so, we've identified Cindy Huggett as a leading expert in the field and have read two of her books, both of which we recommend to you: Virtual Training Basics and Virtual Training Tools and Templates. And we've been learning from the resources, blog articles, and other materials at her website as well.
All of which brings us to the fact that Cindy Huggett has recently conducted surveys and published the results (an her thoughts) in an article titled The State of Virtual Training 2020. We encourage you to check out the entire article (there's also an infographic she created that you can download), but we'll summarize some of the key points here.
Here are a few of the key points we gleaned from Huggett's survey and article. Be sure to read her entire article, download her virtual training infographic, and buy her books to learn more.
Definitions–What IS a Virtual Class/Classroom?
When asked to define "virtual training," about 80% chose "interactive training class" while 15% said "presentation with one or more speakers."
If you look at those two options, you can see "presentation with one or more speakers" is much less focused on the learner experience and people defining a virtual classroom this way are at a higher risk for simply broadcasting information in a webinar-like style.
Hats off to the 80% who recognize a virtual classroom needs to be designed, developed, and facilitated in a manner to allow workers to actively learn on their own, with their coworkers, and with the instructor.
See the note about class size, which Huggett thinks is connected to the differing definitions here (and we'd agree).
COVID & Virtual Classrooms
More than 90% of organizations that responded said they're doing more virtual training as a result of COVID. And more than 50% said they're new or pretty new to virtual training.
So we're using virtual classrooms a lot and many of us could probably improve our skills a bit.
Number of Students/Class Size
Nearly 80% of organizations say they're keeping class size at 25 or below, but 15% of virtual classes have 35 students or more.
Generally, it's a good idea to keep the number of students as low as possible. By the time you get to 35 students in a virtual classroom, you're probably doing less facilitation of learning and more information broadcasting (like you would in a webinar).
Length & Duration for Virtual Classes
The most common length for a virtual classroom session is 60 minutes but nearly 20% of organizations say their virtual classrooms go two hours or more.
In all training, less is more, and longer sessions in virtual classrooms are even more problematic.
Keep 'em short, friends, and don't forget to consider having multiple, shorter sessions instead of one, long session.
Use of Webcams During Virtual Classes
About 65% of organizations said they're using webcams more.
More than 80% of virtual classroom facilitators say they use webcams during virtual classes, with about 50% saying they use them during the entire class and about 35% saying they used them for parts of the class.
For the workers taking the virtual classes, 55% of participants said they used the webcams at least part of the time.
One understandable reason organizations mentioned for limiting the use of webcams is bandwidth limitations. Admittedly, we all have to deal with our own unique online learning infrastructures and their limitations.
Training Design & Development Time
An Association of Talent Development (ATD) report from 2009 said it took an average of 69 hours to create one hour of virtual training. In a 2017 ATD report, that dropped to 28 hours. In a survey Huggett did last year, it was 29 hours to develop one hour of virtual training.
In this year's survey, Huggett's respondents report spending 9 hours of development time for each hour of virtual training.
That's a pretty steep drop. You've got to wonder how much of this was because a lot of people understandably went into "emergency virtual training development mode" as a result of the pandemic.
A few outstanding questions are (1) how well-designed are these virtual classes put together in 9 hours and (2) will people begin putting more time into design and development now that the pandemic isn't such a new thing.
Webinar & Virtual Classroom Platforms
Huggett notes there's no single virtual classroom platform that's better for all organizations. Instead, she notes that you've got to pick a platform that's best for your organizations unique needs.
As for her survey respondents, here are the top four most commonly used platforms for virtual classrooms:
Zoom, 51%, up from 30% last year
Microsoft Teams, 28%
Adobe Connect, 24%
GoTo Training, 13%
Organizational Support re: Virtual Training Needs
A large percentage of the survey respondents mentioned they want/need more support from their organizations when it comes to virtual classrooms. Specific issues include:
A greater understanding that virtual classrooms aren't just online lectures
A need for more trainers to learn to design, develop, and facilitate virtual classrooms
More IT support
More powerful virtual classroom platforms instead of just video conferencing tools
More and better technology for participants
Producers in addition to facilitators for virtual classrooms
Understanding of amount of time necessary to design and develop quality virtual classroom instruction
Emerging Technologies & More in the Future
Nearly 10% of respondents noted they're beginning to incorporate virtual reality (VR) and augmented reality (AR).
The future beckons!
Conclusion: Virtual Classrooms Are Even More Important Today
Hats off to Cindy Huggett for conducting this survey, writing her fantastic books, and providing additional resources for helping us all become better virtual instructors. This has always been an important part of a workplace learning and development program (and an important job skill for all of us in L&D to have!) but obvious COVID made virtual classrooms even more important.
Let us know if you have any questions, share any advice or tips you have in the comments section, and of course stay safe and healthy!
Before you go, please feel free to download our Blended Learning Guide (remember, it's on-point to think of virtual classrooms as one type of training you can deliver in a blended learning solution).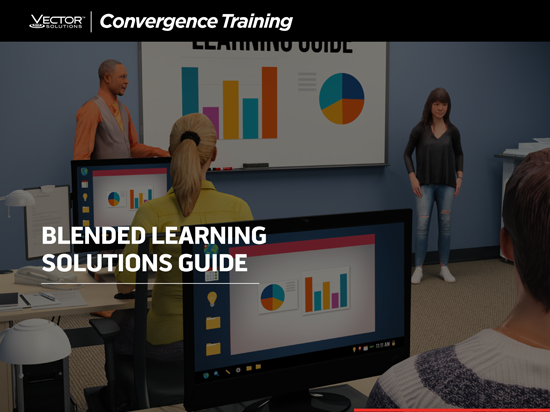 Guide to Blended Learning Strategies
Learn the importance of using differing training delivery methods and get some tips for selecting the right training method for each training need.