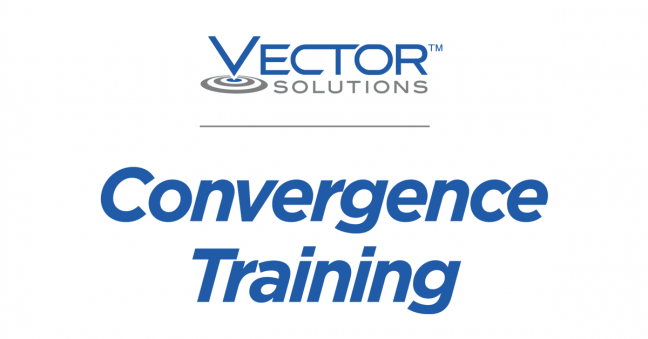 Vector Solutions honored a select group of exceptional men and women for their special dedication to reducing risk in the workplace during a recognition event March 12 in Tampa, Florida.
These Safety Champions were nominated by peers, co-workers and others for going above and beyond to make their workplaces happier, healthier, safer places to be. Our honorees hailed from a variety of industries, including industrial manufacturing, construction, water treatment  and others. Below you'll find excerpts from those nominations.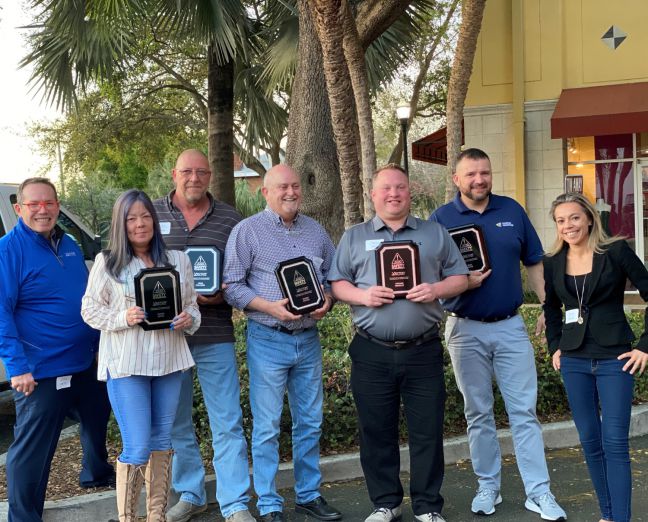 Read on to learn more about all of these safety champions. And congrats and thanks to all of them, plus everyone working in safety.
Nathan Hensley, 2nd Shift Manager, Dee Zee Manufacturing – Nominated by Troy Schultzen
Nathan Hensley has distinguished himself as a true "Safety Champion" at Dee Zee Manufacturing as 2nd shift manager at Dee Zee's Broadway location. Nathan promoted 5-minute group stretching and warm-ups for injury prevention, ensured vital communication across all shifts regarding open safety action items and single-handedly took actions into his own hands to correct issues and hazards within his area.
Nathan provided quick responses in eliminating issues identified as noncompliance ahead of an onsite OSHA investigation. Nathan was also quick to act on noncompliance identified ahead of Dee Zee's ISO 14001 audit. More than 50 identified items in the general area were documented, tracked and followed through by Nathan.
Nathan promotes leadership, ensures policy is followed, volunteers on the Broadway medical team, maintains his CPR/AED license and volunteered to champion a 2020 safety committee.
On November 13th of 2019, an employee in Nathan's area collapsed and became unresponsive. Nathan quickly initiated 911, started CPR and deployed the AED. Because of Nathan's quick actions, this resulted in sustaining the employee's life and allowing that employees family time for closure. Nathan's actions reflect his strong values and those of Dee Zee manufacturing. We're humbled to have him on our team.
Mike Shute, Regional Safety Specialist, Lakeside Industries – Nominated by Cal Beyer               
Mike Shute joined the Risk Management and Safety Department at Lakeside Industries 3.5 years ago after working as a tack truck driver and a laborer on a hot mix asphalt paving crew, as well as a mechanic on a winter preventive maintenance crew for asphalt plants.
He joined the Lakeside Risk Management & Safety Team after being selected to be the Master of Ceremonies (emcee) for the company's then 55th Annual Safety Awards Program in 2016. He was the first field employee to be selected as emcee in over 15 years. He brought the "house down" with his energetic and empowering speaking style and challenged all 480 attendees to "invest their best in safety like our company does for us."
This epitomizes the vision, spirit and skills of a safety champion. After that energizing experience, Mike expressed an interest in becoming a safety professional so he could make a difference every day. He has done so for the past 3.5 years and me and his teammates are very proud of both how — and why — Mike is a safety coach. He has become an excellent instructor that makes training and learning fun and engaging.
He leads by example and is highly effective at breaking down resistance and in helping change behaviors of employees to accept new ways of doing "routine" tasks. Mike has been instrumental in driving accountability, buy-in and commitment for many substantive safety improvements since joining our team, including:
Industrial Athlete Warmup Exercise Program
Forklift Training
Mobile Elevated Work Platforms
Fall Protection Equipment and Training
Plant Safety Audits
Mental Health and Suicide Prevention
Mike has epitomized the adage that safety is everyone's job or role. Mike reaches (and teaches) the hearts and minds of employees by challenging the status quo of old school safety beliefs and by instilling new school safety values and attitudes. Our company's cultural transformation to a Safety 24/7 culture has been enhanced, accelerated and invigorated by the contributions of Mike Shute. He is a true Safety Champion that has left an indelible mark on our employees and who is significantly impacting the culture of our company.
John Falcone, Driver, Kimmins Contracting Corporation – Nominated by Christina Weaver      
It might be unusual to nominate a truck driver for this award, but John has gone 15 years without even a minor incident. His workplace is Tampa's busiest city streets. He navigates huge trucks in and out of tight job sites in the middle of the city on a daily basis without any incident. In the work that we do, this is extremely uncommon.
It also means that by going the extra mile for safety he is keeping our neighbors that are driving around and by him safe when he is out. We are thrilled to have multiple drivers on our team with exceptional records, but 15 years is beyond impressive and Kimmins Construction is proud to honor his focus and hard work.
Roger Staten, Behavioral Safety & Wellness Programs Lead, Savannah River Remediation – Nominated by Terry Miller   
Roger has been involved in managing our company's behavioral Safety program for many years. Since its inception in 1998 and through its current redesign and implementation, Roger has worked with thousands of employees and hundreds of employee leaders to make the behavioral Safety program a success.
Roger developed the site users guide, developed training for Executive staff, all other levels of Management, and of course all other levels of workers. Subsequently, our program has become a benchmark for other Department of Energy sites. The program is the centerpiece of our VPP certification element of employee engagement. As an offshoot of behavioral safety, Roger developed an award winning wellness program for our company. He also has helped other companies in our area with developing wellness programs for their employees. Our program has been recognized by Blue Cross/Blue Shield as best in state for large companies in South Carolina. It has also received Gold and Platinum awards from the American Heart Association.
Roger has been a safety champion throughout his 31 year career at Savannah River Site. From developing and  presenting safety meeting material, to creating safety Characters such as Fire Chief Fred, and "Fingers Aregood," Roger is certainly one of the faces of safety across the site. He is closing out this career in April. I think this recognition would be one of the highlights of a career dedicated to keeping his friends and coworkers safe.
Karen Erwin, Safety Director, US Framing – Nominated by Joseph Bennett, Sacramento Calderon, Adrian Gutierrez, Anthony Damron, Matt Phillips, Gerald Rich, Johnny Erwin, Jose Garcia, Danny Apolo, Kimberly Ruble                         
Karen works tirelessly to maintain the highest levels of safety in our work environments. This is especially difficult, as we are contractors on many jobsites across the entire U.S. She doggedly maintains the same stringent safety expectations wherever she goes. She is known as a bulldog for safety. She's known to show up to a site with an action plan. Sometimes, she'll vocalize an issue even before she finishes stepping out of her vehicle.
It's not just her determination to keep everyone safe, but her attention to detail in maintaining the necessary paperwork that comes with safety management. Karen is a prime example of how a safety director should do their job.
She works in the field to create a true safety culture for our company as a whole. Karen is a very caring individual that takes her job to heart. She is genuinely concerned about the employees as individuals not as numbers. She goes all over the country to visit sites for continued education and inspections. She took over the whole safety dept at US Framing and transformed it into one of the most organized safety depts I've ever been a part of.
She works tirelessly to provide company-wide training, on-job-site safety reviews, and orientation, equipment and PPE safety evaluations, and fall hazard training for each specific job type.
She has done an outstanding job all around and is a great asset to all workers she has under her safety program. US Framing is a nationwide multi-family framing company, which always has around 20+ jobs going all the time, but Karen juggles her many responsibilities like a true safety professional!
Andy Munter, Sr. Associate / CCM-PM, STV Construction – Nominated by Gerry Timothy
Over the course of the last ten years, spanning two major capital infrastructure programs performed at the Boeing site in Ridley Park, Pa. Andy has embodied the safety ethics expounded throughout the construction industry by producing a site specific safety orientation video for all construction workers to view prior to them starting any task.
Through the application of this video, hundreds of documented workers have completed their tasks over the course of thousands of hours of work placed, with no lost time accidents recorded. The unique training video was most recently used for the renovations to the 300,000 sqft. structure now being used as the new center of excellence for the V-22 Osprey program.
The client has acknowledged the inherent value of the site safety orientation video by incorporating its use as part of their everyday requirement for all contractors working on their site.
Andy has been recognized by CMAA for his contribution for pursuing the merits of having a site specific training video. I firmly believe that Mr. Munter should be recognized for his contribution to not only produce the current safety training video, but by also volunteering to teach this course hundreds of times during the duration of the Boeing project, to ensure that all workers understand completely what the expectations are for safety compliance, before they start their assigned tasks.
Andy also ensures that his teaching includes a history of the site as well as how each worker plays an important role in the successful completion of the project. His ability to invigorate workers to make them feel as though they are a part of something bigger than themselves, makes him stand apart from others that believe that safety should be part of the contractors  responsibilities & not necessarily a function of the property owners obligations to do their part for the benefit of the team. I truly believe that Andy is an outstanding example of how safety training should be performed throughout the construction industry.
Michael Farrar, Health and Safety Program Manager, Union County Public Works – Nominated by Brookes Versaggi, Community Relations Manager, Union County North Carolina
I would like to tell you about the hard work and dedication that Union County Public Works Health and Safety Program Manager, Mike Farrar, has put into building a top tier safety program. Mike has been in the Water / Wastewater industry for nearly 18 years and had the opportunity to move into the position of H&S Program Manager 3 years ago.
Despite not coming from a "safety professional" background, Mike took his utility experience and positive attitude and built the program from a program that was subpar to one of accountability and respect. Since in the position Mike has done many things to put employee safety first. A few of those are ensuring a competent person is on every jobsite, all employees with exposure have proper trenching and confined space training, regularly does jobsite and facility inspections, conducts new hire health and safety training for every new employee on their hire date, implemented a comprehensive "60 for Safety" initiative, reduced the training gaps from over 2,000 to less than 100, and most of all truly cares about employee health and safety.
Union County Public Works consists of around 150 employees and Mike also oversees safety for Facilities and Solid Waste as well. In all Mike is responsible for the safety of about 190 employees and keeps up with training to ensure all OSHA requirements are met. Mike has helped Union County Public Works earn the NCDOL Silver Award the past three years and is looking to help Union County Public Works earn the Gold Award in 2020 with a 0.63 DART. Mike earned his Manager of Environmental Safety and Health certification from the NC Health and Safety Council in 2019, maintains a class A water distribution and grade 3 wastewater certification, and is currently working to earn his degree in business management. I believe Mike Farrar has earned an opportunity for this award and truly is a "Safety Champion".
Also Recognized for Outstanding Work:
Tanya Harmon, EHS Specialist, ACMT, Inc. – Nominated by Kelley Delaney-Scott
Jeff Seiler, Construction Manager, Director of Special Operations, DR Horton Homebuilders – Nominated by Michael Abbott
Mario Tramontozzi, Safety Manager, North America, Ford Motor Company – Nominated by David Cantagallo
Bryan Wallick, Director, Health Safety & Environment, Bedrock Detroit – Nominated by James Bierl
Want to train your team members to become "safety champions?" View our health, safety and environment training curriculum.