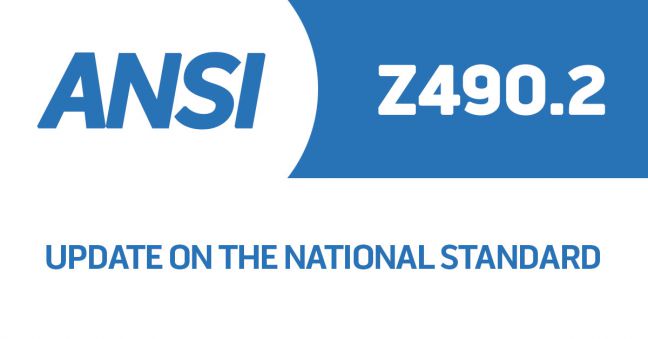 If you've been following our blog, you may know we've been contributing to the effort (with a bunch of other great safety professionals) to create ANSI Z490.2, the upcoming US national standard on "virtual" environmental, health, and safety training.
For example, here's the last Z490.2 update we wrote.
There's been significant forward motion on Z490.2 since that last update, much of which occurred in preparation of and during a meeting in early December, 2017, so we figured we'd take a moment to let you know about some of the more interesting threads going on in the development of Z490.2.
Know that in most cases, we currently have smaller sub-committees working on expanding/improving the various sections listed below. Another meeting is planned for January, 2018 to integrate that work into the draft.
Relationship to Z490.1: Z490.1 is the existing standard on EHS training. The basic idea is that Z490.2 is a supplement that deals specifically with stuff related to "virtual" EHS training. So most of what is covered in Z490.1 applies to virtual training as well.
Virtual safety training: So what does this mean, you ask? Again, the basic idea is something that doesn't happen in a "real world" training scenario, such as field-based training or instructor-led training. Instead, it might mean a webinar, an online video, a website, a threaded discussion board, a social media network, an eLearning course, a "microlearning" eLearning course, 360 video, augmented reality, virtual reality, etc.
Section 1 (Scope, Purpose, and Application): This primarily gets at the relationship of this standard to Z490.1 and its use for virtual and/or other forms of "electronic" or "online" safety training, as mentioned earlier in this article.
Section 2 (Definitions): This section is becoming increasingly interesting. As we've been working on the other sections, we've realized we have more work to do here. To that point, we of course are reviewing what we've written already, but are also identifying other online safety training glossaries. Here's one online safety training glossary. Another was passed around in an email thread but for the time being I've misplaced it. As soon as I find it, I'll include it here as well. If you know of any yourself, feel free to add a link to the bottom of this article (thanks!).
Section 3 (Management of a Comprehensive Training Program): This covers establishing accountabilities and responsibilities, ensuring adequate resources, proper administration and management, and program evaluation.
Section 4 (Virtual Training  Program/Activity Development): This is a BIG section; it's one I'm personally working on; and it's still in need of a lot of work. Nonetheless, we've made some good initial progress here, and at the moment are covering the needs assessment, learning objectives, selection of training media/delivery methods, designing for devices, operating system compatability, learning activity design (including instructions, course navigation/easy navigation/navigation options/completion paths, video and audio design; language; interactivity; motivation and engagement; assessment strategy; criteria for completion; publication for online distribution platform;  print materials for trainees; trainer's guide; and continuous improvement.
Section 5 (Training Delivery): Another big section here, and of course also still in progress. Currently includes trainer criteria qualifications; training delivery methods and materials; internet connection; training delivery platform; and software integrations.
Section 6 (Training Evaluation): This section currently provides an overview of evaluation methods; points to the need for evaluating the online or virtual learning environment; and deals with formative and summative evaluations.
Section 7 (Documentation and Recordkeeping): This section has been ignored a bit until now but we  have a small two-person sub-committee (including yours truly) working on fleshing it out right now.
Finally, feel free to check out our online safety training courses and our LMS for safety training administration, download the free guide below, and have a great day.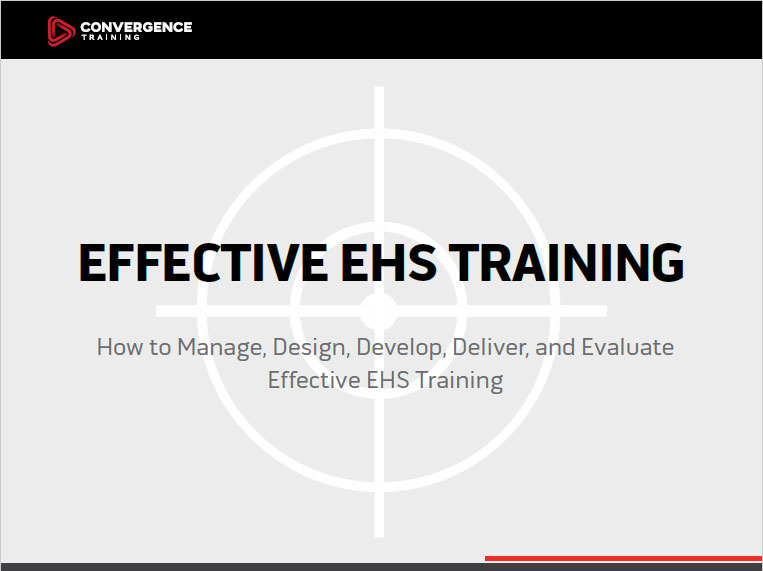 Effective EHS Training: A Step-by-Step Guide
Learn how to design, create, deliver, and evaluate effective EHS training by following these best practices with our free step-by-step guide.