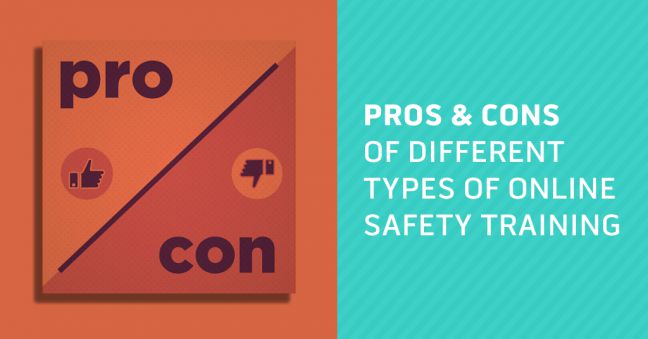 In a recent article, we explained two primary types of online safety training solutions. They were on-demand online safety training and online safety training administered with a learning management system (LMS). In this article, we're going to give you a quick breakdown of the pros and cons of types of online safety training solutions.
Keep in mind that we are by necessity generalizing about different individual online safety training solutions that belong to either of the two types. Within each type, you'll find different solutions that offer entirely different features or the same features that perform in different manners. We discussed that in more detail in the article mentioned and linked above.
Also keep in mind that although we're presenting this information in a pros and cons format, that doesn't mean there's any one system that's automatically best. The purpose of knowing the two different basic types and knowing some of the pros and cons of each is simply to help you begin to find the type of online safety training that works best for you company today and in the future as well.
Pros and Cons of Types of Online Safety Training
Let's look at some aspects of the two different main types of online safety training solutions.
As a reminder, keep the following simplified definitions of each type in mind.
On-Demand Online Safety Training
Essentially a website where people can view and complete training in the same way that you can view movies at Netflix and listen to music at Pandora.
These systems allow you to view online safety training like the example highlight video below.
In addition, some options MAY provide administrative tools that help safety training managers manage the online safety training component or even all safety training at a company, although this is perhaps more rare for this type of online safety training and more generally associated with the second option (below).
Learning Management System-Administered Online Safety Training
A learning management system is a web-based software application that:
Comes with health and safety online training courses "built it"
Includes additional tools that allow safety training managers to administer and/or manage the entire safety training program at an organization or company
By administering and managing the safety training program, we mean:
Making customized safety training assignments to different workers at the company
Notifying those workers or their managers of their safety training assignments
Providing tools to help import, create, and update safety training materials (which are then assigned to the workers)
Creating and storing digital records of completed training
Keeping track of recurrent safety training assignments that workers must complete and then complete again a year, two years, and/or three years later when the original completion "expires"
Generating and running reports on training status and data
Emailing those reports to coworkers
Automatically generating and emailing those reports to a selected recipient on a daily, weekly, or monthly basis
Providing tools to administer face-to-face safety training, including safety meetings, toolbox talks, instructor-led classroom training, field-based OJT training, job shadowing/following mentoring programs, and more.
The short video below may give you a better idea of what a learning management system can help you do with your safety training management.
A Few "Pros" of Each Type of Online Safety Training
Now that you the basic types, here are a few strong points about each.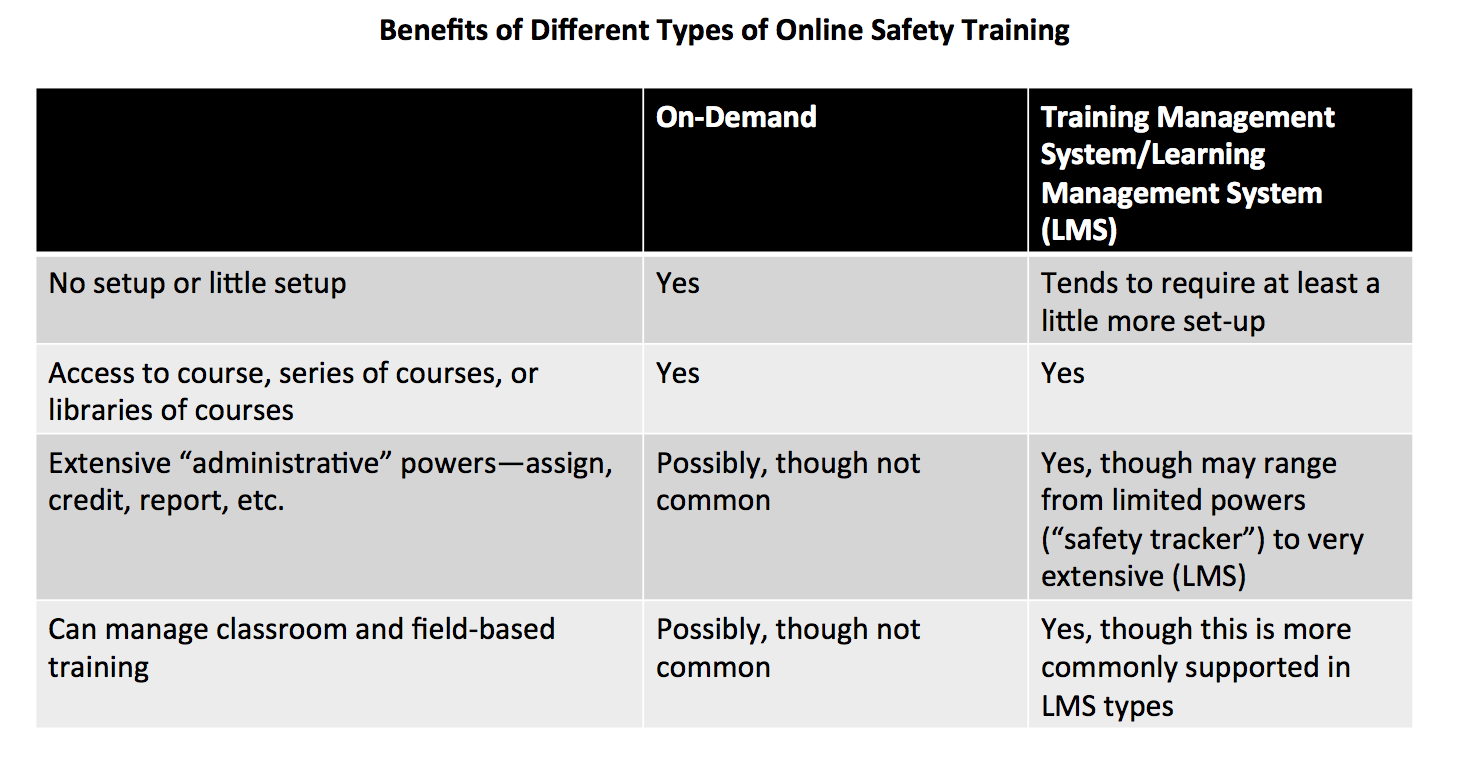 A Few "Cons" of Each Type of Online Safety Training
And here are a few potential downsides to each type of online safety training solution.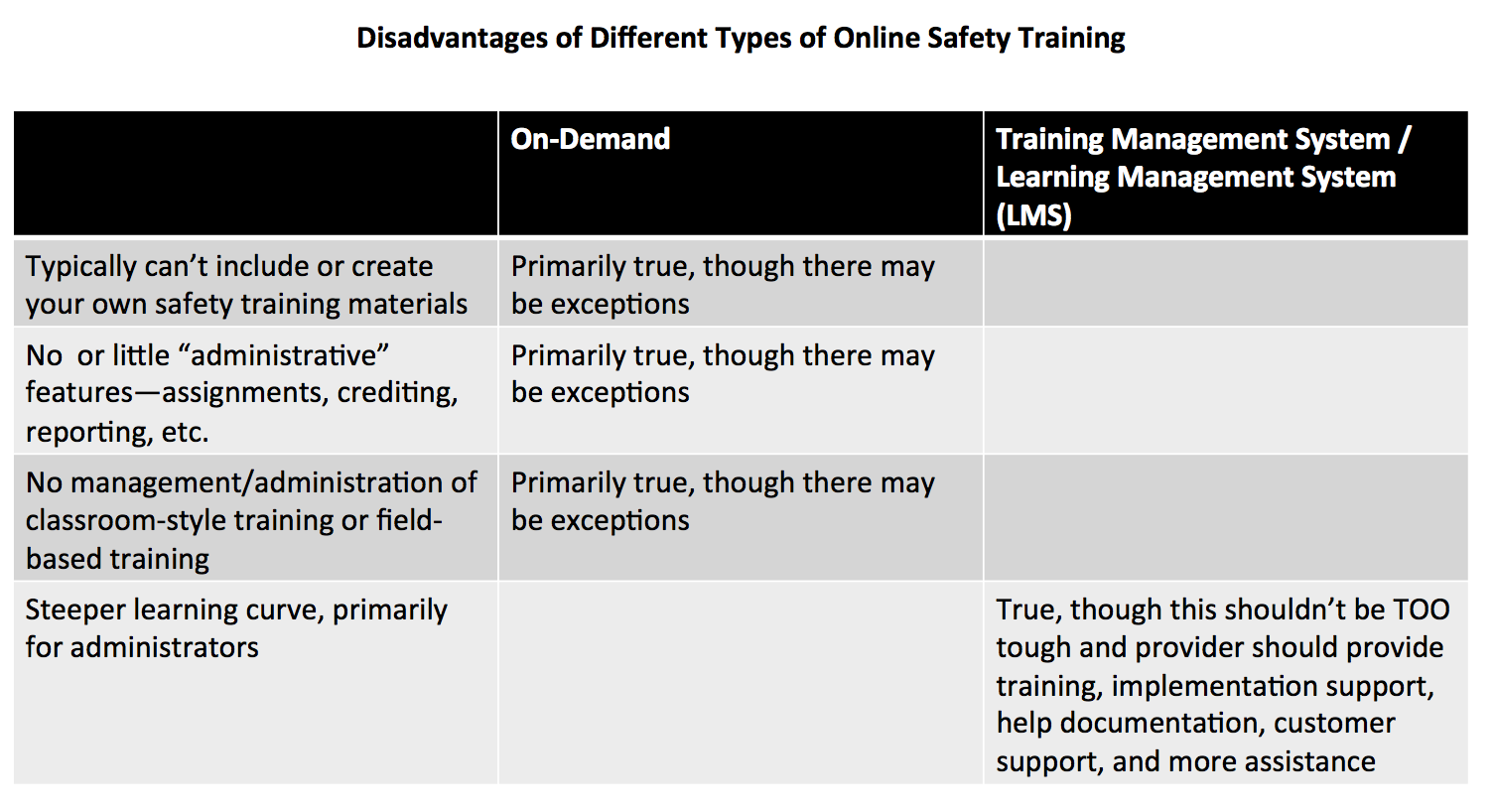 Conclusion: Some Pros and Cons of Different Types of Online Safety Training
We hope that helps guide you in your efforts to get the online safety training solution that works best for your workplace.
Don't forget to review our Different Types of Online Safety Training article to investigate the details of these two basic types more closely.
Also, check our blog for more articles that can help you evaluate the online safety training solution that's best for you and also help you implement the solution you choose once you've got it.
Use the comments section to let us know if you've got any questions or if you have any additional thoughts to add. We're always happy to hear from our readers.
Finally, download the free guide below. It tells 10 true stories of what happened when 10 real customers of ours made the online safety training plunge. You may find it inspiring.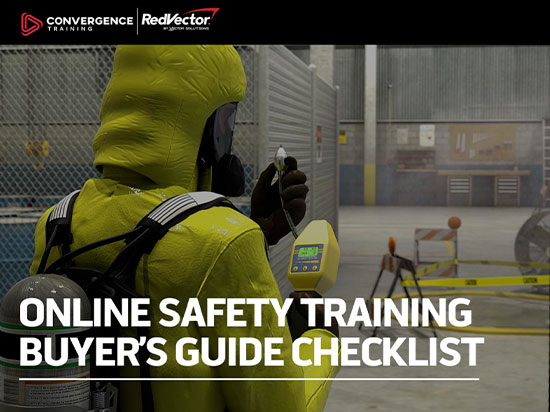 Online Safety Training Buyer's Guide Checklist
Learn how to evaluate different online safety training solutions to find one that best fits your company's needs with our FREE informative guide and checklist.