2016 was a horrible, injurious, and deathly year for trenching and excavation accidents, and as a result we're drawing together some sobering statistics, trenching and excavation training materials, and additional trenching & excavation informational resources for you.
Let's hope that things turn around in 2017 and we see NO injuries and fatalities related to trenching and excavation. But if that's going to happen, we've all got some serious work to do to reverse trends not just from 2016 but from the past five years, as the data below will show you.
Trenching and Excavation: Accident and Injury Data from OSHA
So first, let's take a look at the data about trenching and excavation injuries and fatalities. The high numbers of both in 2016 have been getting a lot of attention, and right so. But you'll notice that it's part of a higher trend going back at least 5 years if not more. (Note: The graph below was created by OSHA using OSHA data and originally appeared in this OSHA News Release dated November 21, 2016.)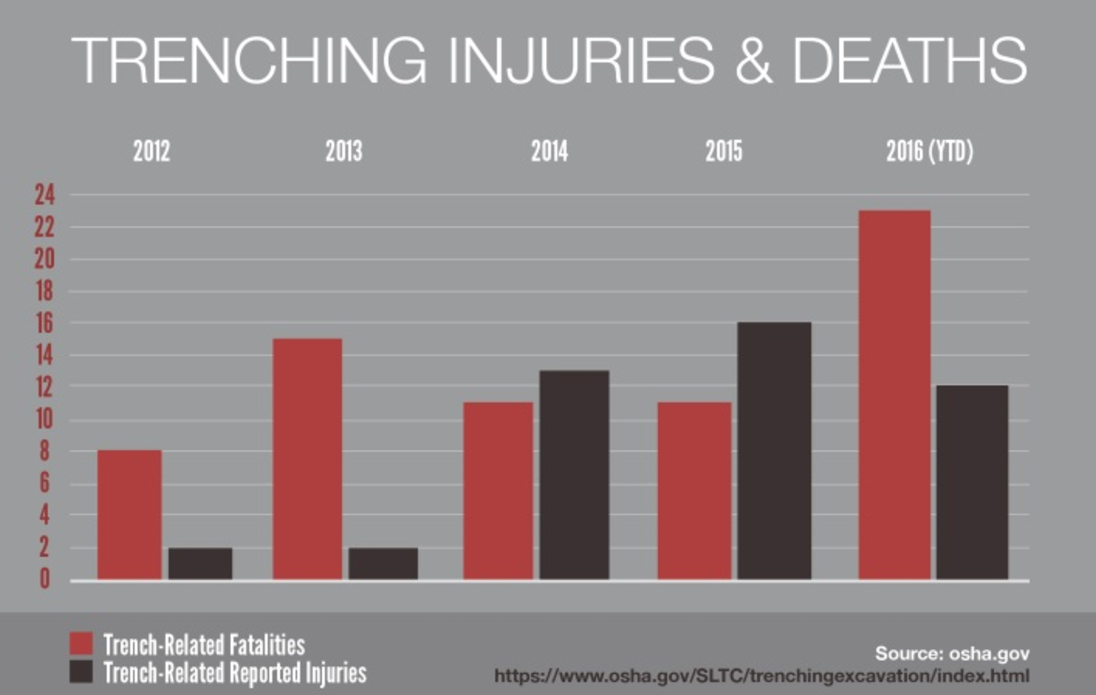 As you can see, the situation's pretty bad. There were 23(!) trench-related fatalities in 2016, at least 8 trench-related fatalities in each of the four years before that, and a significant increase in the number of trench-related injuries in 2014, 2015, and 2016.
Trenching and Excavation Training Materials
To stop this fatal trend, employers will have to put apply their attention and resources on several fronts. Surely, one of those is to provide appropriate trenching and excavation training so employees understand the hazards they face and use safe work practices for dealing with them.
For example, workers should know basics of trenching and excavation safety, including:
The dangers associated with trenching and excavation work
The role of the competent person in trenching and excavation
Soil types
Protective systems, including sloping, shielding, and shoring
Rules for sloping excavation walls
The importance of inspections for trenching and excavations
Basic safe work practices for trenching and excavation
As an example, here's a short sample from our Excavation and Trenching Safety online training course.
It's also important for workers to understand soil types, including being familiar with:
The hazards posed by soil cave-ins
Soil types
Soil textures
Types of soil tests
As an example, here's a short sample of our Trenching and Excavation Soil Properties online course.
OSHA Trenching and Excavation Resources
To help further, OSHA offers the following helpful resources on work involving trenching:
Trenching Resources from Oregon OSHA
Trenching Resources from NIOSH/CDC
Conclusion: Trenching Deaths and Injuries Must Drop–Start with Trenching and Excavation Training
Everyone agrees the number of injuries and fatalities related to trenching and excavation work is too high and have to come down. Tackling that problem will surely require work on several fronts, but clearly adding more focus on trenching and excavation training will help.
We hope the training materials and informational resources from OSHA, NIOSH, CDC, and others above will help you reduce hazards and increase safety for your workers while they're involved in trenching and excavation.
If you have questions for us, or if you have tips that other employers can use to help improve trenching safety at their worksites, please share them in the comments section below.
You may also find the FREE Job Hazard Analysis (JHA) Guide below helpful. Help yourself, it's on the house.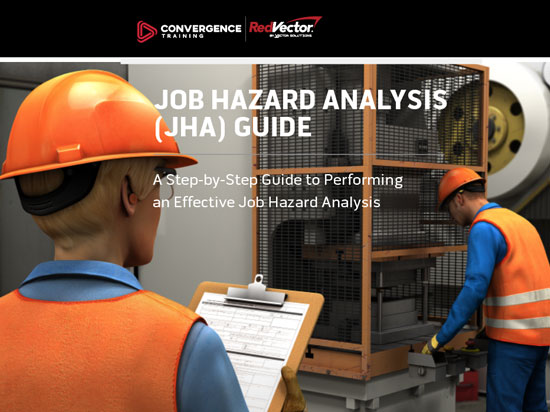 Job Hazard Analysis Guide
Learn how to perform a job hazard analysis on the job with our free step-by-step guide.