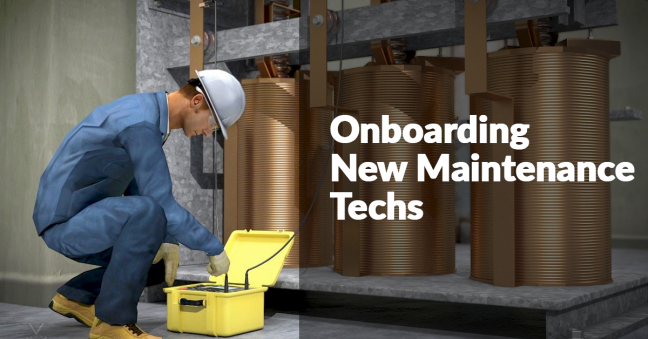 Your maintenance department is vital to your organization's success, and it's no stronger than the maintenance technicians who perform much of your maintenance work: corrective maintenance, preventive maintenance, predictive maintenance, conditions-based maintenance, etc.
In a recent article, we explained how having a robust maintenance tech training program can be a great competitive advantage when your organization is trying to recruit and hire maintenance techs. We'll continue along the same thread in this article, drawing from the experiences of some of our customers to show the importance of maintenance tech training in terms of properly onboarding your newly hired maintenance techs and, in particular, getting them fully up to speed at your workplace.
For now, read and enjoy the article, and let us know if you have any questions about your own facilities maintenance training program at work. Plus, check out our recorded webinar on maintenance, maintainability, organizational learning, and continuous improvement. 
Onboarding Maintenance Techs Has ALWAYS Been Important
It's always been true that a newly hired maintenance tech may not have all the job skills needed to perform the entry-level maintenance duties at an organization. And that's true even before you think about company-specific policies and procedures, although of course that just adds to the need for good onboarding.
And in a tighter economy, when the labor market is very competitive, it's even harder to hire fully-qualified maintenance techs who are fully prepared one day one for all the maintenance tasks their jobs will require of them (although, let's remember, this was always a fantasy more than a reality).
And that's where the value of an effective, efficient, well-designed new employee onboarding program for maintenance technicians comes into play.
What Is Onboarding and How Does Training Fit in?
Onboarding involves many things and, when done right, takes place over the new worker's first three, six, or nine months (or even the entire first year).
Onboarding's going to include some paperwork from our friends in HR. There are forms to sign and things to be made aware of. We all want to make sure our taxes are getting withdrawn properly, learn what our new benefits are, and understand things like 401(k) matching and vacation and sick days.
In addition, though, onboarding includes more than HR-related paperwork. A well-designed new employee onboarding program for your maintenance techs and other employees should:
Introduce your organization's mission, business goals, and priorities to the new maintenance tech
Explain to the new tech what are the performance expectations for the new maintenance job
Over time, provide training and other forms of support to help the new tech acquire the necessary knowledge and skills to meet the job performance expectations
Help the new maintenance tech understand and succeed within the company's culture and organizational structure
Make the new maintenance tech feel as if the company values him or her and help the tech be excited to work for your organization
So as you see, onboarding involves much more than just getting some paperwork signed on the tech's first day on the job. Training plays a role in the part of onboarding that occurs after the initial paperwork completion, but it's also not all that's involved.
Training As Part of Onboarding for the New Tech
Training can help with a lot of parts of onboarding. For example, training can help the newly hired maintenance technician learn about the company mission and business goals and even about the entry-level maintenance tech job expectations the new hire will be responsible for fulfilling.
Of course, you'll want to (or, in some cases, have to) provide some HR, compliance, and soft-skills training, including for topics like discrimination at work, sexual harassment at work, and even active-shooter training.
You'll also want the new tech to complete occupational safety and health training that's appropriate for the hazards the tech will face on the job and/or that's required by regulators such as OSHA.
In some cases, you may have to teach the new tech some basic office technology skills (such as using computers, Word, and/or Excel), how to use some basic equipment and tools, and even some math and science basics.
All of this will prepare you to begin teaching the maintenance tech skills they'll apply on the job, be it mechanical maintenance, electrical maintenance, facilities maintenance, commercial facilities maintenance, and of course how to use your CMMS.
And finally, you may want to introduce the new tech to things like lean, quality, or total productive maintenance.
How to Deliver Your Training
The best way to deliver training while onboarding the new maintenance tech is to use a blended learning solution. To put it simply, blended learning means using a variety of training delivery methods, including instructor-led training, written training materials, videos, elearning courses, and more.
The reason that using a blended learning solution is the best way to go with your maintenance tech training is that study after study, and meta-study after meta-study, show that blended learning solutions are more effective. Here are a few quick researched-back quotes to back that up:
First, consider this quote from a report by the US Department of Education:
"The difference between student outcomes for online and face-to-face classes—measured as the difference between treatment and control means, divided by the pooled standard deviation—was larger in those studies contrasting conditions that blended elements of online and face-to-face instruction with conditions taught entirely face-to-face."
US Department of Education
Next, here's what Dr. Ruth Colvin Clark had to say in her classic book Evidence-Based Training Practices:
"Evidence from hundreds of media comparison studies… suggest[s] that blended learning environments are more effective than pure classroom or pure digital learning…
Dr. Ruth Colvin Clark
And here's how learning researcher Dr. Will Thalheimer explains it after performing his own meta-studies:
"Overall, these meta-analyses found that eLearning tends to outperform classroom instruction, and blended learning (using both online learning an classroom instruction) creates the largest benefits."
Dr. Will Thalheimer
Below is a quick example of the kind of online training courses you could use within a blended learning solution for your maintenance techs.
Customer Success Story: A Real-Life Maintenance Tech Onboarding Program
Recently, we worked together with a customer to help design and develop a comprehensive maintenance tech and building engineering training program.
Although the program included much more than just the training during onboarding that helped the newly hired maintenance tech reach an acceptable level of competence on the job, it did of course do that too.
The entry-level maintenance tech program we worked with our customers to create included these modules:
HVAC
Electrical
Plumbing
Exterior repair
Carpentry/Hardware
Preventive Maintenance
Building Automation
Customer Service
Furthermore, the entry-level maintenance tech training program included these components:
Safety
Theory
Tools
Components
Supplies
Maintenance
Troubleshooting
Repairs
Common Mistakes
Although the company had many reasons to implement this entry-level maintenance tech training, one of the key reasons to was reduce their problems with newly hired employee retention. Retention had been a significant problem for them, but creating this training program, including the part for new hires, has made a significant difference.
Conclusion: An Onboarding Program, Including Training, Can Help Your Newly Hired Maintenance Techs Succeed at Work
If you implement an onboarding training program for your maintenance technicians, you'll reap a lot of benefits. First, you'll find it easier to higher new techs, and in addition, you'll help them progress from novice/new hire to an acceptable level of on-the-job competence more quickly and efficiently. Plus, you'll probably see a reduction in employees leaving the job because they don't feel confident or valued or because they don't see a career path for their future.
And of course, you'll better prepare them for the next job, and the next job, and the maintenance at your site will be performed more effectively (which obviously saves money and reduces risk).
So what are you waiting for? Let us know if we can help you design and develop a blended learning newly hired maintenance tech training program for you.
Before you go, why not download our free Guide to Online Maintenance Training, below.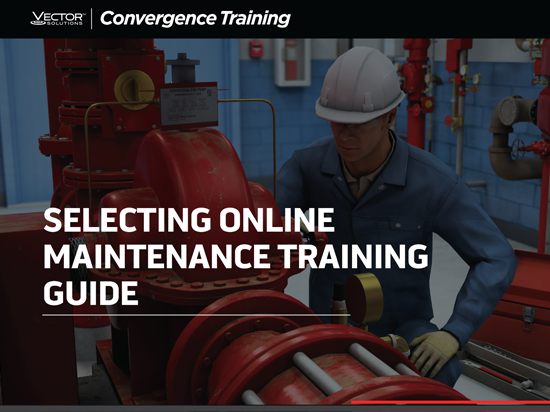 Free Guide to Selecting Online Maintenance Training
Download this free guide to discover everything you need to know to select and use online maintenance training, including courses, learning management systems, and providers.