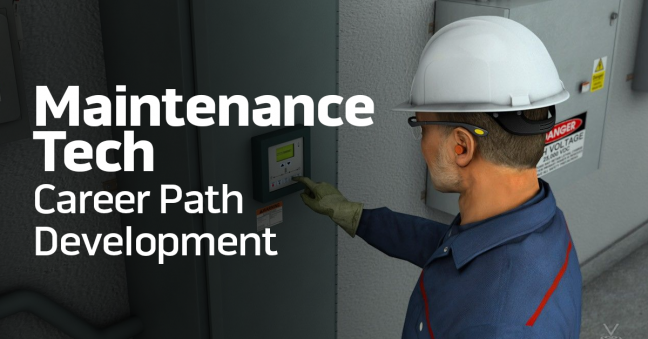 A well-trained, productive, efficient, and proactive maintenance department is essential for success at many organizations. In recent articles, we've given real-life examples based on the experiences of real customers of how having a maintenance training program makes it easier for employers to hire new maintenance techs and how having a maintenance training program improves the retention of maintenance techs, especially those new hires.
In this article, we're going to continue our focus on maintenance training by discussing the value of having training to help maintenance techs work their way through an well-developed career path.
So check out the story below and ask us if you have any questions about the facilities maintenance training at your organization. Plus, check out our recorded webinar on maintenance, maintainability, organizational learning, and continuous improvement.
Training Maintenance Techs Through Their Entire Career Development Path
Yes, having a training program can help you hire new maintenance techs in a tight labor market, and yes, having good maintenance training as part of your new employee onboarding can help you get those new hires up to an entry-level competence more quickly and effectively. And yes, that's all definitely very good and it can save you a lot of money and headaches.
But the benefits of a comprehensive, well-designed training program for your maintenance techs doesn't end when the new hire reaches an acceptable level of entry-level competence. Instead, the benefits will be far greater, leading to increased employee retention, improved employee morale, maintenance tasks performed more effectively and efficiently, and better sharing of knowledge throughout the organization, perhaps even leading to innovation through the benefits of creating a learning organization.
6 Benefits of a Comprehensive Maintenance Tech Training Program
We'll pull together a short, no-doubt incomplete list of some of the benefits of putting together a comprehensive maintenance technician training program.
Improves your hiring (potential new hires will appreciate the fully articulated career path opportunities)
Decrease the amount of time it takes for a new hire to reach entry-level competence
Improve your employee retention
Help prepare maintenance techs for the next job, and the next, and the next
Help maintenance workers share information amongst themselves, without formal assigned training, causing an organic (or worker-created) skill development curve
Keep maintenance techs happily employed in appropriate jobs
An Example of a More Complete Maintenance Tech Training Program
Our customer began by creating a training program for newly hired maintenance techs. The intention was to support the new hires in their knowledge acquisition and skill building and to speed their development to competence entry-level maintenance technicians.
The entry-level maintenance tech program included these modules:
HVAC
Electrical
Plumbing
Exterior repair
Carpentry/Hardware
Preventive Maintenance
Building Automation
Customer Service
Furthermore, the entry-level maintenance tech training program included these components for each of the modules listed above:
Safety
Theory
Tools
Components
Supplies
Maintenance
Troubleshooting
Repairs
Common Mistakes
The training program made use of a blended learning solution that includes training in many different training delivery methods, including:
Instructor-led classroom training
Hands-on, field-based practical training
elearning courses
Videos
Microlearning courses
Periodic quizzes
A final examination for each module
Additionally, the customer developed other career-development programs that weren't specifically training, such as job mentorships, management review and guidance, and similar efforts to support their workers.
Additional Training for the Maintenance Tech & Building Engineer Career Paths
Once the training program for newly hired maintenance techs was created, we worked with our customer to help them to create additional training programs to support the learning needs of the maintenance techs through their entire career path at the organization.
This included creating training materials (and skill verifications) for the following organization-specific "certifications" related to job roles:
Maintenance Tech-Entry Level
Maintenance Tech-Core
Maintenance Tech-Advanced
Building Engineer-Core
Building Engineer-Advanced
In addition, a series of skill-specific certification training programs were also created, including the following:
Electrician
Refrigeration
Lubrication
Root-cause analysis
Instructor (for teaching coworkers)
Leadership
Conclusion: Your Organization Will Benefit from Creating a Comprehensive Maintenance Tech Training Program for Maintenance Tech Career Development
Our customer has already seen great benefits from this investment into creating a comprehensive training program to help their maintenance techs progress through their entire career development path at the organization.
The initial benefits were easier recruitment and hiring of potential new techs. Following that was a significant decrease in the amount of time it took to get the new hires "up to speed" as entry-level maintenance techs as well as a drastic improvement in employee morale. Following that was an already-observable improvement in new hire/new employee retention and maintenance productivity and efficiency metrics.
Over time, the company expects even more benefits, as more and more maintenance techs and building engineers have the opportunity to work their way through more of the certification programs the company created.
If you've gone through a journey similar to this at your workplace, we'd love to hear your experiences and insights in the comments below. And of course, please feel free
Before you go, please download our free Online Maintenance Training Guide, below.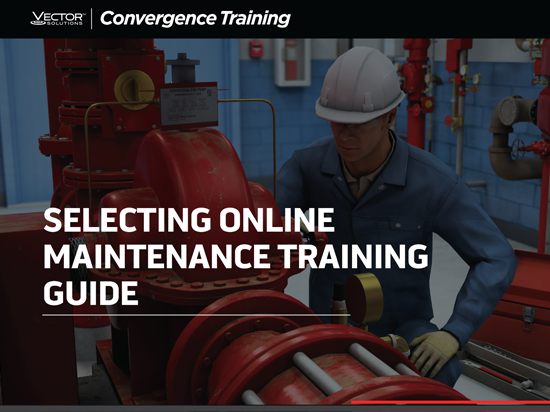 Free Guide to Selecting Online Maintenance Training
Download this free guide to discover everything you need to know to select and use online maintenance training, including courses, learning management systems, and providers.