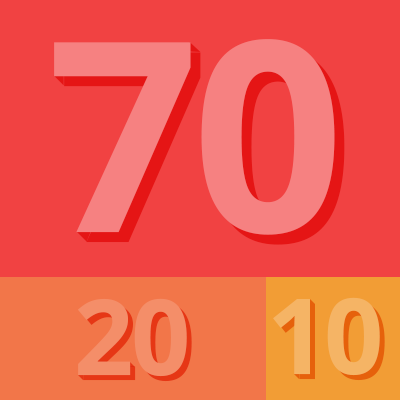 Have you heard of the 70/20/10 model as it's used in workforce learning & development?
Quite a few of you probably have–it's a buzzword in L&D these days–but it's possible that others haven't.
In this post, we'll briefly explain what the 70/20/10 model is, and we'll give you some tips of how you can use your learning management system (LMS) to facilitate the model.
We're also curious to hear your own experiences and thoughts (as always), so don't forget to leave your comments below.


Convergence Training is a training solutions provider with a long history of creating training in many industries.
Learn more about our training management solutions, eLearning course libraries, and custom training solutions.
What Is the 70/20/10 Model In Workforce Learning & Development?
The 70/20/10 model has been around for quite some time, but it's getting a lot of additional attention lately for various reasons.
According to the 70/20/10 model, workers learn:
70% of what they need to know for their jobs through job experience
20% socially (from their coworkers and other sources)
10% from formal, assigned training
Here's what that looks like: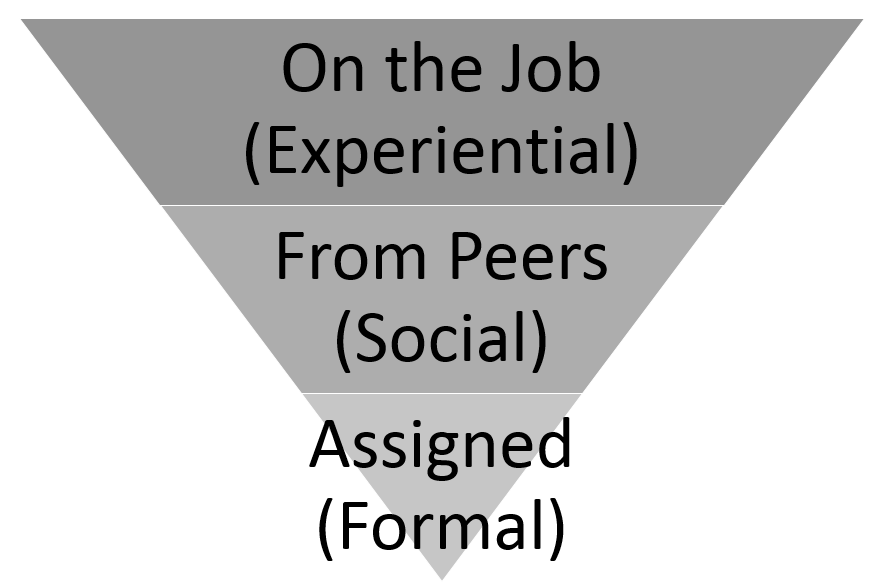 Don't get too hung up on the actual percentages. They're in dispute and would vary from person-to-person, and from company to company. But the general idea is true and worth considering: although assigned, formal workforce training is valuable, people learn a LOT of what they need to work at work in other ways, including from on-the-job experience and from their peers. Those final two are often lumped together as informal learning.
So workforce learning & development departments should continue the formal, assigned learning (and maybe by improving things here and there, get that 10% figure up higher). But in addition, it pays for L&D to do what they can to facilitate those other kinds of learning too.
Using Your LMS to Facilitate the 70/20/10 Learning Model
You probably associate your LMS with formal, assigned training. Which you should, actually. An LMS is a great, proven way to get assigned training to workers, inform them of the assignment, allow them to complete it, and track and report on their completions. That's great for all sorts of reasons, including compliance training.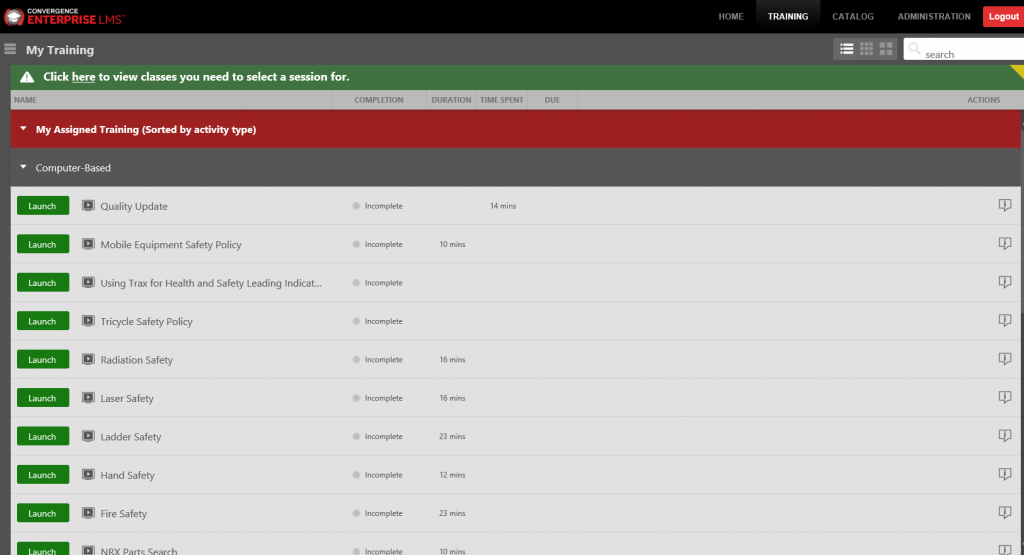 But because all of that informal training is important too, your LMS should also facilitate that.
Let's look at two simple ways your LMS can help your employees teach themselves, learn on the job, and learn from one another.
On-Demand Training
Your LMS should provide an easy way for workers to search for and view materials in addition to the training they've been assigned. That's what I mean by on-demand training.
In some cases, your employees will use this on-demand feature out of curiosity. In other cases, they'll do it to develop new skills and abilities to prepare them for a promotion or transfer (or to just make themselves more valuable to the company).
In still other cases, they'll search for training for point-of-need performance support–information they can access to solve problems as they occur during the workday. You know–the way a lot of folks use Google.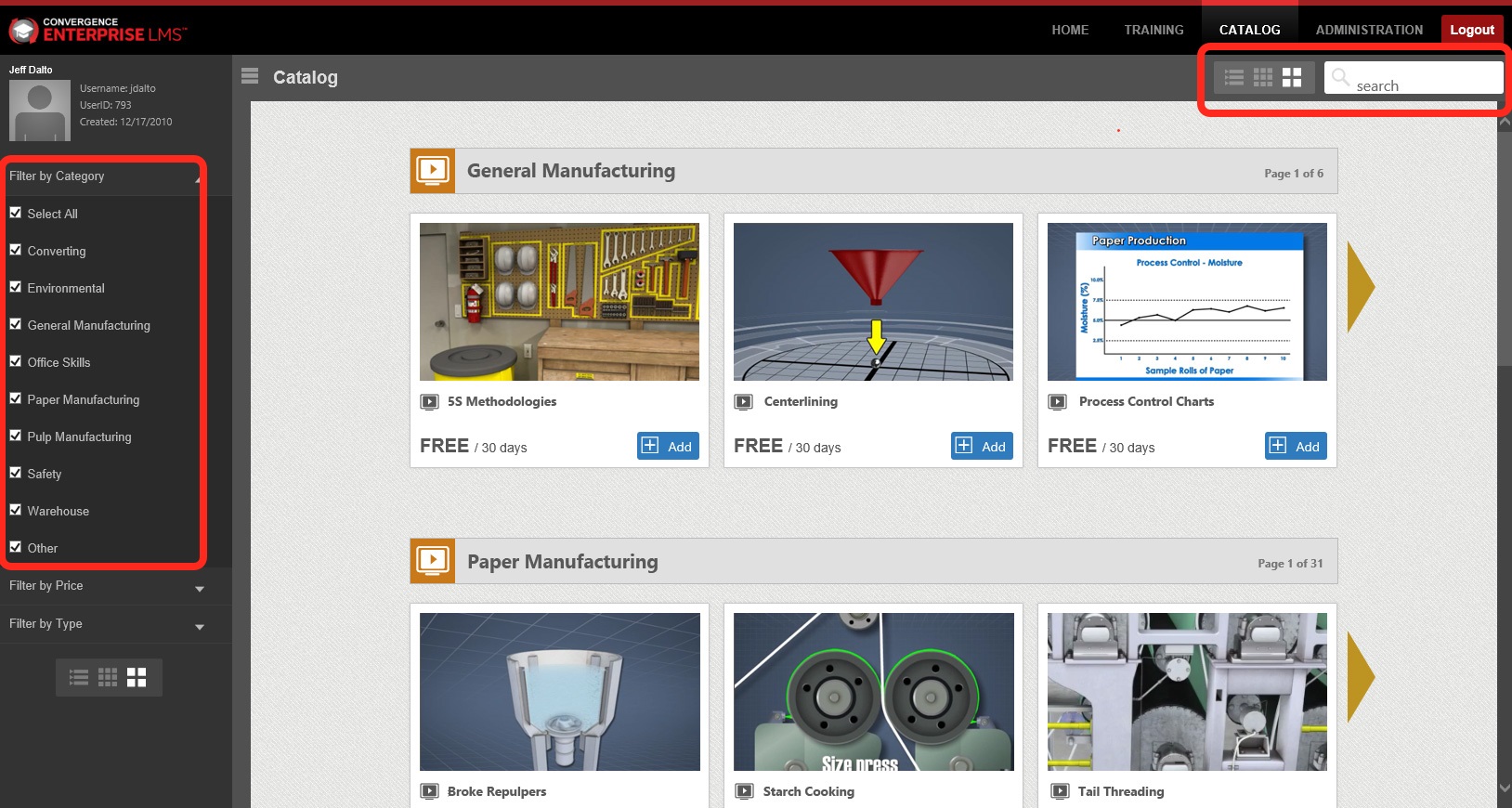 Content Categorization
It's great if your employees can use your LMS as a searchable knowledgebase of job-related information.
It's even greater if your LMS allows you, as an administrator, to divide the learning resources into different categories. This makes it easier for employees to find useful information–whether they came to the LMS looking for something specific, or whether they're more in "browsing" mode.
In the image below, you can see the on-demand training can be filtered by different categories, such as :
General Manufacturing
Paper Manufacturing
Pulp Manufacturing
Converting
Warehouse
Safety
Environmental
Office Skills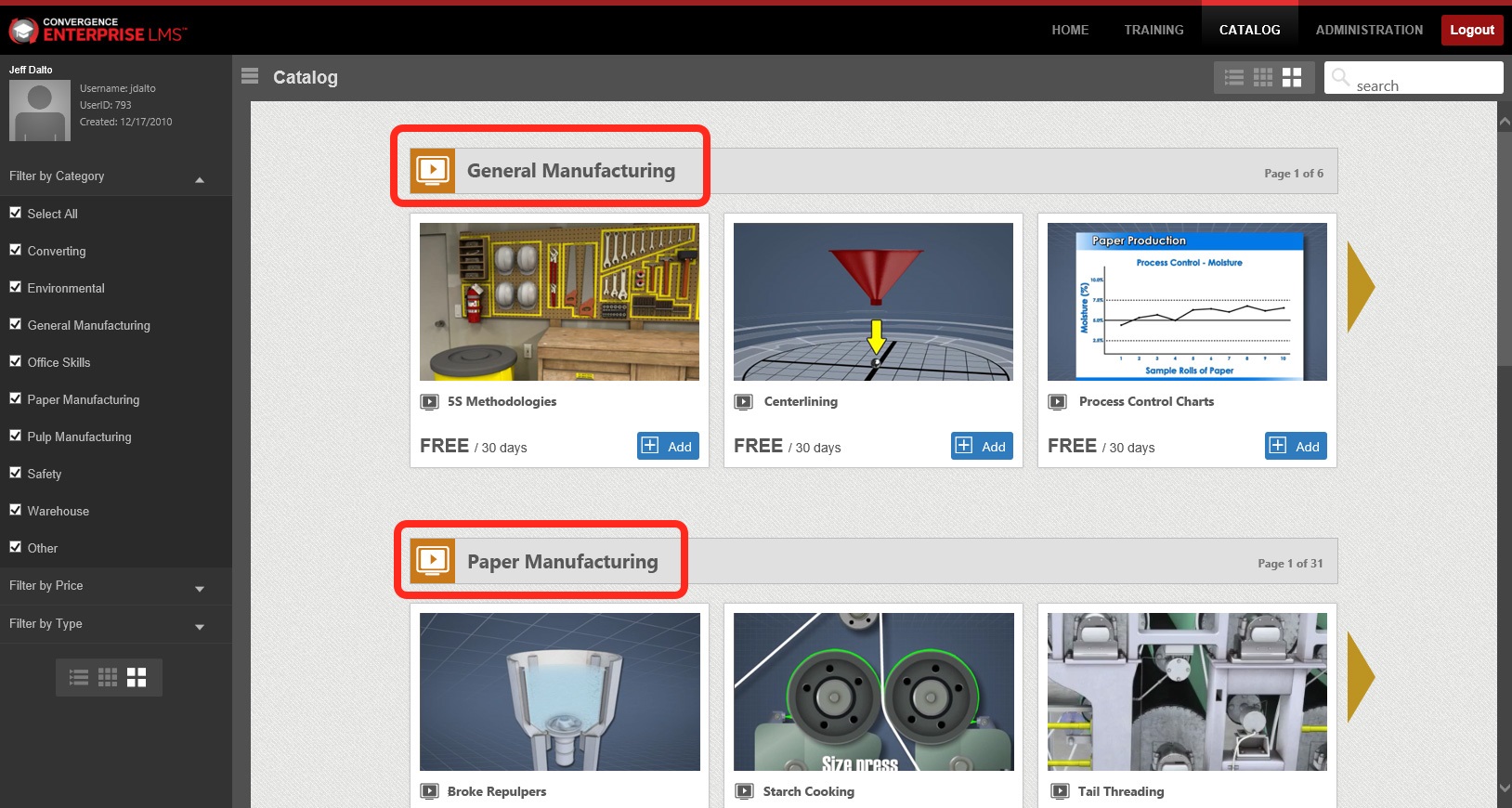 Content Curation
Your LMS should allow you to "curate" learning resources and present them to your employees as well.
What does that mean? TrainingIndustry.com offers this definition (if you're curious for more, check out the entire article):
"Content Curation is the process of sorting through vast amounts of web and enterprise based content and presenting it in an organized and meaningful format. An individual who performs this activity is known as a content curator."
Content curation allows learning & development experts to sift through learning resources beyond the training library in the LMS, find the best ones, and include them in the searchable part of the LMS in addition to the materials from the formal training library. These additional resources can include helpful websites, social learning/social media sites, and more.
By being an effective curator, you can help provide a very valuable learning resource to employees, ultimately making them more effective, productive workers and helping your business reach its key business goals.
Here are some additional sources of information about content curation for workforce learning & development:
Conclusion: What Are Your Experiences with 70/20/10 and Informal Learning at Work
As you see, an LMS is great for making formal assignments to workers. The value of that is obvious, especially for compliance training, but also for creating assigned training paths to help workers develop the knowledge and skills necessary for their job roles.
In addition, however, it's obvious that a LOT of the learning that people do at work happens outside the formal assigned learning. Again, it doesn't matter if the percentages are 70/20/10 or something different. And it doesn't mean we can't strive to make the assigned learning more effective. But people have always learned through job experience and from others on the job, and people will always continue to do so. As a result, smart learning & development professionals will work to find ways to support that informal learning and performance support.
What are your own thoughts on this? How do you learn informally at work? How have you seen others do it? What do you do to try to make it easier for people to learn at work through their job experiences and from their coworkers?