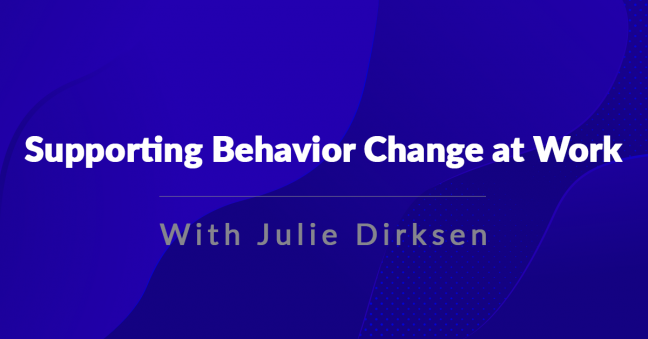 Not so long ago, we had a discussion with Julie Dirksen about how to help people learn at work, with Julie mixing in stuff from her classic book Design for How People Learn along with additional helpful tips.
In that discussion, there were some times we talked about desired behavior changes and how some times, learning along won't contribute to that behavior change. That's usually because the "problem" isn't an issue of a knowledge or skills gap, but other factors are driving the behavior or lack thereof.
This is something Julie covers in some detail in her book, and it's also something she's planning on covering in a lot more detail in an upcoming book (stay tuned for that one). But she was nice enough to join us and talk about it here, and in particular to talk about the COM-B behavior change model, which is also sometimes called the Behavior Change Wheel.
Check out the recorded discussion below, and then scroll down to see a series of related links and resources.
Of course, we appreciate everything Julie's doing–the great books, the discussions, the sharing of information, etc.–and we thank her. Be sure to buy her Design for How People Learn book and keep an eye out for the upcoming book on supporting behavior change.
Links and resources below!
Here are links to things we talked about…
Feel free to download the Mager/Pipe Problem-Solving Analysis Flowchart Infographic below while you're WAY DOWN HERE!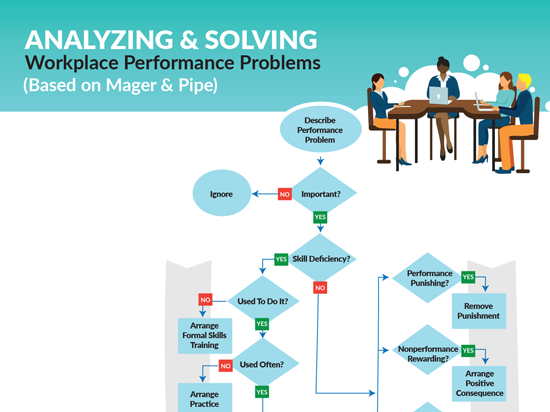 Analyzing & Solving Workplace Performance Problems Flowchart
Download this free infographic, based on the famous Mager/Pipe flowchart from their book Analyzing Performance Problems, to determine the cause of workplace performance problems and then select the appropriate solution/intervention.