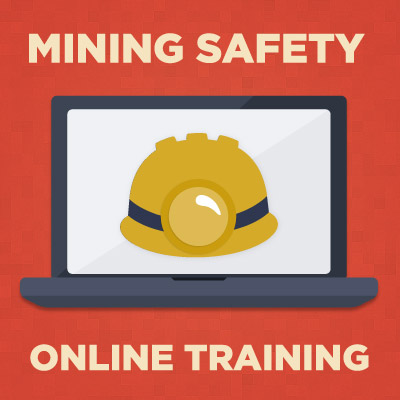 Are you involved in mine safety training, perhaps for Part 46 and/or Part 48 of MSHA's safety training requirement?
If so, what does your mining safety training program look like today? How do you deliver your training? Is it effective? Do you have enough time to do it all?
And how do you keep on top of things like making sure all new employees complete their training in the first 90 days, or that all miners get their annual refresher training on time?
And while we're at it, how do you create and store all your records of training, run reports on that training, and create the training plan and other documentation required by MSHA?
If  you're like a lot of people, you struggle to do all this, or to do all this well. Or maybe you're doing it all and doing it all well, but you recognize that you could still improve.
If that's you, this article may be of interest to you. In it, we're going to show you how some online training tools can help make your mining safety training program more effective while also reducing the amount of time you have to spend on clerical, organization, and recordkeeping tasks.
We've got a Free Guide to MSHA Training Requirements for you at the bottom of this article. 
Online MSHA Part 46 and Part 48 Training: Does MSHA Allow It?
One of the first questions people ask us is "Does MSHA allow online training to be used for Part 46 and/or Part 48?" And the short answer is: yes.
Read this article to learn more about MSHA's requirements, what online MSHA safety training can mean, and what it can include.
Is Online Training Allowed for MSHA Part 46 and Part 48 Compliance?
How Can I Use Online Training Solutions for MSHA Part 46 Compliance?
OK, so now that you know you CAN use online training for MSHA compliance training, let's take a closer look at how you can use it for Part 46.
The first thing to know is we recommend using online safety training activities along with other kinds of training, such as classroom-based instructor-led training. This general idea is known as a blended learning solution and there's a lot of evidence showing it leads to better training results. To learn more about this, read our article on blended learning or download our free blended learning beginner's guide.
In addition, here's a complete guide of everything you need to know about online training solutions for MSHA Part 46 and how they can be an effective, time-saving, and cost-cutting part of your Part 46 training solution.
Online MSHA Part 46 Training Compliance: The Ultimate Guide
Online eLearning Courses for MSHA Part 46's New Miner Training Program
Need some examples of how you can use off-the-shelf mining safety elearning courses for your mining safety training?
Here's a quick sample screen from our Physical Hazards at a Mine eLearning course.
To investigate even more, here's a full list of the courses we have available for both mining safety and general safety.
And here are some ideas about how you can use online mining safety courses you can use to help you satisfy one of the MSHA Part 46 training programs (New Miner in this case):
Online Courses for the MSHA Part 46 New Miner Training Program
What Is Online Health and Safety Training, Really, What It Can Do, and How It Can Help  You
But online training means more than just delivering elearning courses. A learning management system, also known as an LMS, is also a big part o fit.
If so, check out this article. You'll learn that yes, you can use e-learning courses as part of your online mining safety training program, but you can also use instructor-led training, task-based training, online recordkeeping, and more.
What is Online Health and Safety Training Really, and What Can it Do?
How Can a Learning Management System Help You With MSHA Part 46 Training?
Good question. And we've got a few answers.
First, start by checking out this overview of LMSs and e-Learning courses in safety training.
Better Safety Training with an LMS and e-Learning Courses
Next, consider how much easier an LMS can make your new employee onboarding. In the context of mining safety, that will include your new miner training, newly hired experienced miner training, and site-specific hazard awareness training for non-mining employees.
Using an LMS for New-Employee Onboarding Training
Also: Check out this short video that demonstrates the Convergence Training MSHA LMS.
You can learn more about the Convergence MSHA LMS for MSHA Part 46 compliance here.
How Can e-Learning Courses Help Me With My MSHA Part 46 and Part 48 Training?
We learn by doing. You know that. But we also learn by seeing–we're hugely visuals creatures, and much of what we learn comes to us through our eyes.
And visuals is one of the things that e-learning courses excel at.
Read more about using e-learning courses to provide better visuals and more effective mine safety training.
Better Mining Safety Training Through Better Visuals
In addition, e-learning courses take advantage of the instructional design technique known as "chunking" to help miners remember and learn more effectively.
Read more about chunking training materials for mining safety training.
Chunking Mining Safety Training
Another thing that e-learning courses make easier is helping to make sure you (or your trainers) deliver the exact same, consistent, standard training message to each employee every time. Or at least until you decide you want to change the message.
Read more about using e-learning courses to provide standard, consistent training messages.
e-Learning for Standard, Consistent Training Message
Check out this sample of an e-learning course  focused on hazards when working around mining equipment that you could use for your Part 46 training program.
What If I Want to Make My Own e-Learning Courses for Site-Specific Information?
But what if you can't do everything with off-the-shelf e-learning courses?
Sure, you can use instructor-led, written materials, and other training formats. BUT, you may also decide to make the little leap involved in becoming an e-learning course creator yourself.
Creating your own e-learning courses, with products called e-learning authoring tools, is simple and even fun.
Read more about creating your own e-learning courses for site-specific, custom training needs.
How to Create Your Own Custom e-Learning Courses
Refresher: Remind Me again about Part 46–What Is It?
Finally, just in case you've forgotten, or in case you're entirely new to all this–a reminder about Part 46.
Conclusion: Online Mining Safety Training Solutions for MSHA Part 46 and Part 48
Tell us about what you're doing for Parts 46 and 48. Are you using an online solution for part of your training and training administration? If so, what are you doing and how's it working?
If you're looking for additional information about online MSHA training, check out the following online MSHA training options and tools we've got for you:
Online MSHA Compliance Guide
Download our free guide to learn how online tools can help you create safer work conditions at a mine site, stay compliant with MSHA Part 46 regulations, and manage your training program more efficiently.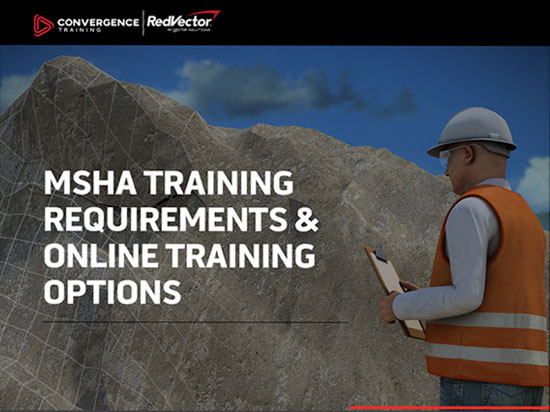 MSHA Training Guide and Online Training Tools
Download our free guide to learn about MSHA, the MSHA Part 46 and 48 training requirements, and how to use online tools to satisfy MSHA Parts 46 and 48.