Convergence Training is creating a series of ready-made, off-the-shelf training materials for the pulp, paper, tissue, and corrugated board industries.
When complete, the series will include 180 titles specifically focused on pulp, paper, tissue, and/or corrugated board production. In addition, another 30 courses will address related cultural issues (such as 5S Methodology), general skills (such as Process and Instrumentation Diagrams), hazardous materials (such as Hydrogen Sulfide Awareness), environmental issues (such as Spill Prevention Control and Countermeasures), and workforce training and mentoring (such as Adult Learning).
Paper Machine Winding Basics
Paper and Tissue Training Library
All courses include audio narration synced with animated visuals, practice questions, and tests to ensure comprehension. The visuals incorporate still graphics; onscreen texts; labels and pointers; highlights; and the 3D animation style that is Convergence's hallmark and that has already been put to great use in many workplaces throughout the industry.
Recausticizing Basics
Pulp Training Library
The courses are the result of Convergence's 15 years of experience creating highly effective training materials for leaders in the pulp, paper, tissue, and box industries. They were constructed with input from industry leaders and industry organizations, and were built by Convergence's staff of paper engineering subject matter experts, instructional designers, graphic designers, writers, and editors.
Corrugated Box Basics
Box Plant Training Library
Even better, the courses can be paired with one of Convergence Training's powerful and flexible learning management systems (LMS) that are specially designed for, and include tools that are helpful in, training industrial and manufacturing work forces. You can use a Convergence LMS to assign these courses (and other materials) to your workers, to ensure and keep record of their completion, to create training materials of your own, to manage instructor-led training, and to incorporate task-based training or performance evaluation in which a worker is required to demonstrate his or her job-related skills to a supervisor. There's even a mobile device that lets you take the powers of the LMS—and the training—into the field (yes, even if there's no wireless!).
Back Injury Prevention
Health and Safety Training Library
For more information, see the Convergence Training website, where you can find information about our training materials, our pulp/paper/tissue/box courses, and our learning management systems. Or just click to contact Convergence Training directly.
Take a second to download our free guide to online training for people in the pulp, paper, tissue, and/corrugated industries since you're here.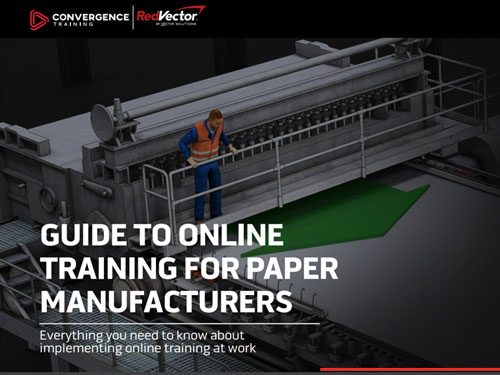 The Papermaker's Guide to Online Training
Learn everything you need to know about using online training at your paper manufacturing facility and get tips for getting started now.