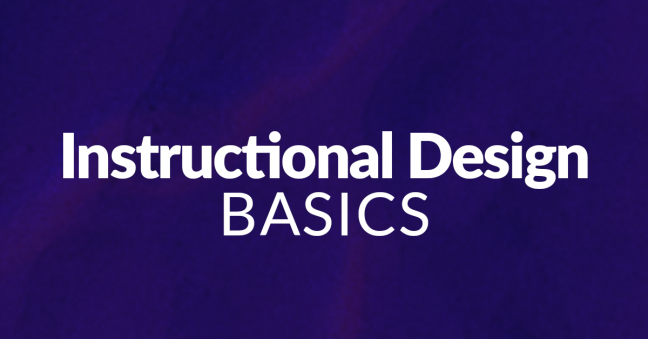 The International Board of Standards for Training, Performance, and Instruction (IBSTPI) has created sets of competencies and standards for training managers, instructional designers, instructors, online learners, and evaluators. This article is one in a planned series of articles introducing the competencies and standards for instructional design (we encourage you to buy your own copy from IBSTPI, and we're happy to report they're quite inexpensive).
What is instructional design? According to Mastering the Instructional Design Process: A Systematic Approach by Rothwell, Benscoter, King & King:
Instructional design means more than literally creating instruction. It is associated with the broader concept of analyzing human performance problems systematically, identifying the root causes of those problems, considering various solutions to address the root causes, leveraging organizational and individual strengths, and implementing the interventions in ways designed to minimize the unintended consequences of action. Instructional design encompasses the preparation of work-related instruction and other strategies intended to improve worker performance. It does not mean throwing training at all problems or mindlessly plugging content into virtual templates.
Amongst other things, creating training materials using instructional design processes (such as ADDIE) means engaging in a project that is a team effort with deadlines, resources, and all the things that the words project management bring to mind for you. In this blog article, we'll give you a quick overview of the ID standards related to project management of instructional design projects.
A quick note before we begin: yes, we offer online project management training, have a recorded webinar you can listen to about PMI project management certifications, and even have a What Is Agile? infographic for you ("Agile" is one form of project management, in case you didn't know). 
IBSTPI Instructional Design Standards re: Project Management
Here are the standards IBSTPI has identified for project management of an instructional design project:
Identify stakeholders and the nature of their involvement
Build and promote effective relationships between the design team and stakeholders
Manage cross-functional teams
Conduct project reviews with design team members and stakeholders
Note: IBSTPI actually calls these "management" standards or statements, and they are, but that third standard ("manage cross-functional teams) is very strongly about project management)
Let's briefly look at each of these in a little more detail.
Identify Stakeholders and the Nature of Their Involvement
Instructional designers need to identify the stakeholders in their ID projects, figure out how much those stakeholders care and why they care, understand their role in the project, and develop ways to work effectively with the stakeholders.
Build and Promote Effective Relationships Between Design Team and Stakeholders
Knowing who stakeholders are is essential. But you'll need to use those people skills to create effective working relationships on your ID project.
Manage Cross-Functional Teams
Instructional design projects include people with all sorts of skills all contributing in different ways to help the team meet deadlines and deliverables with quality work completed within the budget and resource expectations.
Conduct Project Reviews with Design Team Members and Stakeholders
When the project is done, meet with team members and discuss what went well, what didn't go so well, why, and how you can apply lessons learned to your next instructional design projects.
Conclusion: Business and Project Management Skills are Essential Parts of Effective Instructional Design
That's our quick introduction to some issues related to the project management of an instructional design project.
Remember that if you need 'em, we make online project management training courses that you may find helpful.
Good luck with smooth project management on your instructional design projects. Don't forget to download the IBSTPI instructional design standards and competencies for yourself and before you go, help yourself to the Intro to Agile Project Management infographic we've got for you below.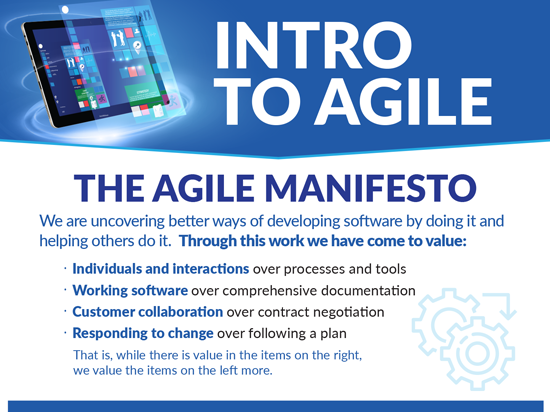 Intro to Agile Project Management Infographic
Download this infographic about agile agile project management, including the Agile Manifesto, 4 Agile Principles, and 12 Agile Values. And check out us for online project management continuing education and certification examination prep courses.