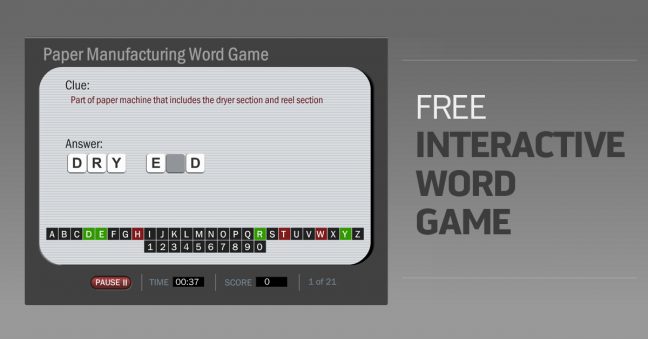 Are you in the paper manufacturing industry?
If so, you're going to like what we've got for you in this blog post.
It's a fun-to-play, Wheel-of-Fortune-style word game. But unlike most of the word games our friends Vanna and Pat play on TV, this word game focuses on words commonly used in the paper manufacturing industry. Meaning, it's relevant to you and your worklife!
You can use this word game just for fun to quiz yourself. Or, you may find it helpful as a bit of a quiz tool to employees you're training. In particular, it could be very helpful when onboarding new hires with little or no experience in paper manufacturing. Heck, they might have a little fun themselves along the way.
And don't be afraid to project this on a screen during a weekly team meeting as a way to get everyone involved, sharing, and learning.
Let us know what you think. And check the Convergence Training blog for helpful articles and other free word games, too.
Here's the word game–immediately below. Play it from this article as often as you wish. Email it to friends. Create a link to it on your company website. Do whatever you want to do with it.
We've also set up a way for you to download your own free copy of this game below and then import it into your SCORM-compliant LMS. Read on for more information about that option.
In case you're curious, the terms and definitions in this word game came from two eLearning courses in the Convergence Training Paper Manufacturing eLearning Library:
Also, we've got all these terms, plus terms related to pulp production, in an interactive papermaking glossary that comes with amazing images from the courses as well. You can think of this word game as a companion piece to that glossary, and both the word game and the glossary as companion pieces to the papermaking courses.
NOTE: If this game doesn't display correctly for you, try playing it with the Internet Explorer (IE) web browser.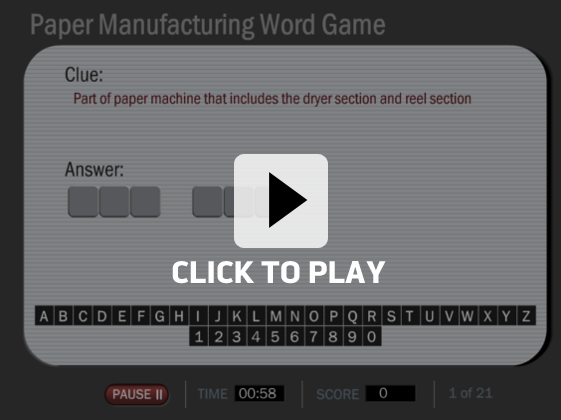 If you liked this game a LOT, you can download a free copy. Please note that this free copy is in the SCORM format and is intended to play inside an LMS. You can't play it if you don't first import it into an LMS. If you're not sure what that all means, check the two linked articles below before you download the word game.
If you're now sure you've got a SCORM-compliant LMS, go ahead and download the paper manufacturing word game.
Want to see the courses the terms came from? Here are some short samples (click the links to learn more):
Pulping and Papermaking Overview
Introduction to Paper and Board Machines
Finally, if you'd like to learn more about online training systems for paper manufacturers, downloading the free guide below would be a great next step.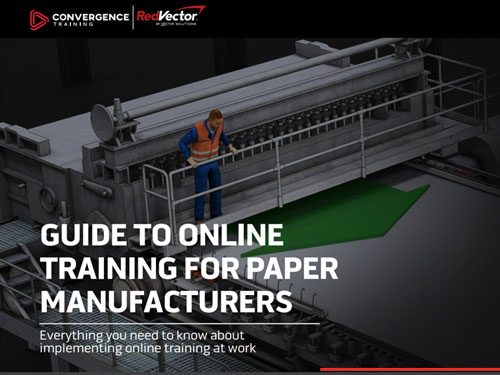 The Papermaker's Guide to Online Training
Learn everything you need to know about using online training at your paper manufacturing facility and get tips for getting started now.