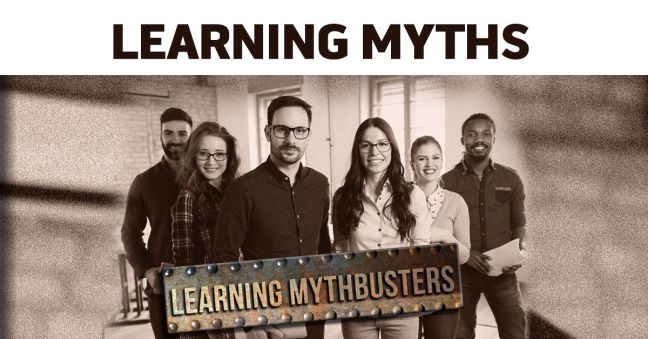 You're probably familiar with the concept of an urban myth. And perhaps you're familiar with the Mythbusters TV show, which often takes a look at urban myths and other things people believe might be true and puts them to the credibility test. (Before you go on, feel free to check out this fun list of the "Top Ten Urban Legends" if you're so inclined.)
In the same way, you'd probably be willing to agree that many professions and fields of study have their own version of urban myths that people new to the field–or even those who have studied, practiced, and worked in the field for a long time–believe even though there's no evidence to back the idea up or in fact there's evidence that disproves it. (For example, we're going back a bit here, but you may be familiar with the idea that the body has four different "humors" that govern our health and behavior).
Well, the sad fact is that the training/learning and development worlds aren't immune to these kind of urban myths embedded into their own professional beliefs and practices, either. In fact, many people have mistaken ideas about what training methods are truly effective and which ones are just–well, bunk or even marketing hype.
In this article, we're going to debunk a few of the most common learning myths for you, as well as point you toward some resources where you can learn more. In a future article, we'll write about some solid, evidence-based training methods that DO improve learning. So watch out for that companion piece to this article. And you may also want to quickly review how people learn, since the way we learn is a big reason why some training methods help us learn and some training methods don't.