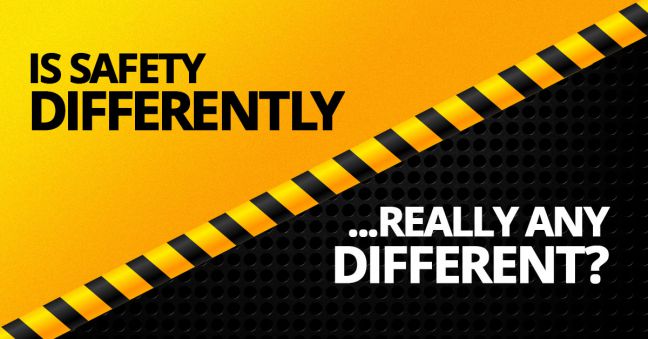 In a purely non-scientific, sticking-my-finger-into-the-wind kind of way, it seems to me there's been more discussion of Safety 2, Human and Organizational Performance (HOP), and Safety Differently lately.
Note: I tend to lump these all together because they have a lot in common and I'll be using the term Safety Differently for the rest of this article.
Maybe you've noticed that same increase in chatter about and interest in Safety Differently yourself lately.
Not so long ago, I "listened in" on a thoughtful and interesting discussion on LinkedIn in which people were discussing Safety Differently. One of the primary issues in the discussion was whether or not Safety Differently was really any different that "traditional" safety.
Ron Gantt, as he often does, entered the fray and presented a comprehensive, eloquent answer in which he suggested that Safety Differently really is different than traditional safety. (I should also note that many people who contributed to this discussion were very thoughtful–it was one of those times when you realized that a social media network like LinkedIn really can be a great community where passionate, informed professionals exchange views and opinions in a productive, civil, respectful manner.)
I was pretty impressed, and I asked Ron if we could do an interview in which he presents his views on Safety Differently. Ron was kind enough to agree, as he has in the past as well, and we're very grateful to him for his contributions below. For those of you not familiar with Ron, check out the SafetyDifferently.com website that he edits and keep an eye out for him at safety and similar conferences–he's an engaging and persuasive speaker. You can also find additional information about Ron at the bottom of this article.
And now, let's get to talking to Ron about Safety Differently.