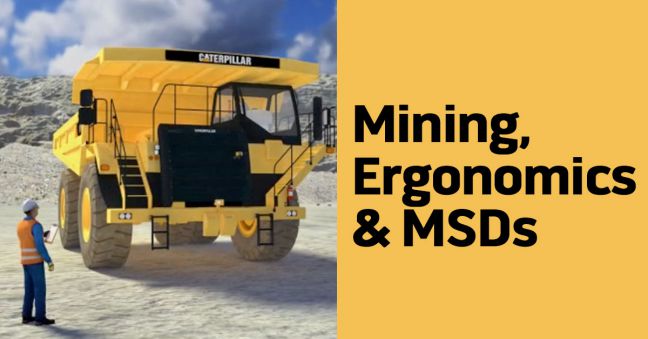 At the most recent MSHA TRAM (Training Resources Applied to Mining) conference, I caught a good presentation by Jonisha Pollard covering ergonomic risk factors in mining that lead to musculoskeletal disorders (MSDs). I learned much, and figured it would be great information to share here and also realized there would be no one better to share the information (and her expertise) than Ms. Pollard.
I'm happy to say that we were lucky enough to get Ms. Pollard to come talk to us about mining, ergonomics, and MSDs as well as quite a bit about NIOSH Mining in general and some other NIOSH Mining projects. In the interview, which we've included below in both written and video formats, Ms. Pollard also tells us where to find a bunch of helpful information, mobile phone apps, and even interactive web-based tools that NIOSH Mining has created to help create safer work conditions for miners in mines throughout the US. If you're in mining, we think you'll enjoy and learn from this interview as well as all the resources NIOSH Mining has to offer.
Before we begin, we'd like to thank Jonisha Pollard in particular for her time, knowledge, and expertise, and NIOSH Mining in general for all the good work, including their research on mining safety issues and all the great mining safety information and tools they're providing.
You can watch & listen to the recorded discussion below. We've also typed it all up for you if you'd prefer to read–just click the MORE button if that's the case.
Finally, know that we've included a free Guide to MSHA Training Requirements for you at the bottom of this article.