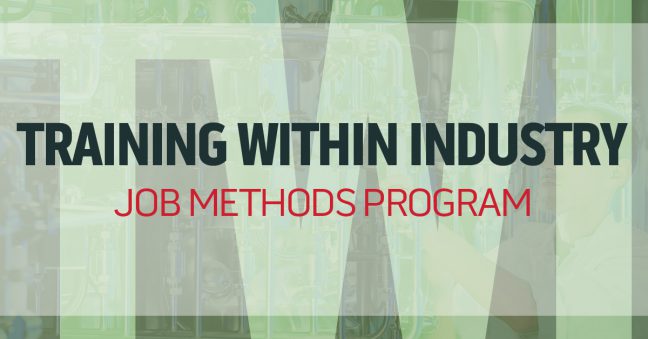 The Training Within Industry Job Method program provides a method for making more products, of the same or higher quality, in less time and/or with fewer resources. As author Donald Dinero puts it: "TWI (and Job Methods) helps organizations make the best use of available resources to produce GREATER QUANTITIES of QUALITY PRODUCTS in LESS TIME. What is less obvious is that it does so by leading employees to critical thinking, i.e., by developing a learning organization."
Interested?
Let's take a step back before we begin.
Training Within Industry, or TWI, was an American job training program that originated around the time of World War II (and has deeper roots in American job training programs back to World War I). It's also at the roots of what's now known as Lean Manufacturing. Training Within Industry had four programs: Job Instruction (JI), Job Methods (JM), Job Relations (JR), and Program Development. Job Instruction, Job Methods, and Job Relations are commonly referred to as the J programs.
This article is one in a series of articles we've written looking at Training Within Industry. Previous articles provided an overview of TWI and explained the TWI Job Instruction (JI) program. In this article, we'll focus on the Job Method (JM) program. We find the Job Method program especially exciting because it's a great way to empower workers and their supervisors to be creative and innovative at work. These are skills that are increasingly important in the modern workplace and will be even more so in the workplace in the future (dominated by advanced manufacturing, Industry 4.0, the Fourth Industrial Revolution, etc.). So while the TWI Job Method program began in the past, we think it has a lot of value for manufacturing in the present and future.
Before we begin, you may want to know we also have an article that essentially introduces lean manufacturing (What Is Lean? Introducing Employees to Lean Manufacturing). And in particular, the Job Method program has a lot of similarity to Lean's concept of kaizen for empowering employees to reduce waste, increase value, and improve efficiency, so you may also be interested in our articles What Is Kaizen? and What Is a Kaizen Event?
Finally, in a bit of a coincidence, a lot of the spirit that underlies the Job Methods program and Lean's concept of kaizen is also covered in our recent article on Motivating Workers to Innovate (And How Your Management Techniques May Be Stifling Innovation), which is based on the book Drive by Daniel Pink. So you may want to add that to the old reading list as well.
And with that said, let's dive into our introduction to the Training Within Industry Job Method program.
(Credit where credit is due: This article and all articles in our TWI series are largely based on the EXCELLENT Shingo prize winning book Training Within Industry: The Foundation of Lean by Donald A. Dinero. As the saying goes, run don't want to a bookstore near you to buy a copy and read the whole thing for yourself.)