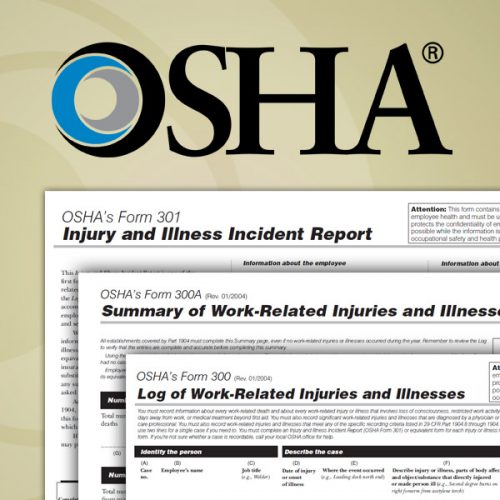 [Since we originally published this article, OSHA delayed the submission deadline, established an automated notification system on March 17 to inform people about current status of online reporting, and sent out its first automated notification on May 24….scroll down a few paragraphs to the italic and bold text to learn about the automated notification system (italics) and the delay of the submission deadline (bold).]
By now, you've probably heard about OSHA's new reporting requirements that will make most employers to submit online injury and illness reporting data at an OSHA webpage.
If not, or if you're still a little fuzzy on all the details, we've got information about the new online injury and illness reporting requirements here for you.
It should be an interesting change for lots of businesses.
The information in the article below should be a good start to get you ready for OSHA's new reporting requirements and online injury and illness data submission. And for the full picture, PLEASE DOWNLOAD OUR FREE GUIDE TO OSHA REPORTING & RECORDKEEPING.
[Late-breaking news: As of March 17, 2017, OSHA is not yet accepting online electronic submissions of injury and illness reports. They have set up a system that will notify you via email when the online submission system is ready and how to use it. You can sign up for those notifications here].
More news as of May 24, 2017–I just received an email update from OSHA about the online reporting as a result of signing up for the notification mentioned above. In it, OSHA says "OSHA is not accepting electronic submissions of injury and illness logs at this time, and intends to propose extending the July 1, 2017 date by which certain employers are required to submit the information from their completed 2016 Form 300A electronically." I've included an image of the email I received from OSHA below.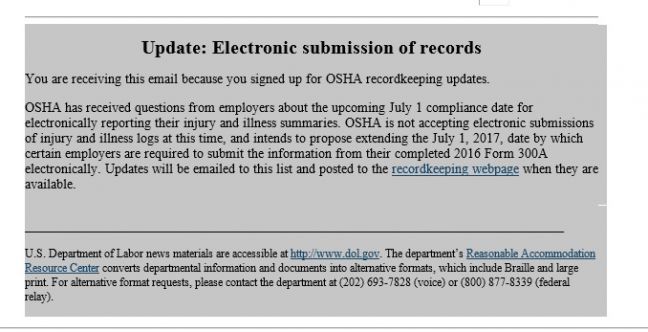 What OSHA's New Reporting Requirements Call For
Some employers will be required to submit injury and illness reporting data electronically to OSHA through a new online reporting page at OSHA's website.
The data is stuff that companies are already reporting on the old OSHA forms we're all familiar with–Form 300 (Log of Work-Related Injuries and Illnesses), Form 300A (Summary of Work-Related Injuries and Illnesses), and Form 301 Injury and Illness Incident Report).
Keep reading to learn more about the different effective dates for companies of different sizes and in different industries.
You can read the full rule here.
What Will OSHA Do with This Injury and Illness Reporting Data?
OSHA's going to use the data in two ways.
First, because it's submitted electronically, they'll be able to analyze it to create enforcement and compliance assistance resources more quickly than they could in past years with paper-based documents.
And second, they will post some of the data on the OSHA websites. According to OSHA, "public disclosure will encourage employers to improve workplace safety and provide valuable information to workers, job seekers, customers, researchers and the general public."
When Did OSHA's New Online Injury & Illness Reporting Rule Go Into Effect?
The new rule went into effect January 1, 2017.
BUT, the reporting requirements phase in over a two-year period. See below.
Does the New OSHA Reporting Requirement Include a Phase-In Transition Period with Different Effective Dates?
Yes, here's the effective dates:
In 2017, all covered establishment must submit their completed Form 300A (with data covering 2016) by July 1, 2017.
In 2018, covered establishments with 250 or more employees must submit all completed 2017 forms (300A, 300, and 301) by July 1, 2018. And covered establishments with 20-249 employees must submit their completed 2017 form 300A by July 1, 2018.
In 2019, and every year after that, all covered establishments must submit the information by March 2.
What Are "Covered Establishments?"
First, let's talk about that word "establishment." Here's what OSHA says about that:
"The electronic reporting requirements are based on the size of the establishment, not the firm. The OSHA injury and illness records are maintained at the establishment level. An establishment is defined as a single physical location where business is conducted or where services or industrial operations are performed. A firm may be comprised of one or more establishments. To determine if you need to provide OSHA with the required data for an establishment, you need to determine the establishment's peak employment during the last calendar year. Each individual employed in the establishment at any time during the calendar year counts as one employee, including full-time, part-time, seasonal, and temporary workers."
So that's what an establishment is.
If your establishment has 250 or more employees, the reporting requirements as listed above apply.
If your establishment has 20-249 employees, and if you're in specific industries, the reporting requirements listed above. The list of industries is here.
What About OSHA State Plans?
OSHA state plans have six months after the publication of federal OSHA's final rule to "adopt requirements that are substantially identical."
How Will OSHA's Online Injury and Illness Reporting Work?
OSHA will set up a secure web page for online reporting.
That online reporting webpage will be here, but it's not functional yet. OSHA says they'll announce the availability of the website prominently on their home page when it's up and working.
Once the webpage is up and running, there will be three ways to input the data.
First, you can do it manually.
Second, you'll be able to upload the data in CSV format. You can do this for one establishment or multiple establishments at the same time. You can view the CSV instructions here, download a CSV file template here, and/or download a CSV sample file here.
And third, you'll be able to set up an API that can pass the information from your computer systems into OSHA's. You can view the API technical specifications here.
Where Can I Learn More about OSHA's Online Injury and Illness Reporting Requirement?
Here's a helpful OSHA website.
You may also want to check out the OSHA Recordkeeping eLearning course from Convergence Training below.

Wasn't There Also Something About Anti-Retaliation Protection?
According to OSHA:
"The rule also prohibits employers from discouraging workers from reporting an injury or illness. The final rule requires employers to inform employees of their right to report work-related injuries and illnesses free from retaliation…"
Employers can satisfy this requirement by posting the OSHA Poster (which is a requirement anyway).
Please use the comments section below to share questions, concerns, expectations, predictions, and anything else you've got on your mind.
And please DOWNLOAD THE FREE GUIDE TO OSHA REPORTING & RECORDKEEPING below!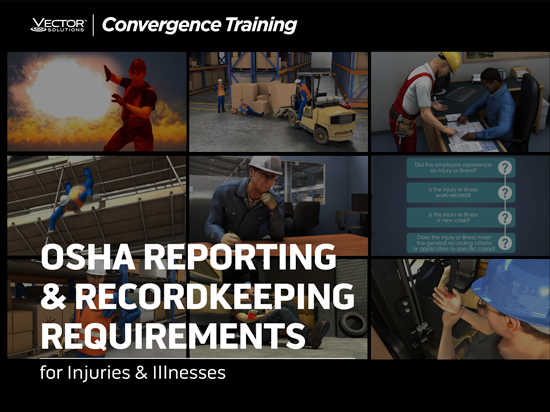 Free OSHA Injury & Illness Reporting & Recordkeeping Guide Download
Download this free guide to learn what you need to know about OSHA requirements for injury & illness reporting and recordkeeping.