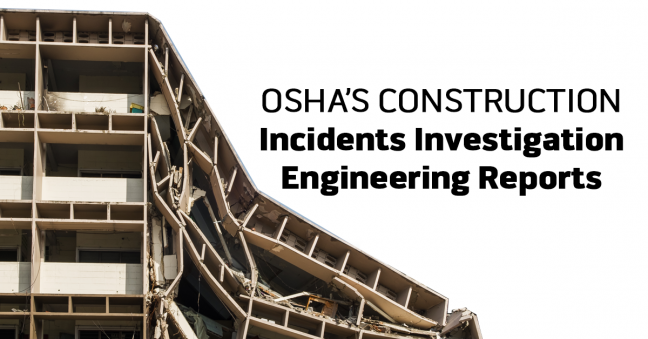 OSHA's Construction Incidents Investigation Engineering Reports webpage is an interesting and helpful resource for those of you in construction, construction engineering, and construction safety.
In this article, we're going to introduce you to this useful resource and provide a brief overview of some of the findings, recommendations, and incidents.
What Are OSHA's Construction Incidents Investigation Engineering Reports?
OSHA's Directorate of Construction performs incident investigations when buildings collapse (and after similar incidents) at the request of an OSHA field office or State Plan OSHA office and create reports as part of those investigations. These reports, gathered for convenient reference (and learning), contain the opinions of the investigating engineer from OSHA's Directorate of Construction, including opinions regarding the incident's root cause(s), as well as facts and findings.
Of course, the purpose of these reports is to help us all identify, learn from, and avoid problems in construction design, construction project management, and the management of field engineering changes.
Some OSHA-Identified Highlights from the Incidents Investigation Engineering Reports
There are a large number of reports on the website (I counted 67 going back to 1990, and the webpage itself notes that only selected incident reports have been presented, meaning there are more). And the reports are long. So obviously, in total there are a large number of highlights and significant and/or repeated themes that you'd find if you read them all. But OSHA provided some highlights which we'll summarize below:
Structural engineers should always specific both (1) the order and (2) the manner of replacing diagonals and strut members of cellular towers. OSHA notes that allowing workers retrofitting towers to make onsite judgments on these issues has led to disasters (this is covered in an October, 2018 report)
In areas that experience tropical storms and hurricanes, engineers and contractors should consider turbulent winds that can cause uplift and vortex by using Computational Fluid Dynamics (CFD) calculations (this is addressed in a September, 2018 report)
A July 2016 report notes that not following the crane manufacturer's instructions to lay the boom and jib in the face of incoming wind lead to the collapse of a crane
And an August, 2015 report notes that it's critical that contractors use extreme caution and receive supervision when dismantling mast climbing platforms so as to avoid overloading the platform–leading to failure of the mast
In taking a moment to review these issues that OSHA highlighted, I confess I can't find a major theme (although two do involve winds). The selections for the "highlights" section seems somewhat random to me. But maybe there's something here I'm missing? Please use the comments section below to share your opinions on this.
Some Thoughts from Reviewing Recent Reports
It would be hard to read and summarize all of these reports for you, but we decided to read a few of the more recent ones and give our own high-level thoughts. Feel free to add your own thoughts about any we summarize (or don't) in the comments section.
The July, 2019 report details the collapse of a pedestrian bridge at Florida International University. Here are a few interesting points from the Conclusion of this report (see page 113):
The bridge had a number of deep and wide structural cracks.
These cracks were becoming longer daily.
The cracks were the result of structural design deficiencies.
The bridge was inspected hours before it collapsed.
The Engineer of Record (EOR) stated more than once that the cracks did not create a safety concern and ordered that post-tensioning bars be re-tensioned; this was happening when the bridge collapsed.
OSHA says "The EOR should have immediately instructed that the bridge be shored at appropriate locations and (a street should be) closed."
The October, 2018 report is about the collapse of a communication tower. Here are some items from the Conclusion (see page 19) that are noteworthy:
Collapse occurred when a diagonal brace was being removed for replacement
The brace replacement procedure was flawed, leading to a decrease in the compressive strength of the tower legs (and load bearing capacity)
A temporary frame was required by the construction documentation but was not used
The December, 2018 report is about the failure of three hammerhead cranes after a hurricane. Some key points from the Conclusions section (see page 69) include:
The manufacturer's manual stated that failure could occur at wind speeds above 95 mph; all three cranes were exposed to winds greater than 95 mph
OSHA states that "the failure of all three cranes occurred due to turbulent wind."
Additionally, OSHA notes that US and European codes do not require that turbulent wind, suction, or vortexes be considered as part of the crane design
OSHA made a few suggestions: (a) in coastal areas, local governments should ask engineers to conduct simulations based on dynamic analysis to get a better wind evaluation than from quasi-static analysis; (b) the manufacturer should evaluate the design of the jib-to-turntable connections to prevent detachment in high turbulence; (c) tower tops should be evaluated and designed with a higher safety margin; (d) design should be based with loads applied only from the counterjib; (e) two symmetric pendants or cables be considered in design
Keep coming back to this blog post from time-to-time…we're going to continue reviewing the reports and summarizing their conclusions here.
Conclusion: OSHA's Construction Incidents Investigation Engineering Reports Are Valuable Learning Documents
We hope that perhaps we've introduced you to a useful reference in this collection of incident investigations for engineers focusing on collapses and similar incidents in the construction industry and that you're able to draw some useful lessons from this article and those reports in your own engineering and construction pursuits.
Remember we're happy to help you with construction safety training courses as well as courses for AEC & construction project management certification. Just let us know if we can be of assistance!
And before you go, please download our free Guide to OSHA Construction Compliance, below (coming soon).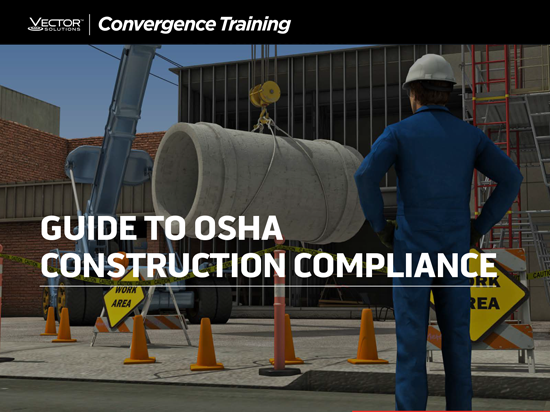 Guide to OSHA Construction Industry Compliance
Get some helpful tips for complying with OSHA's requirements for employers in the construction industry. Remember, all workplaces have unique hazards and compliance requirements and this guide can't guarantee compliance for all workplaces.