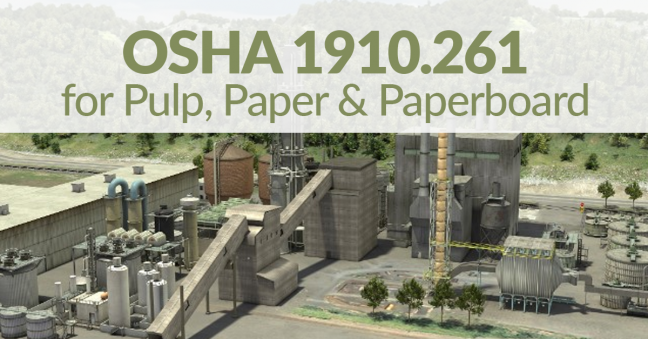 OSHA's standards include both horizontal standards and vertical standards. Horizontal standards are standards that apply to employers in multiple different industries. For example, the 1910 General Industry standards apply to employers in many different industries and 1910 is therefore a horizontal standard. On the other hand, OSHA's 1926 standards apply to just employers in the construction industry and 1926 is therefore a vertical standard.
Additionally, there are quite a few other vertical standards listed in 1910 Subpart R, the so-called "special industry" regulations. These include standards that are specific to the following industries: pulp, paper, and paperboard mills; textiles; bakery equipment; laundry machines and operations; sawmills; logging operations; telecommunications; electrical power generation, transmission, and distribution; and grain-handling facilities.
In this article, partly because we create training materials and tools for pulp, paper, tissue, and corrugated board manufacturers, we're going to provide an introduction to the 1910.261 standard for Pulp, Paper, and Paperboard Mills employers from 1910 Subpart R.
You might also be interested in our articles on Paper Machine Safety Hazards and Paper Manufacturing Safety Tips.
OSHA's 1910.261 Vertical Standard for Pulp, Paper & Paperboard Mills
Let's give you a quick overview of this OSHA standard.
Scope & Applicability of 1910.261
Here's how the standard explains scope and applicability in 1910.261(a)(1):
This section applies to establishments where pulp, paper, and paperboard are manufactured and converted. This section does not apply to logging and the transportation of logs to pulp, paper, and paperboard mills.
Standards Incorporated by Reference in 1910.261
According to 1910.261(a)(2):
Standards covering issues of occupational safety and health which have general application without regard to any specific industry are incorporated by reference in paragraphs (b) through (m) of this section and in subparagraphs (3) and (4) of this paragraph and made applicable under this section. Such standards shall be construed according to the rules set forth in §1910.5.
Now, we get lucky here, because in 1910.5(c)(2), OSHA gives an example that directly relates to this vertical standard for pulp, paper & paperboard manufacturers:
…any standard shall apply according to its terms to any employment and place of employment in any industry, even though particular standards are also prescribed for the industry, as in subpart B or subpart R of this part, to the extent that none of such particular standards applies. To illustrate, the general standard regarding noise exposure in 1910.95 applies to employments and places of employment in pulp, paper, and paperboard mills covered by 1910.261.
Additionally, in 1910.261(a)(3)(1) through 1910.261(a)(4)(3), OSHA lists other specific standards from ANSI, ASME, NFPA, and IME that are incorporated by reference into 1910.261 as well.
Safe Practices in Pulp, Paper & Paperboard Manufacturing
The 1910.261 standard lists specific "safe practices" involving lockout and emergency lighting in 1910.261(b).
Handling and Storage of Pulp Wood & Pulp Chips
1910.261(c) covers regulations for handling & storing pulp wood and chips.
This includes regulations for handling pulpwood:
With forklift trucks
With cranes or stackers
From ships
From flatcars and other railway cars;
From trucks
Additionally, this part of the standard includes rules for handling pulp chips from:
Railway cars
Trucks
Trailers
There are also rules covering:
Cranes
Traffic warning signs or signals
Illumination
Barking devices
Hand tools
Removal of pulp wood
Belt conveyors
Signs
Handling and Storage of Raw Materials other Than Pulp Wood or Pulp Chips
Additional regulations for handling and storing other raw materials are listed in 1910.261(d).
These include PPE, clearance, and piling & un-piling pulp.
Preparing Pulp Wood
1910.261(e) includes the regulations related to preparation of pulp wood.
These include regulations covering gang and slasher saws; slasher tables; runways to the jack ladder; guards below the table; conveyors; baker feeds; stops; speed governors; continuous barking drums; intermittent barking drums; hydraulic barkers; splitter blocks; power control; knot cleaners; chipper spouts; and carriers for knives.
Rag and Old Paper Preparation
Rules for rag and old paper preparation are covered in 1910.261(f).
These include rules covering ripping and trimming tools; shredders, cutters, and dusters; blowers; conveyors; dust; and rag cookers.
Chemical Processes of Making Pulp
The rules for chemical processes involving in making pulp are included in 1910.261(g).
These rules cover sulfur burners; protection for employees (acid plants); acid tower structures; acid tanks; clothing; lead burning; hoops for acid storage tanks; chips and sawdust bins; digester building exits; gas masks; elevators; blowoff valves and piping; blow pits and blow tanks; blowing digesters; inspecting and repairing digesters; pressure-tanks (accumulators); pressure vessels (safety devices); blow lines; furnace rooms; inspection and repair of tanks; welding; and turpentine systems and storage tanks.
Bleaching
1910.261(h) includes the regulations covering bleaching in these industries.
These rules cover bleaching engines; bleaching mixing rooms; liquid chlorine; and bagged or drummed chemicals.
Mechanical Pulp Process
In 1910.216(i) you'll find regulations covering mechanical pulp process, including pulp grinders, butting saws, floors and platforms, and personal protective equipment (PPE).
Stock Prep
Rules regarding stock preparation, including pulp shredders, pulp conveyors, beaters, pulpers, and stock chests, are listed in 1910.216(j).
Machine Room
1910.261(k) includes rules involving machine rooms, including emergency stops, drives, protective equipment, steps, plank walkways, dryer lubrication, levers, the first dryer, steam and hot water pipes, dryer gears, the broke hole, the feeder belt, steps, sole plates, nip points, scrapers, illumination, control panels, lifting reels, feeder belts, in-running nips, core collars, slitter knives, the winder shaft, the core shaft, the winder area, and radiation.
Finishing Room
You can find rules relating to the finishing room in 1910.261(l), including cleaning rolls, emergency stops, core collars, elevators, control panels, Guillotine-type cutters, rotary cutters, platers, finishing room rewinders, control panels, roll-type embossers, sorting and counting tables, and roll splitters.
Material Handling
Rules regarding materials handling, including hand trucks, cartons, and unloading cars, are listed in 1910.216(m).
OSHA's 1910.261 Vertical Standard for Employers in the Pulp, Paper & Paperboard Manufacturing Industries
We hope you enjoyed this overview of OSHA's vertical standard covering employers in pulp. paper, and paperboard mills. Let us know if you have any questions or need help with training employees at your site.
Before you go, be sure to download our free guide to online training in the pulp and paper industries, below.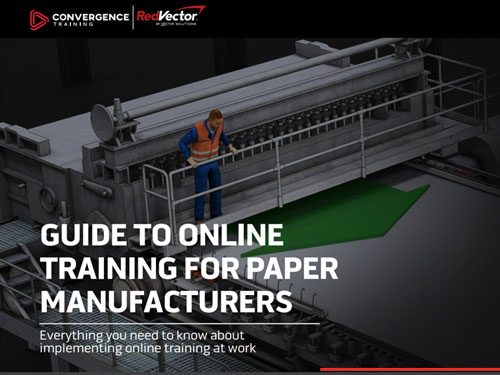 The Papermaker's Guide to Online Training
Learn everything you need to know about using online training at your paper manufacturing facility and get tips for getting started now.