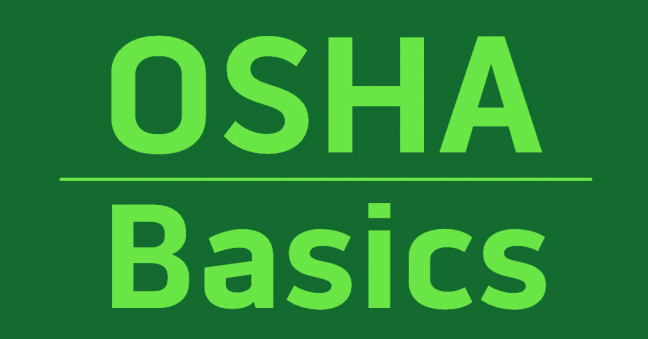 OSHA just released its list of the top ten most frequently cited workplace safety violations for fiscal year 2014.
The 2014 list includes all the same all the same standards as last year's list, and the four standards at the top of the list appear in the same order that they did last year, too.
The biggest "riser" was lockout/tagout (1910.147), which checked in at #8 last year but jumped up to #5 this year.
We've got the full list for you below. For each common violation, we've given a link to the regulation, a link to our related e-learning course(s), and a link to a special page of informational resources and training freebies for you. Check 'em all out.
Need help with your safety training? Check out our library of e-learning courses on safety and other topics, and don't forget to check out our learning management systems (LMSs) for delivering and tracking those courses. Or, contact us now for a demo.
OSHA's Top Ten Violations for 2014
Here's the list, from most violated to tenth-most-violated.
Fall Protection (1926.501) – 6,143 violations
The Standard: Fall Protection
Our Course(s): Fall Prevention and Protection
Our Information and Training Resources Page: Fall Protection Information and Training Resources from Convergence Training
Hazard Communication (1910.1200) – 5,161 violations
The Standard: Hazard Communication
Our Course(s): Hazard Communication 2012 (GHS), Hazard Communication 1994, Chemical Hazards (for mines)
Our Information and Training Resources Page: Hazard Communication Information and Training Resources from Convergence Training
Scaffolding (1926.451) – 4,029 violations
The Standard: Scaffolding
Our Course(s): Supported Scaffolding Safety
Our Information and Training Resources Page: Scaffolding Information and Training Resources from Convergence Training
Respiratory Protection (1910.134) – 3,223 violations
The Standard: Respiratory Protection
Our Course(s): Respirators
Our Information and Training Resources Page: Respiratory Protection Information and Training Resources from Convergence Training
Lockout/Tagout (1910.147) – 2,704 violations
The Standard: The Control of Hazardous Energy (Lockout/Tagout)
Our Course(s): Lockout/Tagout
Our Information and Training Resources Page: Lockout/Tagout Information and Training Resources from Convergence Training
Powered Industrial Trucks (1910.178) – 2,662 violations
The Standard: Powered Industrial Trucks
Our Course(s): Forklift Safety
Our Information and Training Resources Page: Powered Industrial Trucks Information and Training Resources from Convergence Training
Electrical, Wiring Methods (1910.305) – 2,490 violations
The Standard: Electrical, Wiring Methods
Our Course(s): Electric Shock, Electrical Safety General Awareness, Arc Flash Safety  
Our Information and Training Resources Page: Electrical, Wiring Methods Information and Training Resources from Convergence Training
Ladders (1926.1053) – 2,448 violations
The Standard: Stairways and Ladders
Our Course(s): Ladder Safety
Our Information and Training Resources Page: Ladders Information and Training Resources from Convergence Training
Machine Guarding (1910.212) – 2,200 violations
The Standard: Machinery and Machine Guarding
Our Course(s): Machine Guarding
Our Information and Training Resources Page: Machine Guarding Information and Training Resources from Convergence Training
Electrical, General Requirements (1910.303) – 2,056 violations
The Standard: Electrical, General Requirements
Our Course(s): Electric Shock, Electrical Safety General Awareness, Arc Flash Safety  
Our Information and Training Resources Page: Electrical, General Requirements Information and Training Resources from Convergence Training