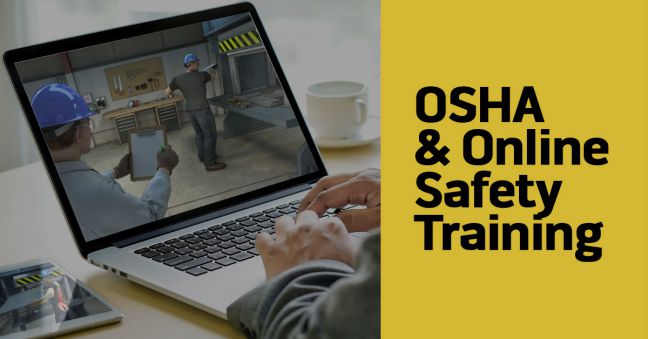 If you're thinking of using online safety and health training at your workplace, one reasonable question to ask is "What does OSHA have to say about online safety training?" You may wonder if they accept the completion of online safety training to satisfy safety training requirements in OSHA standards, for example.
Well, the short answer is yes. OSHA certainly does allow employers to use online safety training to satisfy the compliance requirements for mandatory occupational safety and health training.
We'll flesh out that answer for you below, however, giving you some of OSHA's explanations and linking you to some supporting documents at the OSHA website. And we'll go a little further, as well, letting you know about a couple of ANSI/ASSP standards on environmental, health, and safety training that also support the use of online training for occupational safety and health training. We'll even tell you what learning experts outside the world of safety and health have to say about the efficacy of online training.
Let us know if you have any additional questions about the use of online safety training at work, and do feel free to download our free Online Safety Training Buyer's Guide Checklist as well.
Does OSHA Accept Online Safety and Health Training for Compliance Requirements?
OSHA does accept online safety and health training as a way to satisfy OSHA safety training requirements.
In fact, here's how OSHA states it in this Letter of Interpretation:
In OSHA's view, self-paced, interactive computer-based training can serve as a valuable training tool in the context of an overall training program.
"Computer-based training" is the same as online safety training, so you can see that OSHA sees this as a valuable addition to your safety training program.
Now, it's worth noting that this same OSHA letter of interpretation concerning the use of online training goes on to state that the "…use of computer-based training by itself would not be sufficient to meet the intent of most of OSHA's training requirements…"
What OSHA is suggesting here is that safety professionals should use a blended learning approach for safety training when they're incorporating online training into their safety training programs. This means using a variety of training delivery methods, possibly including classroom-based instructor-led training, field-based hands-on training, online safety training, written materials, and (in today's modern world) maybe even augmented reality (AR), virtual reality (VR), and artificial-intelligence (AI) powered chatbots. And OSHA's recommendation to use blended learning approaches is in line with what other safety and learning professionals recommend as well, as you'll see below.
Pro tip: you might want to download our free Blended Learning Beginner's Guide for more on this.
So there it is, straight from OSHA's mouth (or their pen and/or their web master). OSHA DOES allow the use of online safety training as part of a safety training program intended to satisfy and comply with OSHA safety training regulations.
Second pro tip: now that you know OSHA does allow online safety training, you might also be interested in this list of the OSHA standards that include specific safety & health training requirements. 
OSHA's Own Use of Online Learning/Training for Safety Training
Although we think that OSHA's own words about accepting the use of online safety and health training within your overall safety and health training program pretty much seals the deal on this question, we'll also invite you to consider what OSHA itself does.
Have you noticed OSHA's own use of online safety and health training materials at their webpage, for example?
Check out this page at the OSHA website, which is a list of OSHA eTools, eMatrix, Expert Advisers, and v-Tools.
Here's how OSHA explains this page and the online materials that are listed there:
eTools and the eMatrix are "stand-alone," interactive, Web-based training tools on occupational safety and health topics. They are highly illustrated and utilize graphical menus. Some also use expert system modules, which enable the user to answer questions, and receive reliable advice on how OSHA regulations apply to their work site. Expert Advisors are based solely on expert systems and v-Tools are prevention video training tools.
We added the bolding in the quote above to call out the obvious. OSHA's eTools and eMatrix are "Web-based training tools," which is online safety and health training by a slightly different name, and the v-Tools are "video training tools" delivered online (sounds a lot like a form of online safety training to me).
Speaking of OSHA's own creation and delivery of online safety training materials, we think they're doing a good job and deserve some recognition and thanks. And, if you'd like to see a larger list of their offerings, check out this OSHA webpage.
OSHA Accepts Online Training for OSHA 10 & 30
But wait, there's more to be said about OSHA's use and acceptance of online safety training.
OSHA even authorizes online safety training for the completion of OSHA 10- and 30-hour safety training.
Speaking of that, if you're looking to complete OSHA 10 and/or 30 online, our business partners at RedVector offer online OSHA 10 & 30.
What Other Safety Professionals and Organizations Say about Online Training
Well, by now it's clear OSHA's good with online health and safety training. They say so in their own words (in the letter of interpretation quote above). They use it in their eTools and other similar safety training tools they offer online. And they authorize the use of online safety training for OSHA 10 and OSHA 30.
But what do other safety experts have to say about this? For example, what does the American Society of Safety Professionals (ASSP) think of online safety training?
Fortunately, that's easy enough to find out by checking out the ASSP/ANSI Z490.1, Criteria for Accepted Practices in Safety, Health, and Environmental Training national standard and by taking a peek at the ASSP/ANSI Z490.2 standard for ONLINE Safety, Health, and Environmental Training (this standard is not yet final as of December, 2018 but is in the works and coming soon–we know this because we're helping to write it).
First, let's consider Z490.1, the standard that deals with all EHS training in all different delivery methods. It's instructive to know that Z490.1 includes an entire Annex on online training (this is Annex D, and they call it "virtual learning," but it means the same thing as online learning/training). We'll leave it to you to pick up a copy of Z490.1 (in addition, check out our free guide to effective safety training, which functions as a bit of an unofficial "expansion" or supplement to Z490.1), but clearly ASSP and Z490.1 endorses the use of online safety training as evidence of the inclusion of this Annex on virtual training.
Next, let's consider Z490.2. As a reminder, this is an ANSI/ASSP standard that's (1) currently in development and nearing completion and that (2) is a standard entirely devoted to best practices for online safety, health, and environment training. The fact that ASSP is creating a brand new standard on online EHS training certainly shows they support the use of online safety training.
Two quick notes on ANSI/ASSP Z490.1 and Z490.2: It's worth knowing that Z490.2 isn't intended to replace Z490.1. Instead, everything in Z490.1 is true for all types of EHS training, and Z490.2 is intended to provide guidance that's specific to online EHS training. In addition, it's worth knowing that these two ASSP/ANSI standards both echo OSHA's recommendation to use online safety training within an overall blended learning approach to safety training. 
What Learning Professionals Say & Evidence Shows
So it seems OSHA and ASSP and the "safety world" endorses the use of online safety training. But what do learning professionals who aren't specific to safety, safety and health, and/or EHS training have to say?
In short, the answer is that they endorse the use of online training too, when it's created following best practices, and they provide research and evidence to back up their recommendations and to show that online training can be just as effective or even in some cases more effective than other forms of training delivery (such as classroom, etc.).
We won't get too far into the weeds on this, but we'll quickly summarize some findings from the following three sources of evidence-based training information and will provide links where you can learn more about this:
Dr. Ruth Colvin Clark
Dr. Will Thalheimer
United States Department of Education
Dr. Ruth Colvin Clark's book Evidence-Based Training Methods (a classic, and well-worth buying) shows that the delivery method for training (meaning, online as opposed to classroom as opposed to field-based, etc.) really isn't especially important when it comes to evaluating the effectiveness of the training. Instead, she argues (and provides evidence to prove) that what is really important are the instructional methods (providing opportunities for practice, for feedback, effective visuals, etc.) that are used within the training. So the takeaway here is that if online training is created following best practices and incorporating effective learning methods, it will be effective.
Dr. Will Thalheimer is a well-known learning researcher dedicated to advancing evidence-based training methods (and doing the research to backing his claims up). His white paper, titled Does eLearning Work? What the Scientific Research Says! backs up the claims made by Dr. Clark in her book mentioned above. In fact, his research shows that online training tends to be a little more effective than classroom-style training, although it's worth reading his report to find his explanation for that. To learn more about this, check out the discussion we had with Dr. Thalheimer in our interview titled Is eLearning Effective: Evidence-Based Training Methods?
The US Department of Education probably requires no introduction. Their report titled Evaluation of Evidence-Based Practices in Online Learning: A Meta-Analysis and Review of Online Learning Studies falls very much in line with the findings from Dr. Clark and Dr. Thalheimer and supports the use of online training as well (and recommends following best practices best on research and evidence).
Additional Materials from OSHA On Safety Training Development & Online Safety Training
In case you want a little more insight into what OSHA's looking for in terms of safety training in general and online safety training in particular, you might find these documents and materials helpful:
Conclusion: OSHA Supports Online Safety Training For Occupational Safety and Health
In summary, OSHA is A-OK with you using online health and safety training, and they recommend you use it wisely within a well-designed blended learning solution.
We hope this answers all your questions about OSHA's thoughts on the use of online safety training to satisfy health and safety training requirements. If not, feel free to leave a question in the comments section below.
And before you go, and now that you know online safety training can be used to satisfy these OSHA requirements, the next logical step is to figure out how to get the best online safety training solutions for your company's unique safety training needs. We invite you to download our free online safety training buyer's guide checklist to help with that process.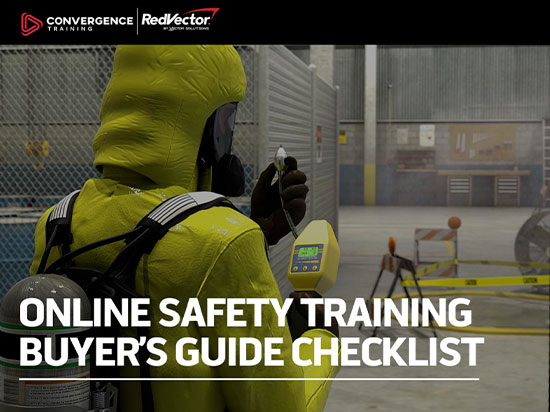 Online Safety Training Buyer's Guide Checklist
Learn how to evaluate different online safety training solutions to find one that best fits your company's needs with our FREE informative guide and checklist.