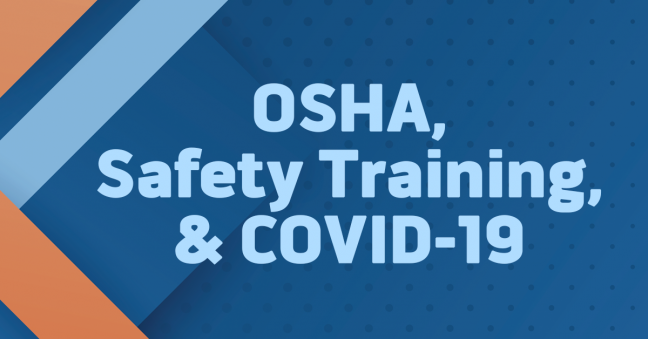 Two quick notes: Since we originally wrote this article, Vector Solutions (the parent company of Convergence Training) created free online COVID-19 training courses for people to watch. You can view them here.  Also, since we published this article, OSHA has released an update on Safety Training Requirements for COVID-19…please check that link you just passed for our explanation on OSHA's requirements. 
The COVID-19 pandemic has created many changes in society and at work. For those companies that are still operating, and for those employees who are still working, safety training and in particular mandatory, compliance-based safety training, is a serious consideration.
What's the best way to complete mandatory safety training, and stay in compliance with OSHA requirements, during this pandemic? In particular, how to do this and still maintain the social distancing requirements of six feet personal separation? And, given the novel status of the COVID-19 virus, the fact that we're still learning about COVID-19 and transmission routes, and increasing concern and evidence that the virus may be aerosolized and people could possibly be infected by an infected (but asymptomatic) person who is simply talking or breathing, is six feet of separation enough? Is face-to-face safety training a good idea or is it, perhaps, in some way counter to the goal of safety and health during a pandemic?
Can online safety training be used to avoid face-to-face compliance-based safety training or minimize it during the pandemic?
We'll try to cover these issues in this article, explain what we know about OSHA's current safety training requirements, and give you some tips for integrating online safety training into your safety training program while still staying in compliance with OSHA regulations in this article.
We wish you all good health and safety during a difficult time. Please feel free to use the comments section to share any tips or information you may have on these topics.
We encourage you to read teh article below, but you might want to know that our own Jeffrey Dalto, a member of the ASSP Z490 committee and a contributor to the ANSI/ASSP Z49.2 national standard for online EHS training, recently talked about OSHA Safety Training Compliance and COVID-19 for the ASSP podcast channel.
What We Know About COVID-19 & Infection Routes
I'm certainly not a virologist, epidemiologist, infectious disease specialist, or public health expert. So you're best off going to the CDC and similar credible sources of information to learn about COVID-19 and how people can get infected.
However, to attempt to summarize, we know COVID-19 is spread in droplets formed when people sneeze (and possibly when they breathe or talk). An infected person, even if asymptomatic, can pass the infection by sneezing onto another person, for example. It's also possible the virus can be passed when a person sneezes, gets the droplets and virus on their hand, touches something, someone else touches that same thing and gets the virus on their hand, and then they touch their eyes, nose, or mouth.
Of course, we're still learning more about COVID-19 and current information isn't definitive. As of today, there are increasing indications that the virus may also be aerosolized and therefore float in air in a cloud, and it's conceivable that other people could breath that aerosolized virus in and become infected. Additionally, there's the possibility that simply talking or breathing, and not just something like sneezing, can cause that kind of aerosolization. As a result, there are credible experts suggesting that six feet may not be enough social distancing. Obviously, there are additional open issues about whether this happens indoors or outdoors and what the ventilation is like. Read this article at the Journal of the American Medical Association for more on these issues: Turbulent Gas Clouds and Respiratory Pathogen Emissions: Potential Implications for Reducing Transmission of COVID-19.
It would be best if you go to sites like the CDC to learn more about this, and given the uncertainty, we'll all have to make the choices that seem safest and healthiest for our own organizations and for ourselves. But we think the information above is an essentially accurate, high-level view of the commonly available information at the time. Please feel free to correct us if you know differently (more more expertly/definitively) and we'll update this section of the article if need be over time.
What We Know About OSHA's "Regular" Mandatory Safety Training Compliance Requirements
OSHA requires mandatory safety training, they enforce it, and organizations can get a penalty if safety training isn't delivered as required.
For example, training violations are listed several times on the most recent OSHA's Top 10 Violations list. 
Here's a full list of OSHA's mandatory safety requirements broken out by individual OSHA standards: OSHA 2254, Training Requirements in OSHA Standards.
What We Know about OSHA's Regular Stance on Online Safety Training
As discussed in an earlier article (What's OSHA's Take on Online Safety Training?), OSHA does allow for the use of online safety training to satisfy some of their safety training compliance requirements.
In particular, OSHA has released two letters of interpretation about the use of online safety training to satisfy their safety training requirements. The first LOI was released in 1994, and the second was released just last year, in 2019. You can read the first OSHA LOI re: online safety training and the second OSHA LOI regarding online safety training on your own and we've written about these letters of interpretation on online safety training in an earlier article as well, published before the pandemic.
That said, we'll summarize some key points about the two letters of interpretation below.
The 1994 OSHA Letter of Interpretation re: Online Safety Training
Here are the parts of this LOI that we think are most relevant to this topic:
In OSHA's view, self-paced, interactive computer-based training can serve as a valuable training tool in the context of an overall training program. However, use of computer-based training by itself would not be sufficient to meet the intent of most of OSHA's training requirements…

In an effective training program, it is critical that trainees have the opportunity to ask questions where material is unfamiliar to them. In a computer-based program, this requirements may be providing a telephone hotline so that trainees will have direct access to a qualified trainer…

Equally important is the use of hands-on training and exercises to provide trainees with an opportunity to become familiar with equipment and safe practices in a non-hazardous setting…Traditional, hands-on training is the preferred method to ensure that workers are prepared to safely perform these tasks…It is unlikely that sole reliance on a computer-based training program is likely to achieve these objectives.

Thus, OSHA believes that computer-based training programs can be used as part of an effective safety and health training program to satisfy OSHA training requirements, provided that the program is supplemented by the opportunity for trainees to ask questions of a qualified trainer, and provides trainees with sufficient hands-on experience.
It's that last sentence, which we put in bold font, that sums up this LOI. When using online safety training, OSHA says, supplement it with:
The opportunity to ask questions of a qualified trainer (note that earlier OSHA said this could be done with a telephone hotline)
Sufficient hands-on experiences
We'll return to that issue of being able to ask questions to a qualified trainer in the context of online safety training again, as it's key for compliance.
The 2019 OSHA Letter of Interpretation re: Online Safety Training
And here are the relevant highlights of the 2019 OSHA LOI on online safety training and OSHA compliance:
Online, self-paced computer-based training can be a valuable part of an effective safety and health training program. However, the use of online training by itself would not be sufficient to satisfy OSHA training requirements unless that training contains interactive and hands-on components…

The opportunity for workers to be able to ask questions of, and receive responses from, a qualified trainer(s), in a timely manner, is critical to effective training. Online training that does not provide workers with this opportunity would not comply with OSHA's worker training requirements. Training with no interaction, or delayed or limited interaction, between the trainer and trainee may halt or negatively affect a trainee's ability to understand and/or retain the training material…

Equally important is the provision of sufficient hands-on training because it allows an employee to interact with equipment and tools in the presence of a qualified trainer(s), allows the employee to learn or refresh their skills through experience, and allows the trainer to assess whether the trainees have mastered the proper techniques. Online training that does not provide workers with hands-on training would not comply with OSHA's worker training requirements.
The 2019 LOI makes the same basic points about:
Asking/answering questions and giving/getting feedback
Hands-on training
Regarding creating an opportunity for employees to ask questions, it's interesting that in this LOI OSHA speaks negatively about training "with no interaction, or delayed or limited interaction." It's not 100% clear what "delayed" and "limited" mean in this context, and presumably it's up to interpretation by OSHA. It's an important addition to keep in mind.
Regarding hands-on training, it's worth noting that OSHA's LOI says this must happen "in the presence of a qualified trainer(s)." Would having a trainer watch an employee practice a job task in a hands-on manner fulfill this requirement for all or even some safety training topics? It's not clear.
Has OSHA Made Any Changes re: Safety Training and Online Safety Training During the COVID-19 Pandemic?
OSHA has set up a new COVID-19 Safety and Health Topics page. We've been watching it pretty closely, and two recently-published guidances related to this issue have caught our eye:
Interim Enforcement Response Plan for Coronavirus Disease 2019 (COVID-19), published April 13, 2020
Discretion in Enforcement when Considering an Employer's Good Faith Efforts During the Coronavirus Disease 2019 (COVID-19) Pandemic, published April 16, 2020
Let's look at each more closely, although it's probably the second guidance, the "Discretion in Enforcement…" one published on April 16, that's most related to this article.
Interim Enforcement Response Plan for Coronavirus Disease 2019 (COVID-19)
The first of the two recent guidances is called Interim Enforcement Response Plan for Coronavirus Disease 2019 (COVID-19), and of course we encourage you the read the whole thing yourself.
From our reading, this guidance covers two important aspects related to this article:
OSHA enforcement of standards violations
Safety training and COVID-19
We'll give you the highlights of each below.
OSHA Enforcement of Standards Violations
Here's what the April 13, 2020 OSHA guidance on COVID-19 says about enforcement of violations:
OSHA will continue to ensure safe and healthy conditions for America's working men and women by enforcing standards during this health crisis. In addition, heightened attention will be given to the risks posed by SARS-CoV-2. This interim response plan outlines how the agency will continue to discharge these responsibilities in the differing circumstances throughout the country.
So, according to this guidance, we're all still being held accountable to comply with OSHA regulations. It's worth noting that OSHA has relaxed some enforcement issues related to respirators, but that's beyond the scope of this article and we've covered it in other articles.
Safety Training and COVID-19
Here's what the earlier, April 13 OSHA guidance says about safety training:
Training and Information: Provide training, education, and informational materials about the risk of SARS-CoV-2 exposure associated with workers' job tasks and activities.
a. If PPE will be used, explain why it is being used. Educate and train workers about the protective clothing and equipment appropriate to their current duties and the duties they may be asked to assume when others are absent.
b. Explain how to use basic hygiene (e.g., hand washing, covering mouth and nose with a tissue when coughing or sneezing) and social distancing precautions that will be implemented and why they are effective.
c. Ensure materials are easily understood and available in the appropriate language and educational level for all workers.
d. Post signs asking workers, customers, and the general public to follow basic hygiene practices.
Points a, b, and d above are especially interesting in relation to training and notifying people of the hazards related to COVID-19.
Discretion in Enforcement when Considering an Employer's Good Faith Efforts During the Coronavirus Disease 2019 (COVID-19) Pandemic
The second of the two guidances was published only a few days later, on April 16, and is titled Discretion in Enforcement when Considering an Employer's Good Faith Efforts During the Coronavirus Disease 2019 (COVID-19) Pandemic.
It's interesting because it arguably contradicts, at least in part, the slightly earlier guidance regarding how OSHA will enforce violations of standards (the second guidance provides discretion for non-enforcement).
Although we encourage you to read the whole guidance, the basic point is OSHA will allow inspectors/field officers discretion to not enforce violations of OSHA standards if the employer has made a "good faith effort"to comply but can't due to circumstances related to COVID-19.
Here are a few relevant excerpts:
Business closures and other restrictions and limitations may also preclude employee participation in training even when trainers are available…During the course of an inspection, OSHA Area Offices will assess an employer's efforts to comply with standards that require annual or recurring audits, reviews, training, or assessments…As part of assessing whether an employer engaged in good faith compliance efforts, CSHOs should evaluate whether the employer thoroughly explored all options to comply with the applicable standard(s) (e.g., the use of virtual training or remote communication strategies)….In instances where an employer is unable to comply with OSHA-mandated training, audit, assessment, inspection, or testing requirements because local authorities required the workplace to close, the employer should demonstrate a good faith attempt to meet the applicable requirements as soon as possible following the re-opening of the workplace.
The guidance also offers examples related to training—one regarding hazardous waste operator training and the second involving respirator fit testing and training.
Is Face-to-Face Instructor-Led Safety Training Safe during the COVID-19 Pandemic?
This is a difficult question to answer given all the uncertainties about the COVID-19 virus already mentioned.
If you ARE going to conduct face-to-face safety training, you'll definitely want to all people six feet apart. In fact, you may consider increasing that distance. Likewise, you may want to consider making sure everyone is wearing some form of face mask, as the CDC is now recommending. Because the virus could be more quickly dispersed outdoors, you may want to hold your face-to-face safety training outdoors.
Additionally, it's common during safety training, including hands-on training in which an instructor demonstrates a skill using a tool, machine, or other physical object, and then the workers practice that same job skill using the same physical object. It's equally common for people in classroom instruction to pass objects from person to person to get a better look at the object. Obviously, having so many people pass objects around, or practicing safely performing job tasks using the same equipment, creates a heightened risk of passing the virus around and having a carrier, even an asymptomatic carrier, inadvertently infect someone else.
So there are lots of safety measures we have to consider to perform hands-on-safety training, including keeping people physically separated at a safe distance, taking some form of precaution to prevent shared physical objects from being vectors for the virus (maybe by cleaning the equipment after every use and/or by having many more pieces of equipment available so nobody has to share equipment), and perhaps screening people before they can enter face-to-face, classroom-style safety training, such as by having them complete a health check-up checklist and/or by making everyone use a thermometer to check before fever before they can participate in the training.
How Can a Company Move Some Safety Training to an Online Equivalent?
It's possible that OSHA enforcement field officers would choose not to enforce non-compliance with safety training regulations during this pandemic, at least in some instances. It may be a good idea to contact your local OSHA consultation office and seeing what they say.
But given the continuation of safety training requirements, and the lack of any additional guidance from OSHA about using online safety training as a temporary alternative, it seems at least SOME face-to-face safety training will have to continue.
That said, you can still put some or even a lot of safety training online in one way or the other, keeping in mind the requirements that the two OSHA letters of interpretation spell out: (1) opportunities for feedback and Q&A and (2) opportunities for hands-on training.
We'll talk more about how to put more safety training online and what exactly that means below.
What Exactly Is Online Safety Training?
The easiest way to think of this is that it's safety training that the employee completes online. Simple enough, right?
But that online training can come in a lot of different forms, including:
PDFs or PowerPoints delivered online
Videos delivered online
Recorded webinars (essentially a video) delivered online
Live webinars
Virtual classrooms
eLearning courses
More, including things like email and online messenger systems
We'll focus on the most common forms of online training–webinars, virtual classrooms, and elearning courses–as well as tell you about learning management systems, which can be used to deliver online training.
If you've got some extra time on your hands, perhaps while staying at home under shelter-in-place orders, feel free to read the first article in this parallel series we've been writing (What Online Learning Is and How to Do It Quickly and Inexpensively During the COVID-19 Pandemic) at this point and then return to this article for tips specific to safety training.
Can an Organization Create Its Own Online Safety Training?
Yes. While you certainly can partner with an online safety training provider and either buy pre-made courses "off the shelf" or have custom courses created for your organization, you can also make your own online safety training.
If the online safety training material is in the form of a PDF, a PowerPoint stored on your SharePoint, a video, or a webinar, you probably know you can do this and understand how to.
However, you make not know you can also create an elearning course on your own. To do this, you'd need to get a software product known as an elearning authoring tool. There are many different elearning authoring tools on the market, each has their pros and cons, and we recommend none in particular, but the industry leaders include Articulate, Adobe, Lectora, Camtasia, and iSpring (but there are many more). These are easy enough to learn to use and many have been designed so that you can import a simple PowerPoint and add to that with the authoring tool to create your own elearning course.
Tips for Webinars
You probably know what a webinar is.
To know the best way to use a webinar in online safety training, it's best to think of the difference between a webinar and a virtual classroom, which we talk about more immediately below. A webinar consists of a presenter (or instructor) talking while the audience, often a larger number of people, listen. There may be some form of visuals in the form of a PowerPoint or similar, and there may be an opportunity for some of the listeners to ask a few questions.
By contrast, a virtual classroom uses the same technological tools as a webinar, but does a lot more to create effective learning outcomes by trying to simulate the proven instructional methods used in good instructor-led classroom sessions.
So it's probably best to think of webinars as simply a tool for broadcasting information. A webinar is unlikely to lead to significant retention of training materials, offers no opportunity for practice and minimal opportunities for personalized Q&A and feedback, and on its own offers no continuing support for additional learning or supporting performance on the job.
Tips for Virtual Classrooms
A virtual classroom can be delivered using the same technological platform that you'd use for a webinar. But a virtual classroom is designed to include learning activities that simulate the kind of active and collaborative learning that occurs in a classroom.
Many software applications used for webinars and virtual classrooms include features that allow you to simulate classroom instruction. For example, if you use small-group discussions or projects as part of your instructor-led training, most of these platforms include tools to create "breakout groups" so small groups of learners can talk, problem-solve, and complete projects together.
So use virtual classrooms when you want to get the benefits of increased comprehension, retention, and transfer to the job, and remember webinars are typically for information broadcasting and light Q&A.
For more thoughts on getting started adding webinars and virtual classrooms to your online safety training, please see this extended article based on advice from virtual classroom experts: Best Practices for Moving Instructor-Led Training to Live Online Learning (Webinars and Virtual Classrooms) with Michelle Ockers, Shannon Tipton, and Jo Cook.
Tips for eLearning Courses
Now, let's turn our attention to elearning courses.
The distinction we explained above between a webinar (for information broadcasting) and a virtual classroom (for improved learning outcomes) is similar to the distinction between a video that's hosted online and an elearning course. A video relays information. An elearning course, when properly designed, incorporates active learning and evidence-based learning practices that help workers comprehend, retain, develop skills, and later transfer knowledge and skills from training to the job.
To step back, an elearning course is a collection of multimedia (still images, videos, audio, text, practice exercises, tests, and more) joined with interactivity and published in a specialized format (typically AICC, SCORM, or xAPI for use in an LMS or an LRS although elearning courses can also be published in HTML5 and put on a website).
Quick note: See our article Introduction to Online Learning: eLearning Authoring Tools, SCORM, and LMSs if this is all entirely new to you. 
It's the addition of the learning activities beyond the simple information broadcasting capabilities of a video that makes an elearning course more effective at increasing comprehension, retention, skill development, and later transfer to the job, and that's why you should consider elearning courses instead of just videos when considering online safety training development at work.
Read this article for more on elearning courses for safety training, this article on what to look for in online safety training courses, and this article based on tips from experts Michelle Ockers and Connie Malamed: Best Practices for Creating eLearning Courses Quickly During the COVID-19 Pandemic.
Are eLearning Courses as Effective as Instructor-Led Training?
The short answer is yes, they can be. This has been proven in study after study after study.
But there's a slightly longer answer here.
There are good instructor-led training sessions that lead to positive learning outcomes and there are bad instructor-led training sessions that don't lead to positive learning outcomes. Likewise, the same is true of learning courses–elearning courses that are designed and developed well will lead to positive learning outcomes, and learning courses that are not will not. So you can't apply a general rule that applies to every individual classroom training session or elearning course.
To think about this a little more deeply, you need to make a distinction between the training delivery method (instructor-led classroom training as opposed to elearning) and the instructional methods used during that training (demonstrations, practice opportunities, feedback, self-assessments, and so on). Studies show that the effectiveness of the training does not depend on the training delivery method (classroom v. elearning) but does depend on the instructional methods used during the training. To learn more about this, please see the classic book by the well-known learning research expert Dr. Ruth Colvin Clark, Evidence-Based Training Methods.
Many metastudies have come up with this same result–that elearning can be as effective as classroom training. To learn even more about this, and begin studying it, read my interview with learning researcher Dr. Will Thalheimer: Evidence-Based Training Practices: Is eLearning Effective? 
Do You Need an LMS for Online Safety Training?
Short answer-no.
If you're not clear what an LMS is, it stands for learning management system. An LMS is a web-based software application that you use to manage and administer your organizational training, both online and "offline." This means you can use an LMS to:
Import your own training materials (PPT, PDF, videos, links to webinars, etc.)
Create online training materials (quizzes, tasklists, surveys, etc.)
Assign training (both online training and "offline," such as classroom training)
Notify employees and (if desired) supervisors of training assignments
Deliver online training to employees
Create completion records for completed training
Store completion records
Run reports on training completion and other learning data
A lot more
If you'd like to learn more about learning management systems, and in particular about LMSs for compliance training, check out our article on Features to Look for in a Compliance-Based LMS.
So, a learning management system can be really helpful for general training purposes, and it's especially helpful for compliance-based safety training and OSHA compliance because of its tracking, reporting, and record storage capabilities.
Additional Helpful Resources for Considering and Creating Effective Safety Training & Online Safety Training
You might find some of the following articles, free guides, and webinars helpful as well:
Please Share Your Own Thoughts, Ideas, and Experiences
Please share any thoughts, questions, insights, experiences, or tips you have on this topic. And remember to stay safe and healthy as best you can!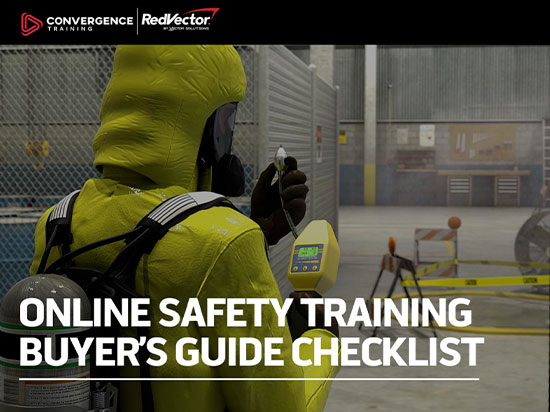 Online Safety Training Buyer's Guide Checklist
Learn how to evaluate different online safety training solutions to find one that best fits your company's needs with our FREE informative guide and checklist.