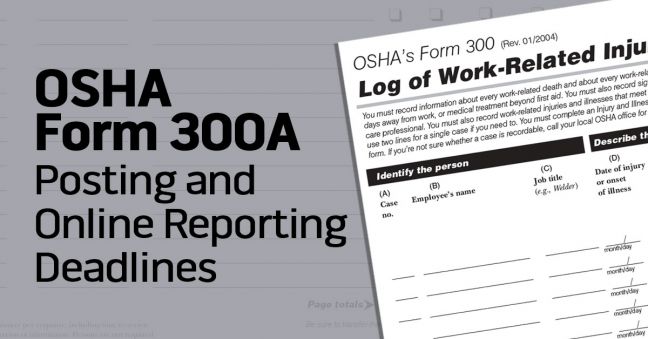 A quick heads up for you: deadlines for posting your OSHA Form 300A and electronically submitting your OSHA Form 300A injury & illness data at OSHA's online submission website are both coming soon.
We've got the details you need to know below. Plus, feel free to download our FREE GUIDE TO OSHA REPORTING & RECORDKEEPING.
Post 300A at Your Workplace: Deadline is February 1
Post your establishment's OSHA Form 300A at a place where employees can see it by February 1, 2019, keep it there until at least April 30, 2019.
And remember, even if you take OSHA Form 300A down after April 30, 2019, OSHA still requires you to keep 300A on file for at least 5 years after the year it summarizes. So, if you post your 2018 Form 300A this year, you need to keep it on file at least until the end of 2023.
Find more information about OSHA Form 300A here.
Submit 300A at OSHA's Online Reporting Site by March 2
Companies required to submit their 300A online to OSHA can do so now–OSHA began accepting this injury & illness data online on January 2. And you want to have it submitted by March 2, 2019, because that's the deadline.
Which establishments have to submit the 300A to OSHA at their online site? Here's how OSHA explains it:
For more clarification on which establishments must submit online, see the OSHA FAQ page and in particular the question "Who must submit information electronically to OSHA under the final rule?"
Get Help with OSHA Recordkeeping & Online Submission with the Convergence Incident Management System (IMS)
The Convergence Training Incident Management System, or IMS, is an online tool you can use for tracking, reporting, and correcting workplace incidents as well as creating all your required OSHA recordkeeping forms and even submitting required injury and illness data to OSHA online.
Learn more about the Incident Management System (IMS) from the short video below and feel free to contact us with any questions you have.
Conclusion: Be Sure to Hit Those OSHA Posting & Submission Deadlines
There's still time to hit these deadlines related to injury & illness recordkeeping–just don't sleep on it. Let us know if you have any questions and have a safe, healthy 2019!
And hey, before you go, be sure to download a free copy of our Guide to Incident Investigations, below.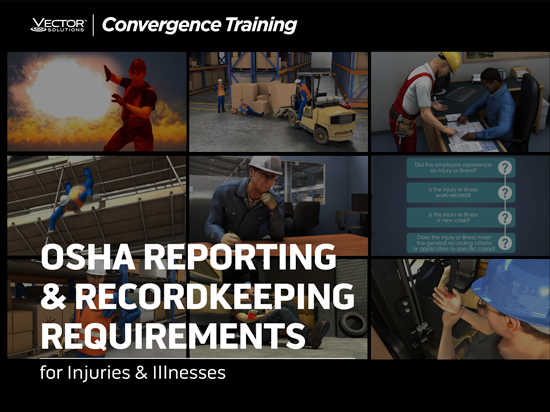 Free OSHA Injury & Illness Reporting & Recordkeeping Guide Download
Download this free guide to learn what you need to know about OSHA requirements for injury & illness reporting and recordkeeping.