Please note: OSHA has pushed back this deadline once again. According to OSHA, "OSHA will continue accepting 2016 OSHA Form 300A data through the Injury Tracking Application (ITA) until midnight on December 31, 2017. OSHA will not take enforcement action against those employers who submit their reports after the December 15, 2017, deadline but before December 31, 2017, final entry date. Starting January 1, 2018, the ITA will no longer accept the 2016 data."
The language in the quote above is taken directly from an OSHA Newsletter sent on December 18, 2017.
You can upload and submit your information here on OSHA's site.
For more on this, please download our FREE GUIDE TO OSHA REPORTING & RECORDKEEPING.
Which establishments have to submit online, you ask? Good question:
There are some exceptions for establishments covered by OSHA-approved state plans that have not yet adopted the requirement to submit injury and illness reports electronically. Those states are:
California
Maryland
Minnesota
South Carolina
Utah
Washington
Wyoming
In addition, state and local government establishments in the following states are also not currently required to submit their data electronically:
Illinois
Maine
New Jersey
New York
For additional information on these exceptions, contact your State Plan with the contact information available here.
This December 31, 2017 deadline is only for the 2016 300A forms and only for the establishments defined above. However, for those of you who are forward-thinking, you might want to know about following upcoming deadlines as well:
July 1, 2018, for all covered establishments with 250 or more employees: 2017 Forms 300A, 300, and 301
July 1, 2018, for all covered establishments with 20-249 emplyees: 2017 Form 300A
March 2, 2019 and future years: Online submissions must be made by March 2
If you need help with your OSHA recordkeeping and online submission, we've got software and training courses to help.
Our Incident Management Software, or IMS, allows you to log all workplace incidents, investigate them, correct them, create all necessary OSHA forms (300A, 300, and 301), and even submit online to OSHA. The short video below provides a good high-level explanation.
In addition, our online OSHA Recordkeeping training course may be a valuable addition to your safety training program at work.
Conclusion: OSHA's New Online Reporting Deadlines for 2016 300As
Hope that helps! Let us know if you have questions.
Be sure to read the other related articles on the following topics:
And be sure to download the FREE GUIDE TO OSHA REPORTING & RECORDKEEPING, below.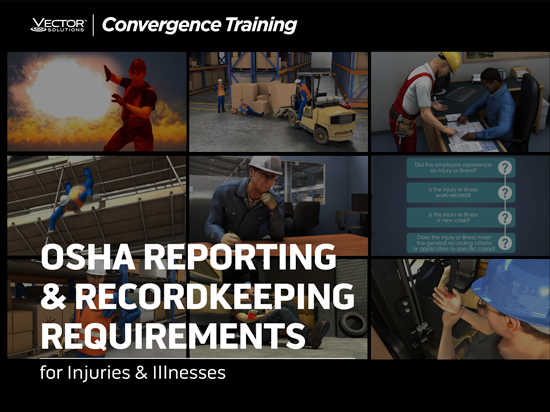 Free OSHA Injury & Illness Reporting & Recordkeeping Guide Download
Download this free guide to learn what you need to know about OSHA requirements for injury & illness reporting and recordkeeping.