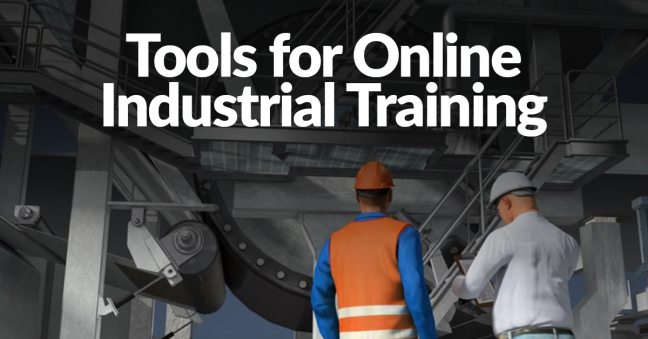 Industrial companies and other organizations have been making increasingly common use of online training and different technologies associated with online training for some time now. And that long-term trend has only increased as a result of COVID-19.
So if you're a manufacturing or industrial organization, and you're looking to begin your online training journey or simply add to it, you may be asking yourself what some of the common technologies, tools, and product types are.
And that's what we're going to try to help you with now.
In addition to this article, please feel free to listen to our Effective Manufacturing Training that Works webinar and our Selecting Online Manufacturing Training webinar as well as download our Manufacturing Training guide and our Selecting & Using Online Manufacturing Training guide.
And of course, we've got a range of online manufacturing training courses, mobile training apps, and learning management systems for manufacturing organizations as well.
Below we'll list just a few of the technologies & tools that you can use as part of an online training program at your industrial facility.
Learning Management System (LMS)
A learning management system, or LMS, is the backbone of most organizational online training programs. And it helps you manage training that occurs offline, in the "real world," as well.
Simply put, a learning management system is a web-based software tool that helps you run your entire training program. This includes online courses but also classroom training, field-based training, off-site training, and more.
All LMS are a little different, and so they have some minor differences in their features, but in general an LMS will allow you to:
Assign training
Notify employees that training has been assigned
Deliver the online portion of that training
Create some forms of online training, including online quizzes, checklists, surveys, and more
Automatically grant workers completion credit for completing online training
Manually credit workers for completing training that occurred offline
Store those completion records
Run training reports
And a lot more
You can have an online training program at work without an LMS, but learning management systems are typically a basic component of online training, and that's even more so if at least some of the training you'll be delivering is compliance-based, because learning management systems excel at training recordkeeping.
For more, check out our LMS or view the quick overview below, below.
eLearning Authoring Tool
An elearning authoring tool is a software program you can use to create your your elearning courses.
As with many software programs and disciplines, you can use an elearning authoring tool at a wide range of skill proficiency, from relative novice to advanced expert. Many elearning authoring tools are pretty simple to use, at least at that novice level, and make it easy enough to start with a PowerPoint that you might have used for instructor-led training, add some pre-formatted interactive elements, quizzes, and a test, and publish the elearning course in a format (SCORM, xAPI, etc.) that allows you to import the elearning course into a learning management system.
Convergence Training doesn't make an elearning authoring tool, but many companies do. Each of these products have their strengths and weaknesses, and we have no particular recommendations to make regarding which to use, but some common ones are made by:
Adobe
Articulate
Camtasia
iSpring
Lectora
Many more….
eLearning Courses
We let the cat out of the bag a little bit on this one in the section above when we explained elearning authoring tools, but you're probably going to want some elearning courses as part of your online training program.
As we said earlier, you can make your own. And you can buy them off the shelf from different providers. And even have custom elearning courses made for you by providers.
At Vector Solutions/Convergence Training, we offer industrial and manufacturing training courses on many common industrial training topics, including:
We've also got industry-specific elearning courses, including courses for the following industries:
Architecture, Engineering & Construction (from our partners at RedVector)
Below is a quick video overview of just one of our elearning course libraries for online manufacturing training–check it out!
Webinar & Virtual Classroom Platform
Let's begin by getting our terms straight on this one.
A webinar is an online tool you use to talk with people, including video and audio. We've done these at work for some time and when COVID hit we all started doing this with our parents, kids, and friends as well.
By contrast, a virtual classroom is a live online learning experience that's been intentionally designed to create active learning experiences; to attract and hold attention; to aid comprehension, retention, and later transfer to the job; to create behavior change; and to support major organizational goals. You can use a webinar tool to conduct a virtual classroom, but you can't just get up there and start talking at people and think you're conducting a virtual classroom.
We've covered this in more depth in a "live online learning" article we wrote around the time the pandemic began, more recently in a recorded video discussion with virtual classroom guru Shannon Tipton, and again in a (now) recorded Get Training Only Quickly webinar. And we'll cover it again in an upcoming article on virtual classrooms as well, so watch for that soon.
Mobile Training & Performance Support Apps
Mobile devices such as smart phones and tablets make it easy for employees to complete their training even when untethered from their desktop computers or in circumstances when they don't have a desktop computer.
Mobile training allows workers even more flexibility than normal online training to complete training–assigned or on an optional basis–when and WHERE employees want to.
Additionally, mobile learning apps bring the added benefit of performance supported delivered to the worker at the time and place of need, while the worker is on the job and performing tasks, on top of just job training. Need to know the correct pressure for that valve or the right viscosity for that oil? Just check your phone.
Mobile learning and performance support both make great use of short online courses or videos that are often called microlearning. Read more about microlearning here and learn about the Vector Solutions award-winning microlearning conversion project here.
Virtual Reality
Virtual reality, often called VR, immerses the employee in a simulated world. Employees typically view this world and interact with objects in the virtual world by hearing a headset or goggles.
Virtual reality can be a great addition to a training program because it allows people to develop necessary job skills in a realistic, safe, and consequence-free virtual environment.
You can see, no doubt, how this would be helpful for teaching an employee a potentially dangerous new task. Or how it can be great for teaching someone, such as a maintenance technician, how to perform a job task without having to shut down production.
Likewise, VR can be great for allowing people to practice and develop skills that have an element of emotional risk. Maybe it's working through those "difficult conversations" about race with virtual coworkers before doing it in real life. Or maybe it's practice on sales negotiations. Or maybe it's just a help for people who are more quiet or introverted and are less comfortable asking a question or volunteering to practice in front of coworkers during a classroom training session.
Augmented Reality
An easy way to understand what augmented reality (AR) is about is by first thinking of virtual reality (VR). Remember, with virtual reality, the learner is completely immersed in a simulated environment. But in AR, the person sees the real world, only some virtual elements are superimposed on real-world objects (so the real world is "augmented" with virtual elements).
Typically, workers would experience the augmented reality view by looking at the real world through smart glasses (think Google Glasses here, though there are other manufacturers) or a mobile device, such as a tablet.
Augmented reality can be used to train workers but also to deliver the moment-of-need performance support we mentioned earlier.
Imagine workers getting visual clues about what gauge to read or getting step-by-step instructions for a tricky repair through augmented reality. Pretty cool, huh?
Chatbots
You're probably familiar with chatbots if you've ever gone to websites such as Amazon (or maybe your insurance company's website, etc.). The basic idea is the chatbot might ask you a question or reply to a question you ask it, and it often feels like you're typing a 'conversation" with a real person.
But the chatbot isn't a person. Instead, it's powered by artificial intelligence (specifically, machine learning) and can be programed to answer more questions more accurately than any trusted and valued coworker. Plus, asking and answering those questions don't pull that valuable coworker from his or her job.
Read our article/watch our recorded video discussion with Dr. Stella Lee titled Digital Disruptions in L&D to learn more about chatbots.
Artificial Intelligence
Artificial intelligence, or AI, is another technology tool that will have a great impact on workplace learning.
We already mentioned how AI-powered, and specifically machine-learning powered, chatbots can help improve workplace learning and performance support.
Another way AI is influencing workplace learning, and one that is anticipated to continue, is by helping to personalize the learning requirements and choices for employees based on their current knowledge and skills, their job role, and even their interests.
Again, please read our article/watch our recorded video discussion with Dr. Stella Lee titled Digital Disruptions in L&D to learn more about artificial intelligence in L&D.
Other Online Tools
Companies that provide online learning tools can connect you with some great, helpful tools, such as an LMS.
But there are plenty of online technologies you can use as part of your organization's online training programs. YouTube, anyone?
Here's a list of top tools for learning 2020 to help you think of some more options.
Conclusion: Online Training Technology Doesn't Have to Seem so Confusing
We hope you found this article about some of the tools you can use to improve online training at your industrial workplace helpful.
Please let us know if you have any questions or if we can help you with our own online training tools for industrial customers.
Before you go, remember to download our Guide to Selecting & Using Online Manufacturing Training, below.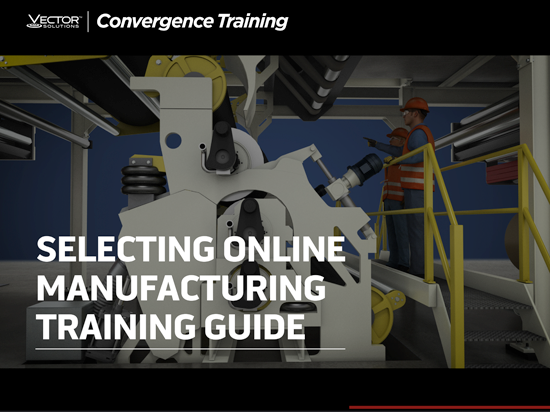 Free Selecting Online Manufacturing Training Guide Download
Download this free guide to assist you in your organization's search for online manufacturing training, including courses, learning management systems, and providers.