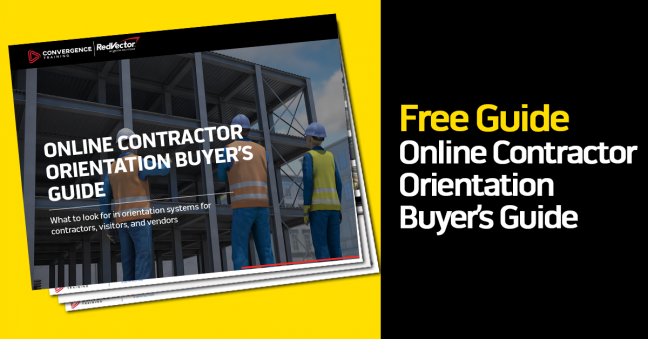 Does your company employ contractors? Probably.
Do you also have visitors and vendors on site? Again, probably.
Do you need to create safety orientation materials for those contractors, visitors, and vendors before they come on site? Probably.
And do you need an online delivery tool to that lets those contractors, vendors, and visitors complete their orientations and lets you run reports to see who's done and who's not? Probably.
At the bottom of this article, we've included a free Online Contractor Orientation Buyer's Guide that you can download. It's got some solid recommendations of the kind of stuff you should be looking for if you want to get your site-specific orientation materials online and get an online tool for self-registration, assignments, online delivery, crediting, tracking, reporting, notifications, and more.
So enjoy the buyer's guide and feel free to check out our extensive article on best practices for contractor management as well.
Two Elements of Online Contractor Orientation Systems
If you want to put your contractor, visitor, and vendor orientations online, you're really thinking about two aspects:
Orientation materials (the content)
The online orientation management system
We'll discuss each below a bit, and of course the free Online Contractor Orientation Buyers Guide goes into much more detail.
Contractor Orientation Course Content
Many companies rely exclusively on some form of face-to-face, interpersonal experience to provide orientation materials to contractors, visitors, and vendors. This is incredibly inefficient, and in addition it often leads to ineffective orientations, too. Stop and think about it–are the people who are creating your orientation materials and leading that instructor-led training knowledgeable training development and delivery experts familiar with how people learn, adult learning principles, evidence-based training methods, the ANSI/ASSP Z490.1 and Z490.2 standards for EHS training, and similar learning & development basics?
Why not partner with professional training providers who can help design and create engaging, compelling, and effective contractor orientation materials, including (but not limited to) online courses?
Of course, in addition, you may want to include other forms of training in addition to one or more online orientation course, including:
Written materials
Field-based training
Classroom training
Virtual reality
Augmented reality
More
And really, that's a best practice. Learning professionals call it a blended learning solution and the ANSI/ASSP Z490.1 standard for EHS training recommends it.
Online Contractor Orientation Management Systems (LMS)
In addition to your orientation content/materials, you're going to want an online management system to help you administer your visitor, vendor, and contractor orientations. This is commonly known as a learning management system, or LMS, and you can even get a learning management system specifically intended for delivering online contractor orientations (nice, huh?).
The downloadable contractor orientation buyer's guide does into this in more detail, but here are some things to look for in an orientation management system for contractors:
Available on internet — contractors can complete orientations any day, any time, at any place
Based on the cloud – this reduces set-up time and reduces IT costs and hassles
Flexible assignments — can bet set up to assign different orientations to different contractors
Multiple facilities — can be used to provide site-specific orientations for more than one facility
Easy self-registration — allows contractors to self-register for orientation, reducing your support time
Simple administration — streamlined system makes it easy for you to administer
Easy-to-assign security roles — assign administrators full administrative powers or simply the ability to generate and run reports
Electronic completion records — tracks all contractors who have completed orientations
Simple-but-powerful reports — know which contractors have completed which orientations immediately
Programmable expiration periods — if desired, require contractors to complete orientations on regular basis (yearly, for example)
Conclusion: Choose Wisely When Selecting an Online Contractor Orientation LMS & Course Solution
We hope this article helps you get started on you search for contractor orientation courses and software, and we encourage you to download the free Online Contractor Orientation Buyer's Guide for an even deeper look. Feel free to ask us questions as well!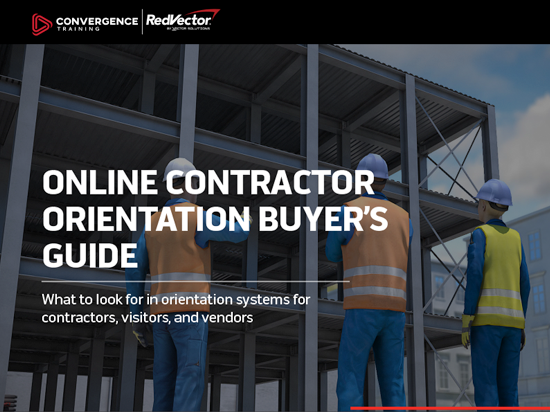 Online Contractor Orientation Buyer's Guide
Everything you need to know before buying online contractor orientation content or management sytems.