Does your company employ contractors? Probably.
Do you need to create orientation materials on safety and other issues for contractors before they can work for you? Probably.
And do you need an online delivery tool to that lets contractors complete their training and lets you run reports to see who's trained and who's not? Probably.
If so, you'll be very happy to know that Convergence Training has a family of products to help you orient contractors at your workplace, including:
A hosted, web-based delivery software tool to deliver orientations online, track completions, and generate reports
Custom animated content to orient contractors
Nice, you say, but what exactly does this mean? Let's look at each contractor orientation component more closely.
Convergence Contractor LMS is a "mini-LMS" that lets you deliver orientations to contractors and visitors. Some of its features include:
Available on internet — contractors can complete orientations any day, any time, at any place
Hosted included – Hosted on our servers, not yours—this reduces potential liability issues for you
Flexible assignments — can bet set up to assign different orientations to different contractors
Multiple facilities — can be used to provide site-specific orientations for more than one facility
Easy self-registration — allows contractors to self-register for orientation, reducing your support time
Simple administration — streamlined system makes it easy for you to administer
Easy-to-assign security roles — assign administrators full administrative powers or simply the ability to generate and run reports
Electronic completion records — tracks all contractors who have completed orientations
Simple-but-powerful reports — know which contractors have completed which orientations immediately
Programmable expiration periods — if desired, require contractors to complete orientations on regular basis (yearly, for example)
So, you see we've got the online contractor orientation software system ready for you.
Contractor Orientation Materials
But what about the contractor orientation material itself, you ask?
Well, we can help you with that, too. We can work with you to take your existing contractor orientation materials (which may be in PowerPoint format or require time-consuming instructor-led training) and create computer-based materials that include:
Spoken audio
Animated images, including 3D animation, 2D graphics, text on screen, photos from your site, and your documents and permits
Unscored practice questions to aid in retention (optional)
A scored test at the end to ensure comprehension
Want to learn more? If so, download our Contractor Orientation Buyer's Guide below. It's got some good information for you to consider before you plunk down some money on a contractor and visitor orientation solution. Forewarned is forearmed, as they say.
Or if you're really ready to learn more, check out our Contractor LMS (which comes complete with your contractor and/or visitor orientation) or contact us for a demo.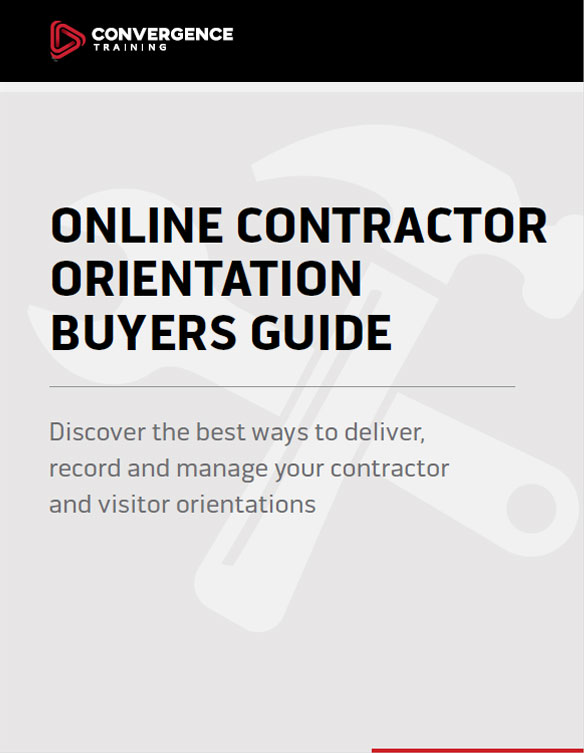 Online Contractor Orientation Buyer's Guide
Discover the best ways to deliver, record, and manage your contractor and visitor orientations.